Colleen and Gary Worthington are small-business owners who couldn't take the enterprise out of their golden years—and turned their retirement on its head.
What do you do when you sell your business and retire, only to discover that retirement is boring?
If you're Gary J. (BS '70) and Colleen Kimball Worthington (BS '71), who sold their Subway sandwich franchises in the late '90s, you become European-hearth-bread experts and open Kneaders, a bakery and café franchise. You expand to 44 stores in five states, and, with no sign of stopping 18 years later, you schedule 15 additional openings for 2016.
Colleen reflects, "We have always been self-employed and had no reason to think our business wouldn't be successful." So they withdrew all of their retirement money for the venture, which for Gary was "kind of a worry" and for Colleen was panic inducing.
"Naturally, we were highly motivated to work hard," she says. "Once you totally commit to something, you will find a way to make it a success."
Adds Gary, "We had a friend who was developing a hearth-bread our for Lehi [Utah] Roller Mills, which we thought might be fun. We researched flour extensively, visited baking institutes in Manhattan, Kan., and San Francisco, and located the ideal hearth-stone oven in Italy."
In multiple attempts to learn how to make artisan bread, they ruined their home oven by squirting water on the coils to make steam needed for a good crust and attractive color. Eventually, they produced their first successful loaf of ciabatta.
Before opening their first bakery, the Worthingtons flew in an expert baker from San Francisco for training, and Gary—who was to become the baker—practiced for an entire month to perfect what he had learned. Each day he and Colleen hauled home sacks of bread for their neighbors, building excitement for their opening.
"Aside from our marquee, we didn't run a single advertisement for the first seven years," Colleen explains. "Word of mouth carried us." They began selling only breads but quickly expanded to sandwiches, salads, soups, pastries, and smoothies.
Gary lost 50 pounds the first year of operation—he didn't have time to eat. He and son James G. Worthington (BA'06) prepared the bread, with James mixing and Gary baking. They began at 10 p.m. each evening, working through the night so that the bread was fresh for their customers the following morning, when James left for classes at BYU.
James was responsible for Kneaders' Chunky Cinnamon French Toast, one of the restaurant's most popular items. "James wanted to get to know the girls in the dorms and would grab our day-old chunky cinnamon bread and make them French toast," Colleen says. "Before he left for his mission, he told us we really should add it to our menu. When he returned two years later, it not only was on the menu, it also featured a caramel syrup and was wildly popular, especially with students."
It is only natural that the Worthingtons, who met working in BYU food services, would end up in the food industry. Gary did delivery orders and came into the office where Colleen was working. The first time they met, he greeted her with "Morning, Sunshine."
"I was instantly in love," Colleen says. "We have a smoothie called Morning Sunshine in honor of our meeting."
Colleen's love radiates in many directions, and she serves as chief brand officer and has managerial responsibilities for the North Orem store. Additionally, she and her husband conduct extensive training with franchisees and store operators.
They also firmly believe in giving something back to the city where they live, whether that means serving on the Culinary Arts Board at Utah Valley University, sponsoring the American Fork Canyon Run Against Cancer, donating their day-old bread to local charities, or being involved in community outreach projects such as Evening with Santa (to benefit local children's hospitals).
BYU is still important to the Worthingtons, whose six children all attended there. "Of course, my first loyalty is to BYU," says Colleen. "My dad (Edwin R. 'Eddie' Kimball [BS '26]) was BYU's athletic director from 1937 to 1963. The first song I ever learned was 'Rise and Shout.'"
As for retirement, round two? The plan is to never stop working.
"[Retirement] didn't work for us," Gary says. Colleen adds, "We're in this for the satisfaction that comes from making good things happen for other people—for our employees and customers. We want to delight our customers. People really find comfort in food. One family, who suffered the terrible loss of a young child, told us they'd been given [our] French toast, and it helped them feel hope that one day they might feel normal again."
After so much success, one might expect the Worthingtons to relax. But, Colleen admits, "I still worry every time a new store opens. My family just laughs and laughs about it."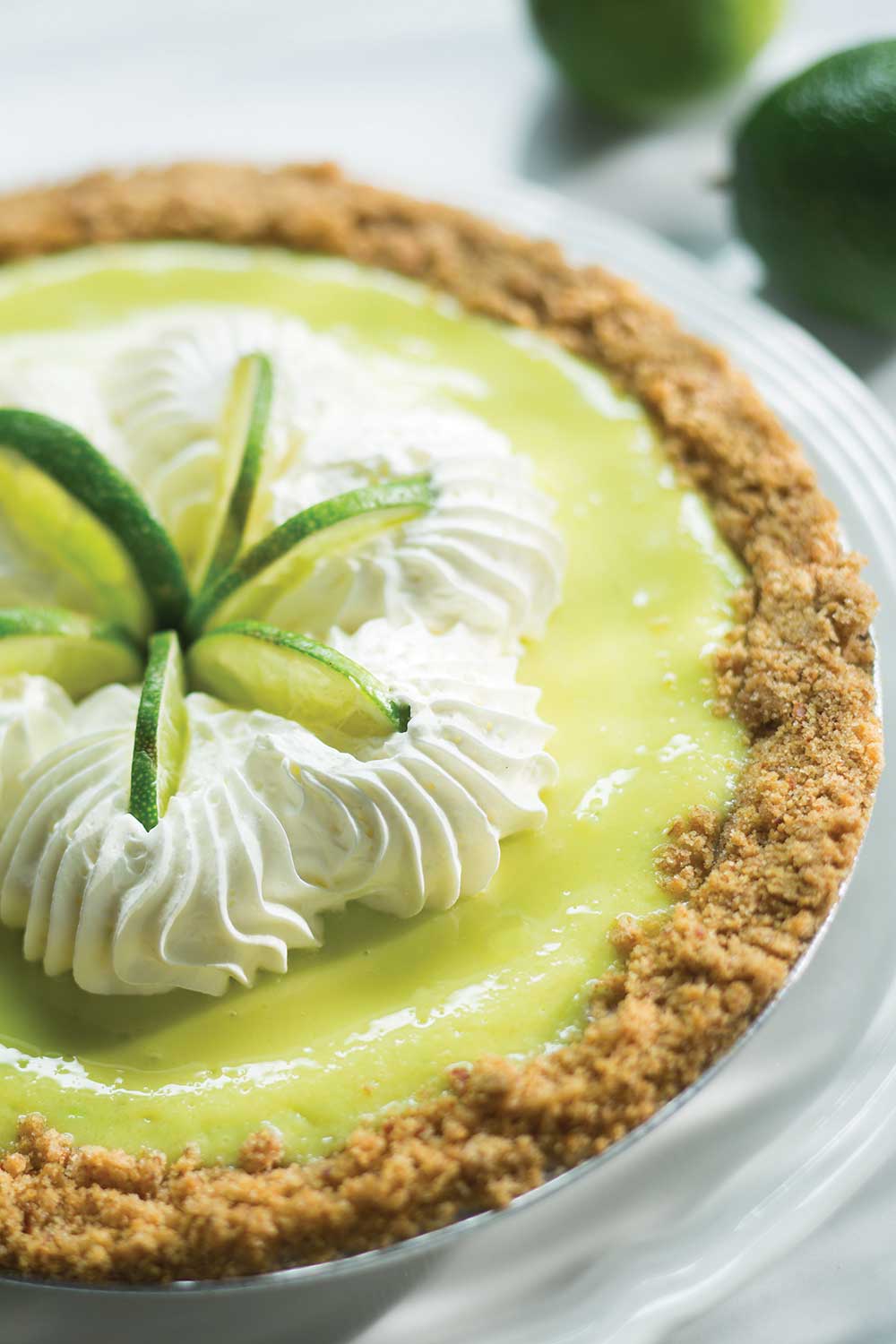 Creamy Lime Pie with Pretzel Crust
Makes 1 pie
Crust
1 cup plus 2 Tbsp finely ground salted pretzels
3 Tbsp sugar
7 Tbsp butter, melted
Preheat oven to 350 degrees Fahrenheit. Lightly grease a 9-inch pie pan with nonstick baking spray. Crush pretzels until they are very fine (using a food processor for 30 seconds works well). Mix in sugar and melted butter (can be done right in the processor). Press mixture into bottom of pan and up sides. Bake for 8 to 10 minutes, until crust is firm.
Filling
½ cup fresh lime juice (3–4 regular limes)
4 tsp grated lime zest
4 egg yolks
1 14-oz can sweetened condensed milk
Grate zest from whole limes, then cut limes in half and squeeze out juice, removing any seeds. Whisk egg yolks and lime zest together until mixture is tinted light green (about 2 minutes). Beat in milk, then juice. Set mixture aside at room temperature until it thickens. Pour into crust and smooth with spatula. Bake pie for 28 to 32 minutes, until filling is set, with a small spot in the middle still soft. Cool for several hours. Top with whipped cream and a garnish of pretzel crumbs.