---
Marketplace Cafe
Makes four sandwhiches.
Prep: 15 min. Cook: 5 min.
1 avocado, peeled and pitted
4 Tbsp. ranch dressing
8 slices sourdough bread
8 slices pepper jack cheese
12 slices turkey
8 pieces cooked bacon
12 slices tomato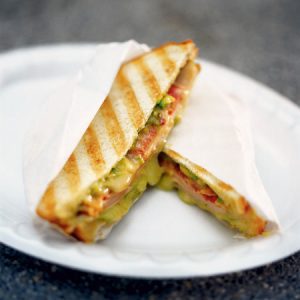 1. Mash avocado and add ranch dressing until smooth; sauce should still appear green.
2. For each sandwich, spread sauce on two pieces of sourdough bread. Lay two slices of cheese, three slices of turkey, two pieces of bacon, and three slices of tomato between the slices of bread. Brush the outside of the bread with olive oil and grill until cheese melts.