---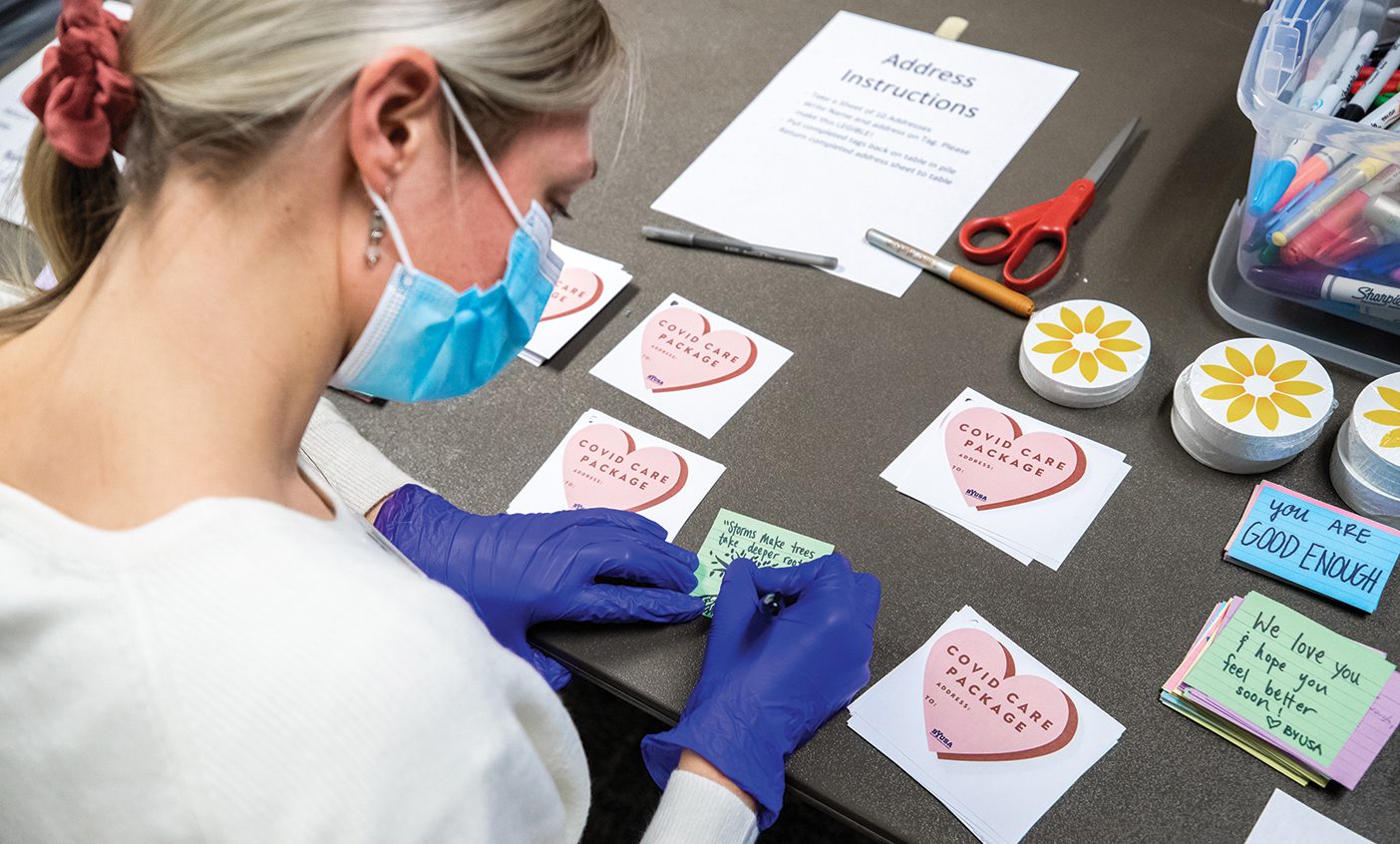 Sick with her second bout of COVID-19, Reinwand was lonely and quarantined on the sixth floor of her apartment building when she opened the door to find the handmade care package. "Amazon doesn't even [deliver] to my door," says Reinwand, but a BYUSA volunteer had brought up a ribbon-decorated bag filled with everything a student recovering from COVID might need: soup, candy, snacks, masks, and a handwritten note. She took the bag inside, feeling a little less alone. "It was just nice to see someone go that far out of their way to help me."
Reinwand's gift was one of many student care packages delivered during winter semester, all thanks to a BYUSA volunteer program created by another freshman who knew too well how lonely quarantine can be.
Four months earlier Emily K. Seals ('26) landed in on-campus isolation housing because of a positive COVID test. Separated from her roommates and with little communication from campus, Seals felt like just another COVID statistic. "Anything would [have] helped," she says, even a simple get-better-soon note.
After one day in quarantine, Seals knew that she had to do something, if only to move past her own self-pity. Remembering her dad's frequent encouragement to "do what you wish others would do for you," she picked up her phone and got to work.
Seals reached out to multiple departments across campus, eventually connecting with Spencer P. Larsen (BS '21), a BYUSA vice president. There was no program in place, so they brainstormed and decided to convert Y-Wishes—a program that supports struggling students—into the COVID Outreach care-package team.
With so many student events canceled, it was exciting to "have a big service project," says Larsen. "Everyone was pitching in." The entire BYUSA office rallied together, and within the first week of operation, they assembled and hand-delivered about 800 care packages to students sick with COVID, including Reinwand.
Seal's experience reminds her of a quote from Church president Russell M. Nelson: "The joy we feel has little to do with the circumstances of our lives and everything to do with the focus of our lives." This project "really reinforced that for me," says Seals.