---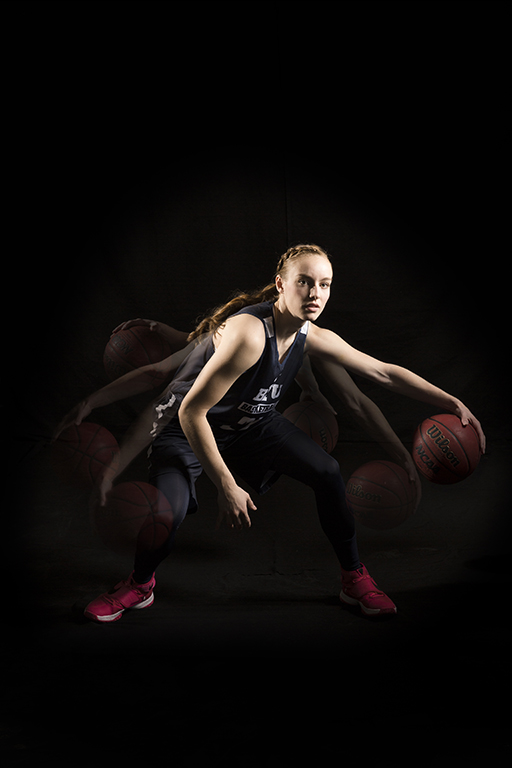 College-basketball legend Hank Gathers long held the West Coast Conference (WCC) record for career points. For 16 years. Until a 5′ 10″ BYU guard with a ponytail usurped him.
In March Lexi Eaton Rydalch (BS '15) bested Gathers's career 2,490 points to become the WCC's all-time leading scorer—with an average 24.3 points a game, and she earned WCC Player of the Year. She also surpassed Danny Ainge on BYU's all-time scoring lists.
The steely scorer made national highlight reels in February after nailing a beyond-NBA-range buzzer beater in a 65-62 home win over San Francisco. Determined, confident, and focused, she didn't hesitate to take the final shot. "I was just in the zone," says Rydalch. "When I shot it, it felt good."
"I guarantee you that she's had that in her dreams that she was going to do that," says BYU head coach Jeff Judkins.
In his 15 years at BYU, Judkins says Rydalch is one of the top five players he's coached. "She can shoot it, she can drive it, she can pull up, she can run the floor, and she can rebound." And that's just on the court. Off the court, "she has a really soft side to her," Judkins says. "She's very spiritual. She's a very caring person. She's a perfect athlete here at BYU."
She's also a leader, says teammate Kylie Maeda ('16), who recalls Rydalch working on her three-point shooting in the off season—every day. "Seeing one of our best players working really hard, that motivated us to work hard ourselves," says Maeda. And Rydalch is the one getting the team together on a free Saturday to help special-needs kids, Maeda adds. Rydalch sets the tone.
The two-sport athlete—she's also a high jumper for BYU—decided to study psychology because of its application to sports. "When you want to be a good leader, you have to learn how people respond," she says. "I really think that the mental side of sports is what takes you to the greatness level."
Rydalch learned to be mentally tough growing up in a competitive family with six siblings and parents who expected her best. In her younger years, if she was loafing on the court, Rydalch says her dad "would hold his nose and sometimes leave the game." "He was not there to watch his kids just participate," she says. He wanted them to be great. "I attribute a lot of my success to him instilling that toughness in me."
Rydalch's mental and physical toughness was tested when she tore her ACL her sophomore year. Facing nine months of rehab, she was distraught. "I went home and I knelt down and prayed and asked my Heavenly Father to give me strength, and I did that every day."
From that recovery, she helped the team make the NCAA Sweet 16 in 2014—her favorite experience in her college career. That and meeting her husband, Trevor L. Rydalch ('16), on the court. He was a member of the practice squad. "I had to guard him every day," says Rydalch. "He was the fastest and most athletic. And he did not make me very happy sometimes because we would lose and we'd have to run because of him. But he made me better."
And then there are her young fans. The day before Valentine's Day, the team won at home against Santa Clara, and in the stands "was a little girl that had the same hairdo as me, and she had a rose and a cute little note for me." Rydalch responded with a high five and posed with her hair-twin for a photo.
To that girl with the rose and other young players who aspire to play at BYU or in the WNBA as she does, Rydalch offers this advice: "Be willing to put in all of the hard work, and that's not just the physical work or the time spent in the gym—it's the mental work, the changing your character so you can become a great player and a great person. And then, while you're doing that, put first things first—which is God, and religion. When you have those as your foundation, then everything else seems to go a lot more smoothly."