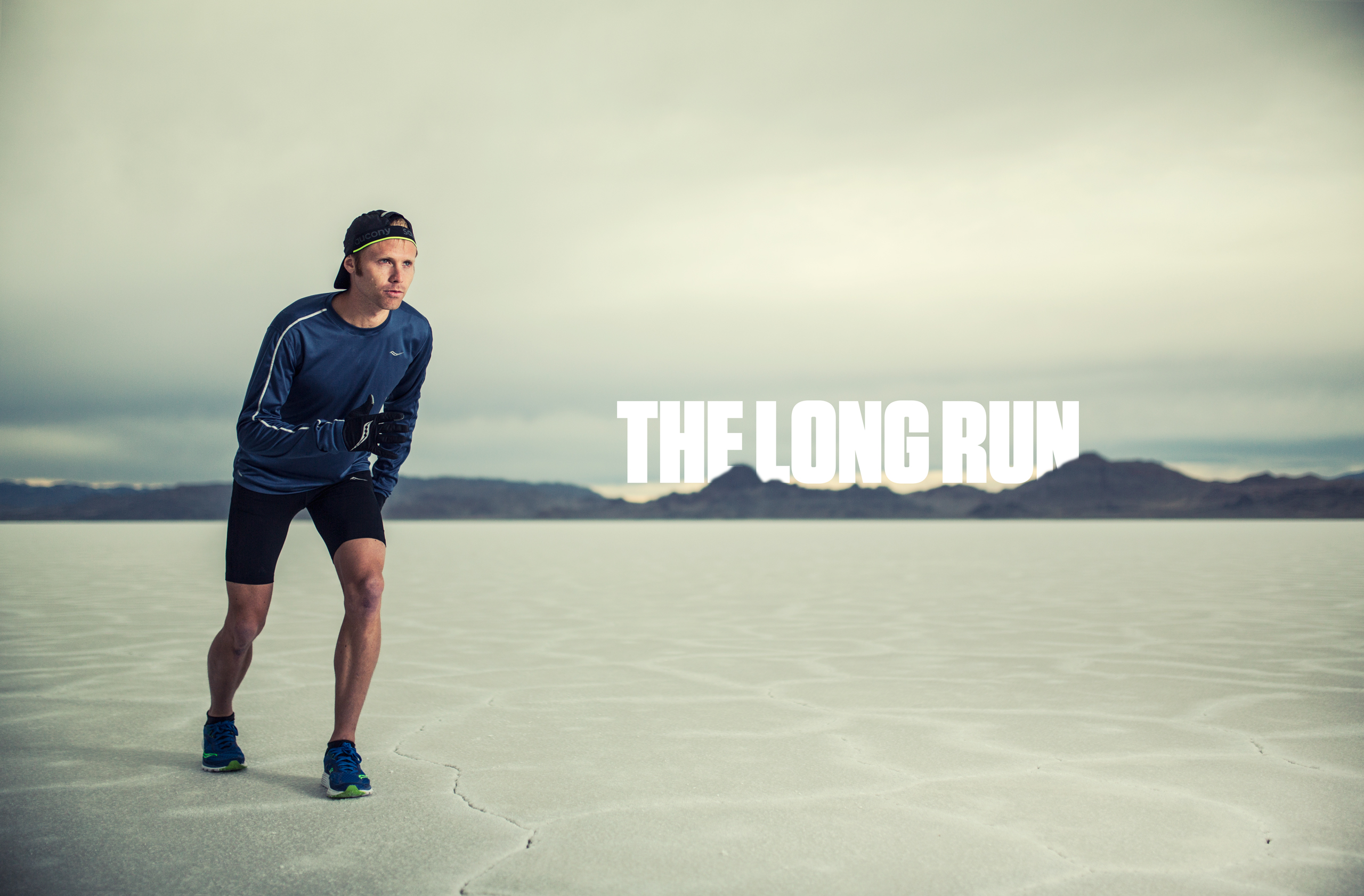 Bright colors flash on black surface—two dozen pairs of running shoes rhythmically churning over pavement. After 15 miles this tight pack of elite runners has become a marathon machine, legs pumping like pistons, arms chugging like crankshafts, the whole mechanism steadily consuming the miles in the 2016 U.S. Olympic marathon trials in Los Angeles.
But that machine is about to break apart.
Jared B. Ward (BS '15, MS '15) runs at the head of the pack, setting the pace at a conservative 5 minutes per mile. At Ward's right elbow strides Tyler Pennel, the 2014 U.S. marathon champion. Just behind Ward are two former Olympians—Galen Rupp, who won silver in the 10K in London, and Meb Keflezighi, who took silver in the marathon in Athens. They lead some 140 athletes—in this pack and strung out far behind—all vying for just three spots on the U.S. marathon team.
On an unseasonably warm February morning, the race began a little after 10 a.m. amid tunes from live bands and crowds of fans—including Ward's entourage of family, coaches, friends, and two small children who call him Dad. A long loop would send runners four times between the Staples Center, home of the Lakers and the Clippers, and the Los Angeles Memorial Coliseum, the Olympic headquarters in 1932 and 1984.
As the leaders approach the Coliseum for the third time, Pennel makes a move, picking up his pace by about 15 seconds per mile. The marathon machine slowly goes to pieces. Rupp and Keflezighi push forward to chase Pennel. Ward nudges his pace a notch. The rest begin to fall behind.
"At this point," recalls Ward, "I'm watching three people—and the three spots that will make the Olympic team—pulling ahead, wondering if I'm doing the right thing to run my pace."
Ward, an adjunct BYU statistics professor, is an intelligent competitor, says BYU track coach Edward D. Eyestone (BS '85, MS '90), himself a two-time Olympic marathoner. He has the "sort of mindset," says Eyestone, "that lends itself well in terms of your day-in, day-out training and your ability to come up with the right game plan and then execute that game plan."
Trailing Pennel, Keflezighi, and Rupp, Ward makes real-time calculations. It is mile 16 of a 26.2-mile race: still plenty of road ahead. Pennel's move seems too soon. For his master's thesis, Ward analyzed marathon pacing strategies; the data illustrated a common marathon pitfall: running too fast too early. Add in the rising heat of the day—it would be record highs for the marathon trials. "I think that at least one of them will come back," remembers Ward of his mid-race analysis, "but I don't know that. What I do know is I'm prepared for probably a 4:55 pace and not much faster."
And so, as the lead trio—and his Olympic hopes—pull farther away, Ward lets them go.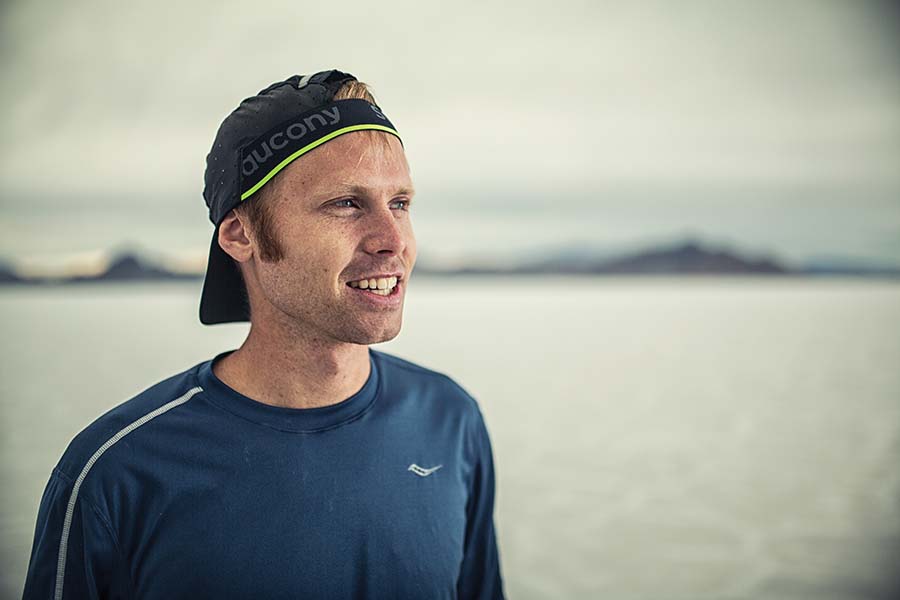 Meant to Run
As a junior in high school, Ward says, "I was playing the trumpet and I was on the soccer team and I was running on the track team." But he wanted to know what he should focus on for his future. In prayer he found an answer, and soccer and band lost out.
Ward led the Davis High Darts, of Kaysville, Utah, to state titles in both track and cross-country his senior year, and he was recruited to compete for BYU. But first there was a mission to Pittsburgh—and then a series of difficulties that would challenge his commitment.
A year after his mission, Ward found life off the track to be great: he had just married Erica Christensen (BS '11), a former BYU hurdler whom he had first met on the Davis High track team, and he enjoyed his statistics studies.
But on the track, his body was slow to return to pre-mission form. "I had left in good shape, and I came back in pretty bad shape—running wise," Ward says. He wasn't enjoying workouts, and he was plagued with injuries. "I remember thinking, . . . 'There are so many things in life that I love, why am I torturing myself with this running stuff?'"
As he questioned his athletic plans, he remembered priesthood blessings from his mission president and, just after his mission, from his father, both of which mentioned running as part of his future. And he recalled the answer to his prayer in high school. With these experiences circulating in his mind and heart, Ward felt a strong spiritual confirmation: "God gave me this talent, and I'm supposed to run."
Galvanized by this reassurance, Ward pressed on with a new motivation that would sustain him through the ups and downs of a collegiate athletics career.
There were a lot of ups. By the end of his junior year, he was already a four-time All-American and had helped BYU claim fourth- and sixth-place national finishes in cross-country. But Ward's senior cross-country season was derailed by an NCAA controversy.
Shortly after his mission, Ward had participated in a fun run on a whim. He later mentioned it to Eyestone because the NCAA bans outside competitions that could give athletes an advantage. Though the race was anything but competitive, he disclosed it to the NCAA anyway. "The truth shall set you free," Eyestone had predicted.
The NCAA, however, stripped Ward of one year of cross-country eligibility. BYU appealed twice while Ward competed for the school—but to no avail. As he began his senior year, BYU's no. 1 runner was forced to sit out.
Without a fall cross-country season to keep Ward motivated, Eyestone suggested a marathon. Over the years Ward's performance had improved as he increased distance, from one mile to two miles to 5K to 10K. "It became clear that the longer the race, the better," Ward says.
So in October 2013, as his BYU teammates prepared for their fourth meet of the season, Ward crossed the finish line in his marathon debut with an Olympic-trials qualifying time of 2:16:17. Losing his eligibility, Ward says, "ended up being a blessing in disguise in the long run because I got the exposure and training for a marathon a year earlier. . . . In that sense, the truth did set me free."
Three weeks after that first marathon, a similar NCAA compliance issue on the other side of the country brought renewed media attention to Ward's case. With a third appeal, the NCAA finally restored his eligibility—just in time for the national cross-country championships, where Ward helped the Cougars to a fourth-place finish and claimed his fifth All-America citation.
Ward's momentum propelled him through the indoor track season, where he was named an All-American twice more. As his final BYU outdoor season approached a conclusion, he says, "I was likely in the best shape of my life."
But a few weeks before the late-spring NCAA regional meet, Ward returned from a workout and asked his wife—a BYU exercise-science grad and a massage therapist—to check out a new pain in his left leg. As Erica worked on his leg, she had bad news: "That's in your bone," she told him. Jared was skeptical, but a few days and a couple of runs later, his leg gave out in the middle of a workout. X-rays confirmed what Erica already knew: Jared had a stress fracture. "What I learned from that trial is I should listen to my wife," he says with a wry smile.
Cross-training in a boot, Ward held out hope for regionals. By race day, doctors said it could go either way: he could run on it and be just fine—or it could be really bad. A senior facing his last collegiate race, Ward chose to "roll the dice and give it a go."
As the 10,000-meter race began in Fayetteville, Ark., Ward's leg hurt with every step, but he kept running. On his eighth lap, he says, "I took one step, and I thought, 'That didn't feel right.'" Two more steps were all he could manage before he crumpled and rolled into the pole-vault pit.
His fibula had fractured. "That's pretty amazing," says Eyestone, "to think that an athlete has that sort of pain tolerance that he would run through the pain to the point where his leg would fracture."
High pain tolerance or not, Ward's BYU career was over. But his training was not.
Not one to let a broken leg stop him, Ward got a waterproof cast so he could swim and cross-train in recovery. Four months later, Coach Eyestone tweeted, "When Ward had a major stress fracture in June, I didn't think there was much hope he'd run a decent marathon this yr. He just took 2nd at USAs."
The winner of that 2014 U.S. marathon championship was Tyler Pennel. At the next U.S. marathon championship, Ward took the top spot. With his running career on a strong upward trajectory, Ward accepted a sponsorship from Saucony and claimed victory after victory, winning U.S. championships in the 25K and 20K and finally taking home the 2015 USATF Running Circuit Championship.
Eyestone praises Ward's commitment and drive. Ward explains, "I feel like this is something that God wants me to do, and . . . I want to get to that [finish] clock faster than I've ever done it before."
Miles to Go
As he approaches mile 19, Ward runs alone, isolated in fourth place—one position out of the Olympic team. In the distance ahead he can see the top three, holding a 16-second lead; Ward leads the next runners by 19 seconds.
Temperatures have risen by 10 degrees since the starting line, and the sun bakes the pavement on the shadeless, wide street. Ward, however, begins to feel cold, a sure sign of early-stage overheating and dehydration.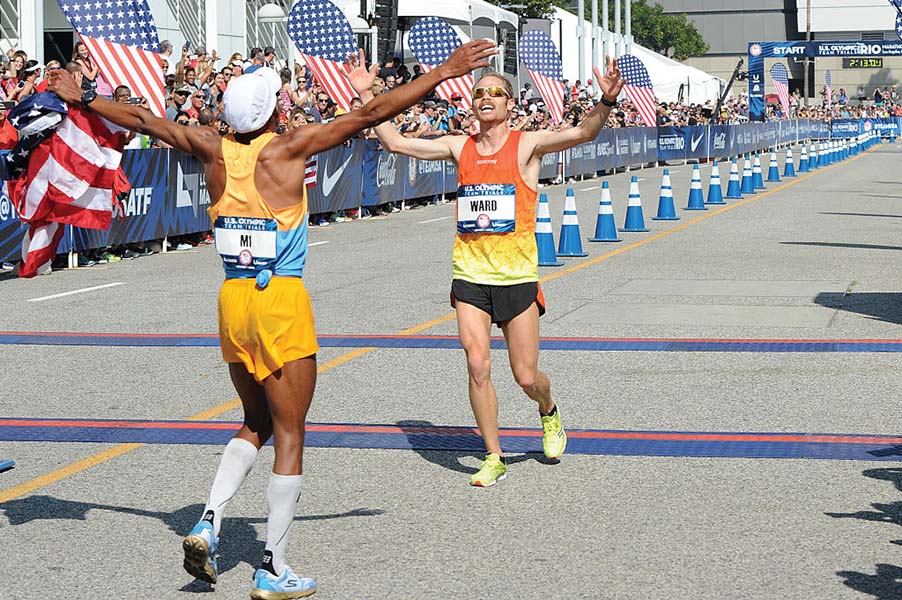 But then a spark of hope. Looking ahead, Ward sees Pennel start to fade back from the others. Now, Ward says, "the race becomes this game of managing myself. . . . If I can maintain my pace, I'll make the team." But he has seven miles of maintaining yet to do.
At aid stations Ward takes all the water he can. He accepts the sponges volunteers offer for cooling wipe-downs, and he sucks the water out of them. Pennel continues to slow, and within two miles, third place belongs to Ward.
Over the next few miles, Ward's lead over fourth place will only grow. When he can no longer hear cheering for the next runner, he thinks he might have secured his spot on the Olympic team. But then with two miles to go, Ward recalls, "I realize that I have taken myself further into the well than I ever have before." His legs feel like bricks, and he recognizes he still has a battle to win. The race isn't over yet.
To his mind come images of people—his parents, his wife and children, his coaches and teammates, his siblings—the many people over the years who encouraged and supported and helped him to make it to this race, to have a chance at the Olympics. Their faces keep him going, Ward says: "I can't give up because this isn't my race to give up. This is their race too."
Many of those faces are just a couple of miles away. His parents and coaches wait at the finish line, as does Erica and their two sleeping children, tuckered out after an exciting morning. Erica is praying, hoping Jared can hang on. "Even though you're in third, that doesn't mean you'll be in third at the end," she says. With miles to go, she says, a lot of steps remain. "Every step is hard."
About 400 meters before the finish, the course makes a hairpin turn, giving runners a view back down the course behind them. "I got around that corner," Ward says, "and I looked up, and I couldn't see fourth place." Filled with excitement and triumph, Ward crosses the finish line at two hours and 13 minutes, 40 seconds behind second-place Keflezighi, who greets Ward in a big hug, welcoming him to the Olympic team. Ward falls to the ground—"somewhere between prayer and exhaustion," he says.
Soon the faces that propelled Ward to the finish are all around him, as he is enveloped in tearful, jubilant embraces from his wife and parents and coaches. "That experience was meaningful to me," he says, "because it was meaningful to them."
With the Olympic marathon in Rio de Janeiro now looming as Ward's next big race, he acknowledges that he will run with some of the best marathoners in the world, who have more experience and faster times. All he can do, he says, is his best. "The bigger the stage, the more you have to focus on what you can control and let go of the things that you can't control."
But that's what he likes about the marathon. The marathon is less a competition between runners as it is a competition within runners, he says. "It is a race between you and the distance."