---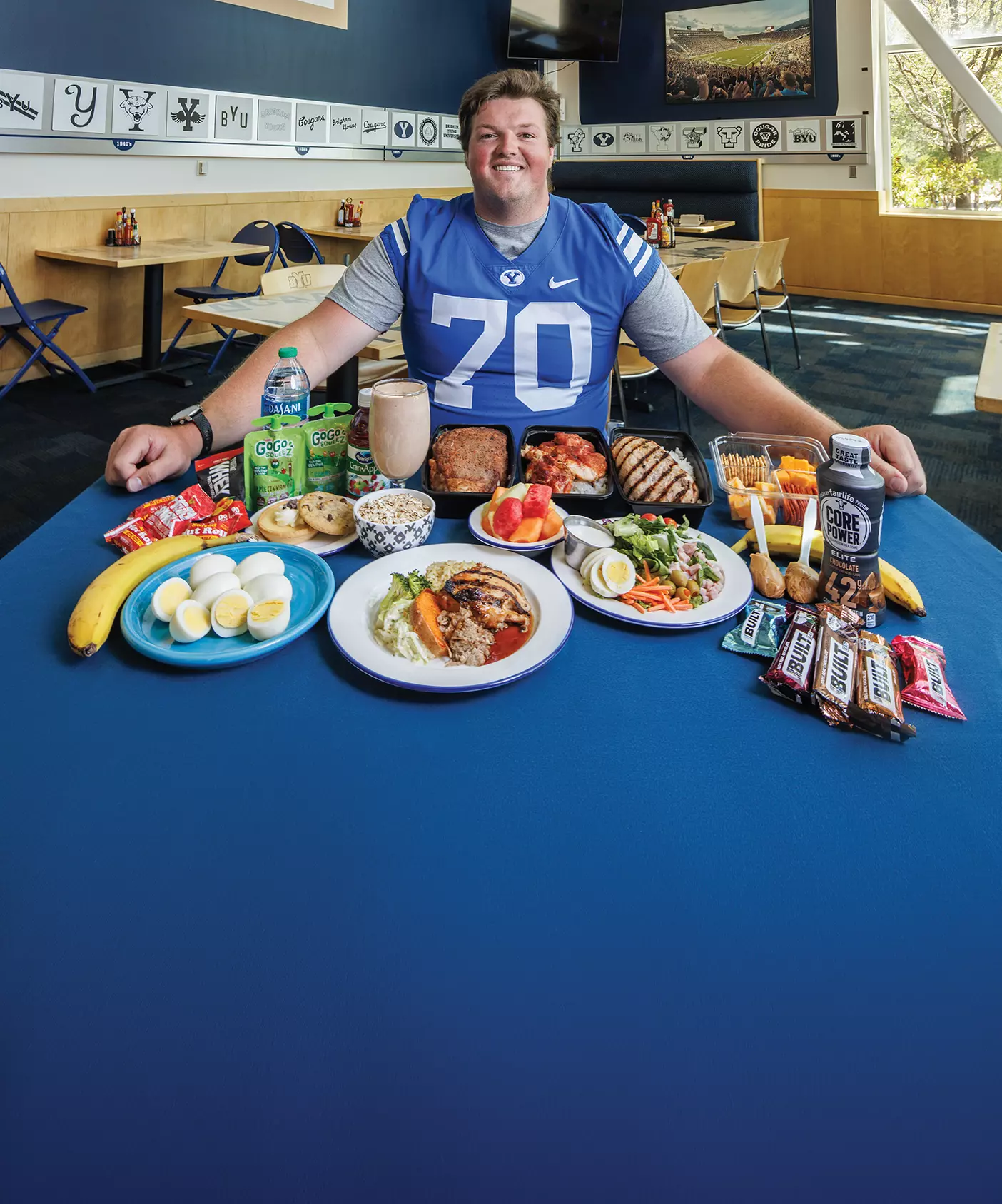 Between learning plays, lifting weights, and running stadium bleachers, BYU's football players have a lot on their plates, figuratively. And it's all powered by what's on their plates, literally. Dan Wilcox, director of performance nutrition for the team, puts them on a high-protein, high-calorie plan. "These guys are burning a ton of energy, and we've got to help them recover," says Wilcox. He monitors players' intake, burn, and body composition, adjusting meals to build muscle and avoid unnecessary weight loss. Above you'll see everything on the typical menu for an o-lineman like Connor J. Pay ('23), pictured, from breakfast (six hard-boiled eggs and oatmeal) to bedtime snack (peanut butter, banana, and protein drink).
6,500 calories: The average daily intake of an offensive lineman—offsetting an equally high calorie burn. Putting down that food is "part of the job," says Pay. "It's hard work."
2 hours: How often the athletes eat to fuel workouts and fit in everything on their meal plan.
200 pounds: Meat smoked daily in nine grills outside the Student Athlete Building. Each player snacks on two to three trays with rice daily.
Treats: Indulgences like desserts or pizza—Pay's favorite—aren't contraband. "These are 19-, 20-something-year-old guys," says Wilcox. "They're humans with tastebuds."
Post Workout: Players blend ice, milk, chocolate protein powder, oats, peanut butter, and bananas for a recovery smoothie to eat within 15 minutes of lifting.
Football Training Table: Football players and other athletes eat one meal a day at the Legends Grille training table from a menu informed by athletics nutritionists.