---
Folklore professor Eric A. Eliason (BA '92) got his first taste of fry sauce as a BYU undergrad. It wasn't until later that year, when he got a strange look after asking for some at a Denver burger joint, that he put the pieces together: "This is a regional food item."
Fry sauce is just one of many distinctive Utah foods that Eliason cataloged in the book This Is the Plate, coedited with other Utah folklorists. They dish up stories surrounding fry sauce and other Utah favorites, like green Jell-O, thick shakes, and funeral potatoes. Here he explains how food traditions flavor local identity.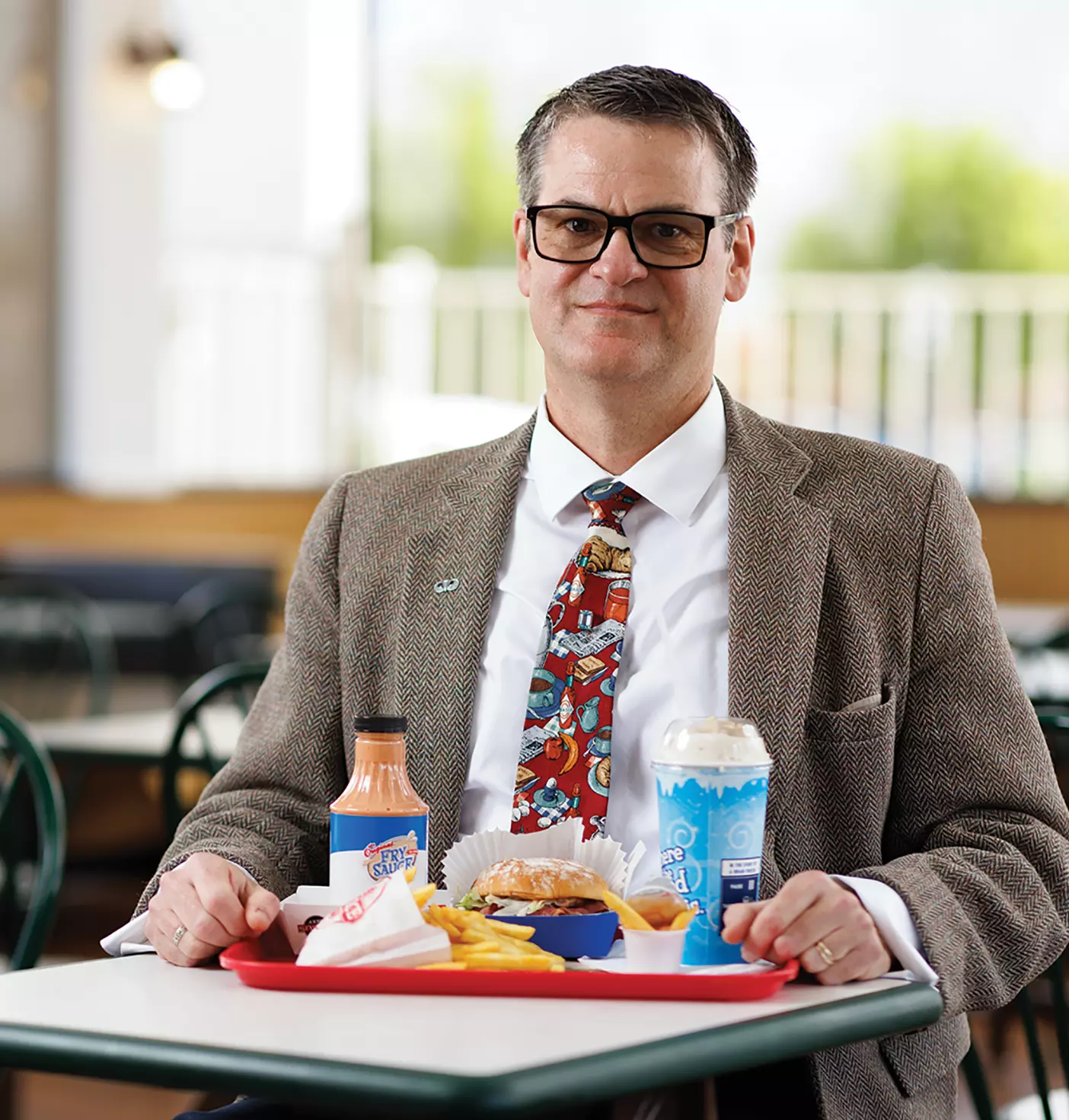 Q: WHERE DO FOLKLORE AND FOOD OVERLAP?
A: Food is often prepared and served with stories, activities, and customs attached. This makes food traditions a type of folklore that is passed down through generations, often in a face-to-face environment, like watching a parent mix potatoes, sour cream, and cheese to make funeral potatoes for post-church gatherings.
Q: HOW DO FOOD TRADITIONS CONTRIBUTE TO LOCAL IDENTITY?
A: Many foods are associated with large regions, like collard greens and grits in the Southern United States. But few are tied to just one state, which makes Utah's food scene unique. To most people, a scone is an iconic English pastry; to Utahns, it's like fry bread, smothered in butter and honey.
Q: WHAT'S AN EXAMPLE OF A UTAH FOOD TRADITION?
A: If you put a straw and a spoon on a table and said, "You're going to get a milkshake. Grab a utensil," Utahns would grab the spoon. In Utah, most soft-serve ice-cream machines are set to 18°F—an unusually cold temperature that makes shakes undrinkable. While over-the-top shakes originated in the Midwest, we credit the Iceberg franchise with making them a Utah icon.
Q: WHAT'S THE STORY BEHIND FRY SAUCE?
A: Fry sauce most likely originated with the now-closed Stan's Drive-In on 9th East in Provo. During the 1960s, when Stan's was an Arctic Circle franchise, customers started asking for "fry sauce": a mix of ketchup, mayonnaise, pickle juice, and paprika that teenage employees had created. After Arctic Circle adopted it, other local companies followed suit. Today, many Utah burger joints keep their fry-sauce recipes secret.