Be it with sweet treats or savory delights, enterprising BYU students and alumni are finding success—and an extra helping of mentorship—in Provo's food scene.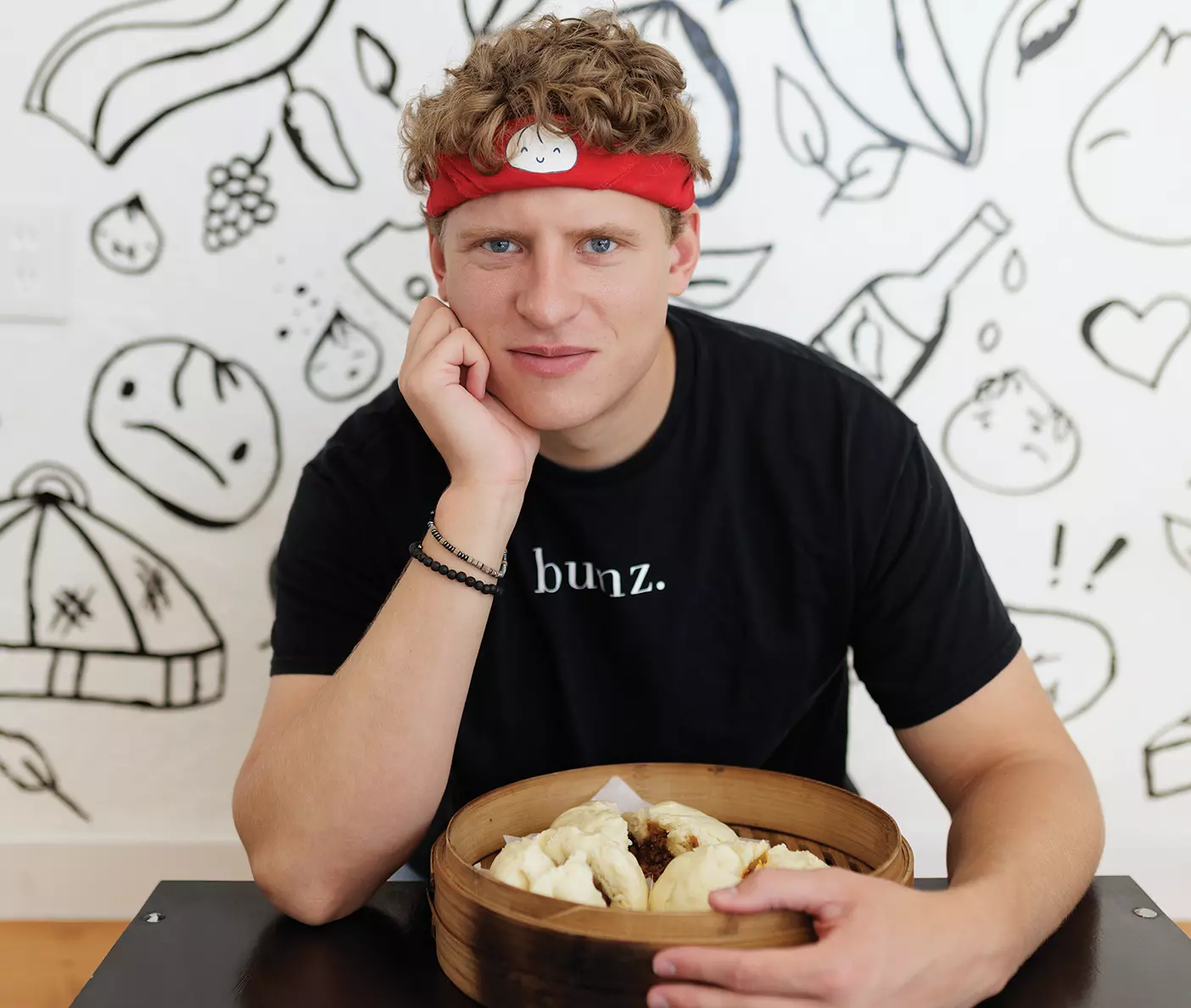 In the fall of 2020, entrepreneurship student James K. "Jimmy" Watson ('23) found himself laboring into the wee morning hours. But not studying at a desk piled with books and flashcards. No, Watson was in his kitchen, counters scattered with flour and measuring cups, experimenting with dough for steamed buns.
At the time, Watson's entrepreneurship professor preached "anti-food business, unless [the concepts] were unique and novel." But Watson couldn't shake his idea for Bun Boiz, a startup that would serve steamed buns with nontraditional fillings. And with planned offerings like the Chosen Bun (spinach-artichoke filling) or the Buncle Rico (the steamed bun meets the cheeseburger), Watson knew "unique and novel" wouldn't be a problem.
To put his buns to the test, it was time to do a pop-up shop and see if Bun Boiz could hold its own in Provo, amid a vibrant food scene offering colorful dishes like tofu and veggie wraps, mini passion fruit cheesecakes, pizookies, spicy ramen, and fresh pupusas.
For help, Watson met with Blake Barkdull (BS '22) and Brandon Barkdull (BA '17), founders of the hit ice-cream sandwich shop Penguin Brothers. The Barkdull brothers opened for business in 2015 while still students at BYU, growing the business from a food truck to two brick-and-mortar locations. For Watson's test run, the brothers volunteered their kitchen and dished on industry tips.
Even with the expert help, the test run was "a complete disaster," says Watson. The buns weren't steaming right, orders got lost, and the wait time was long. But the buns sold out, Watson says, giving him motivation to keep trying. "People really liked us," says Watson. "They would message us, 'I'm craving these. Where are you guys?'" Watson started up shop at his own physical location last fall, and business is booming.
For the Barkdulls, helping Watson was a way to give back. "That's how we were received into the food community," says Brandon. When the Penguin Brothers first dipped a flipper into the Provo food scene in 2016, Peter L. Tidwell (BA '11), owner of The Mighty Baker and two-time champ on Food Network's Cake Wars, gave them a hand up.
"It's just fun to be able to kind of pass that on, something that was given to us freely," says Brandon. "We wanted to do the same."