---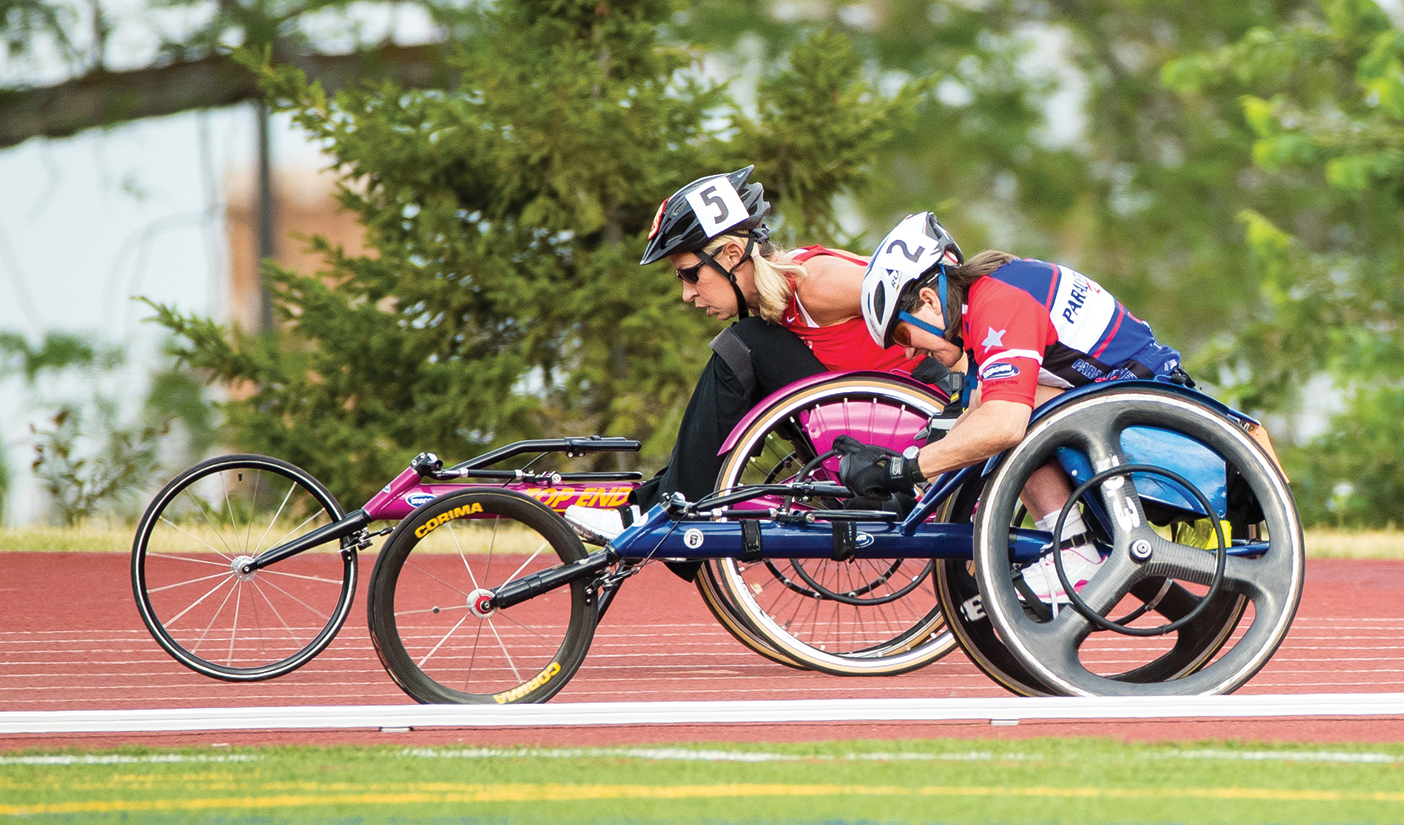 Two BYU alumni helped bring more than 600 impaired veterans to Salt Lake City to compete in everything from table tennis to murderball.
Yes, murderball.
That's what many veterans call wheelchair rugby (don't worry—no one dies), one of 20 sports offered at the National Veterans Wheelchair Games. The annual event, sponsored by the Department of Veterans Affairs and the Paralyzed Veterans of America, helps veterans with life-altering injuries transition to daily life. And the most recent Games, held in Salt Lake City in June 2016, were a success thanks in large part to BYU alums Curtis A. Ivins (BS '92) and J. Casey Ryan (BFA '86).
Ivins and Ryan, both employees of Salt Lake's George E. Wahlen VA Medical Center, had key roles in organizing the events. Ivins, clinical manager for rehabilitation services at the VA, was the Games' local committee chair. Ryan, manager of the VA's computer-aided design system, created the venue layout for power soccer, weightlifting, handcycling, and more—reworking the event headquarters at the Salt Palace Convention Center daily.
"The overall purpose of the Games is to help veterans in their efforts to reintegrate back into life after injury," says Ivins. "We use this as part of their therapy to challenge themselves and learn how to overcome barriers and obstacles to participate."
What Ivins says, former Air Force pilot Kerry Conway illustrates. After multiple back injuries left Conway paralyzed from the neck down, Conway's physical therapist recommended she participate in the National Veterans Wheelchair Games. She has since competed six times. "Participating in these Games gives you a mission again," says Conway, who in 2016 vied for medals in various track and field events, as well as the 100-meter backstroke and 100-meter freestyle. "It also shows other people that it doesn't matter whether you're in a wheelchair, whether you can move your arms or not, whether youcan move your legs or not. That anything is possible."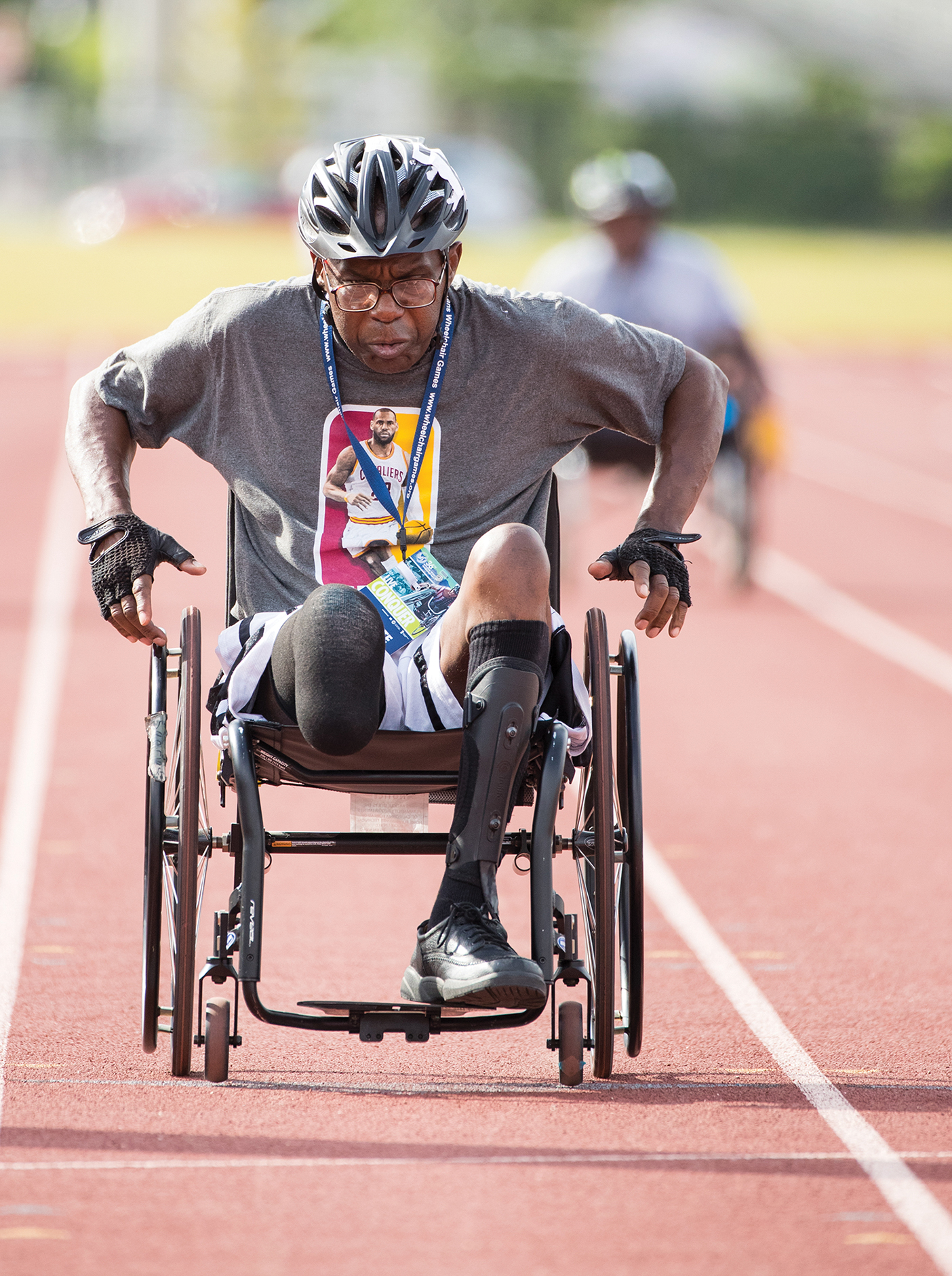 Perhaps more than that, she adds, the Games offer a network. "You've got your comrades, you've got people who have your back, who get what's going on," says Conway. "I'm around other veterans who get it. They know what it's like to deal with PTSD, to be upset, to be angry about something and then learn how to feel better and not be angry about it anymore."
Veterans from all 50 states, Puerto Rico, and England gathered in Salt Lake to compete and to show support for each other. Strong support from VA staff, community leaders, and thousands of volunteers, Ivins adds, made the Games a reality.
Vietnam veteran and BYU alum Michael S. Johnson (BS '80), who has participated in the wheelchair games since 1996—and gone on to win Paralympic gold medals—recognizes the intense effort at the veteran games. "It's good to see that kind of passion in people that have had so much, that have given so much, and lost so much," he says. "I focus more on that, the people and their emotions, than I do the winning and losing part. It's made me stronger."
This sense of purpose and support is fundamental to the Games'—and the veterans'—success, says Ivins. "Being able to make a difference in their lives has just been one of the best things in my career."