---
They named their first 3-D printer Eddie. The "glorified hot glue gun" would spew out heated plastic in the form of anything mechanical engineering students Scott C. Harris ('17) and Ryan D. Garrison ('17) could dream up. They started with rocket parts—they met at a rocket competition—and went on to print a drone, stormtroopers, an engine that runs on compressed air, a clamp to lock the Nutella jar. The objects just had to be modeled—and fit in Eddie's shoebox-sized printing bed.
Eddie, they found, could even print his own replacements.
"There were two of us," Harris explains—and they were parting ways for the summer. "We had to discusscustody," laughs Garrison.
Why not print a 3-D printer?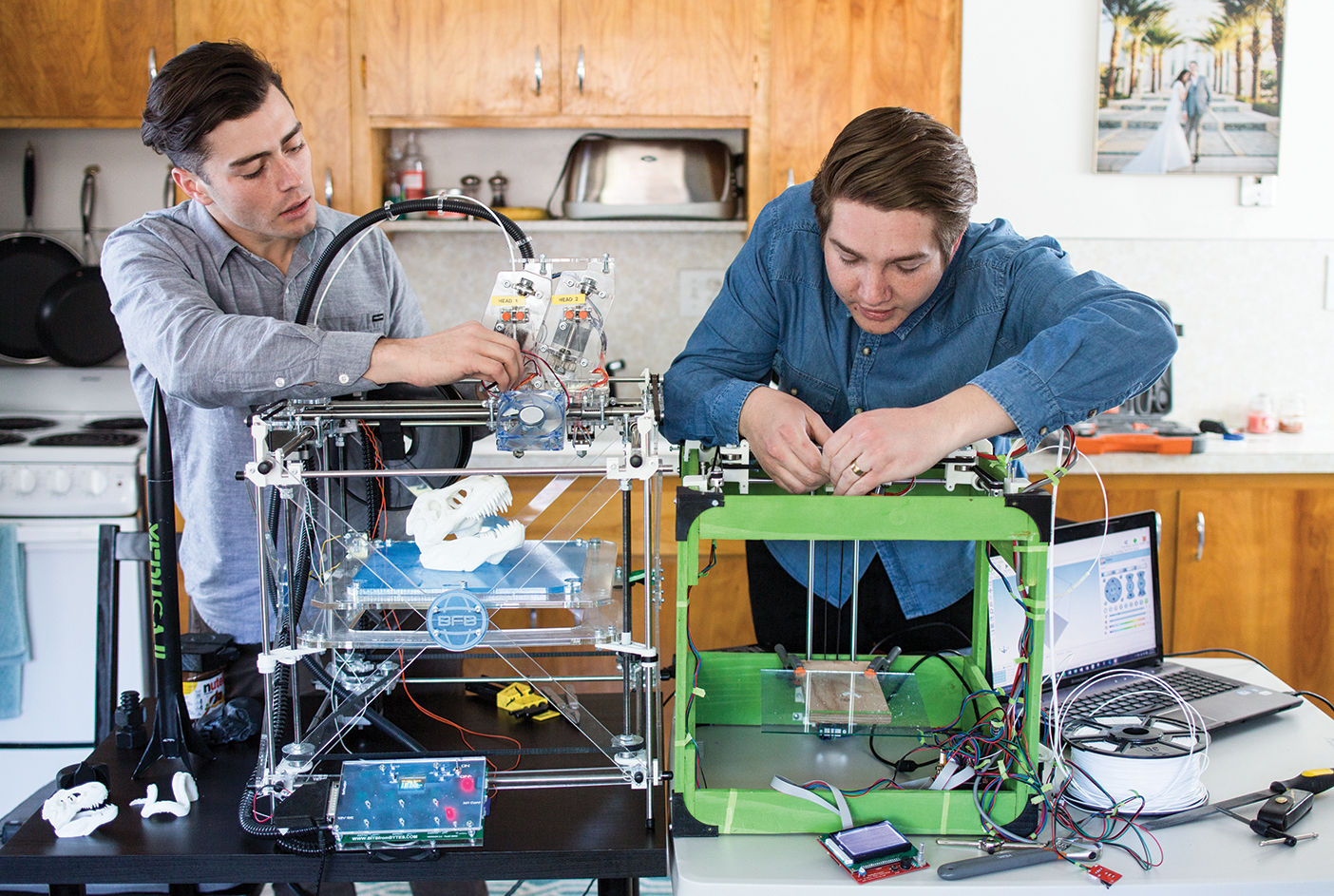 They had patched up Eddie, after all, with 3-D-printed parts. The two had bought him off the classifieds—in disrepair and out of production—last January for $250. Using a manual found online, they printed new parts using Harold B. Lee Library (HBLL) 3-D printers.
"We learned so much about how a 3-D printer works fixing this one up," says Garrison. "Printing a 3-D printer was the next challenge."
And so Eddie begat "Magrathea, the World Maker." (Harris, it should be noted, does the naming—and loves The Hitchhiker's Guide to the Galaxy).
There were mishaps. "We burned the first electronics board"—the only part of the 3-D printer they purchased, says Garrison. "We fried it. We're not electrical engineers."
The project stretched the stuff they picked up in Elementary Electrical Engineering—and a slew of other survey courses required in their major.
"It makes all the theoretical stuff hands on," says Garrison. "It solidifies our knowledge."
And it gives them a leg up. Both leveraged their hobby 3-D printing in interviews for and at their internships: Harris at Orbital ATK and Garrison at Novatek. Both had supervisors offer to pay them to print 3-D printers for them.
Plus, the Harris-Garrison pair will never have to wait for on-campus printing time at the Clyde, Crabtree, or HBLL again. At its peak, the line can be three weeks long.
But why stop at one? While Harris and "Mags" were in Arizona at ATK, Garrison put Eddie to work on a new, yet-unnamed printer that, according to Harris, "blows the older printers completely out of the water."
"Of course there will be a fourth!" says Garrison. He sold Eddie (for $300) at the end of the summer, and they spent the fall using the new wonder printer to replace Mags (enter Magrathea II). "The printer is going 24-7," says Garrison, calling it a white-noise machine in his and his wife's apartment kitchen. "I feel uneasy if it's not running. I don't like it."