---
Have you ever noticed that only when people become rich do they argue about how poor they were? Believe me, being poor is no great honor. In fact, what initially drove me in life was that I hated being poor.
I mention this because when I was poor, I didn't know what true poverty was. And when I became rich, I didn't know what true riches were. Now I know a little more about true poverty and true riches.
I owe this blessing to The Church of Jesus Christ of Latter-day Saints. Although I'm not a member, about three years ago the Church asked me if I had room on my plane to drop off 15 tons of canned meat for refugees in Kosovo. Then the Church said, "And is there any chance that you might have a little extra room to drop off some wheelchairs in Romania?"
I had never really thought about wheelchairs before. After that trip, I could think of little else.
When we dropped off the chairs, the doctor told me that disabled people in Third World countries are often just discarded, abandoned, or hidden in back rooms. I met a girl who had spent the last 23 years lying on a mattress, looking at the ceiling without the ability to move. Imagine not being able to see the outdoors unless someone carries you.
When we were in North Vietnam, we put an elderly lady in a wheelchair. Speaking through an interpreter, she said, "I'm 85 years old, and I've wanted to die but was not able to." Then she looked at me and said, "But now I don't want to die."
In Zimbabwe, a fellow crawled 17 kilometers on his elbows to get to us. We put him in the wheelchair, and he was going around and around with a big smile on his face. After a while, he pulled himself out of it and sat on the ground. We asked him why. He said, "I've had my turn." He didn't realize he could keep it. This year he came back with his children to show that the chair was just like new.
For millions of people, a wheelchair is not confinement. It is freedom—freedom to move, to go to school, to get a job. A chair is hope. Self-reliance. Independence. It is dignity.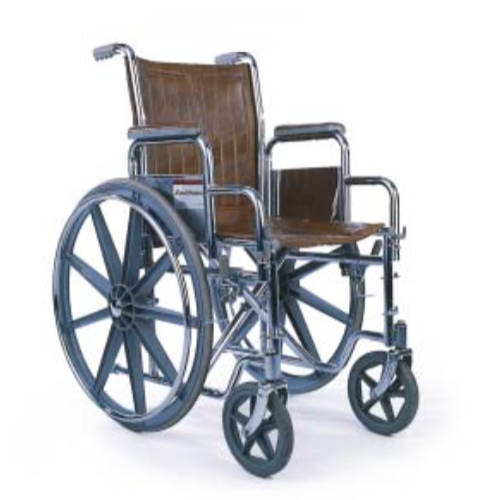 Eleven years ago, a young South American woman who was going to school got hit by a truck. She spent the next 11 years in bed. After we gave her a wheelchair, she came back and said she had reenrolled and was starting her studies the next day.
These people's stories may seem far removed from this beautiful campus. So what do they have to do with you graduates? I think these stories reveal a number of truths about life and how we live it.
There is so much need out there in so many different ways. This wheelchair mission is the greatest thing that's happened to me in my life. I used to give money to good causes because I felt obligated to give back. Many people give because they feel obligated—which is good. But they don't feel the giving with their heart. Giving is not a duty; it is a joy.
I wish every one of you graduates could lift someone into a wheelchair and look into his or her eyes. I want you to feel such joy and humanity. Your lives are going to need similar experiences to be truly rich.
Let me close with one last story. When I was in Yugoslavia, a man told me about his teenage son who had stepped on a land mine and lost both legs up to his hips, an eye, and his hearing. Although they were refugees, they had a house and sufficient food to survive. And now, with this wheelchair, he could take his boy out to sit in the sun.
I don't think that the desire of a human being to sit in the sun is too much to ask.
As you graduates leave here today full of brightness and possibilities, I ask that you not forget those who lie in the lonely depths of darkened rooms—immobilized perhaps physically, mentally, or by poverty or despair.
I don't care how rich you become. I don't care what position of power you someday hold. I don't care what you invent or create or build. I ask only that along life's path you take time now and then to help your fellow man sit in the sun.
Philanthropist Kenneth E. Behring established the Wheelchairs for the World Foundation in June 2000. This article is condensed from a speech he gave after receiving an honorary doctorate at BYU's August 2002 commencement ceremony.