Run by BYU student volunteers, Camp Kesem is a summer camp for children whose parents have suffered from cancer.
Nestled between pine- and oak-covered mountains near Tooele, Utah, they play. Cheeks pink, legs dusty, kids and teens 6 to 18 blast Nerf guns in a grassy field. On a wooden stage they dance to peppy summer anthems; at picnic tables they thumb wrestle; in a pool they call out, "Alligator, Alligator, what time is it?" It is, by all appearances, a summer-camp dreamland.
In a quieter corner of the campsite, small groups gather in the shade of a pavilion. Counselors—BYU student volunteers—and campers take out small brushes, dip them in black paint, and write on forearms, biceps, legs: "Have hope," "I miss my mom," "Be brave."
Michelle L. Mayer ('20)—known as "Smu" here, where everyone goes by nicknames—poses for a picture with 8-year-old "Wolverine." The words on their arms combine to read, "For our dads." They smile for the camera then step away for a silent, tearful hug.
Welcome to Camp Kesem, a national organization that provides free summer camps for children whose parents have or have had cancer, run by college-student volunteers. BYU started its chapter in 2008, and Mayer, whose dad died from cancer and who attended UCLA's camp for eight years, just finished her first year as a counselor. At August's camp, which drew 134 children and 64 BYU-student volunteers, she worked with the 7- to 9-year-olds, including Wolverine, whose dad died in 2012.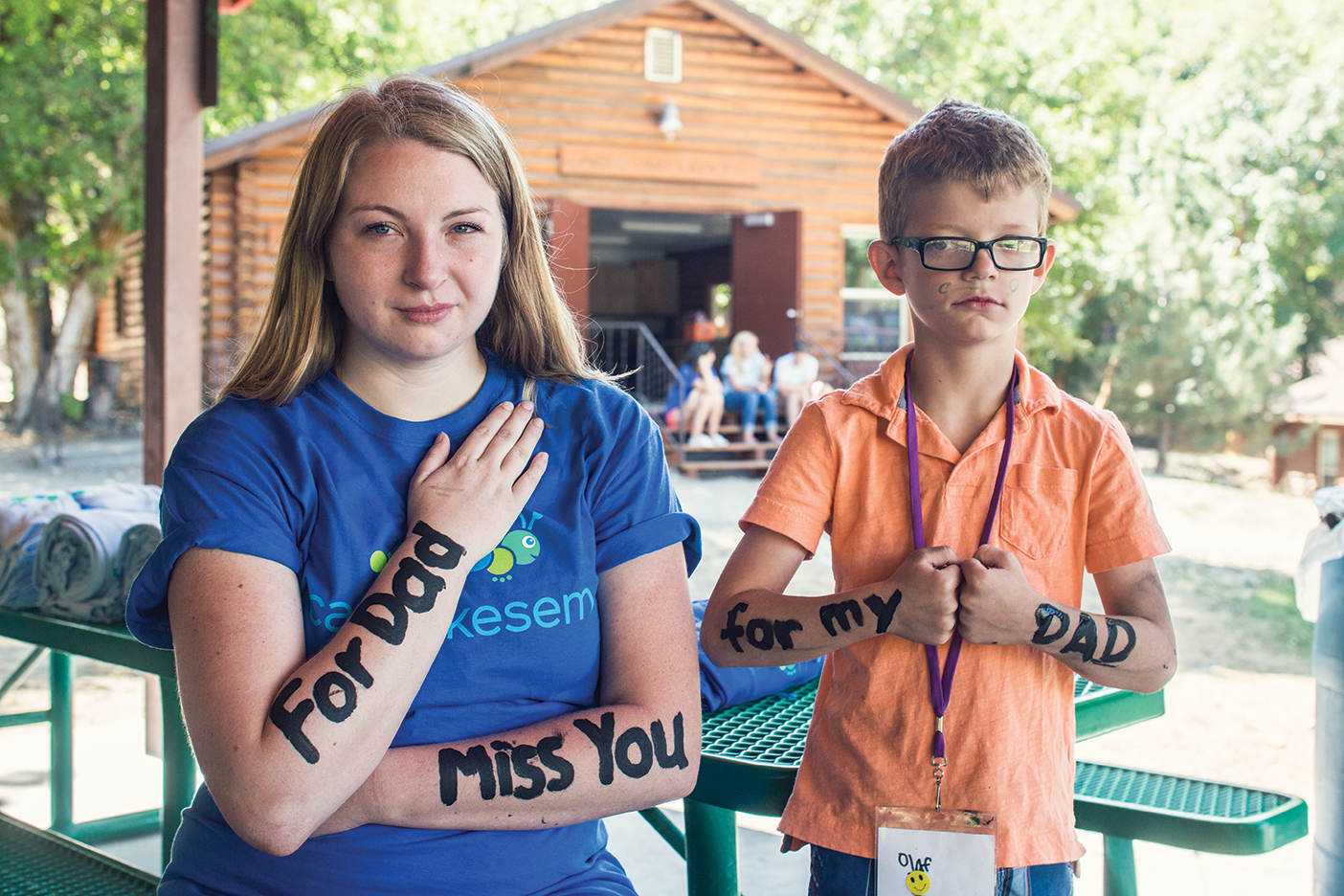 "Counselors always brought so much happiness to me," says Mayer. "And now being able play with [the kids] . . . and bring happiness to them makes you see the magic come full circle."
Counselor Sean D. "Baloo" Allsop (BS '16), who lost his mom to cancer, has volunteered for four years. "At home [the kids] are stressed and worried, . . . but then they can come here and laugh and smile and play," he says.
In the log-cabin cafeteria at lunchtime, sandwiches, fries, and watermelon are pushed to the side so 9-year-old "Gun Show," sleeves rolled up, can arm wrestle a counselor. A gathered crowd watching on, Gun Show emerges victorious.
In his three years at camp, the gregarious boy has developed a rapport with counselors, who, he says, let campers "do fun things, instead of [only] grieving over the sad things." Away from camp they've come to his baptism, a few basketball games—and his dad's funeral. It's that support, from counselors and campers alike, that makes Kesem so meaningful, he says. "[My friends are] like, 'Oh yeah, I've had a dog die too.' And I'm like, 'That's not the same. I had a dad that died.' . . . It helps me a lot to be here around people who know what I feel like."