This wise family builds its bonds upon the sand.
Game nights. Reading. Running. Every family finds its own way to strengthen bonds. Beach-loving Daren M. (BA '93) and Tammara Tueller Collins ('91) from Carlsbad, California, have built their family culture around the ocean. As Daren likes to say, "A family that surfs together, stays together."
He means it. They live two blocks from the beach, they have hundreds of boards and wet suits, and all of them surf. Daren, a sales executive, surfs when he's not working—and sometimes it's the other way around. He is the recent winner of the over-45 National Scholastic Surfing Association (NSSA) championship. Tammy is a skier turned surfer who picked up the sport with a girlfriend when her kids were little. "My dad was really amused because I would go to work every morning and my wife would go surfing," says Daren. "He just thought that was poetic justice."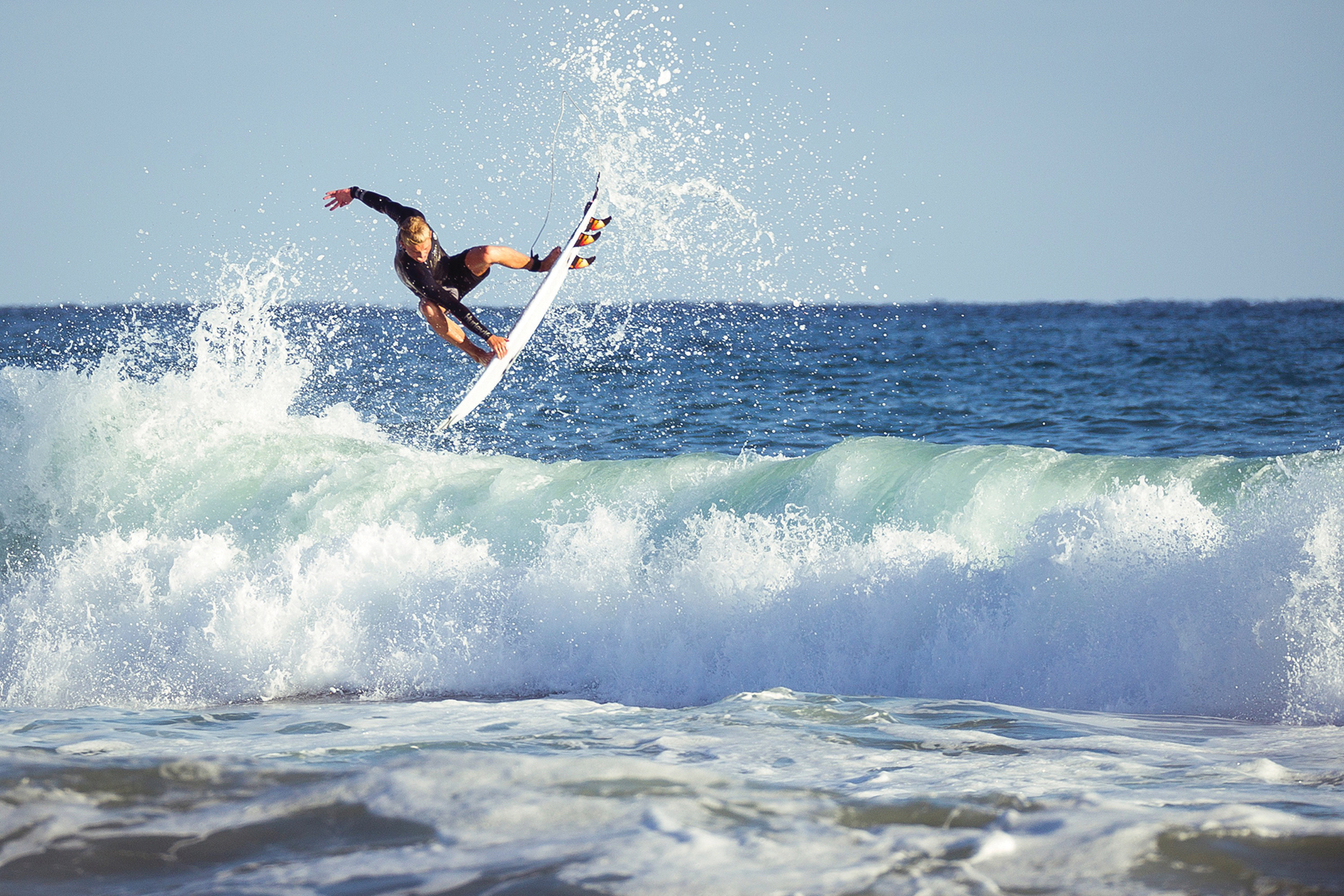 The kids went surfing with Dad as young as 2. For Justin ('18), a BYU exercise-science student; Joshua ('20), a missionary in the Czech Republic; Jordy, an up-and-coming "grom"—or young surfer; and Jill, a pint-sized yogini, surfing was as natural to them as walking.
Jordy, 17, hopes to qualify for the World Surfing League—the pros. He's already won big competitions, including the NSSA West Coast Regional/SW Conference Championship and the prestigious King of the Groms tournament in Brazil, and represented the USA in the International Surfing Association World Junior Surfing Championships in Portugal's Azores islands in September.
Going pro isn't easy; there are hazards in the water and out. Jordy, who is homeschooled as surfing and travel allow, says he learns life lessons in a worldly surf culture. "A lot of people . . . are boastful and into themselves," he says. "I've always tried to just stay humble and, when I lose, take that and use it as a learning experience to go back stronger on the next one."
Yes, the Collinses are blond and handsome. But brewski-loving beach bums they are not. They are a close-knit, gospel-centered family that breaks molds in the worlds they inhabit. Jordy takes Sundays off and is conscientious about being an example to his fellow groms. The family has turned their home into a safe hangout for dozens of local kids, and their community beach parties (with son Josh as DJ) are known to be as fun as they are clean. As a yoga instructor, Tammy teaches the skill to youth and young girls who struggle with insecurity.
Tammy took up yoga during her own difficult time, and it became an avenue for spiritual renewal. She told her husband: "This is really helping me heal and . . . have a more open, intimate connection with my Heavenly Father. I feel I can just really lay out what I'm going through and be vulnerable and work through it and understand the Atonement better."
Daren and the kids soon joined in. Now daughter Jill, 12, is the youngest licensed yoga teacher in the country. She had the idea of opening up a yoga program for young girls and teens and then made it happen.
Surfing, yoga, and oceanside living are passions and sources of peace for the Collinses, who feel a strong connection to God through nature. "The sea takes away the distractions of your worries and makes you feel connected to your Heavenly Father," says Tammy. "You have to be very in-the-moment when you're in the waves, and because of that you're completely unplugged and tapped into the beauty around you."