An alum's intricate moving sculptures are full of unexpected combinations—art and science, nature and technology, the material and the spiritual.
Karl J. Hale (BS '98, MAcc '98) never considered himself an artist, but after 20 years working as a software engineer, he needed a way to relieve stress and break the monotony of his daily work. "I think that the engineering end of my brain has always loved the engineering fun of a marble run," he says. "I thought, 'Wouldn't it be interesting if you could make a marble run that is appealing to the engineering end of people but also was aesthetically interesting, was beautiful?'"
Hale started making what he calls "kinetic sculptures"—sculptures that depend on the movement of their pieces for their effect. His art resembles traditional marble runs, but instead of using metal, which would be easier to shape and reshape, Hale uses wood for a more elegant aesthetic. He brought together a background in woodworking and his technical experience, which he employs to shape the paths of his sculptures on the computer before bringing the design to life.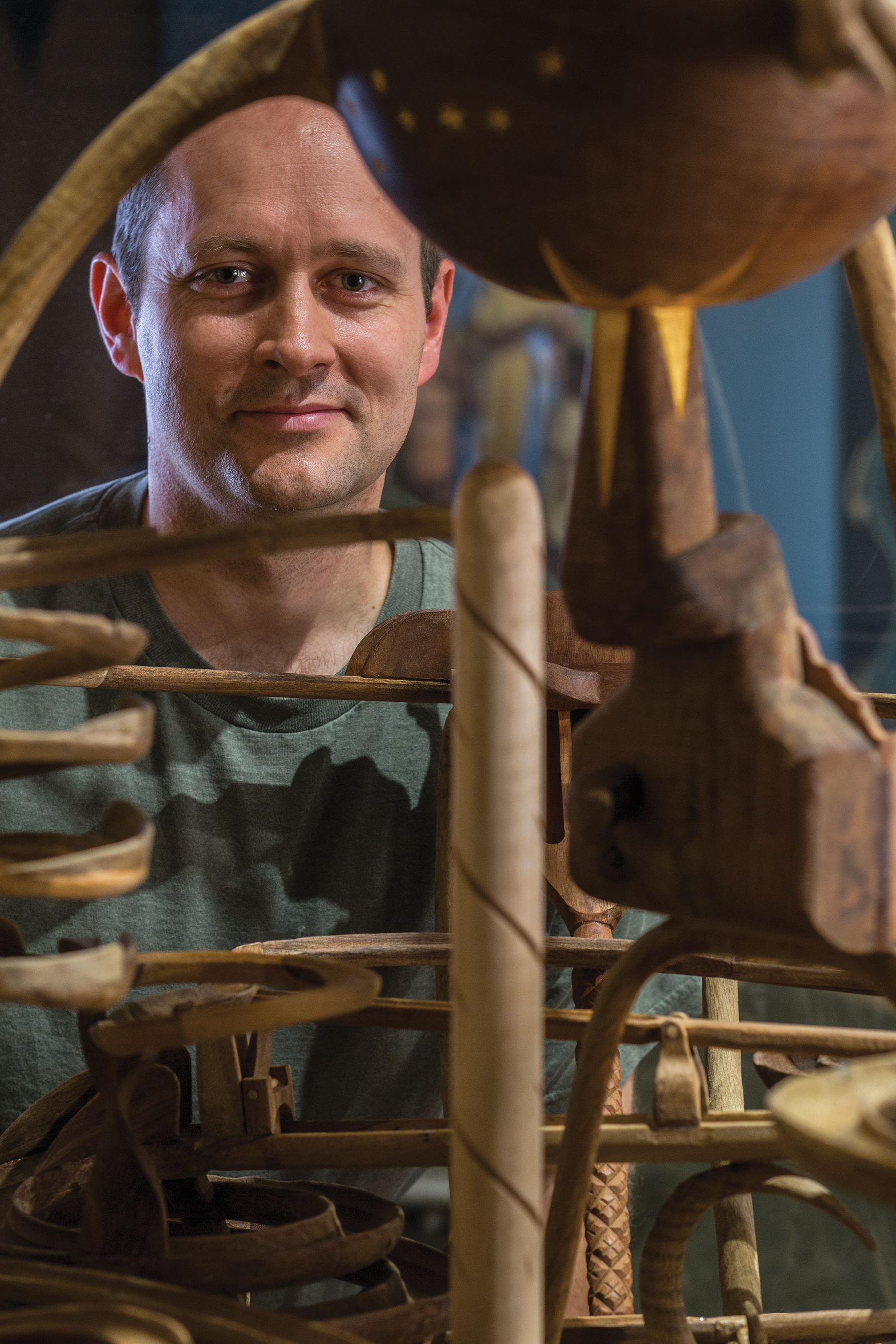 Hale hopes that people with a wide variety of backgrounds will be able to enjoy his sculptures, even if art isn't something they're usually interested in. Some people, he explains, "are not necessarily drawn to just the aesthetic right-brain type of interest. . . . Interactive art draws people in who wouldn't be interested in walking sedately through a museum, looking at oil paintings."
In the three years since he started, Hale has won awards at local wood-carving shows and his art has been displayed in the Springville Museum of Art's Spring Salon, a competition designed to promote and highlight contemporary Utah art. One of his sculptures, Tell Me the Stories of Jesus, made it to the final round of the 2015 LDS International Art Contest.
Many of Hale's sculptures incorporate religious themes, drawn from the role faith plays in his life. "As I'm looking at lots of things in my life, . . . I often find myself seeing parallels or illustrations of eternal truth," he says. He then finds ways to work those metaphors into his sculptures, expressing spiritual truths and scripture stories through the movement in his art.
Making these sculptures has helped Hale to find fulfilment and feel a deeper connection with God. "God did this incredible thing," Hale explains. "He created this beautiful piece of art, this wood. I . . . just play with the already underlying beauty of it, but [I] make it do stuff that people haven't traditionally tried to make it do. When I succeed at that, that's really satisfying."