---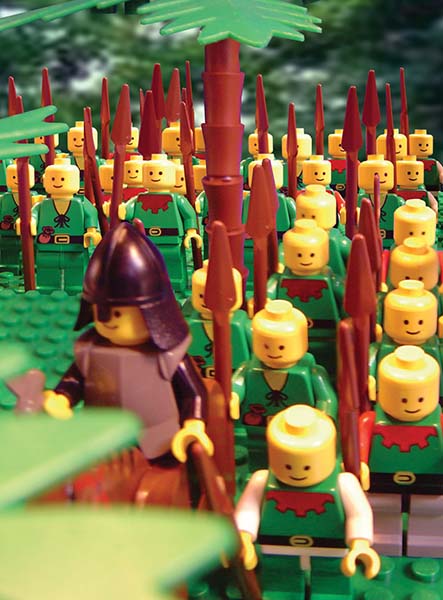 During the summer of 2005, Steven J. Van Wagenen (BA '96, MBA '98), director of operations at KLAS Enterprises in Orem, Utah, hurt his back. But his sons Taylor and Matthew, then 7 and 5 years old, still wanted to play with their dad, so they broke out the Legos. Van Wagenen, however, decided he wanted to do more than build randomly; he wanted the blocks to depict something significant. He thought of the Book of Mormon.
"Our first scene was to show Nephi retrieving the brass plates," Van Wagenen says. "My sons made Laban a man with an eye patch." That scene soon became 26, which they combined with scripture verses in a self-published book, Brick of Mormon Stories.
It wasn't always easy. "While creating the tree of life story, we had to figure out how to build a great and spacious building without a foundation," he says. "We crafted it and attached it on top of a [Lego] staircase."
As they worked with their dad, says Samantha Wells Van Wagenen (BS '00), "the boys thought and talked about the stories. My husband helped them find answers to questions. . . . Bringing the characters to life made the scriptures real."
In a 2014 follow-up volume, Brick of Mormon Church History, Restoration scenes get the Lego treatment. This book, which involved two more Van Wagenen boys—Caden and Spencer—added questions about Church history for families to discuss. "My favorite Lego scene is the story about how the Van Wagenens became part of the Church," says Steven. "I hope that because my sons built it, they will remember their own heritage."
The Van Wagenens have heard from many readers who say the scenes made the scriptures more approachable for children. "Looking back, it was an inspiration to do this," says Steven.
Proceeds from the books go to the sons' mission funds, but Steven says the real payoff has been learning to liken the scriptures. "How do you accomplish this? It has to be something to which you already relate," he says. For the Van Wagenens, Legos were the perfect medium.
Name That Scene
See if you can name the scripture and Church history scenes in the following pictures taken of the Van Wagenens' books: