---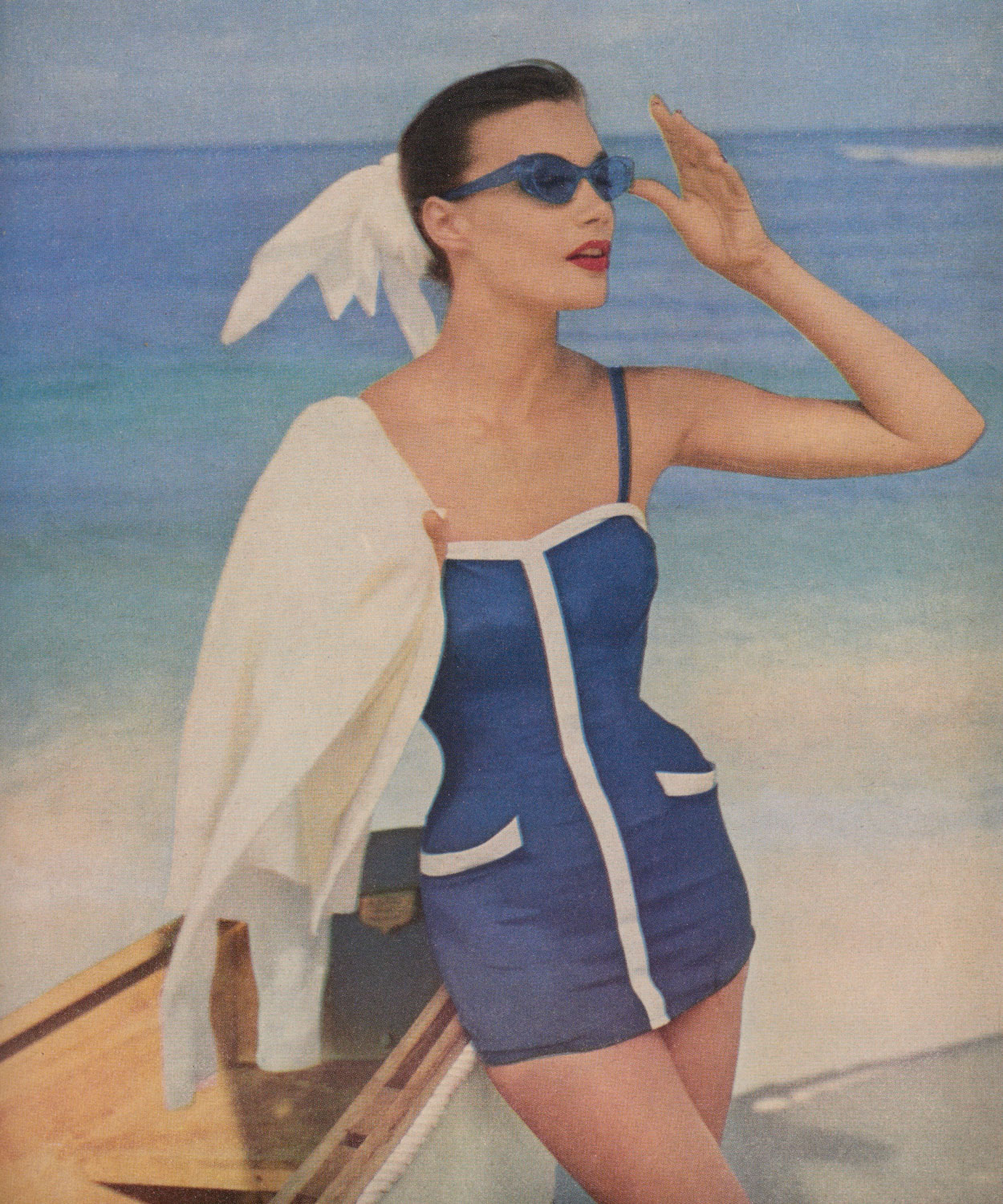 Her swimsuits were donned by Marilyn Monroe and were the hot items in '50s beach-party films. They even helped fund the construction of the Los Angeles California Temple. "In many respects, Rose Marie Reid pioneered the design of the modern swimsuit," says John M. Murphy, curator of the BYU exhibit Rose Marie Reid: Glamour by Design, on display in BYU's L. Tom Perry Special Collections through June.
When Reid broke onto the fashion scene in 1936, swimwear was typically made of wool, sagged when wet, and came in one standard size. Reid introduced elasticized fabrics, a patented stitch, sizes for an array of body shapes, and flattering designs such as Royal Ribbons and Hourglass. With these innovations, her business in Vancouver, British Columbia, grossed $10,000 in its first year—in the middle of the Great Depression.
Reid often said that women should "look as lovely in a swimsuit as they would in an evening gown."
Divorce compelled Reid to move with her three children to Los Angeles, where she launched Rose Marie Reid, Inc., in the beach culture capital. Business exploded worldwide. The woman who, in a 1953 BYU devotional, said she originally wanted only to "keep house and look after babies" grossed $18.1 million a year by 1960.
"I have designed every stitch our firm has ever turned out," said Reid, who worked tirelessly on the factory floor and traveled prolifically to advise her marketers and sales clerks, becoming the first U.S. woman to fly 500,000 miles cross-country.
"She traveled everywhere with a Book of Mormon, and often with a baby on her arm," relates Carole R. Burr ('93), one of Reid's daughters. By the time her flight landed, Reid would have taught her neighbor the first missionary lesson. Her faith mingled with her trade—she shot down offers for lucrative cigarette ads and refused to make bikinis. In the 1950s Reid recruited local Southern California Relief Society sisters to hand-sew sequins onto her white Starlight suits, donating the profits to the Los Angeles Temple's construction. Hundreds answered the call, volunteering thousands of hours. Factory workers dubbed the line the "Relief Society" suit. The Church even worked with Reid to create standardized temple garments.
"Living the gospel makes you successful in business," affirmed Reid in her BYU devotional. "There isn't any other formula."
Listen to Rose Marie Reid's 1953 BYU devotional here.