---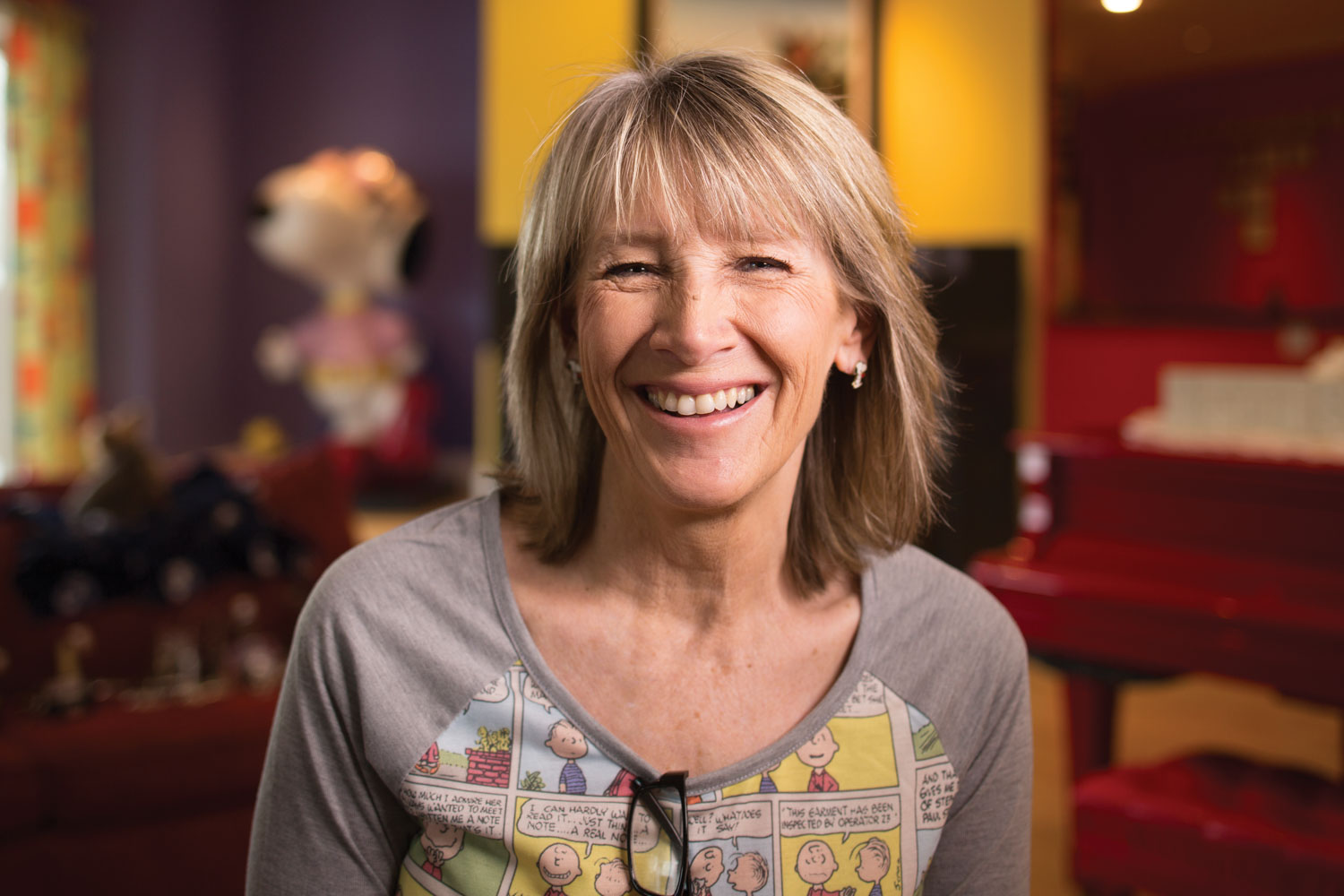 As a daughter of Peanuts creator Charles M. Schulz, Amy Schulz Johnson ('20) inspired a comic or two. Like the one in which Linus, proselyting about the Great Pumpkin, gets doors slammed in his face. Her father signed a personal copy of that strip, "For John and Amy, who know what it's like," says Amy—a nod to her and husband John B. Johnson's (BA '88) days tracting as young missionaries in England.
"All I had to do to join the Church was buy a dress," she jokes—her home life was family oriented, no drinking or smoking. Her father, though not a member, supported her decisions to be baptized at 22, serve a mission, marry, and attend BYU.
Now, after a long hiatus raising nine children, Johnson is back to finish a degree, bringing a zaniness and passion imbued in her childhood.
None of the characters were modeled after her (don't dare suggest Lucy, she warns). In actuality, it's Johnson who takes after a Peanuts character: her favorite, Pig-Pen. "I like messy things," she says, recounting the sort of things that flew in the Schulz household. Like the time she brought her pony into the kitchen and out the back door, parents unfazed. "It was just the greatest childhood," she says—one she has strived to replicate for her children. "Your house is supposed to be fun; you live in it."
"I didn't have my first bite of cereal until I was in college," says daughter Emily Johnson Beaty ('16); her mother insists on making waffles every morning (and has for 32 years). And eating ice cream every day. And owning a herd of cats (she has 12). Every wall is a different color, there's a basketball hoop in the kitchen, and, among the Peanuts stuff everywhere, a Charlie Brown statue greets visitors in the driveway. "We used to have carpet," says Beaty. "My mom changed it to wood so we could play hockey."
The mother-daughter pair is attending BYU concurrently now, Johnson, 59, studying linguistics. After years of telling her children, "If you follow your passion, doors will open," she decided to take her own advice. She would love to be part of a literacy program for United Way, to which she has long donated. "Wouldn't that be cool?" she says. "I could teach somebody English and help get them a job!"
If there's one way she's like her dad, Johnson says it's her "all-in neurosis." She remembers telling Schulz—who did all the idea-generation, drawing, and lettering of his 18,000 strips alone—"Dad, you're obsessed." But in her parenting and in her studies, she's got the same compulsion. "I obsessively read books about the English language now," she says. Johnson has even become "e-mail buddies" with one of her textbook authors, David Crystal, who uses her dad's comics in his books. "Crystal is like the PR agent for linguistics," says linguistics professor Cynthia L. Hallen (BA '80, MA '82)—comparing him to the Stephen Hawking of physics.
Johnson approaches her studies with intensity and boundless enthusiasm say her professors. For instance, she's joined Hallen at the front of the class to dance and sing. She makes treats for "the kids" in her class every semester—chocolate Peanuts characters last fall in honor of the new Peanuts movie. She even brought her missionary-daughter's giant stuffed dolphin, Dave, along to Hallen's office hours one day (she was documenting Dave's day at BYU to make her daughter laugh).
"I'm not describing a cartoon-character student," says Hallen. "There is a childlike joy in Amy. That childlike joy is not to be misrepresented as something trivial. That joy fosters the hunger for knowledge, the openness to learning."