---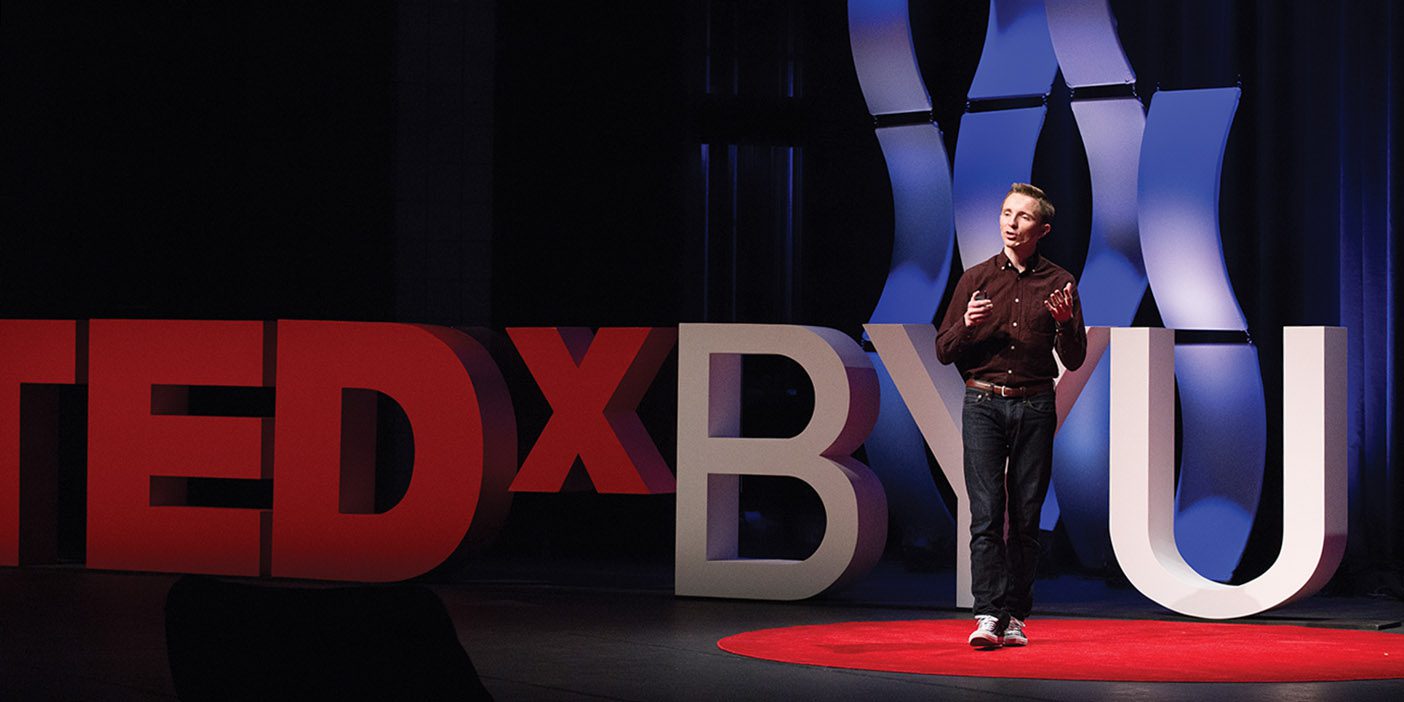 Wondering how to navigate the digital world safely? Or how to create a cohesive company culture? Or reduce poverty? In under 20 minutes, you could have the answer. BYU's Melvin J. Ballard Center for Social Impact. serves up such insights through : TEDxBYU., an independently organized extension of the famed TED talk series. that sells out in minutes each year.
Spring 2020 would've marked 10 years of the event at BYU. Postponed until this year because of COVID-19, TEDxBYU was held virtually, featuring prerecorded speakers streamed on YouTube Live for an unprecedented number of viewers. Event manager Rose O. Palmer (BA '84) and her team "re-created the energy of the live event" with interactive experiences like virtual Q&A sessions with the speakers and the chance to exercise with an Olympic skier.
To celebrate this 10-year milestone, we're bringing you the top 10 TEDxBYU speeches of the decade, chosen based on survey feedback, standing ovations, and unforgettable ideas.
"Change Behavior, Change the World" Joseph W. Grenny (BA '91), popular speaker and coauthor of New York Times bestseller Crucial Conversations, shares the story of a Kenyan woman who brought herself out of poverty and prostitution with help from six sources of positive influence.
---
"The New Front Lines" Jake Harriman, a retired US Marine Corps commander and founder of Nuru International, argues that the "war on terror" won't be won until the global community combats extreme poverty—the leading contributor to terrorism—by training leaders in developing countries.
---
"Geometry Hidden in Plain Sight" Recognizing geometric patterns in the natural world can help us understand and engage with the beauty around us, says Elise "Lisa" S. DeLong (BFA '97, MA '01), an artist and educator.
---
"Pooping Unicorns and the Power of Comedy" David L. Vance (BS '12, MPH '14), a marketing professional, comedy writer, and former BYU Divine Comedy member, makes the case for humor as the ultimate tool of persuasion.
---
"How Can Work Save Our Relationships?" Forget motivational posters, says Don Rheem. Instead, the CEO of E3 Solutions uses insights from neuroscience and cultural experiences to help employees engage with his company in meaningful, lasting ways.
---
"What Do We Really Mean When We Say College Isn't for Everyone?" First-generation college graduate Alexandra Bernadotte nearly dropped out during her freshman year. Now CEO of the nonprofit Beyond 12, she believes that college can be for everyone if we eliminate the systemic barriers that impede enrollment.
---
"The Future of Happiness" The digital era is nothing to fear, says author and speaker Amy Blankson. Now CEO of Fearless Positivity, she breaks down how to prepare for the online future and equip ourselves with tools for "digital well-being."
---
"What Makes You Come Alive?" Beloved Utah singer-songwriter Peter Breinholt encourages listeners to pursue the things that make them feel alive and embrace them without shame.
---
"Hugs and Algorithms: How Data Drives Brighter Futures for Foster Youth" Sam Cobbs, then CEO of First Place for Youth, is an expert on the issues that children in foster care face. He shares how a data-driven system can improve their lives and provide individualized support.