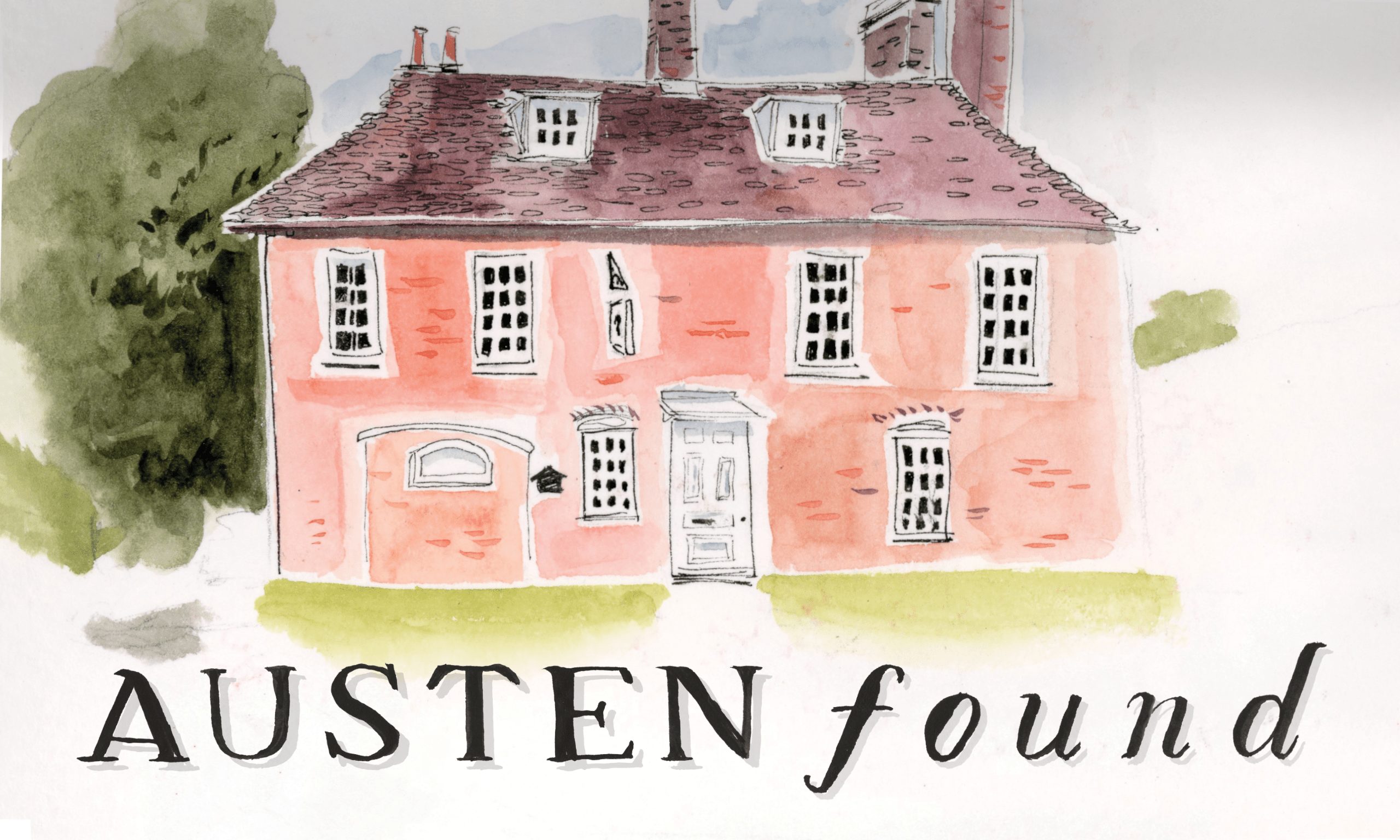 Three BYU grads turned their literary excavation of England into a love letter to Jane Austen.
---
By Andrew T. Bay (BA '91, MA '94) in the Spring 2021 Issue
Illustrations by Lexi K. Nilson (BFA '18)
In August 2018, a BYU senior and two recent grads at London's Gatwick Airport crammed themselves and their gear into a VW Golf and motored west to Hampshire, careful not to let their right-side-of-the-road driving instincts kill them. As London's gray skyline gave way to old oak forests and hilly green fields and lovely homes in little hamlets, the three were ebullient, trying to take in every detail. Giddy as the trio was to embark on their pilgrimage, going back in time to walk where their hero walked, this was no vacation. They'd come to England as documentarians.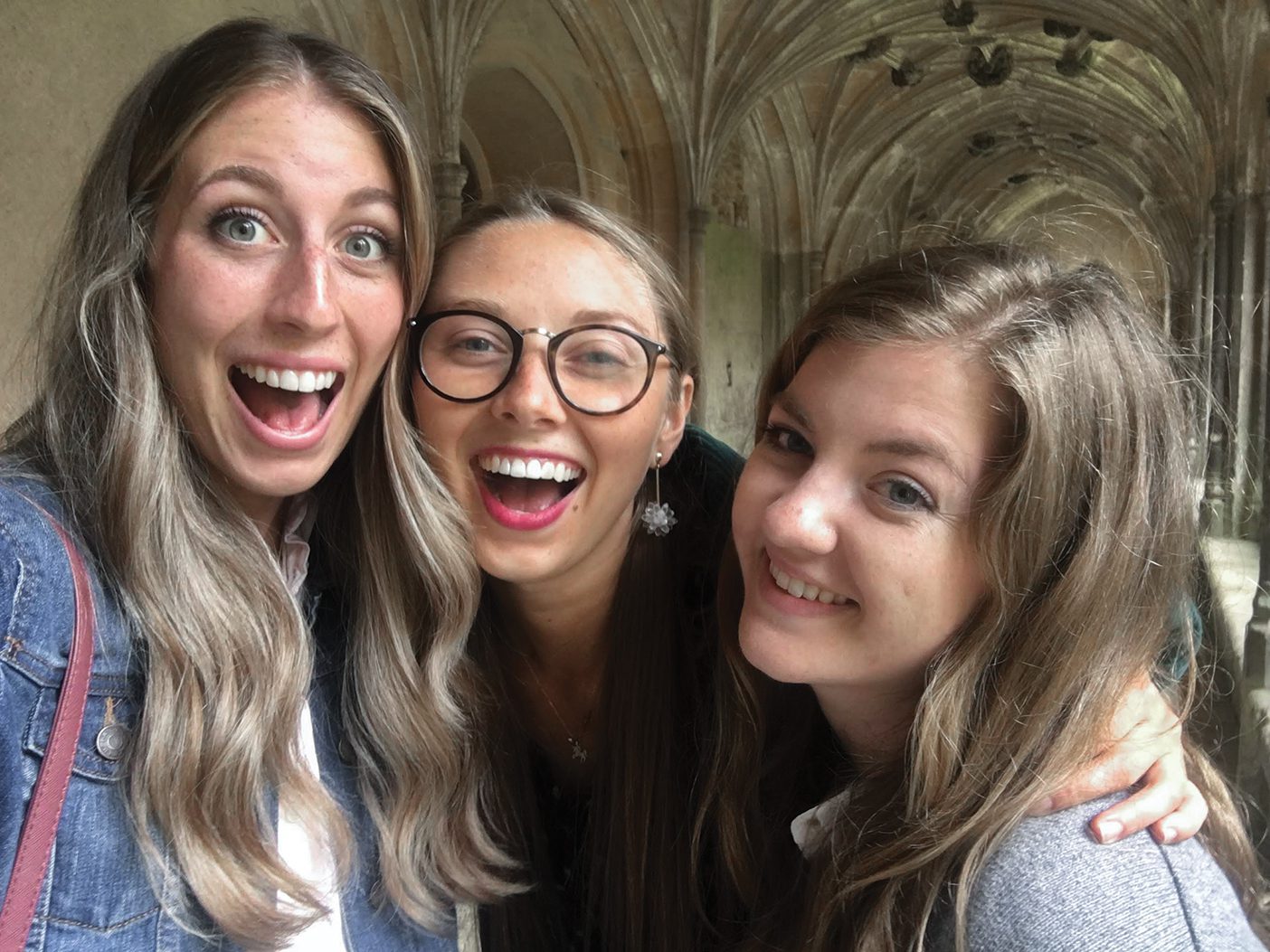 When the friends pulled up to the brick cottage where British novelist Jane Austen (1775–1817) spent the last eight years of her life with her mother and sister, they were breathless, in awe of what issued from this tranquil scene. Lexi K. Nilson (BFA '18) took out a pen and began to draw: high red chimneys atop a steep roof and white French windows overlooking lush green lawns and daffodils. In the dining room inside, Nicole A. Jacobsen (BA '19) stared in awe at the small wooden desk where Austen did most of her writing. Devynn MacLennan Dayton (BA '18) snapped photos. A short walk away was Jane's brother Edward's house, where the women admired the a large estate with its walled gardens and gorgeous wrought iron gates. Later, as the women rested over sandwiches at the Greyfriar pub, they considered how Austen's words had carried them there—and pinched themselves to be sure it was all real.
It was the first leg of a tightly scheduled two-week Jane-fest punctuated by chamomile tea and crumpets, Georgian-era homes, and 10,000 roundabouts. The trio drove 1,200 miles, from quaint seaside towns like Lyme Regis to the northern crags of Stanage Edge, documenting scores of sites related to Jane Austen's life, works, and film adaptations. Their ambitious project, launched with a grant from the BYU Laycock Center for Creative Collaboration, was to create a publishable Jane Austen travel guide.
Each woman had her own role on the trip and in the project. Jacobsen drove and determined literary priorities; Dayton navigated, took photos, and managed social media; and Nilson painted each location in pen and watercolor. All of them took in bookworthy details. The passion for Jane Austen that drove them had more threads than a Longbourn needlework. Their project was a tribute to the woman and role model who still animates them. They call the book a "love letter" to Jane Austen.

Earlier Chapters
At the Fashion Museum in the spa town of Bath, a Regency-era hotspot with Roman origins where Persuasion and Northanger Abbey are set, advertising grad Dayton turned her camera on Nilson and Jacobsen, decked out in long period dresses and caps and dancing with joyful abandon. Each of them felt a unique connection to Austen: independent-minded women writing a book about an independent-minded woman who wrote books. This trip was the fulfillment of a journey that had begun in earlier chapters of their lives.
Devynn Dayton developed literary interests at a young age, attending speech and drama classes beginning when she was 3. Practicing and presenting monologues in front of her mother are among her most vivid memories. "As my mom fell in love with Jane Austen, Shakespeare, and other writers, so did I. As I memorized my lines, I always felt a connection with my mother."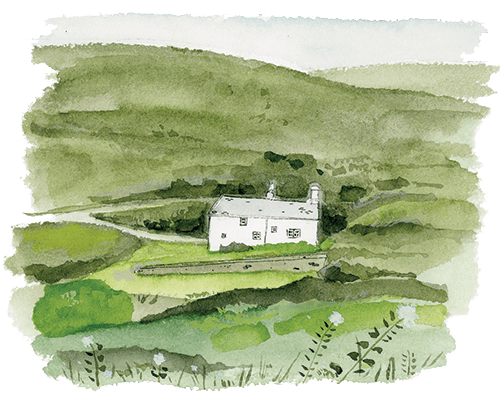 That connection became all the more poignant when Dayton, while researching the book, learned her mom had aggressive late-stage breast cancer with surgery scheduled for the same time as the trip to England. Dayton felt anxious and guilty but says, "My mother, like Jane Austen, embodies personal progress, capitalizing on opportunities, and pushing through barriers. She would never let me not take advantage of this chance."
Lexi Nilson's interest came later. Growing up, she dismissed "those crazy fans" who constantly recommended Jane Austen to her since she loved England and playing dress up. But after she read Pride and Prejudice as a junior in high school, she says, "I became obsessed." An artist, Nilson admired Austen as a fellow observer of nature and people. To Nilson, Austen's work is "about heroines—especially those who lived beyond their conformity—growing into themselves and learning how to choose light and love along the way." And, sure, the romantic stories didn't hurt: "I'm a major sucker for dramatic dashings away on horseback and teatime and low-lit ballroom romances," she admits.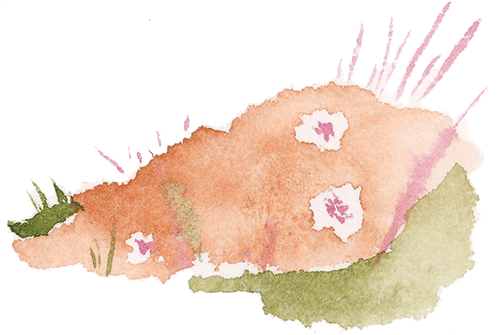 But most of all it was the friendships, like those between sisters Lizzy and Jane Bennet (or Jane Austen and her sister, Cassandra), that really resonate with Nilson. And it was just that sort of friendship that defined her relationship with Dayton during their BYU years.
They were first briefly introduced in the Lee Library's periodical section in 2015. After bumping into each other for several weeks, Nilson ventured, "I think we should be friends." Friends became roommates, and Nilson later became Dayton's bridesmaid, while Dayton set up Nilson with the man who is now her husband. They bonded over their love for Jane Austen. On Sundays they and their other BYU roommates would sit down and watch the 2005 film adaptation of Pride and Prejudice. When the movie ended, they'd simply start it again. It became their mantra, soundtrack, and inspiration.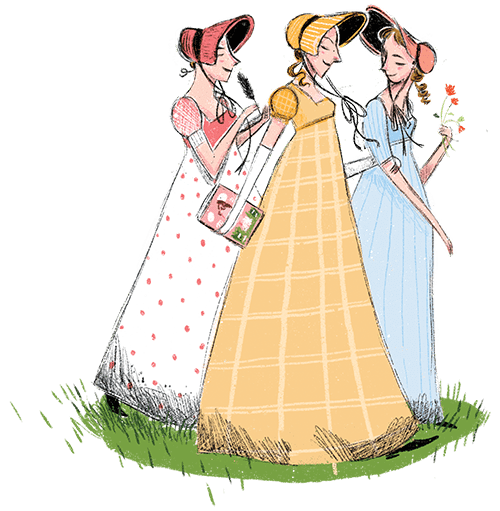 Although she joined the group later, writer Nicole Jacobsen was also a longtime lover of Austen's works. As a child Jacobsen had a five-year journal with daily Austen quotes, which shaped her love of Austen and language and her desire to be a writer. "Jane Austen gives me something bold and wonderful to aspire to," she says. "I look up to her for many reasons, but foremost her ability to craft a witty turn of phrase."
Moreover, says Jacobsen, Austen is "delightfully insightful in revealing the best and worst parts of the human spirit and so effortlessly captures the intricacies of familial, romantic, and platonic relationships." She admires Austen's determination, facing many obstacles that kept her from success, including illness, struggles getting published, and living in a world where women had almost no rights or voice. "Though my own obstacles may be different," says Jacobsen, "Jane's perseverance and success give me significant encouragement. Walking in Jane's footsteps, literally and as a writer, crafting words to describe her life and legacy, was very special."
Favorite Austen Moments

Devynn M. Dayton
I love, in the 1996 Emma adaptation, how Mr. Knightley chastens Emma after she has ruthlessly insulted the innocent Miss Bates. He says, "Badly done, Emma. It was badly done, indeed!" He then follows by saying, "This is not pleasant to you, Emma—and it is very far from pleasant to me; but I must, I will,—I will tell you truths while I can." This scene (in both Austen's novel and this adaptation) illustrates to me how perfect Mr. Knightley and Emma are for each other. Their friendship is strong enough that they can be honest with each other, even when it's uncomfortable. The scene in the film is heartaching for everyone: for Mr. Knightley, for Emma, and for the viewer as we feel Emma's remorse and Mr. Knightley's keen disappointment.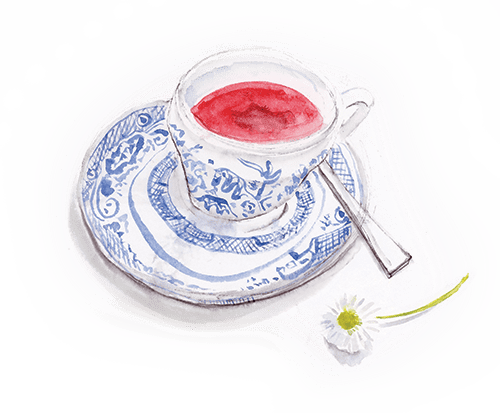 Nicole A. Jacobsen
I love, in Northanger Abbey, when Henry Tilney and Catherine Morland meet for the first time at a ball in Bath. The ease and humor of their conversation feels so charming and endearing. While it does translate well to the screen, there is something thrilling about turning physical pages to watch their innocent banter continue late into the evening. Tilney blabs on about journaling and muslin gowns while Catherine tries to absorb all the novelty of being in Bath—it's fun and energizing and everything a reader could ask for in a new relationship.
Lexi K. Nilson
I love the scene in the 2005 Pride and Prejudice film adaptation when Lizzy is spinning on the swing, interrupted with cuts of the barnyard in different seasons to signal a passing of time in the story sequence and growth and subtle changes in character. And I love Lizzy standing on a Derbyshire cliff looking down, the rest of her life laid out before her patterned in moor and heath, farm and hedgerow.
Finding Jane
The idea for the book, later titled Jane Was Here: An Illustrated Guide to Jane Austen's England, was born in the mind of Nilson in early 2018. As an illustration major, she learned of grants available from the BYU Laycock Center. She thought, "Why not do something?" and called Dayton, an advertising major. Of course, Jane Austen had to be the theme and England had to be the destination. Encouraged by their design faculty, Nilson and three other illustrators envisioned a sort of Trip Advisor guidebook for all things Austen—from the places she lived and wrote about to the locations for film adaptations—minus the text. Dayton recalls, "When we first wrote the grant, we were a bit naïve, and it sounded like, 'Fund this free trip for us.' We got denied."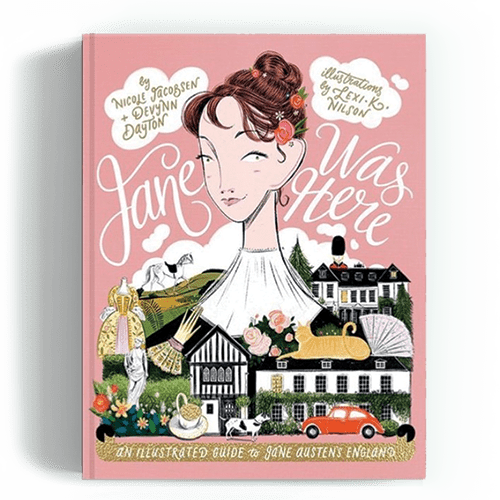 Undaunted, the team refined their proposal. Meanwhile, the other illustrators dropped out, owing to internships and commitments. Because the grant was interdisciplinary, Nilson and Dayton asked the English Department to recommend some students and were introduced to Jacobsen. "She was perfect!" says Dayton. Not only did Jacobsen love Austen, she had been to the UK many times—including once as an intern for the Wordsworth Trust at the poet's historic home. Her talents as a writer and researcher shone immediately alongside Nilson's über-creative mind and Dayton's focused organizational and marketing skills. With a clearer audience, artistic vision, and end product, together they worded a new—and this time successful—grant proposal.
The planning was arduous, but in August 2018 the three researchers set off on their epic adventure. Their friendship thrived even with the strain of long hours driving—and the time Dayton's GPS took them three hours off course to another town called Basildon. But an adventure steeped in Jane—a steam fair in Bath, old carousels, visiting Pemberley and Netherfield, or having hibiscus or mint tea and biscuits at historic sites—was reason to unite and delight. The trip, though intense, unfolded like a dream, says Jacobsen. "It felt like Jane let us into her world."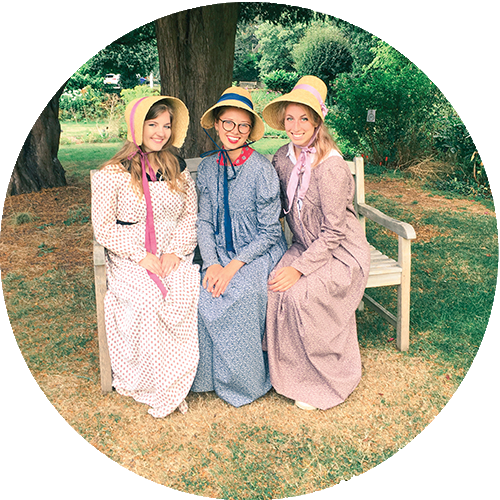 Once home, the coauthors worked tirelessly to create a sample book chapter. Nilson, whose style had begun to change, felt that her watercolor and pen sketchings weren't working, so she started afresh in a digital medium, using the paintings as inspiration. Jacobsen, as the primary writer, wrestled with multiple tensions: balancing practical travel tips with readers' desire to connect with Jane Austen, organizing so the content didn't feel haphazard, and choosing what should be cut from their exhaustive research. Dayton began doing extensive market research and surveys and, after careful analysis of the book market, found five potential publishers to send their chapter to.
For the authors, the tension in courting a publisher had all the contours of an Austenian plotline, as one by one the publishers rejected the work, one showing interest but later withdrawing. But then, in true Austen fashion, the sun rose again, Lizzy and Mr. Darcy were reconciled, and Australian and UK publisher Hardie Grant agreed to take on the book. Ecstatic, the friends exhausted themselves creating it. Jacobsen drafted a chapter, and Dayton provided critiques. Dayton felt the writing should be witty and concise; Jacobsen, a tad more academic and textual. The editor liked both styles and meshed the two together. While Nilson drew and Jacobsen wrote the text, Dayton managed their social media and began marketing—a major task considering the massive global community of Austen fans.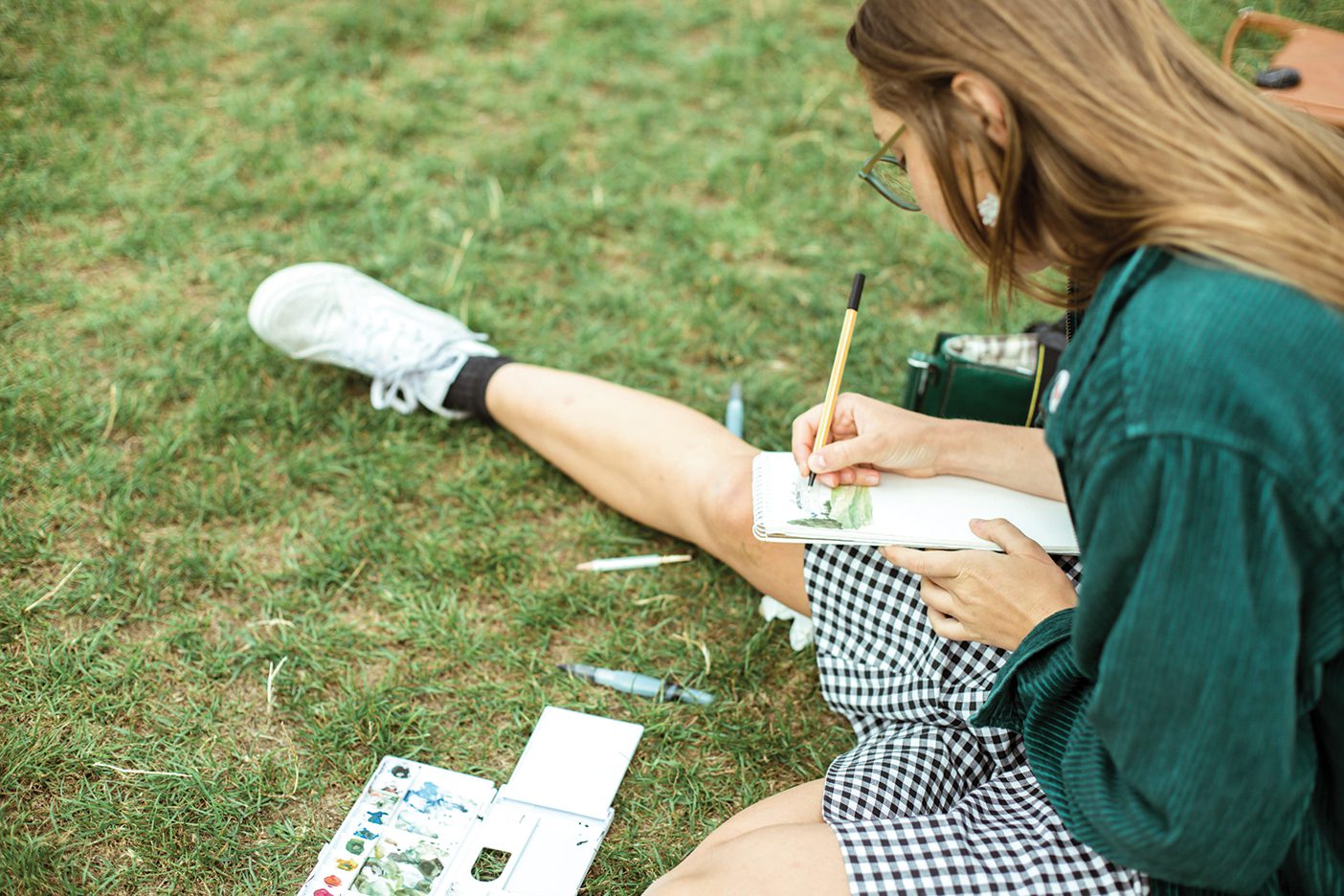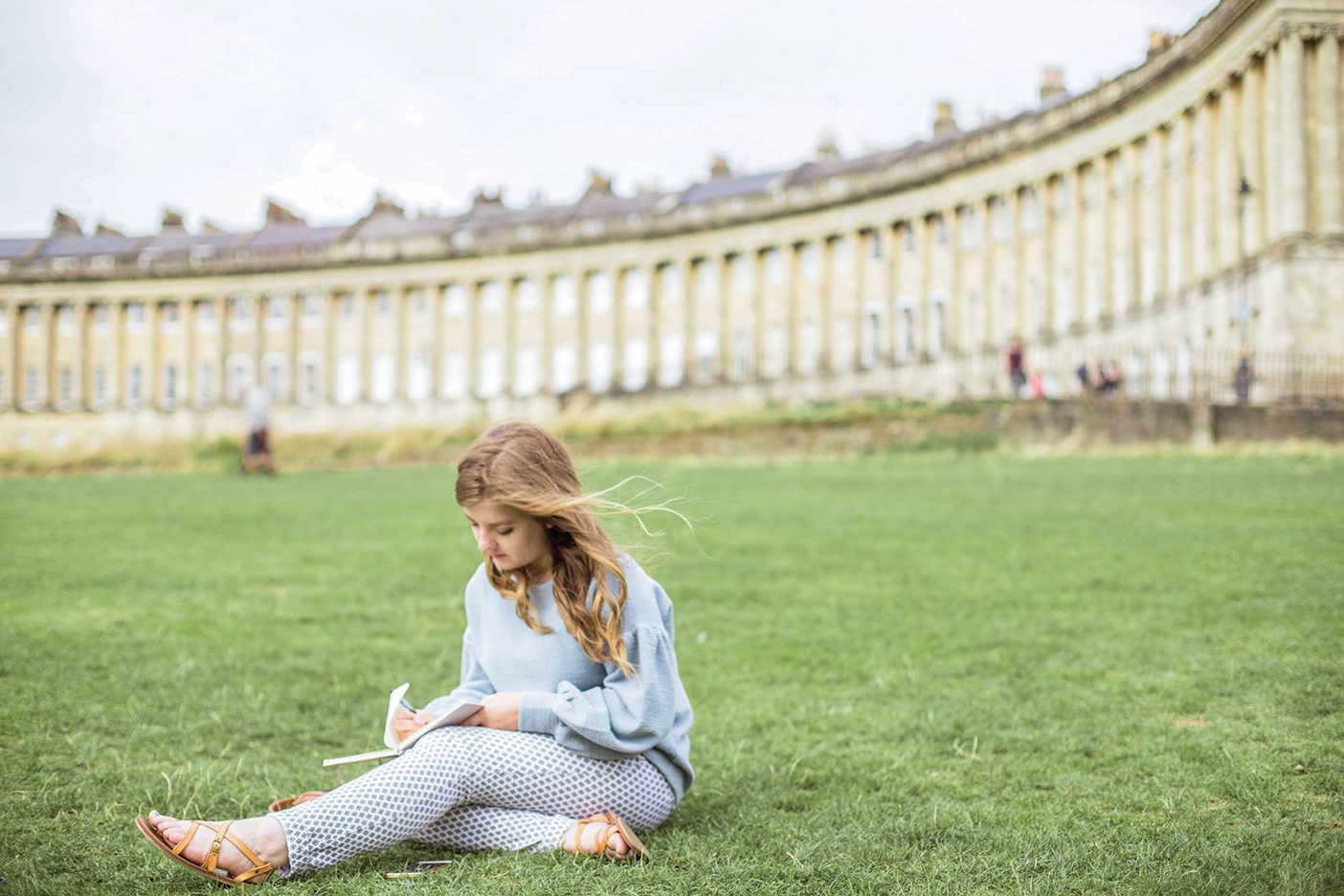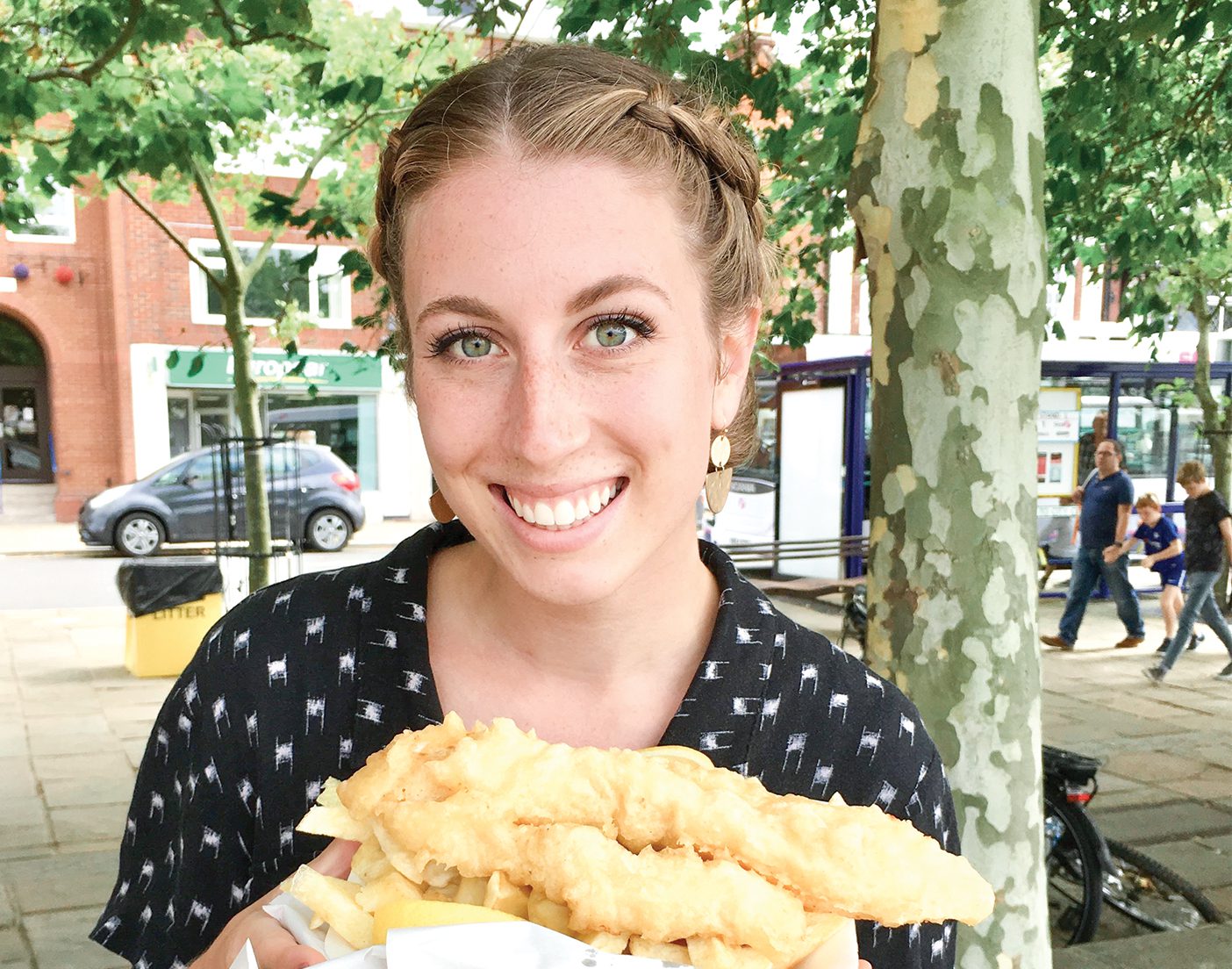 A Literary Friend
In the end, creating Jane Was Here took the better part of two years. The journey to explore England, to find a publisher, and ultimately to bring their book to market fulfilled the authors' dream and created a powerful love for each other as well as for Jane Austen. "By visiting the places she knew and thinking about her opinions and stories while there," says Jacobsen, "it felt like getting to know a friend."
And she is a friend who continues to inspire the young authors to take on big challenges and ignore naysayers. Says Dayton: "I look up to Jane Austen for being a strong woman using her talents the way she felt was necessary, not society. Her life both reassures and empowers me."
---