A teacher is jump-starting young entrepreneurial minds.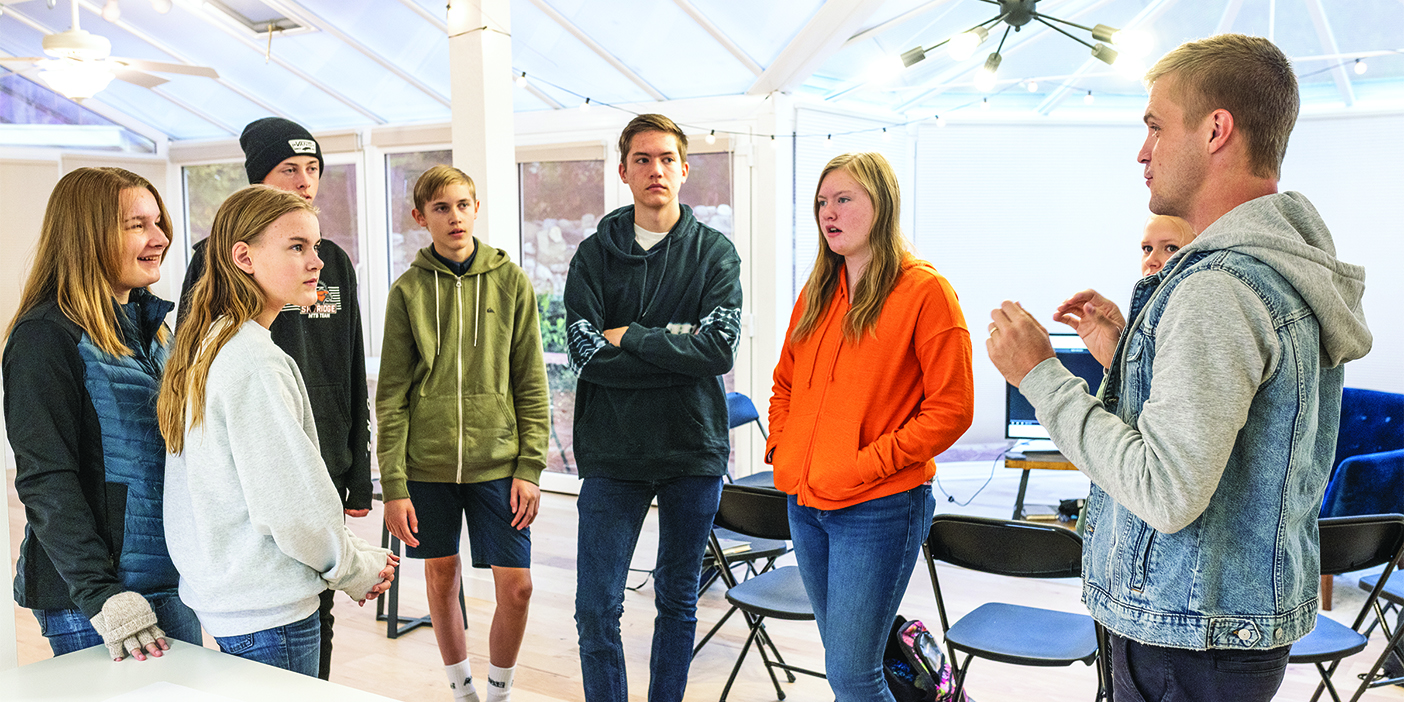 "Design any airplane you want," says Travis M. Lish (MPA '17) to an energetic group of teens. "But you're only allowed to use paper!" As teens rush to grab paper and compare paper airplane designs, Lish stands back to observe, encouraging the genial competition.
Creativity challenges are common in The Startup Academy, an educational co-op Lish began in 2017 to guide kids ages 8 to 17 through the process of creating new products and services. Older participants even develop a product, crowdfund, and ultimately start a business of their own. Once a week, groups of teens meet together in person in Utah County—others from around the country join in online—to learn entrepreneurial skills through engaging activities, thought-provoking challenges, and motivational lessons. The Startup Academy has helped more than 300 teens start small businesses, with products and services including calligraphy designs, landscaping, knitted hats, frozen meals, and electronic accessories.
Even if they complain about homework, tease their siblings, or forget to clean their rooms, kids can accomplish great things with available resources and a little guidance, says Lish. "Humans, and therefore kids, are infinitely capable," he adds. "I got this [belief] at BYU, where I was surrounded by people who were crazy enough to believe that they could change the world. BYU taught me that my career's purpose could be more than generating income." Lish took that to heart as he began his academy.
The academy turns teens into real owners of real businesses. Not many high school students have launched a company (let alone one that is projected to bring in $70k in 2022), but Startup Academy alum Michael Jimenez was no ordinary high school student. Now 21, Jimenez created BAM Wear, a company that sells wooden accessories like watches, bow ties, and sunglasses. The Startup Academy helped Jimenez come up with an idea, raise money to develop the product, find manufacturers, and sell locally before moving online. "The Startup Academy," Jimenez says, "opened doors that wouldn't have been opened otherwise. It helped me get out of my comfort zone. And it taught me skills I wouldn't otherwise have had."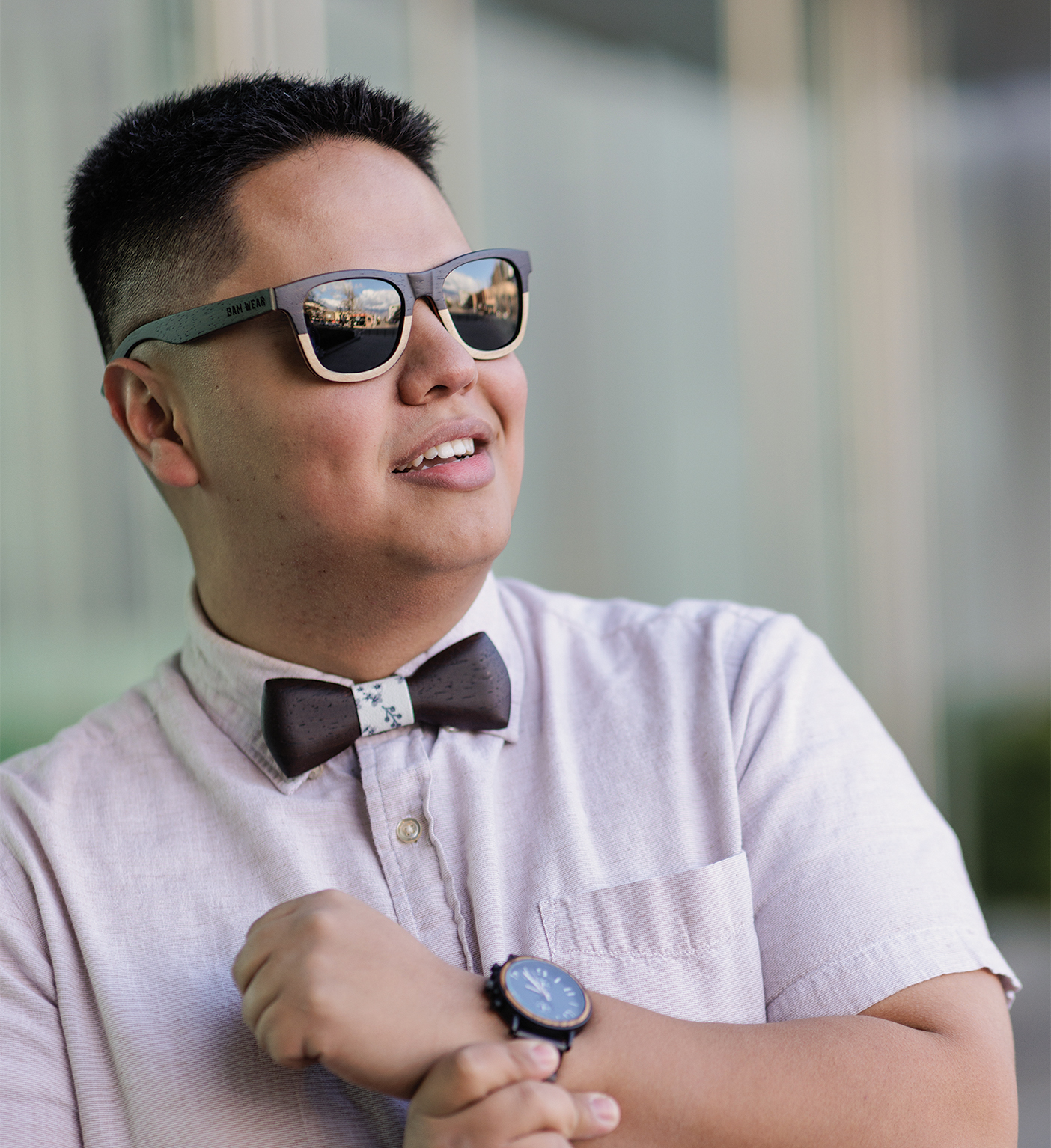 "They know what they're doing and can tell us what to fix," says 13-year-old Samantha Ellswort— they're "here to help us grow." Samantha, who wants to have her own business and be a family doctor when she grows up, says she enjoys the laidback yet challenging environment of the class. For her business project, she plans on selling stress balls to family and friends and at farmers markets. The program contains three different clubs. First is the Creativity Club, where kids as young as 8 spark their creativity through activities and challenges. The Startup Club focuses on helping teens ideate and launch a business. This engaging curriculum ends with a competition—based on the reality TV show Shark Tank—where teens pitch their ideas to local individuals interested in providing mentorship. Lish preps students by building their confidence. "It's your stage," he tells them. "And you get to set your own stage."
The third group is the Creator Club, where young entrepreneurs learn how to market their products, manage the supply chain, and scale their company. The Creator Club also gives students access to Kidstarter, a crowdfunding platform patterned after Kickstarter, but designed for teens. There, club members gather funds and support from local communities, family, and friends.
Derek Brailsford, a past student of the Startup Academy who designed and sold shirts featuring different Church missions around the world, says his experience was life-changing. "[The program] opens your mind to new ideas and makes you realize you can do new things and that you really can change the world." Now a teacher at The Startup Academy himself, Brailsford recognizes Lish's ability to engage teens in entrepreneurship. "He is great with the kids and makes business fun and exciting."
Lish says the program is about teaching kids that they can create value. "It has been so meaningful to help kids develop that confidence and belief in themselves," he says. "The hope is that by the end of the program they'll believe that not only can they make money, they can impact people and be the type of influences to help the world become a better place."