---
Whether at a five-star restaurant or watching a chick flick, Lauren Bailey Allen (BA '10) is constantly on the lookout for recipe inspiration for her blog, Tastes Better from Scratch. Allen has always been passionate about discovering delicious dishes, from helping her mom make breakfast on Saturday mornings as a kid to creating recipes for her own family today. "Life's too short to eat mediocre food," she says. Through both her blog and her soon-to-be-released cookbook, Allen shares recipes and meal plans to help people everywhere prepare tasty meals. Here she shares two recipes that are perfect for a summer evening. 
Peach Cobbler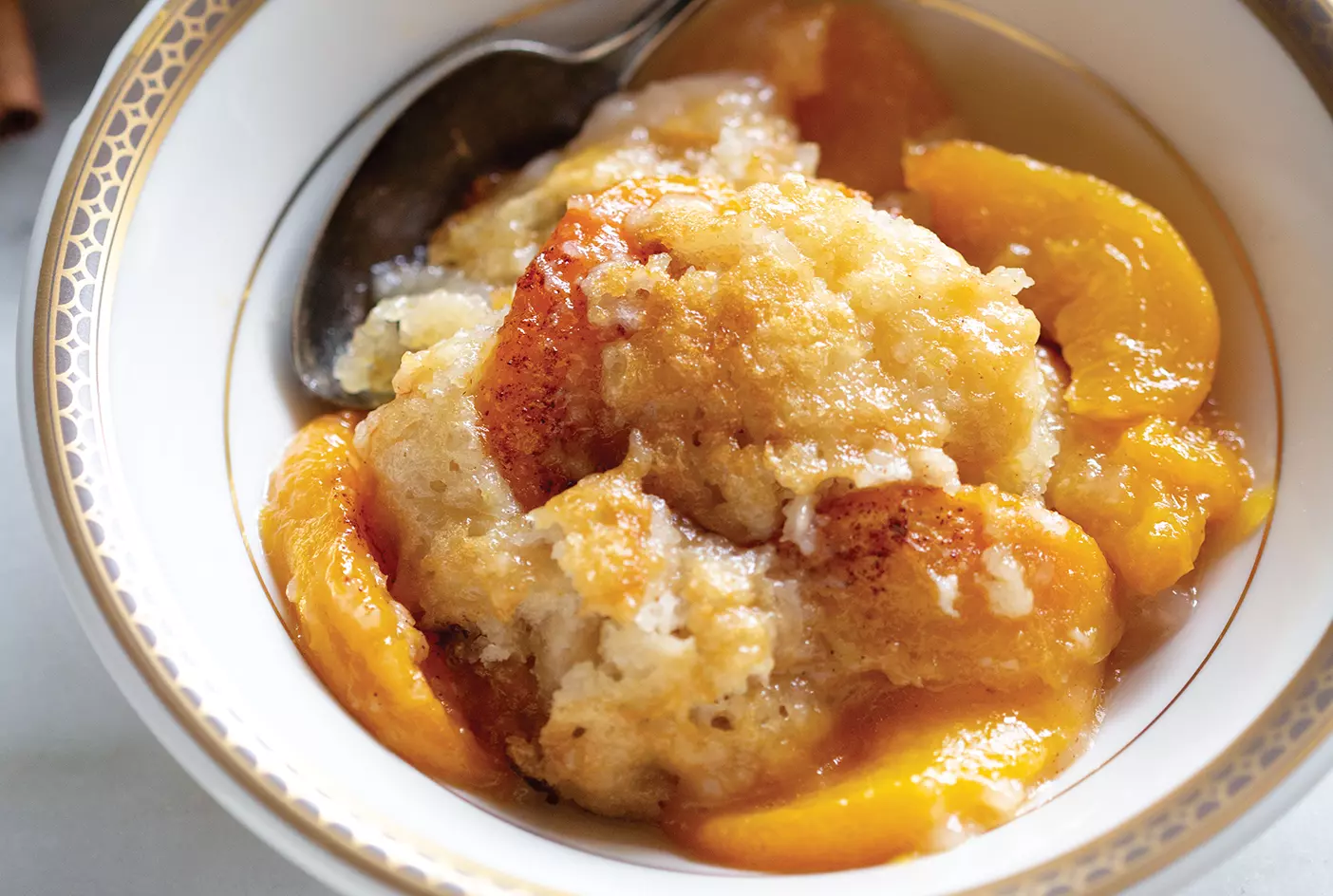 Filling
5 peaches, peeled, cored, and sliced
(about 4 cups), or 1 qt. canned peaches
3/4 c. granulated sugar
1/4 tsp. salt
Batter
6 Tbsp. butter
1 c. all-purpose flour
1 c. granulated sugar
2 tsp. baking powder
1/4 tsp. salt
3/4 c. milk
Ground cinnamon, to taste
Add sliced peaches, sugar, and salt to a saucepan. Stir to combine. Cook on medium heat until sugar is dissolved. Remove from heat and set aside. For canned peaches, skip this step.
Preheat oven to 350 degrees. Slice butter into pieces and add to a 9 x 13-inch baking dish. Place pan in oven while it preheats to allow butter to melt. Once it melts, remove pan from oven.
In a large bowl, mix flour, sugar, baking powder, and salt. Stir in milk until just combined. Pour mixture over melted butter and smooth into an even layer. Spoon the peaches (including the juices) over the batter. Sprinkle cinnamon over top.
Bake 38–40 minutes. Serve warm. Makes nine servings.
---
BBQ Chicken Tacos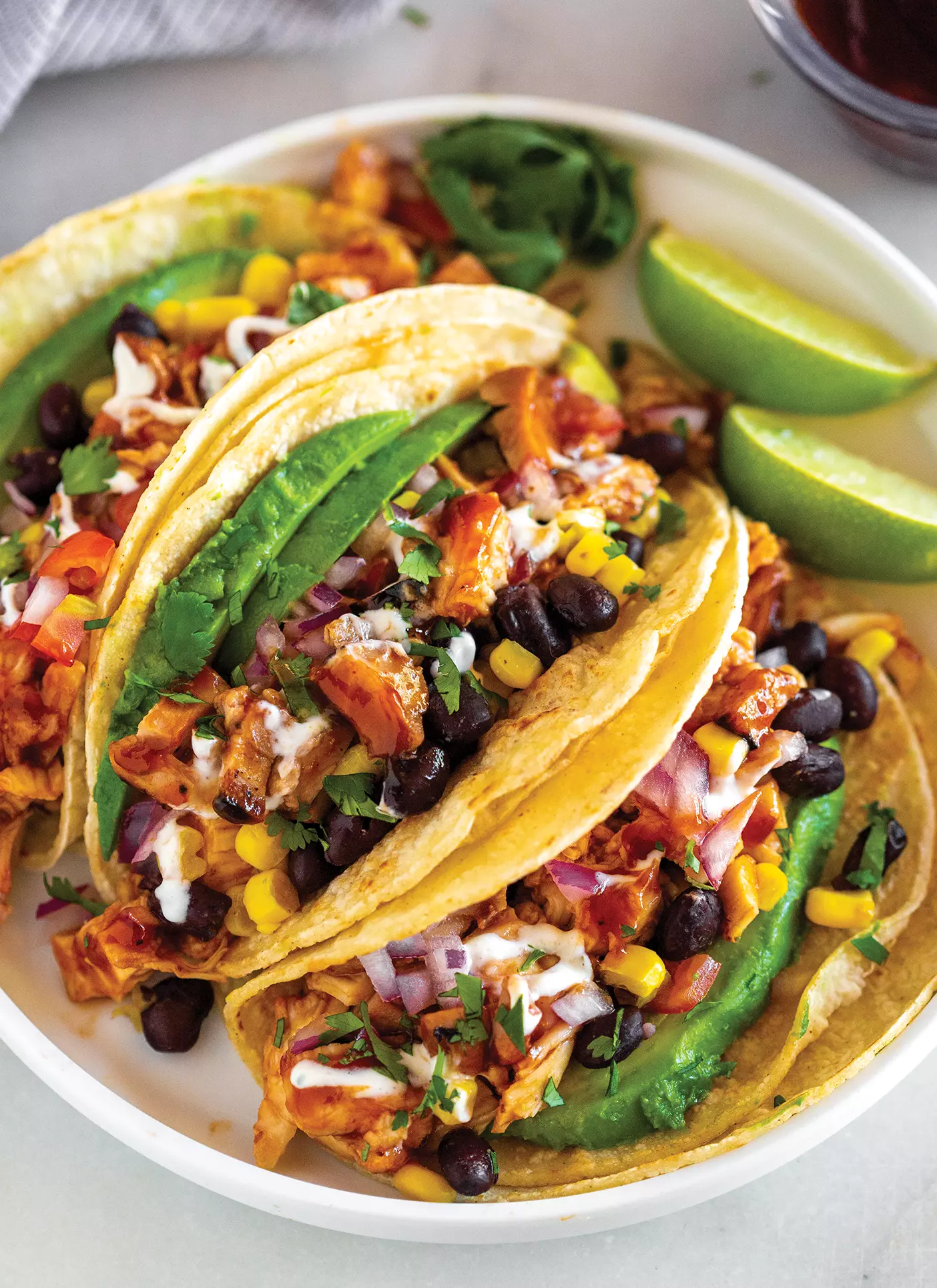 Tacos
2 boneless, skinless chicken breasts or thighs
2/3 c. barbecue sauce, divided in half
1 c. cherry tomatoes, chopped
1/3 c. red onion, chopped
15 oz. can black beans, rinsed and drained
15 oz. can corn, drained
1 avocado, sliced
Fresh cilantro, chopped
12–15 corn or flour tortillas
Creamy Cilantro Lime Sauce
1/2 c. plain Greek yogurt or sour cream
3 Tbsp. fresh cilantro, chopped
1 Tbsp. lime juice
1/4 tsp. salt
Place chicken and 1/3 c. barbecue sauce in a Ziploc bag. Refrigerate 1–3 hours.
Make creamy cilantro lime sauce by combining all ingredients until smooth. Refrigerate until ready to serve.
Preheat grill and lightly grease with cooking spray. Place chicken on grill and cook for 4–5 minutes on each side until cooked through.
Move chicken to cutting board and baste with rest of the barbecue sauce. Let rest for 5 minutes. Chop or shred chicken.
Warm tortillas on grill or in a hot skillet. Add a spoonful of chicken, corn, black beans, tomatoes, and avocado to each warm tortilla. Top with extra barbecue sauce and cilantro lime sauce. Garnish with fresh cilantro and serve. Makes 12–15 tacos (about four servings).