---
Chickens, miniature donkeys, pigs, and cows amble about Brian J. (BS '02) and Melanie Walker Gunnell's (BS '00) southwest Idaho farm. Meanwhile, the family gathers in their home's heart: the kitchen. Thirteen years ago, Mel's job as a stay-at-home mom took a turn when she discovered online blogs and how easy they made sharing her favorite recipes. "I had a bunch of little boys in diapers running around my house, and although we had made an intentional decision for me to stay home, I felt like I wanted something else to do too." After about a year, she says, "the blog took on a life of its own." That was the genesis of Mel's Kitchen Cafe, read by thousands each month. Here Gunnell shares two fall recipes, just in time for Thanksgiving.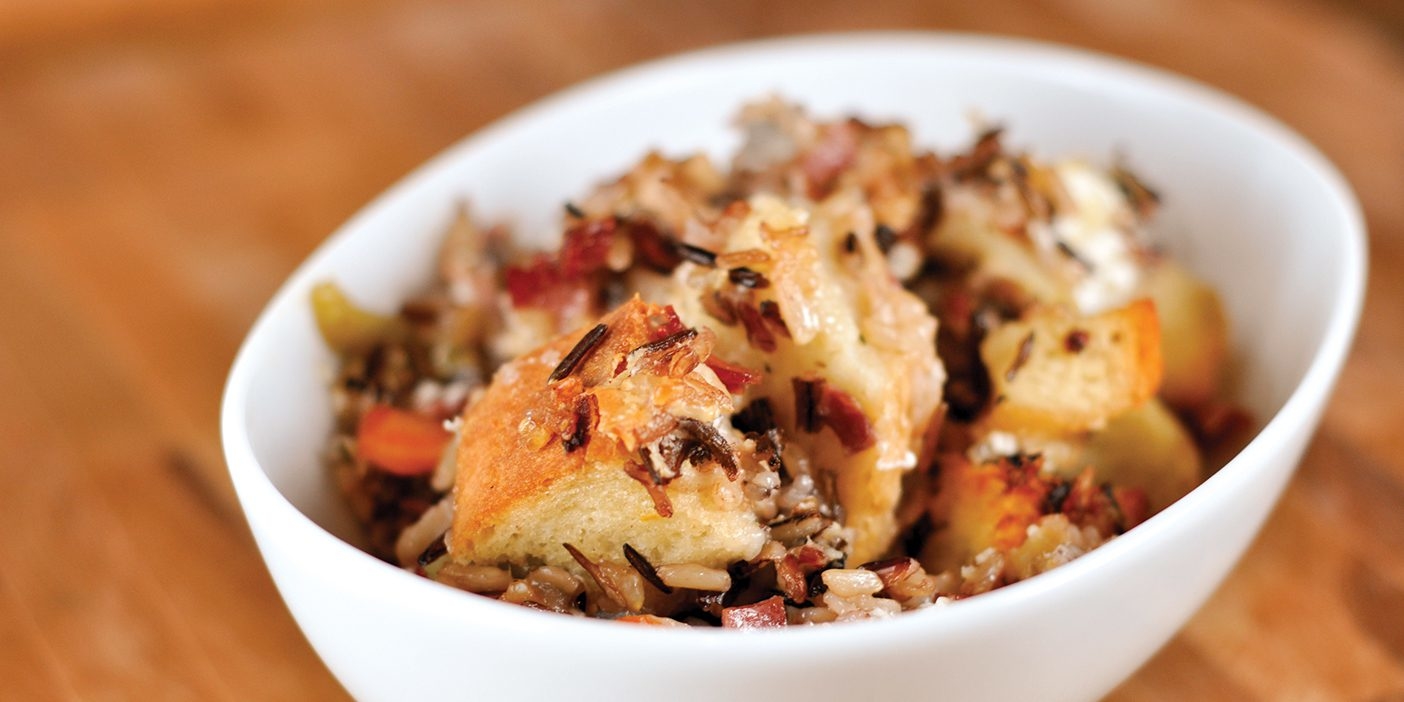 Wild Rice and Creamy Goat Cheese Stuffing
Want to upgrade your traditional Thanksgiving stuffing? Look no further.
2 c. wild rice (for enhanced texture, use a mix of wild rice and brown rice)
8 oz. turkey bacon, chopped
4 Tbsp. butter
1 c. yellow onion, diced
½ c. carrots, diced
½ c. celery, diced
3 cloves garlic, finely chopped
2 tsp. dried thyme
1 loaf (day-old) country-style or artisan bread,
12 oz. goat cheese (can substitute cream cheese or leave out, as desired)
½ c. fresh flat-leaf parsley, chopped
1 tsp. salt
½ tsp. black pepper
2 c. chicken broth or stock
Preheat oven to 375 degrees F.
Cook rice according to package instructions, until very tender. Cool rice for 10 minutes and transfer to a large bowl.
Heat butter in a large nonstick skillet over medium heat. Add bacon, onion, carrots, and celery and cook until soft, stirring occasionally. Add garlic and thyme and cook for 1 minute, stirring constantly. Add mixture and remaining ingredients to rice and mix. For wetter stuffing, add more chicken broth 1/4 cup at a time.
Transfer mixture to lightly greased baking dish (9 by 13 inch or larger) and bake, uncovered, until heated through and golden brown (about 30 minutes). Remove from oven and let cool 10 minutes before serving.
---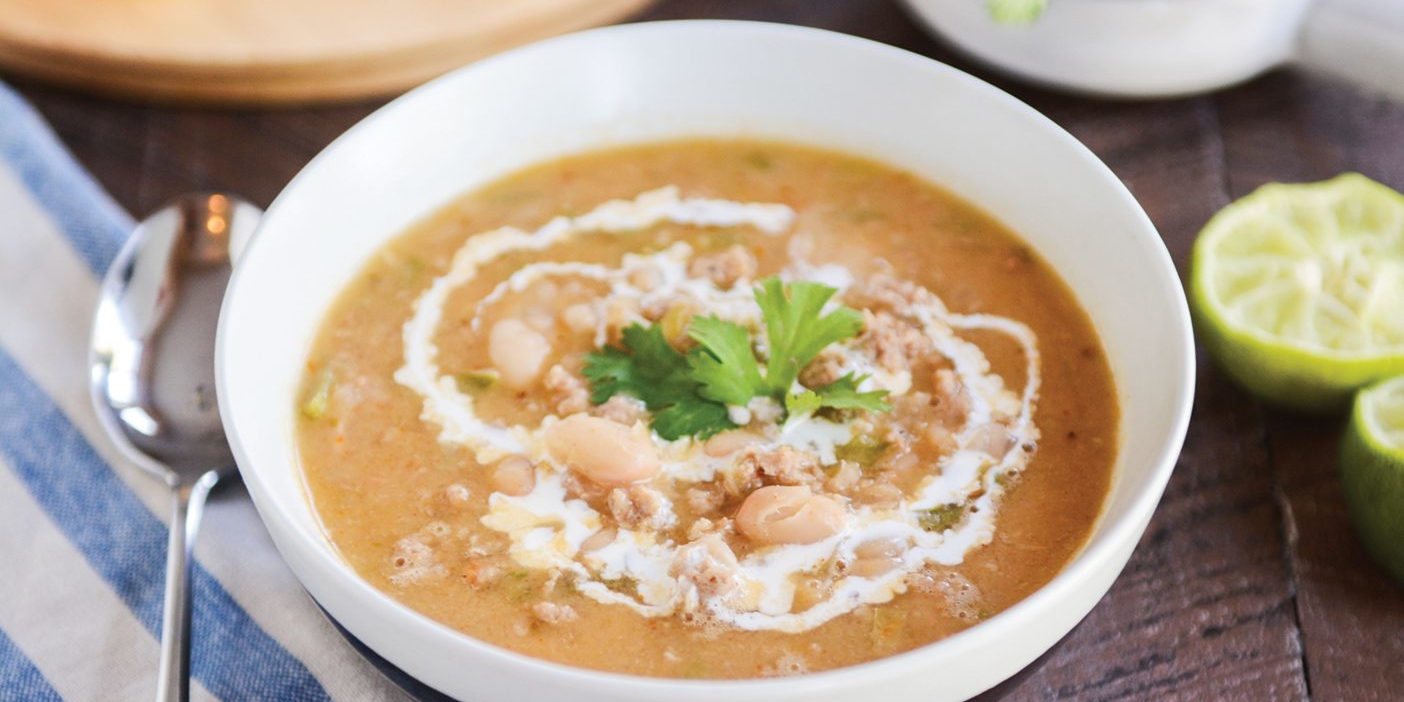 Roasted Garlic and White Bean Chili
Is there anything better on a crisp fall day than a bowl of soup? We think not. This roasted garlic and white bean chili is a sure-fire crowd-pleaser.
1 bulb garlic (large)
2 Tbsp. olive oil
1 medium yellow or white onion, chopped
2 Anaheim or poblano peppers, halved, seeded, chopped (for a less spicy chili, use just 1 pepper)
½ tsp. salt
¼ tsp. black pepper
2 lbs. ground turkey
2 tsp. chili powder
2 tsp. cumin
1 tsp. dried oregano
½ tsp. ground coriander
¼ tsp. cayenne pepper (or to taste)
¼ c. all-purpose flour
5 c. low-sodium chicken broth
3 cans (15 oz. each) great northern or navy beans, rinsed and drained
½ c. milk
2 Tbsp. fresh lime juice
Fresh cilantro, chopped (optional)
Lime wedges for serving (optional)
Preheat oven to 425 degrees F.
Lay out a large square of aluminum foil. Cut off tip of garlic bulb and place bulb cut-side up on foil. Drizzle sliced end with 1 tablespoon olive oil. Bring the edges of foil up to wrap completely. Roast in the oven for 20–30 minutes, until cloves are very soft and golden (add time as needed).
While garlic roasts, heat remaining tablespoon of olive oil in a 4-quart saucepan over medium heat. Add onion, peppers, salt, and black pepper. Reduce heat to medium-low and cook for 1–2 pot. Let vegetables sweat and cook for 8–10 minutes, until very soft. Stir occasionally to prevent sticking (add a teaspoon of water at a time if pot seems dry).
Increase heat to medium and add ground turkey. Cook, breaking the meat into small pieces, until no longer pink (6–7 minutes). Drain any excess grease if needed.
Stir in chili powder, cumin, oregano, coriander, cayenne, and flour. Cook for 1 minute, stirring constantly.
Add 4 cups of broth (reserve 1 cup for next step) and stir to combine.
Remove roasted garlic from the oven and carefully peel back foil and squeeze softened cloves out of skins and into a blender. Add remaining 1 cup broth to the blender along with half of the beans. Puree the mixture.
Pour garlic/bean mixture into pot and stir to combine. Bring soup to a simmer and cook for 10 minutes, stirring occasionally.
Stir in remaining beans, milk, and lime juice and cook until heated through. Add additional salt and pepper to taste.
Serve with lime wedges and chopped cilantro, if desired. Also goes well with tortilla chips, sour cream, cheese, and salsa.