---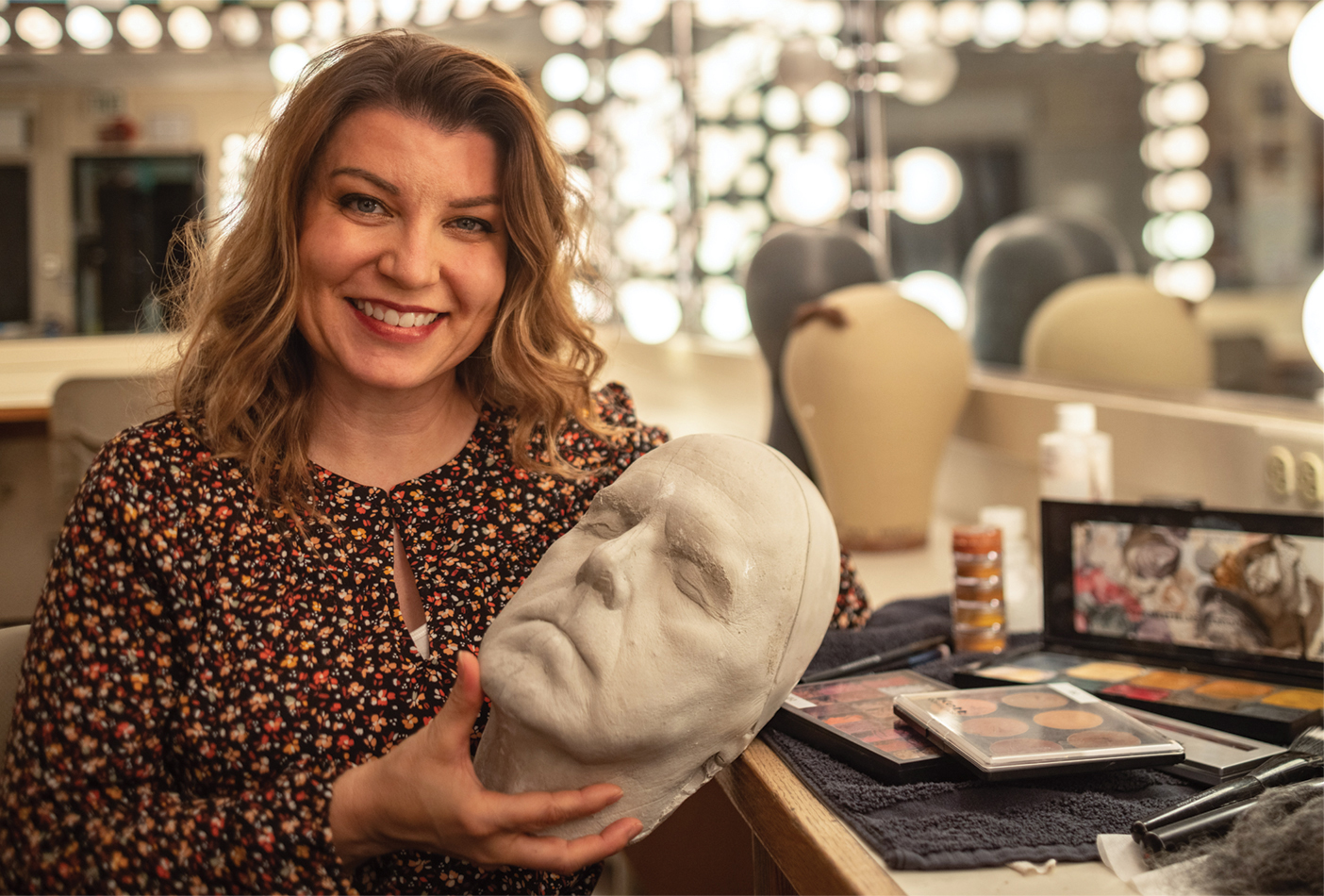 BYU athletic director Tom A. Holmoe (BS '83) isn't a scary person. But disappearing into bald cap and billowing robes, he made a pretty menacing Voldemort at the athletics department's annual trick or treat in 2016.
"Kids would just stop and go back the other way," he laughs. "Voldemort had a whole pot of candy left."
Teaming up with BYU makeup artist Jennine Tolley Hollingshaus (BA '99), Holmoe goes all-out on Halloween: he's been Aladdin's Genie, with blue skin and elfin ears; the Phantom of the Opera, realistic scarring masking half his face; and Voldemort, slitted nose and all.
"With that one, I did little tattoos to make his fingernails look all bloody and gross, and, poor guy, he could barely breathe through that nosepiece," says Hollingshaus, adjunct professor and Studio C makeup artist.
As a BYU student, Hollingshaus signed up for every stage makeup and hair class she could find, later returning to teach them herself. Then in 2013 she got a call from Holmoe, who was looking to become Abraham Lincoln and join BYU athletes dressing up for Halloween.
The two have since collaborated on eight costumes, with Holmoe's sister-in-law Rhonda Montgomery crafting the clothing. "I have the two best stylists in the world on Halloween," says Holmoe. From Coco's skeletal villain to Tim Burton's creepy, red-headed Mad Hatter, Hollingshaus and Montgomery are game for every idea Holmoe throws at them.
The costume is nailed down by late summer, and on Halloween morning, Holmoe usually meets Hollingshaus at her HFAC studio by 6 a.m. The transformation "will take me two, three, sometimes more hours if it's really complicated," Hollingshaus says. "He's so patient. And then this busy, busy man spends the whole day in costume."
The special-effects makeup is meant to last for only a few hours. "By the end of the day, my face is melting off," Holmoe says. He returns to Hollings­haus's studio with wig askew and prosthetics coming unglued. "It's a little bit uncomfortable at times, but for the laughs and smiles, it's well worth it."