---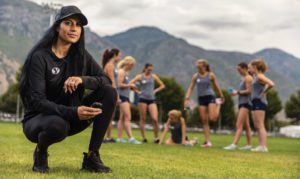 When BYU runner Anna Camp Bennett ('21) crossed the finish line of the 800-meter NCAA qualifier in 2019, the ecstatic cheer piercing through the roar said it all: Bennett knew she was going to nationals for the first time. A woman with thick, jet-black hair and a grin raising her signature sunglasses pushed through the crowd to envelop Bennett in a hug. The cheerleader? Her coach, Diljeet Taylor—recently named head coach of BYU women's cross country.
It was her vocal enthusiasm that impressed BYU Track and Field director Edward D. Eyestone (BS '85, MS '90) when he first saw Taylor coaching Cal State Stanislaus, her alma mater, almost 10 years ago. "I had a sense that her athletes would run through a wall for her," he says.
In 2016 Eyestone invited Taylor to coach a cross country team that was in a bit of a slump following a period of NCAA domination. In the three national championships they qualified for before her arrival, their highest finish was 23rd. Taylor's effect was immediate: over four years, the team finished 10th, 11th, 7th, and 2nd. This spring she led her runners to an NCAA team national championship—a title they're predicted to repeat this season.
Taylor, who grew up in a Punjabi household, honors the strong immigrant women who raised her by empowering the women she coaches. "It's my self-check every day," she says. Before she goes to bed, she asks herself, "Who did you empower today?"
It's worked for Courtney Wayment (BS '20), who recently claimed first in the 3000-meters at the 2021 indoor championships. "Coach Taylor is the No. 1 reason why I've had the accomplishments in my life that I have had, and that extends further than runs for me," Wayment says.
In Punjab diljeet means "winner of heart." The name fits Coach Taylor perfectly, Eyestone says: "Her passion, her enthusiasm, her ability . . . to motivate are all things that win her athletes' hearts."
Here are just a few of Taylor's BYU accomplishments.
5: The total number of Coach of the Year awards Taylor has received since 2018.
1st: The BYU women's cross-country team won it all in the NCAA championship this year—the first time since 2002.
Top 10: Every athlete on the BYU women's mile top-10 list was coached by Taylor, and her athletes hold 9 school records in indoor and outdoor events.
7: The number of Taylor-trained current and former BYU athletes who qualified for the 2020 US Olympic Team Trials.