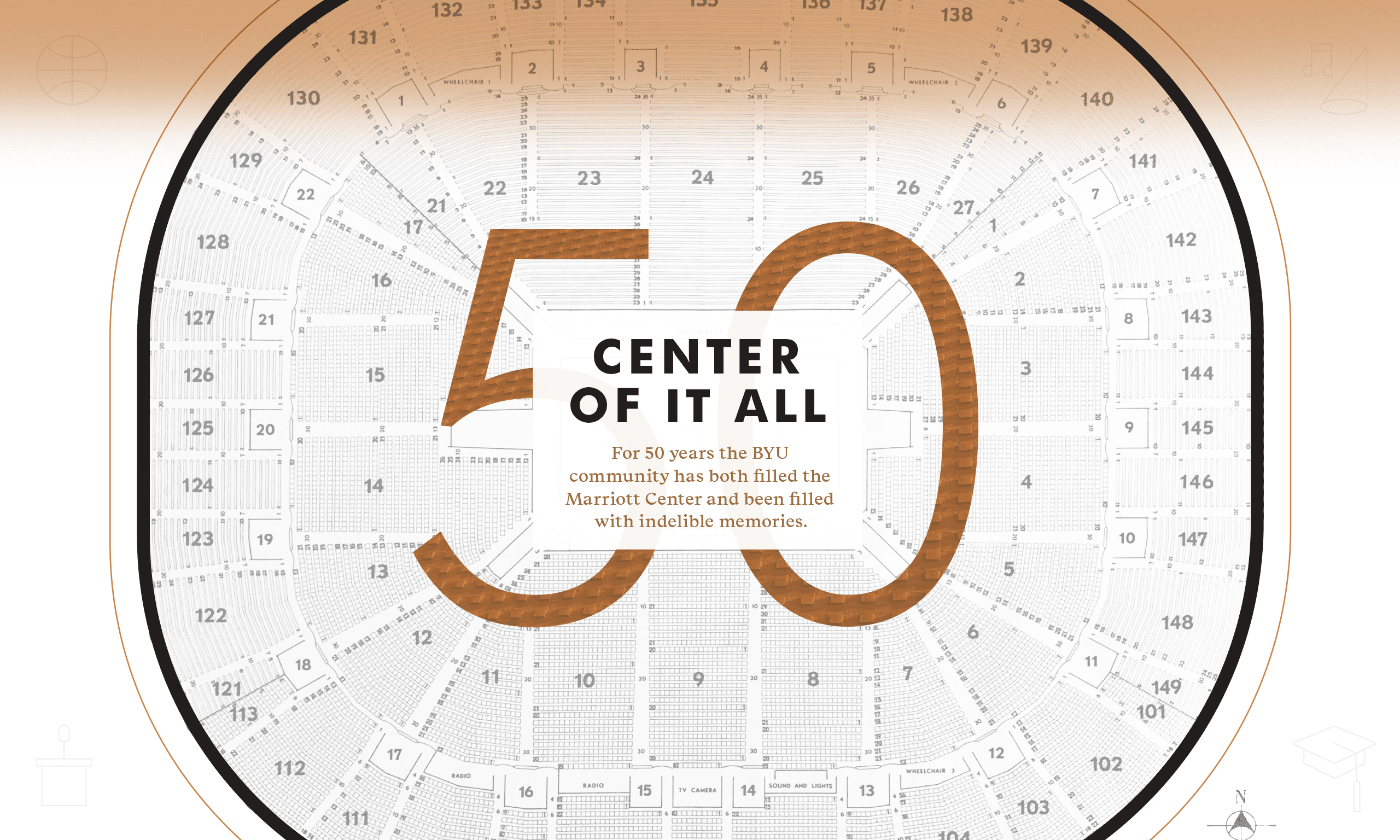 When the J. Willard Marriott Center (MC) opened its 72 sets of double doors for the first time in 1971, it was a big deal. The gleaming new facility was bigger in seating capacity than the Madison Square Garden, Utah's Huntsman Center, or any other basketball arena, collegiate or professional, in the country. Today, 50 years later, the MC remains the 10th-largest collegiate arena.
The saying around town was that basketball head coach Stanley H. Watts (BS '38) built the Marriott Center, J. Willard Marriott paid for it, and Krešimir Ćosić ('73) filled it. Indeed, even before it was dedicated, 22,652 fans flocked to the new arena on Dec. 3, 1971, to see the 6-foot-11 Croatian phenom's deft dribbling, high-arching hooks, and soaring blocks. In that first BYU Basketball Classic held at the center, the Cougars would beat the Kansas State Wildcats and the St. Joseph's Hawks, presaging a home-court dominance for decades to come.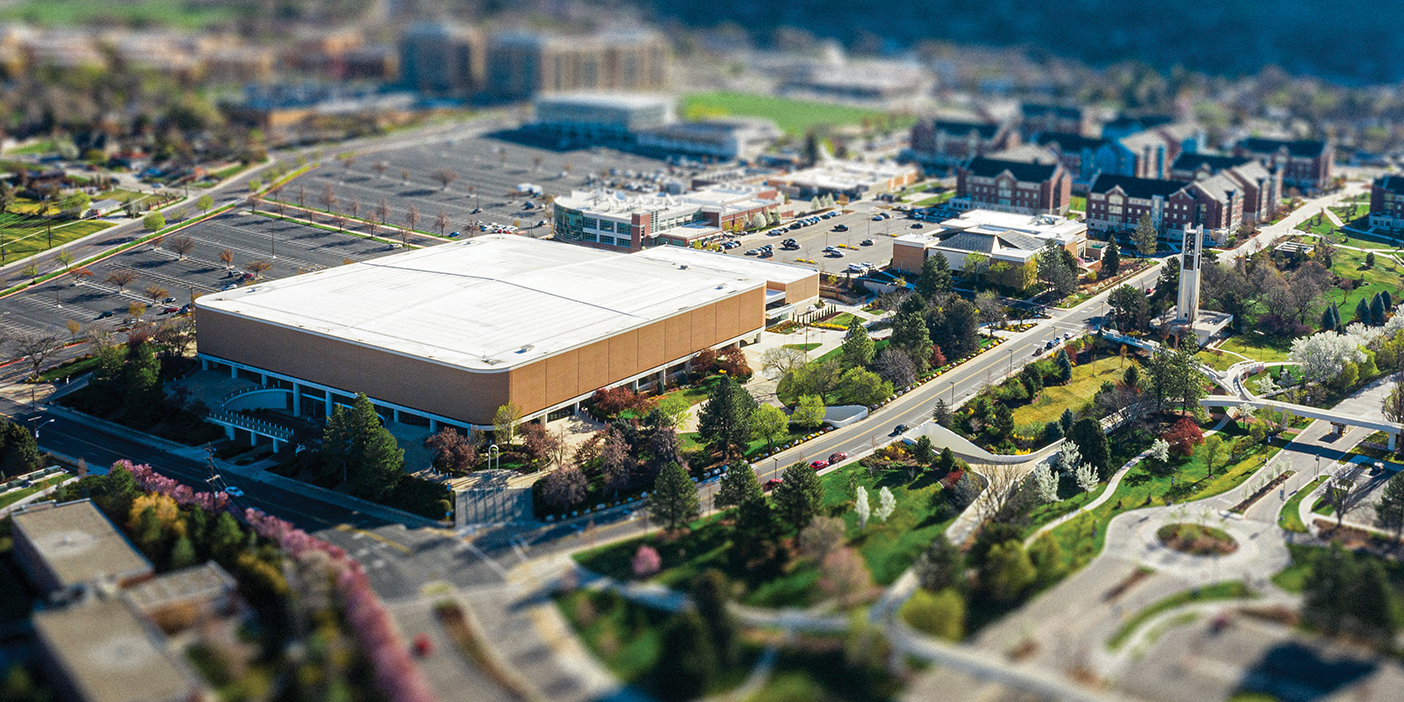 But the building was designed to be "for more than sports and concerts," said BYU president Ernest L. Wilkinson (BA '21) in his 1968 building announcement: "For the first time in recent years, devotional messages, commencement exercises, and all other major campus events will be held under one roof for all students."
The first major religious event in the Marriott Center took place on Feb. 9, 1972, when two broadcast sessions of the Provo Temple dedication drew approximately 40,000 people. Since then, tens of thousands more have filled every seat—and sometimes the hallways—to listen to every prophet from Joseph Fielding Smith to Russell M. Nelson.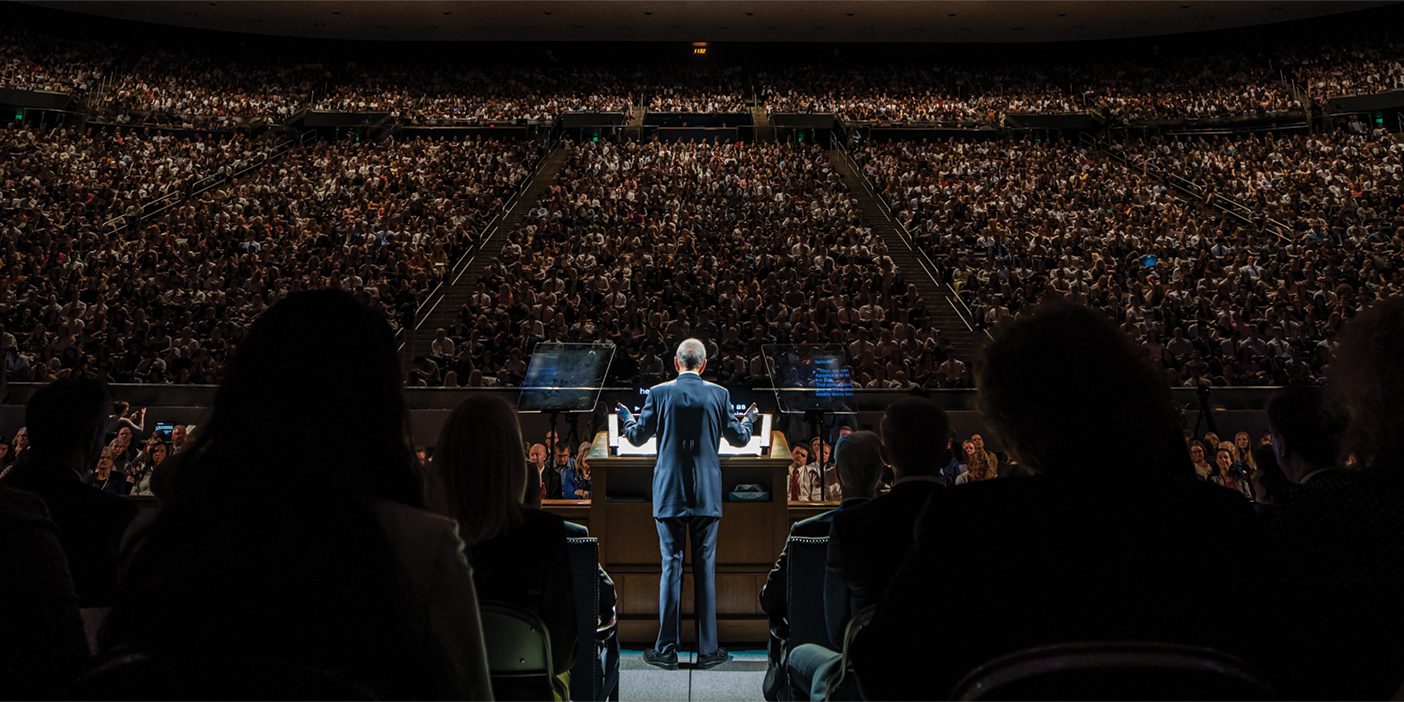 Over 50 years this golden-buff-bricked and blue-tiled edifice has hosted presidents, poets, prime ministers, astronauts, athletes, scholars, and performers of every kind. But for its massive scale and millions of visitors, the center's most important role has been bringing like minds and spirits together under one roof and building a sense of belonging. Moments spent praying or cheering in the midst of a capacity crowd in this storied building can be powerful and memorable.
Here are a few highlights of the millions of memories made while building and gathering in the Marriott Center.
Raising the Roof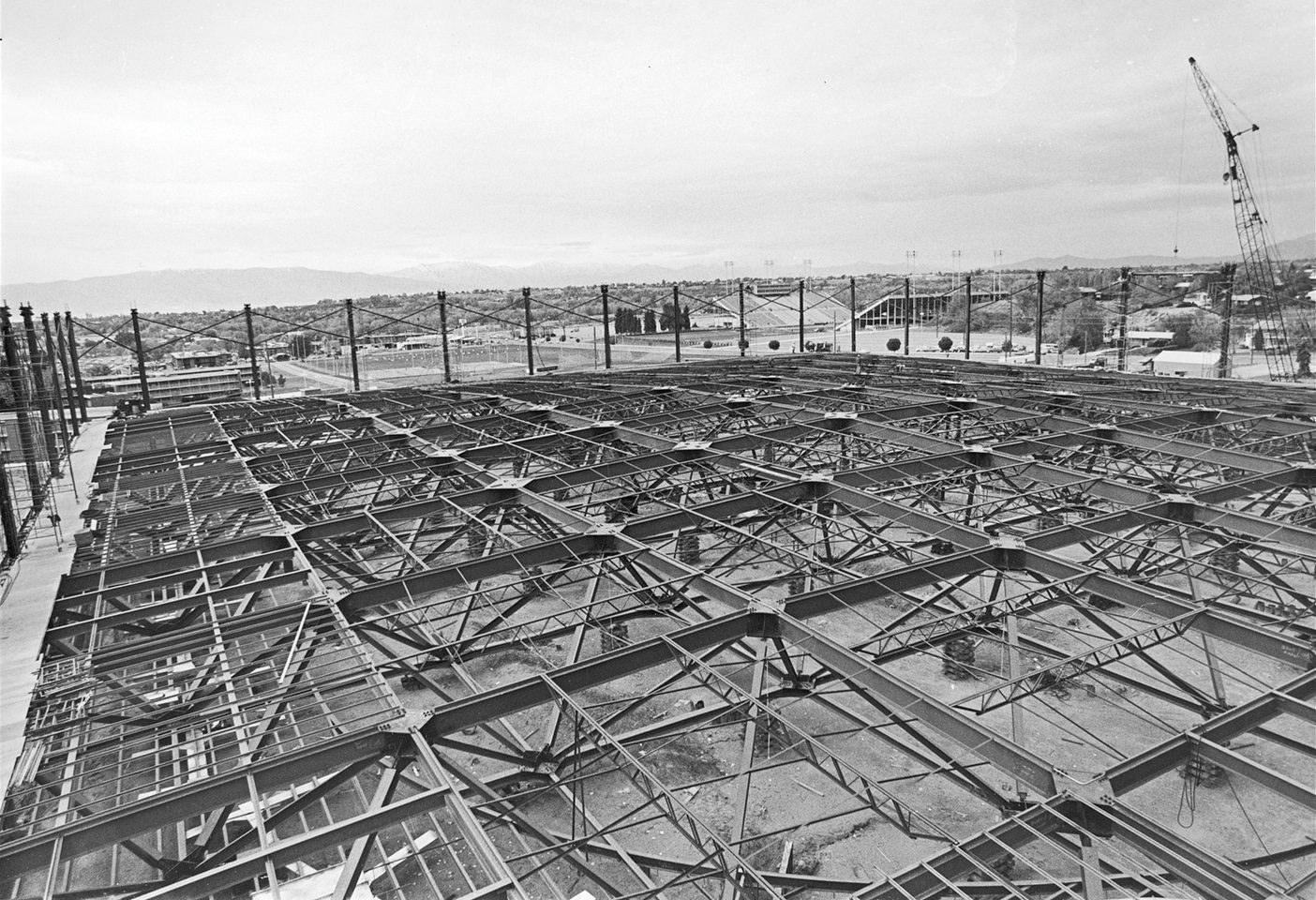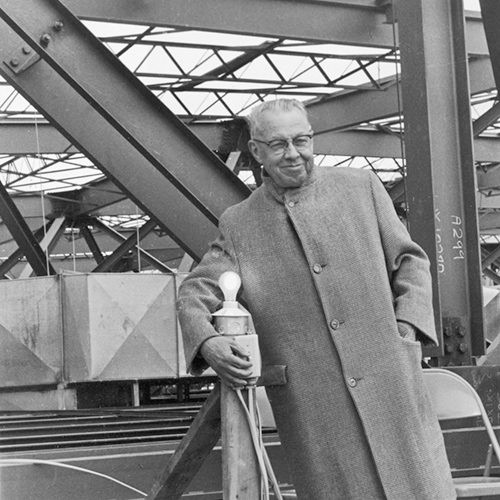 Construction for the roof of the MC began at ground level as workers assembled the single-span space frame (weighing more than 2.5 million pounds) with 50,000 bolts. When completed, the steel frame was raised by 38 hydraulic jacks at a rate of 8 feet a day for two weeks, pausing at the halfway point to allow installation of perimeter trusses. After the roof was raised the earth was excavated from under it and the concrete seating structure poured.

Seats and Scoreboards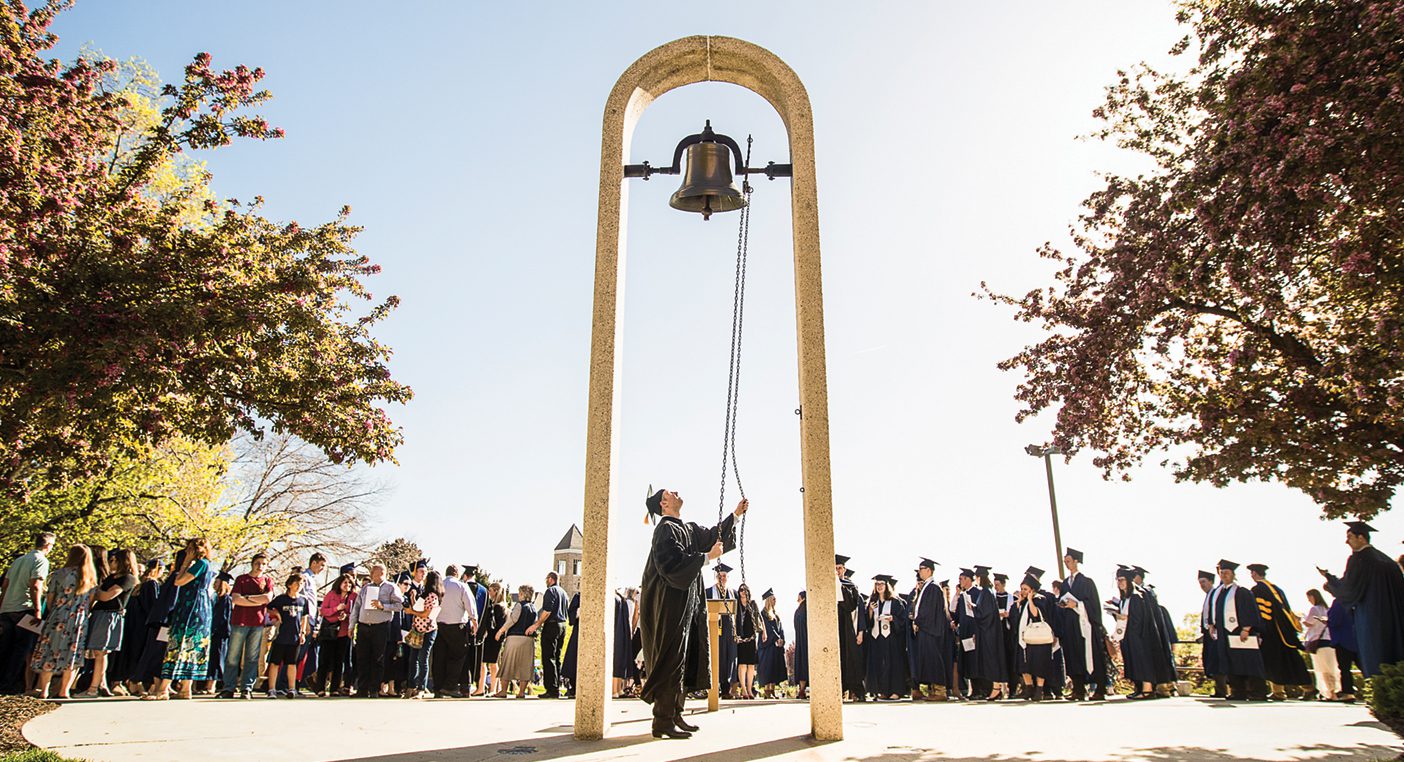 While many MC improvements over the past five decades are mostly out of sight (playing-floor structure; lighting, roof, and seismic upgrades; office and locker-room changes), the sights and sounds emanating from the state-of-the-art scoreboards (1971, 1983, 2015) have been front and center. Not to be left behind, the 10,092 original plastic chairs and many of the yellow bleachers have been replaced over time with padded blue seats. With the incremental increases in comfort, the official seating capacity is now 18,987.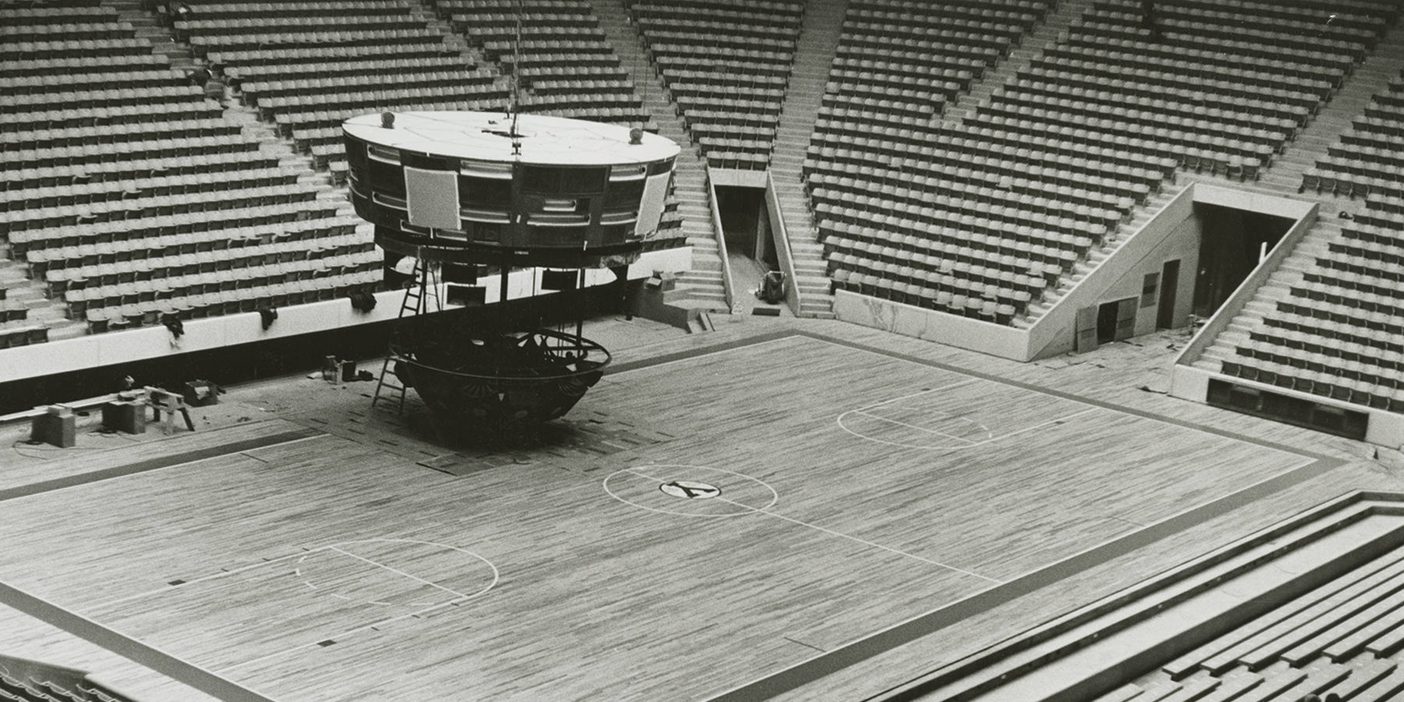 Center Stage
During the '70s and '80s, dozens of the hottest bands played in Provo. While the Carpenters, the Osmonds, Barry Manilow, and Neil Diamond drew in some of the biggest crowds, they were only a few of the big-name bands entertaining audiences at BYU. John Denver, the Beach Boys, Elton John, America, Billy Joel, James Taylor, Boston, Air Supply, REO Speedwagon, Survivor, and dozens more took center stage. Notably, a few glimpses of Journey's concert in the Marriott Center endure in the music video for "Faithfully."
It might be argued that, in 1983, Kenny Loggins had the biggest impact in the MC. Just moments before he was about to make a dramatic entrance on a darkened stage, Loggins fell seven feet off the stage and broke three ribs. His setlist was postponed for six weeks, but Loggins returned, dedicating his performance to the nurses who treated him at the nearby hospital.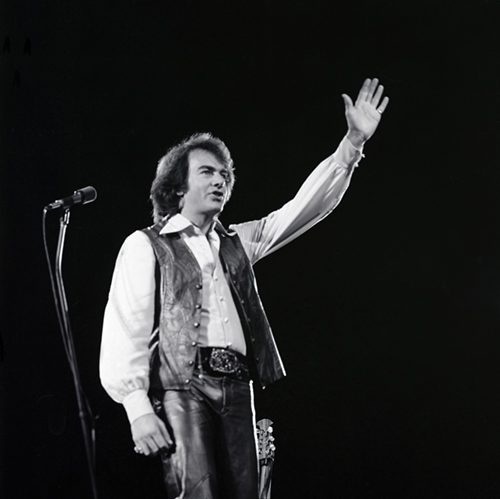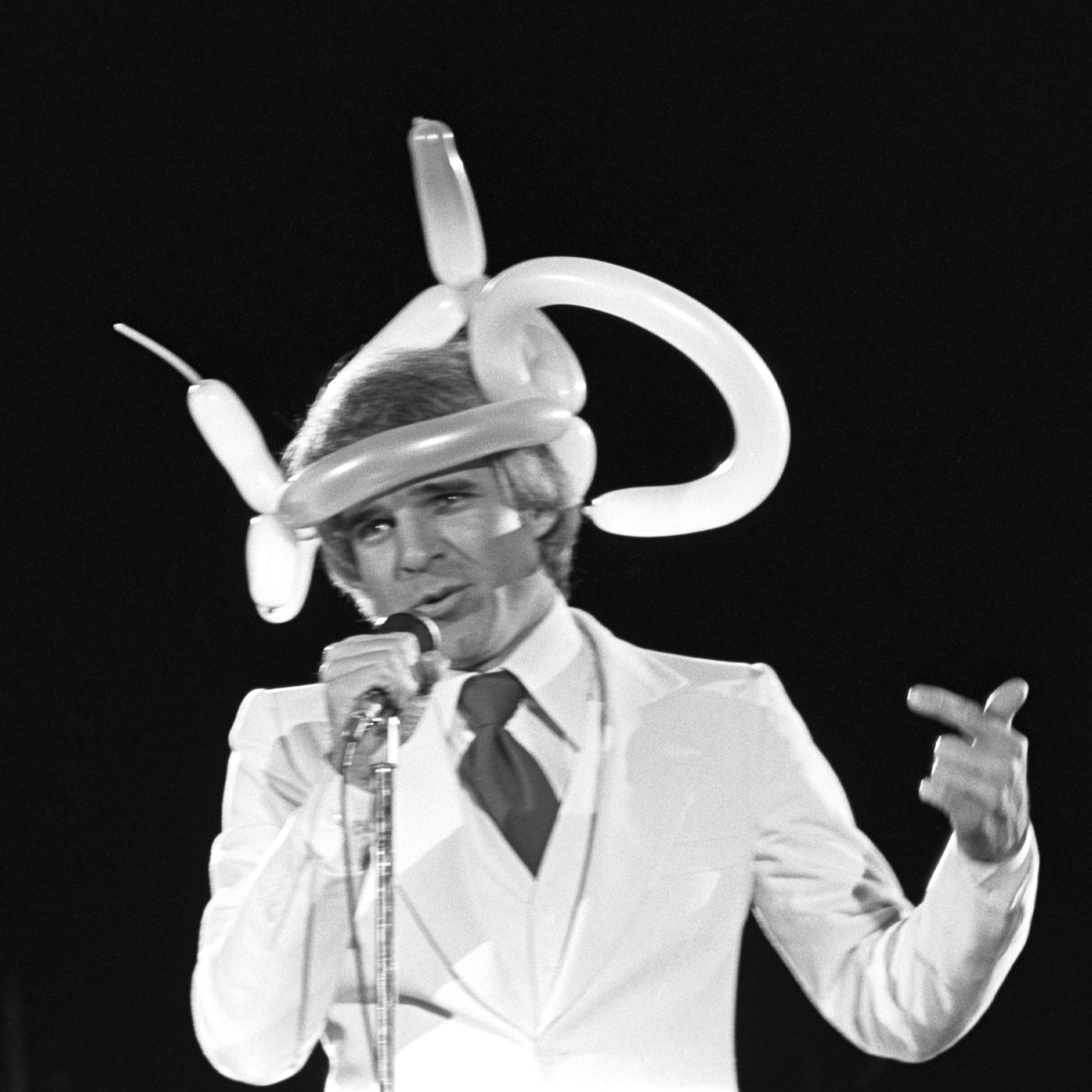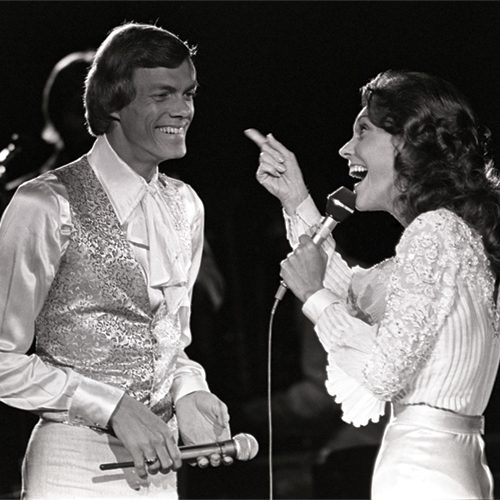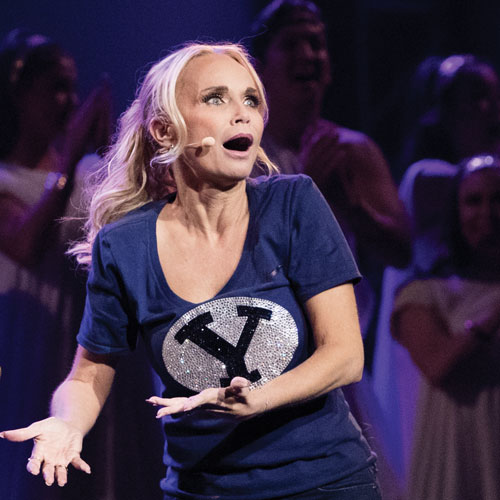 Special Guests
High-profile guest speakers in the past five decades include former US presidents Ronald Reagan and George H. W. Bush; former British prime minister Margaret Thatcher; Facebook founder Mark Zuckerberg; and seven-time Grammy winner Gladys Knight.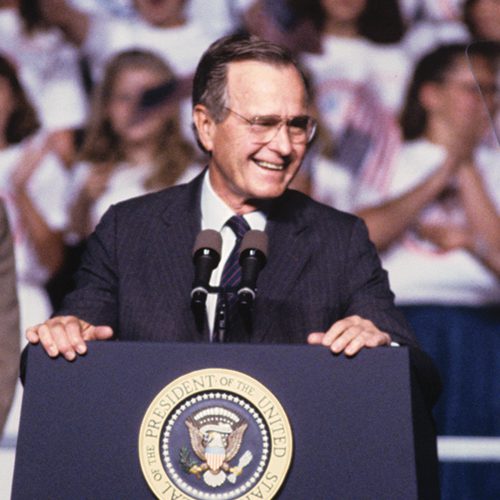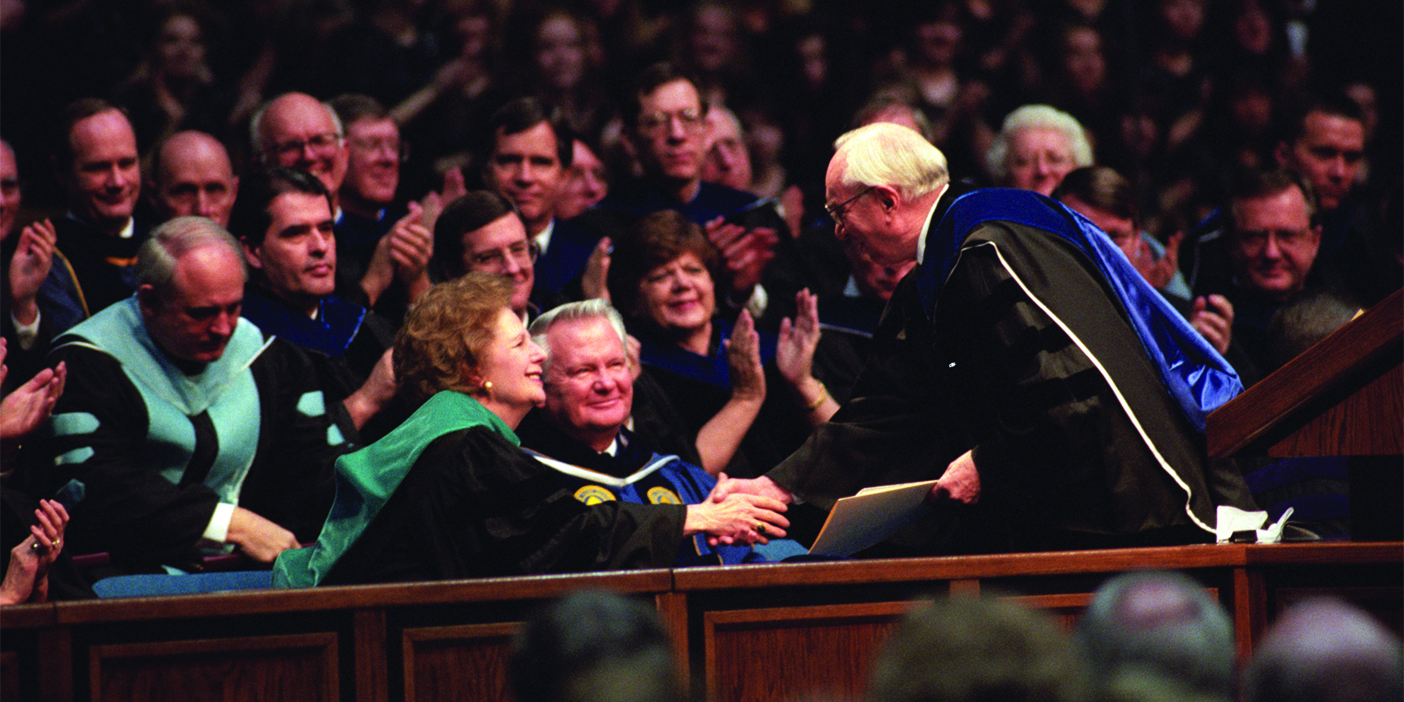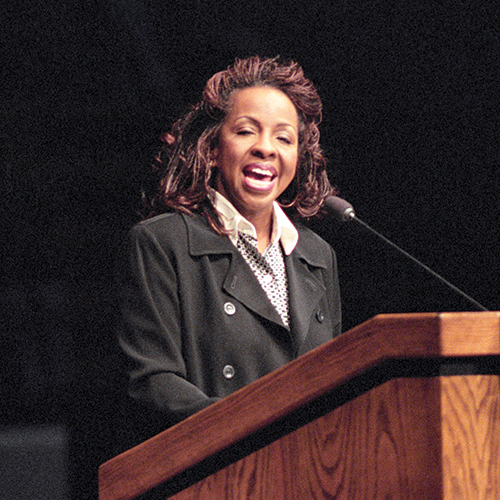 Home-Court Advantage
With the music thumping, the student section roaring, and a little help from Provo's altitude, the MC has a reputation as a tough place for opponents to compete. "I don't know how many places . . . have a place like BYU," said Gonzaga head coach Mark Few, whose highly ranked teams have suffered a few dramatic defeats in the MC. "There are 20,000 people that roll in there, and they're as dedicated to the cause of cheering for their Cougars as any place I've ever been," he adds. "Unbelievable home court. Unbelievable effort they play with there."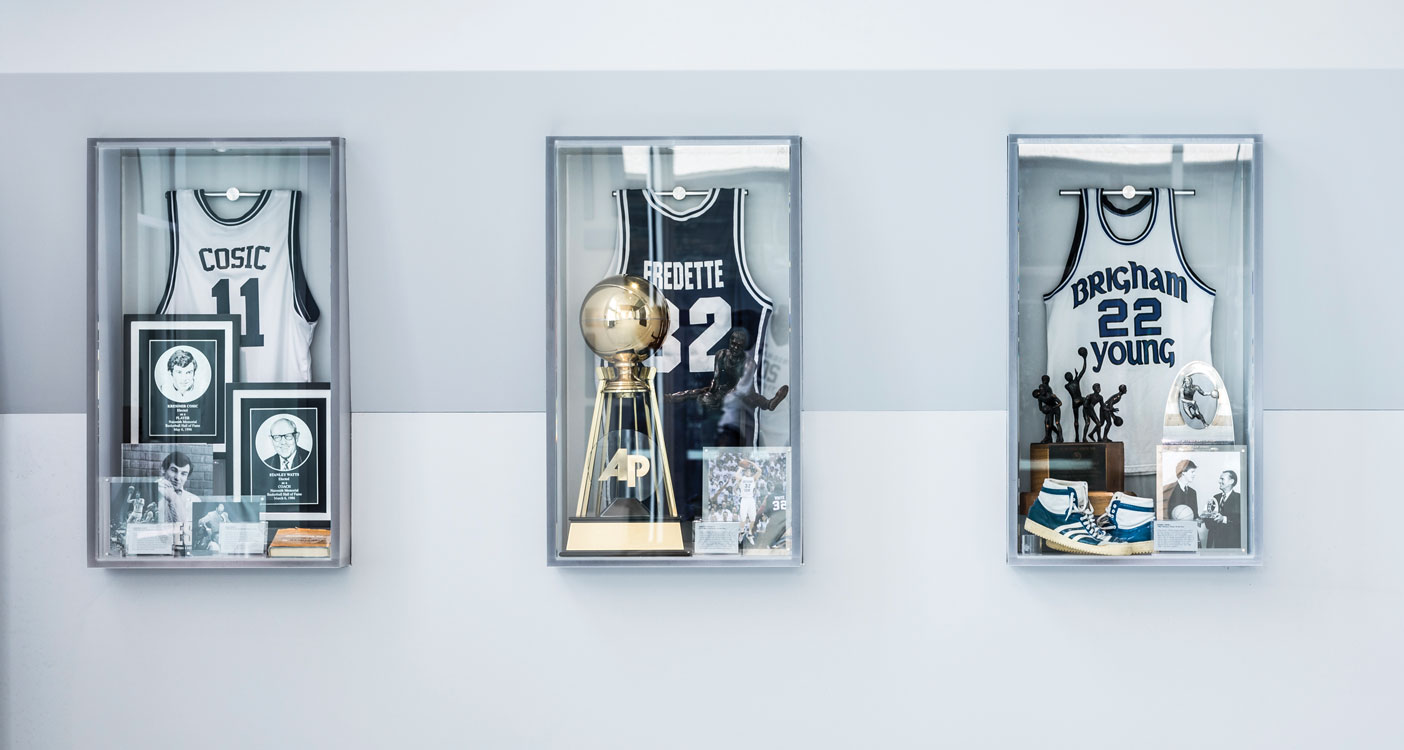 Jan. 26, 2011
BYU 71, San Diego State 58
No. 9 BYU and Jimmer T. Fredette (BA '16) played the undefeated No. 4 SDSU Aztecs and future NBA champ Kawhi Leonard in one of the biggest MC games of all time. The crowd of 22,700 sold out the arena.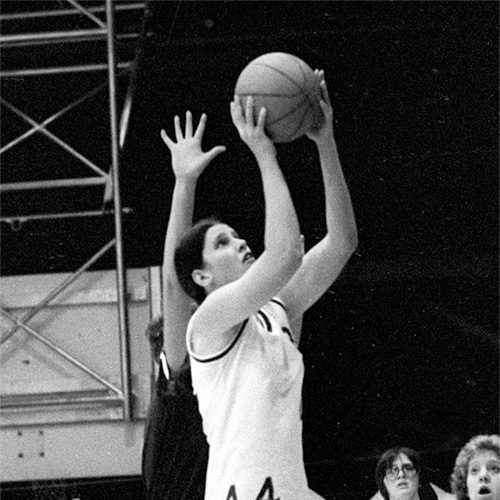 Dec. 15, 1979
BYU 108, LaSalle 106 (3 OT)
An all-star lineup including Danny R. Ainge (BA '92), Fred C. Roberts (BA '07), and Devin G. Durrant (BA '84) pulled off a triple-overtime victory over LaSalle in the Cougar Classic. The combined 214 points were an MC record at the time, and Michael Brooks of  LaSalle set an MC scoring record with 51 points. When he was named tournament MVP, the BYU crowd gave Brooks a five-minute ovation, chanting his name. The gesture caused the player to break down in tears.
Feb. 22, 2020
BYU 91, Gonzaga 78
On a memorable senior night, the underdog Cougars upset the No. 2 Gonzaga Bulldogs, ending the Zags' 19-game winning streak. An elated sellout crowd rushed the floor to celebrate with the Cougar squad, including senior Yoeli B. Childs (BS '20), who led the scoring with 28 points and added 10 rebounds.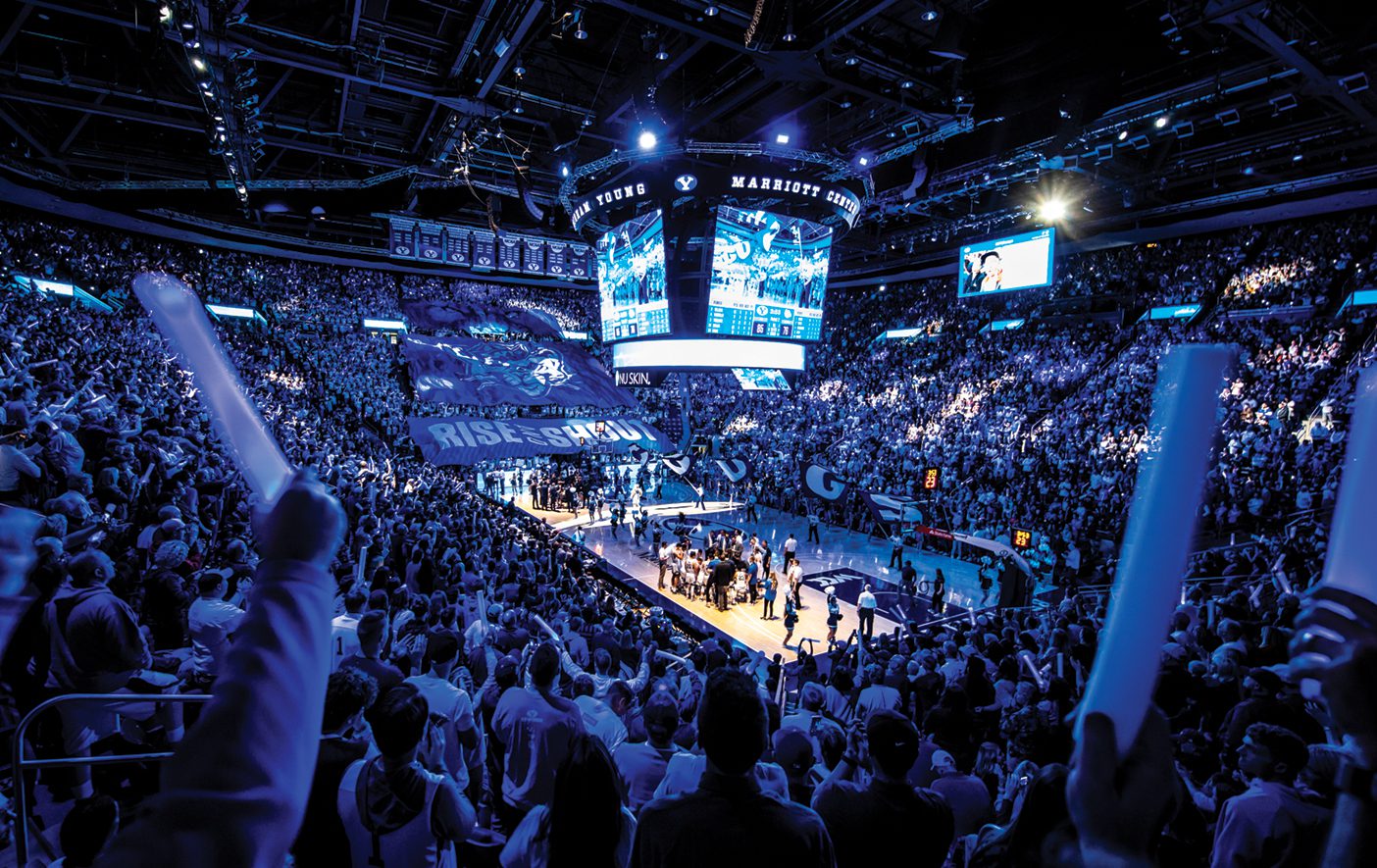 Timeline
Sept. 17, 1968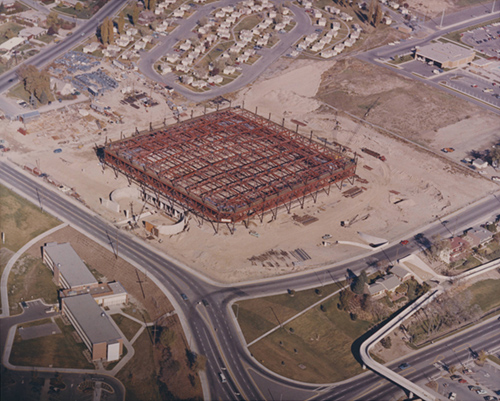 BYU president Ernest L. Wilkinson announces plans to build a new multipurpose auditorium.
Spring 1970
Construction begins.
Dec. 3 & 4, 1971
BYU defeats Kansas State and St. Joseph's in the first BYU Basketball Classic.
Feb. 9, 1972
The Provo Temple dedication is broadcast to the MC in two sessions.
Feb. 4, 1973
President Harold B. Lee conducts the MC dedicatory services.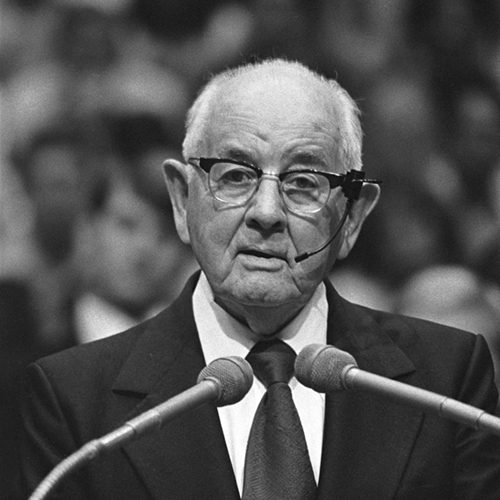 1975
To celebrate BYU's centennial, President Spencer W. Kimball delivers a landmark address, setting the course for the university's second century
1983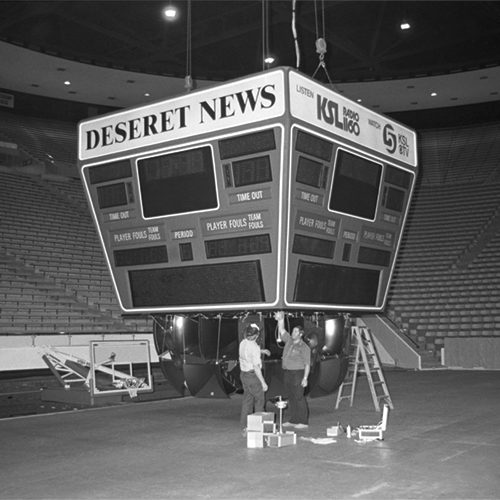 A 5-ton scoreboard controlled by a Mark 500 computer, which can display messages, graphics, and animation, is installed just to the north of the original system.
October 1987
The NBA's Boston Celtics, with three former Cougars on the team, play the Utah Jazz in the MC. The Los Angeles Lakers and Utah Jazz would meet in Provo a year later.
Feb. 16, 1991
Ronald Reagan speaks of America's greatness, praises BYU, and fields questions from students at the MC.
Feb. 7, 1993
President Howard W. Hunter calmly faces a bomb threat at the podium, then delivers a stirring fireside address.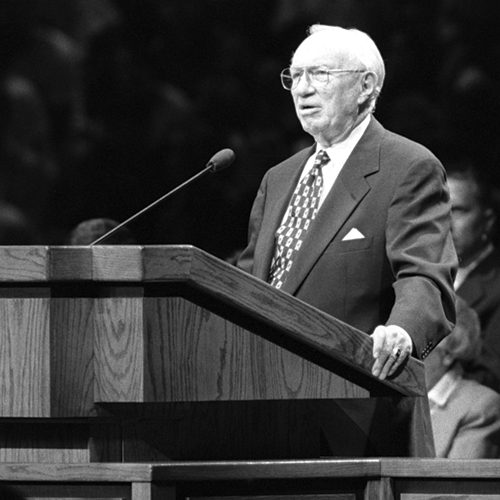 Oct. 17, 1995
The largest all-time audience of 25,875 gathers to listen to President Gordon B. Hinckley.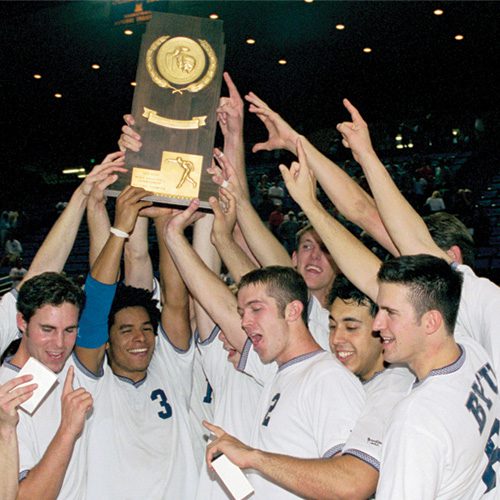 Feb. 19, 1999
On the way to their first national championship, men's volleyball defeats Hawai'i in the MC, setting the NCAA single-match volleyball attendance record.
2012
Lower-bowl bench seating on the north side of the arena is replaced by chair seating. A new sound system is installed, and both the men's and women's locker rooms are renovated.
2015
New 24-by-8-foot scoreboards and LED video screens are installed. Blue padded chairs replace remaining lower bowl yellow plastic seats and some benches.
2017
The Marriott Center Annex—a practice and training facility with a basketball hall of honor—is completed and dedicated.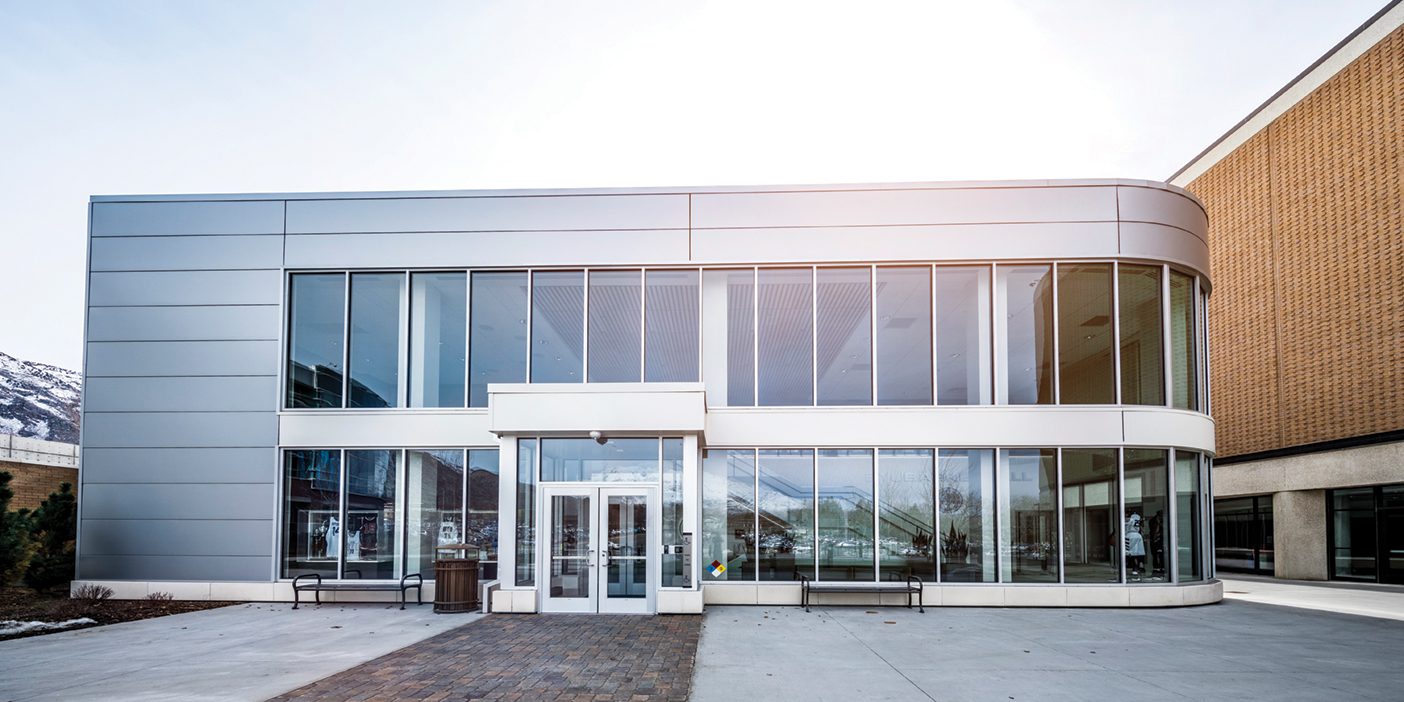 Oct. 7, 2018
Broadway star Kristin Chenoweth harmonizes with BYU performing-arts groups on the MC stage as part of Homecoming's BYU Spectacular!
Feedback Send comments on this article to magazine@byu.edu.