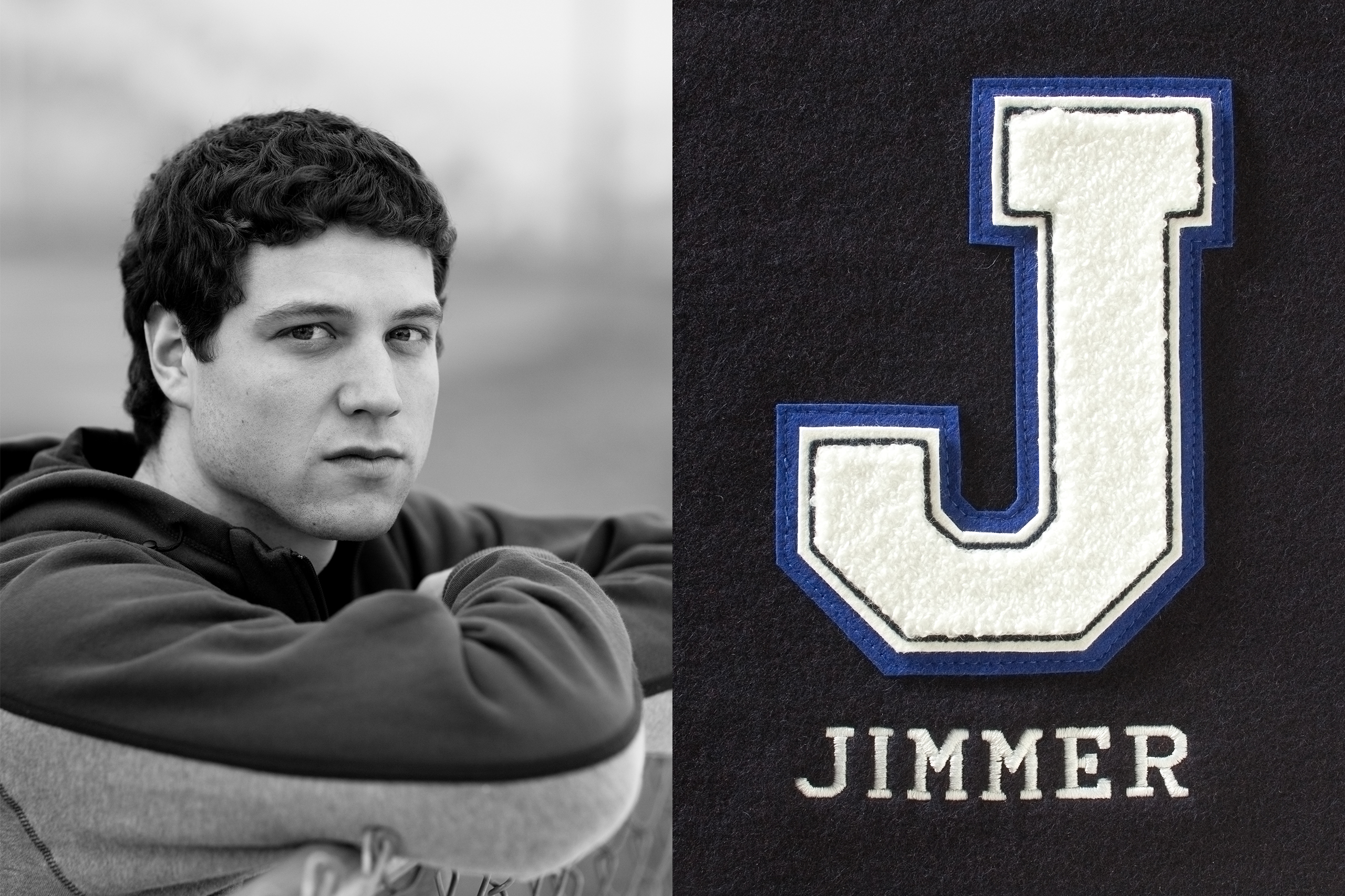 Jimmer
A prolific scorer with an aw-shucks smile, Jimmer Fredette won fans—and games—everywhere he went.
---
Portraits by Jaren Wilkey (BA '00)
When James Taft Fredette was born, his mother, Kay, dubbed him "Jimmer," and the name stuck like Velcro. "He was full of energy right from the start, and it fit him," Kay says.
Daughter Lindsay was 9 when Jimmer was born and, initially, she refused to use that moniker for her brother. "She didn't realize there was a method to my madness," Kay explains. "I knew people would one day remember that name."
Mom was right. Now, everybody knows his name. And his game.
During his four years playing basketball at BYU, Fredette became known all over the country. And it seems everyone knows the prolific-scoring guard with the boy-next-door persona and aw-shucks smile simply as Jimmer.
Jimmer Fredette's ('11) meteoric rise to national prominence began with natural talent, a competitive spirit, and a loving family—including an older brother who wouldn't let him settle for anything less than greatness. Jimmer honed his unconventional game in unconventional ways and unconventional places, and at BYU the Cougar guard made the amazing happen on a regular basis.
In 2010 Jimmer wrestled Gators—and removed a monkey off BYU's back—by scoring 37 points while leading the Cougars to a double-overtime win over Florida for their first NCAA Tournament victory in 17 years. A year later, the senior guided BYU to its first Sweet 16 appearance in 30 years.
Along the way, Jimmer became a recognizable word in college basketball vernacular, as in "You got Jimmered," chanted after he would unleash a flood of points on an opponent. He was immortalized in Sports Illustrated. He inspired countless musical, Internet, and cardboard tributes. His relentless will to score produced highlights that will live forever on YouTube. He singlehandedly formed legions of Cougar fans in his hometown and wound up as the best Cougar basketball player since the legendary Danny Ainge (BA '92). In the end, Jimmer Fredette became BYU's first consensus All-American since Ainge, and he received myriad national player of the year awards, including the coveted Robertson, AP, Naismith, and Wooden trophies.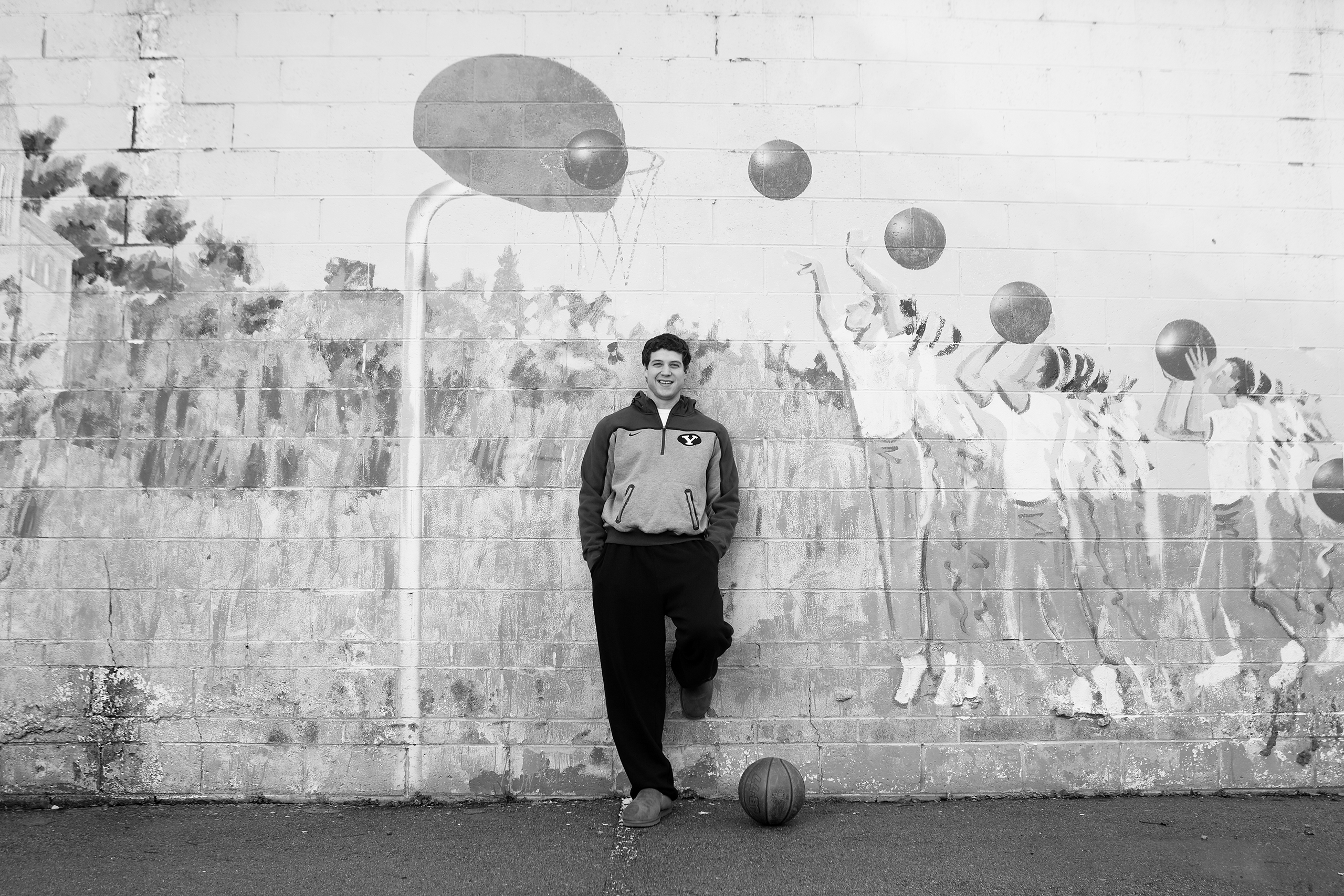 Competitive and Considerate
There seem to be two sides to Jimmer. There's the legendary competitor, and then there's the soft-hearted, considerate kid from Glens Falls, N.Y.

"At 4 years old, this kid absolutely despised losing," older brother TJ recalls. "It would ruin his week to lose some little game in the backyard. Winning was the ultimate for him. If he won, he'd have a grin from ear to ear the rest of the day."
When it came to shooting the basketball, Jimmer was a natural. At age 5 the chubby boy could sink 3-pointers, and like many kids, he dreamed of the NBA. "Because he was so determined," says TJ, "he'd find ways to win, even when he was outmatched." When young Jimmer and TJ played basketball, TJ towered over him and regularly blocked his shot. Once TJ felt sorry for him and put his arms down so Jimmer could get his shot off, but Jimmer motioned for TJ to put his hands back up. "He wanted me to compete hard against him because he knew it would make him better," TJ says.
Then there's the compassionate side of Jimmer. For his parents, Al and Kay Fredette, basketball is only a small part of what makes them proud of him. "Jimmer has always been such a good-hearted kid," Kay says. "It's just his inborn disposition and personality."
Always popular in school, Jimmer was someone kids would gravitate to easily. When he was in the sixth grade, Jimmer got to pick first for a school-organized sports activity. There was a boy in the group who wasn't well liked, and that's who Jimmer selected first. The boy, and everyone else, was astonished. Jimmer treated him like a friend, and soon everyone else did too.
After Jimmer starred in a high school tournament game, he was leaving the arena and noticed a man struggling to move heavy jugs of water. Jimmer stopped to help. "Thanks. I really appreciate that," the man said when they were done. "Hey, aren't you the guy that just scored 36?"
"Yeah," Jimmer replied sheepishly.
Al says, "I've always told Jimmer, 'You can be the best basketball player in the world, but if you're not a nice person, it wouldn't mean anything.' He understands that. He takes his basketball very seriously. He takes helping people and being kind just as seriously, if not more so."
BYU teammate Chris M. Collinsworth ('13) says the attention Jimmer has received hasn't changed him. "People come up and ask him for an autograph all the time, and he's never rude. You'd never know he was on the cover of Sports Illustrated or an All-American."
After Jimmer began attracting national attention in his junior year at BYU, head coach Dave Rose told the coaching staff, "It will be interesting to watch Jimmer and see how his personality adjusts to the spotlight." A year later, Rose observed, "I think he's more of a humble kid now than he was then. He's almost sometimes a little bit embarrassed of his success. He's an unbelievable competitor. . . . [But] when the game's over, he goes right back to being the same kid from Glens Falls."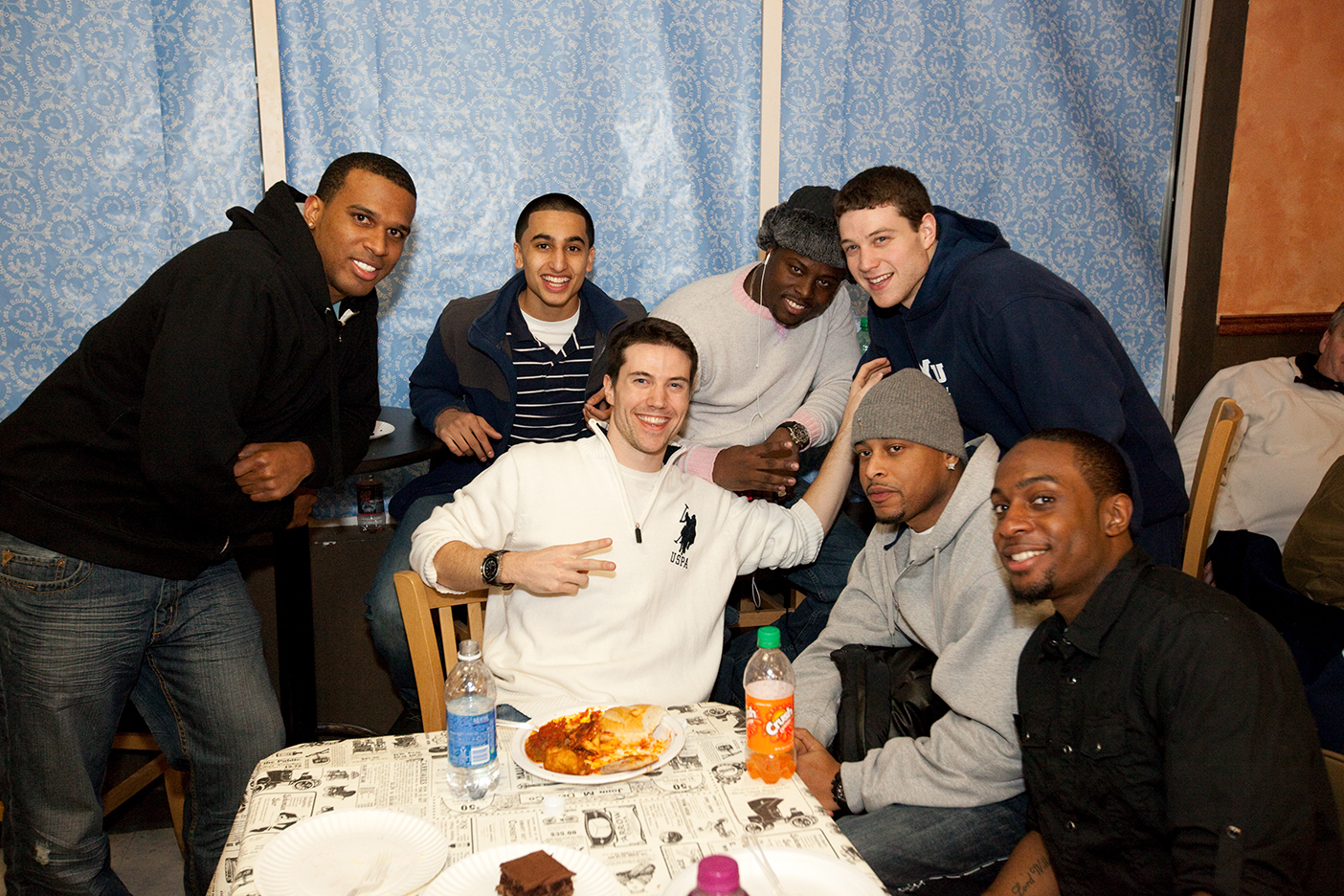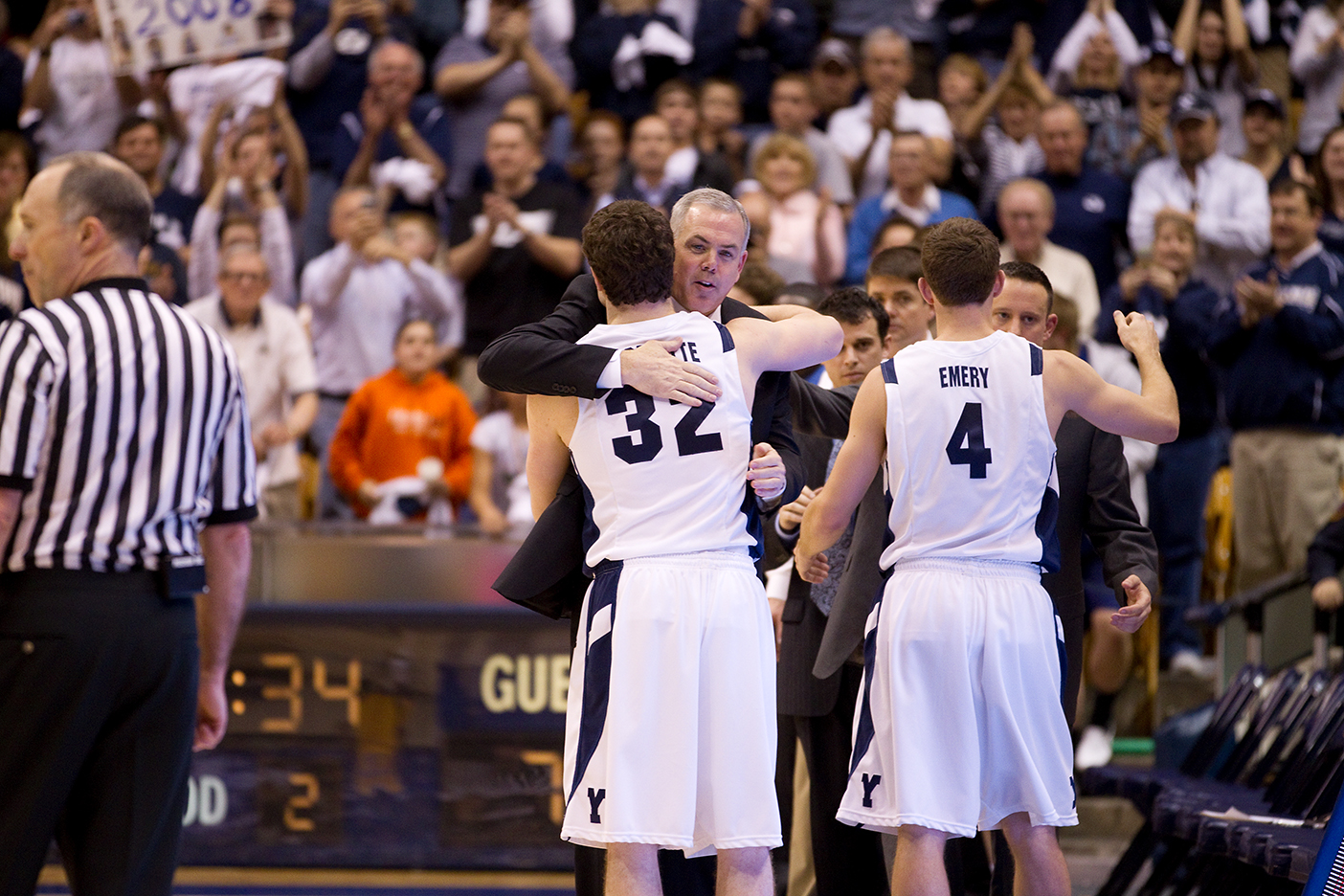 Tough (Brotherly) Love
Jimmer freely admits he wouldn't be the basketball player he is without TJ. Seven years older than Jimmer, TJ always allowed him to tag along and play games with him and his friends. TJ loved his brother, but he didn't coddle him.
"Being an older brother, it's my job to be a mentor in all aspects of his life," TJ says. "Basketball was our biggest passion, so it only made sense that I would try to make him the best player he can be."
As a youngster, Jimmer longed to go to prison—as a visitor, that is. A neighbor's uncle worked at a nearby prison and would invite people there to provide positive interaction for inmates. TJ organized basketball players to play pick-up games at the prison, but Jimmer couldn't participate until he was 18.
"We'd come home and he'd hear all the stories about the intense games," TJ says. "He'd say, 'I can't wait until I'm old enough to play.'"
When Jimmer finally got the chance, he learned that the prison was different from any other environment he had played in, from metal gates to guards gripping rifles to inmates' icy glares and menacing comments.
No wonder, in later years, Jimmer had no trouble playing college games on the road with rabid fans booing him. "You're not going to find a more intimidating atmosphere to play basketball in, [with] the most aggressive guys you're going to play against," says TJ, who played basketball at a junior college before suffering a knee injury. "It really helped Jimmer's physical and mental toughness on the court. He can play anywhere now."
Jimmer would score points in bunches, and the inmates would end up cheering for him. Some of them have followed his career. "The inmates vote on what they want to watch on TV each week, and of course, they want to watch Jimmer," Mount McGregor recreational director John Montgomery told Yahoo Sports. "If BYU's on our local television, every dorm will have the game on."
TJ also invented ways to help Jimmer sharpen his hoop skills. One drill he created was called the Gauntlet, where Jimmer had to dribble the length of a narrow church hallway in the dark. To add to the difficulty, TJ and his friends would jump out of rooms in an attempt to rattle Jimmer.
"He wanted me to get better at keeping my head up while dribbling," Jimmer recalls. "All you could see was the light in the foyer that they had on. It was pretty much pitch-black, so I was doing all these dribbling drills—between the legs and behind the back, crossovers, and everything I could do to get down the hallway and get there safely."
Even then, Jimmer was focused on the NBA. As Jimmer excelled in high school, TJ wondered if his brother could handle all of the sacrifices required to reach that goal. So TJ drew up a contract. After practice one night, TJ removed the contract from his pocket and asked Jimmer to read it: "I, James T. Fredette, agree on this day, Jan. 27, 2007, to do the work and make the necessary sacrifices to be able to reach my ultimate goal of playing in the NBA."
Jimmer signed the piece of paper and hung it in the room he and TJ shared in Glens Falls. He read the contract every day. "It reminded me of what my goal was," says Jimmer, "and if I didn't want to work hard or practice that day, I would look at that and think, 'You have to work as hard as you possibly can and do things other kids aren't doing in order to be the best and reach your goal.' It was a big help."
That contract still hangs in their room in Glens Falls.
During high school, Jimmer starred in baseball and football—Penn State recruited him as a wide receiver—as well as basketball. As a senior, he decided to play basketball only, and he became the no. 6 all-time leading scorer in New York high school history, racking up 2,404 career points. Still, some college coaches underestimated him. He was seen as being too white—and too slow—to be a big-time basketball player. Many were skeptical that he would amount to much in college, let alone play in the NBA. Had he not been offered a scholarship at BYU, Jimmer says he probably would have wound up playing close to home, at tiny Siena College in Loudonville, N.Y. But the skepticism only fueled his work ethic. "He had a lot of doubters," says Al. "Jimmer thrived on that."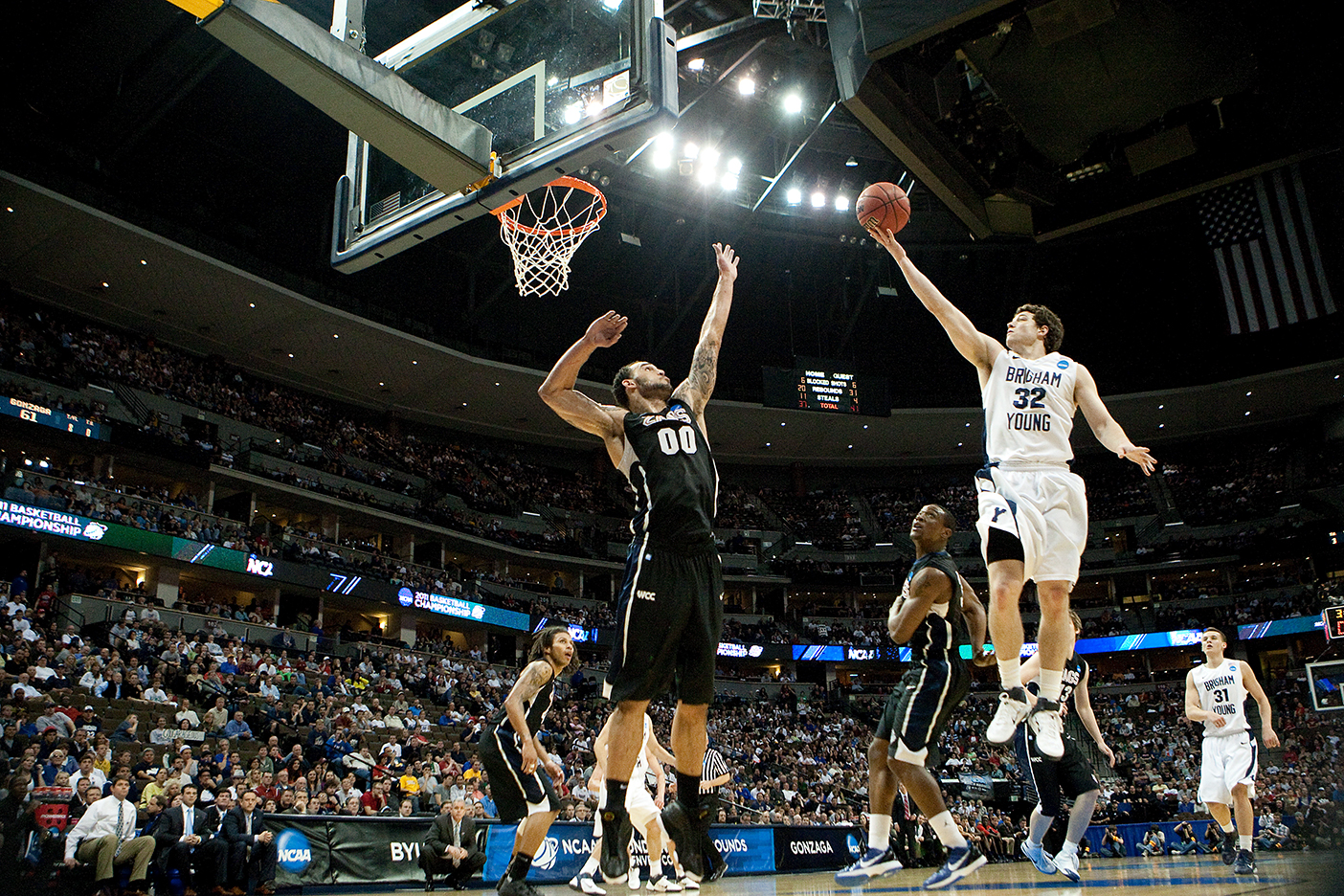 Flourishing Among Foes
Though he was largely unknown, especially in the West, it didn't take long for Jimmer to establish a national reputation in college. As a freshman he played in every BYU game and was the team's fifth-leading scorer. The next year, he started in 32 of 33 games, was the Cougars' second-leading scorer, and was named an All-MWC player. He began to attract attention in earnest early in his junior season when he drained 49 points at Arizona—shattering a 48-year-old BYU record of 47 points in a game.
"The improvement he made from his sophomore to junior year catapulted him into an arena where he received national attention," says Coach Rose.
During that season TJ, an aspiring rapper, released his song "Amazing," which chronicles the brothers' lives together: "I could see the dream was for the taking / when you were only 5 years old / because it was truly amazing."
Before each game, Fredette puts on his earphones and listens to his brother's song for inspiration. "When you listen to the lyrics, you can get a little emotional thinking about all the things you've been through and worked on to be where we're at," Jimmer says. "It's a special song to me."
As the 2010 season wound down, Jimmer helped lead the Cougars to that dramatic double-overtime win over Florida in the NCAA Tournament, creating a buzz around the country. He soon found himself on five All-America lists. Riding this wave of enthusiasm, Jimmer considered leaving BYU for the NBA but ultimately chose to return for his senior year.
Throughout the summer, he attended predraft camps with NBA teams and played with some of the top college players against NBA stars on the U.S. National Team in Las Vegas. The experiences galvanized Jimmer's confidence and showed him where to improve. Before his final campaign tipped off, he had been named to eight pre-season All-America teams. And in its season preview issue, Sports Illustrated selected Jimmer as one of three college basketball stars to feature in a comic-book styled article called "Hoops Heroes."
During his college career, Jimmer flourished most when the environment was the toughest. In rivalry games, against ranked teams, and before hostile crowds, he turned in his best performances. Of the 24 games in which he scored at least 30 points, 19 of those came away from home. Opposing crowds loved to heckle Jimmer, but at their own peril. Jimmer not only endured the heckling, he enjoyed it. "It's fun to hit a shot and quiet the crowd a little bit," he says with an impish grin.
Jimmer's unlimited range is so dangerous, he can score from almost anywhere on the court, and in a variety of ways. He owns a vast repertoire of shots, like his patented cross-over 3-pointers, windmill reverse layups, off-balanced jumpers, and floaters in the lane that make opposing defenses shake their heads in capitulation. Few foes found a way to slow him down, let alone stop him, despite devising a multitude of defensive schemes for that purpose.
"He's very skilled and very competitive," says Rose. "Jimmer has an uncanny knack that when we need him the most he can play his best. He's a guy who plays with a lot of confidence but he still has kind of a style to him where, when he starts to feel like things are going for him, he can do things with the ball for himself and for his teammates that everybody enjoys watching, including the coaches."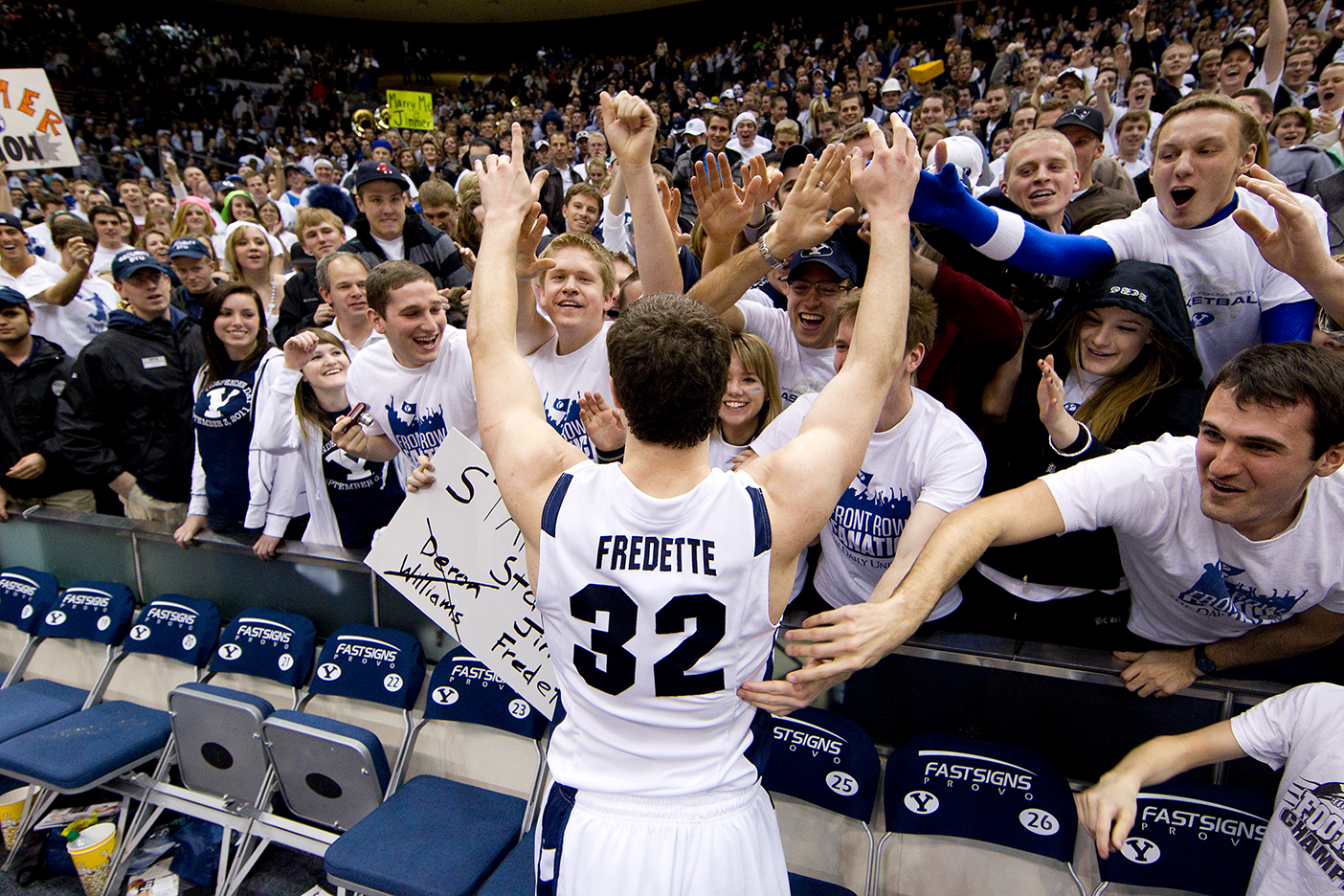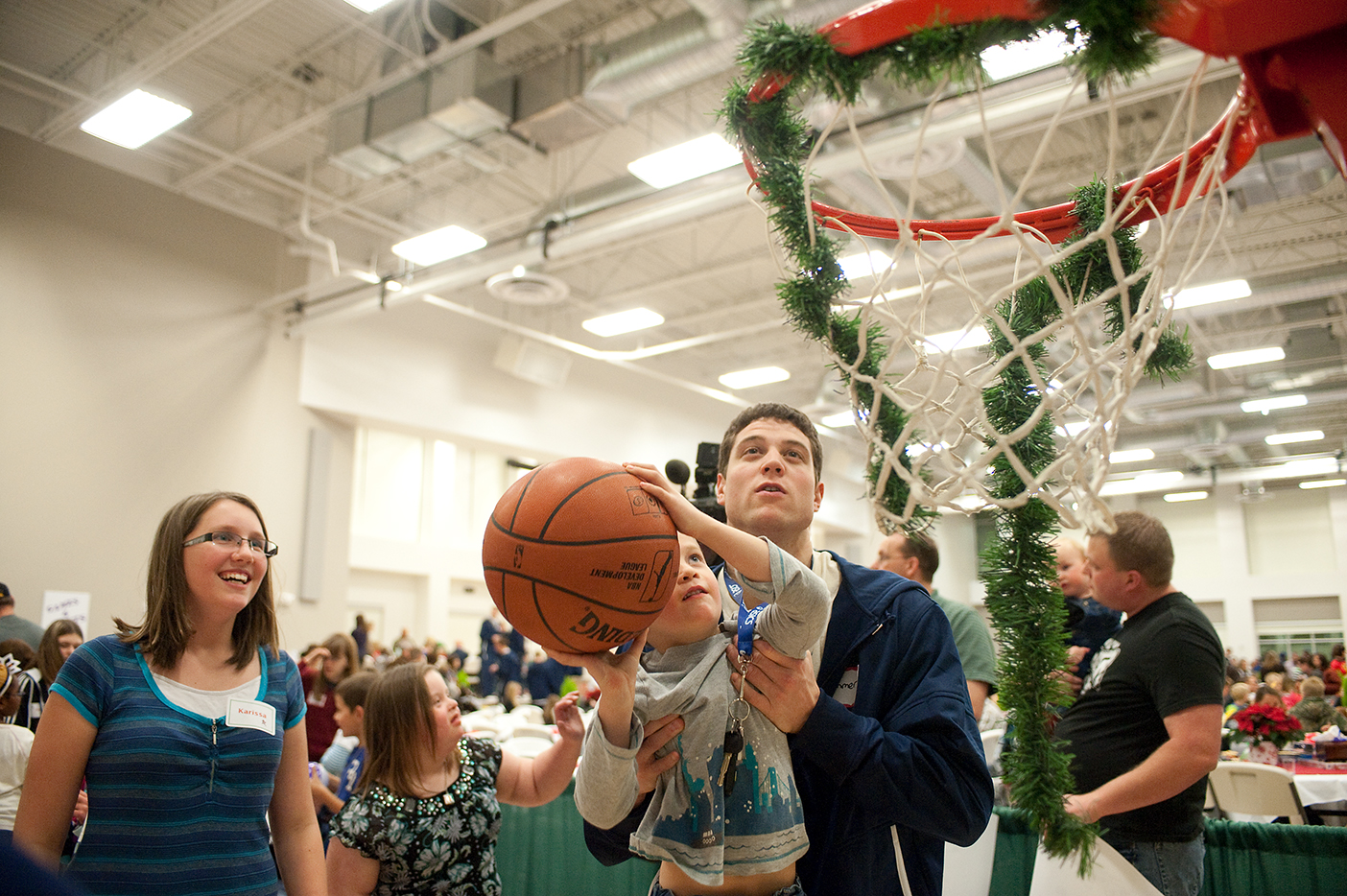 Jimmermania
Long before Jimmer sparked a national phenomenon known as Jimmermania, featuring seemingly endless jaw-dropping SportsCenter highlights, Glens Falls had already embraced him. Jimmer was a local legend who guided his high school team to the state championship game.
"People have been so kind and supportive of him and of us," Kay says. "It's like we are all in this together. He's one of their own, and they are all a part of it."
Glens Falls mayor Jack Diamond says Jimmer is responsible for providing unprecedented exposure and a significant economic boost for the city.
Thanks to Jimmer, BYU has become a popular team in Glens Falls and the surrounding area. Stores sell BYU paraphernalia, and fans, wearing blue, have packed sports bars in Glens Falls to watch Jimmer and the Cougars play.
"BYU's probably the favorite college in Glens Falls, and the whole area, whereas before, I don't think anyone knew where it was," says TJ. "If you ask people what their favorite team to watch is, you're going to get BYU nine out of 10 times."
Through Jimmer, people have learned about the Church as well. When missionaries knock on a Glens Falls door and introduce themselves as representatives of The Church of Jesus Christ of Latter-day Saints, they are usually met with blank stares.
"Then the missionaries will say, 'By the way, we're from the same church as Jimmer,'" says Al, who serves as the mission leader in his ward. "People laugh and it really breaks the ice. Jimmer has brought a lot of recognition for the Church."
While Al joined the Church when he was 18, Kay is Catholic. She attends Latter-day Saint sacrament meetings with the family and is supportive of her husband and three children, who were all baptized members of the Church.
"They have learned some good things in the Mormon Church, and I think it was the way to go for them," Kay says. "We have always been united on that. I have supported it from the beginning, and I am glad that I did."
Back in high school, Jimmer was known as either the Mormon kid or the basketball player. "Everyone knew I was affiliated with both. That was a good thing," Jimmer says. "It helps people realize what I'm all about and what our church is all about. . . . Even if they didn't know the doctrine or know anything about the Church, hopefully they could at least see that our family was a good example of how people should live."
Making good on a promise to Jimmer, Rose and BYU set a homecoming game for him at the Glens Falls Civic Center in December 2010 against Vermont. The trip included a speech by Jimmer at Glens Falls High School, a sellout crowd at the game, multiple standing ovations for Jimmer, and a Cougar victory.
In January, Jimmermania shifted into high gear. First, there was his 47-point outburst at Utah, punctuated by a 40-foot shot at the buzzer to cap a 32-point first-half effort. It was so impressive that even some Ute fans rose to their feet. That was followed by a 42-point explosion at Colorado State. Then on Jan. 26, in perhaps the biggest game ever played at the Marriott Center, no. 9 BYU downed no. 4 San Diego State as Fredette dumped 43 points on the Aztecs—in front of a sellout crowd of nearly 23,000, including 24 NBA scouts.
By that night, the Jimmer story had gone viral. There was ubiquitous coverage—in tweets, blogs, and newspapers as well as national television and radio shows. It was all Jimmer all the time on the ESPN family of networks. After the San Diego State game, NBA star Kevin Durant, who had scored 47 points himself that evening, tweeted, "Jimmer Fredette is the best scorer in the world!!"
As if to emphasize the point, a month and a half later, in the Mountain West Conference semifinals against New Mexico, Fredette poured in a school-record 52 points—amazingly, only one point came from the free-throw line. In the same game, he surpassed Ainge as the school's all-time scoring leader.
As dominant as Jimmer can be, he is, above all else, a player who makes his team better, Rose says. "Winning games—that's his legacy. He just helped his team find ways to win games."
In Jimmer's senior year, the Cougars won a school-record 32 games, claimed a share of the MWC regular-season championship, earned their first trip to the Sweet 16 since 1981, and spent numerous weeks ranked in the top 10—peaking at no. 3. "If you're a basketball fan or not, you're pretty proud of Jimmer and this basketball team," Rose says. "A lot of that is because of the national recognition he's got."
Not even Kay Fredette could have dreamed that her son would have this kind of impact. Jimmermania began in Glens Falls, spread to Provo, then swept the nation.
"He has become a bit of a celebrity here," Kay says of her hometown, but she could have been referring to the entire country. "They haven't used his last name since he was a junior in high school. They just say, 'Jimmer,' and everyone knows who it is."
One on One: Jimmer vs. Danny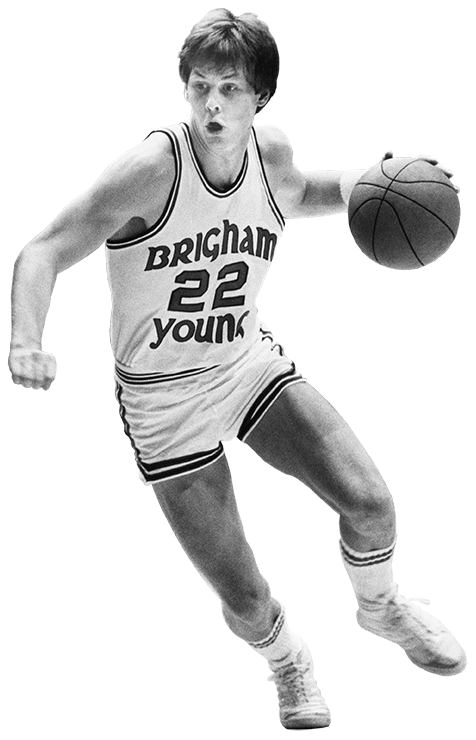 Thirty years ago, a feisty, hard-nosed guard named Danny Ainge (BA '92) not only became BYU's all-time leading scorer, but he also brought extensive national acclaim to the basketball program and the school.
Players like Ainge come around only once in a generation. And the next generation produced another great one—Jimmer Fredette ('11).
Both players imprinted themselves on the national consciousness on the same stage—the NCAA Tournament. Ainge did it in 1981 with his famous coast-to-coast dash for a layup to upset Notre Dame and send BYU to the Elite Eight. In March 2011 Fredette led the Cougars to their first Sweet 16 appearance since that legendary game in 1981.
Most BYU fans and observers agree that Ainge and Fredette are the two best guards—and players—ever to suit up for the Cougars. As such, it's easy, and only natural, to compare the two.
Both Ainge and Fredette were fierce competitors and prolific scorers. Fredette, like Ainge, established a reputation for wanting the ball in critical moments. Both players could adapt to various defensive schemes designed specifically to stop them. They also possessed the uncanny ability to dominate a game when their team needed them to.
Ainge stood 6-foot-5 and weighed 188, while Fredette's 6-foot-2, 195-pound frame made him shorter but thicker. And, of course, the two played in different eras. Ainge didn't have the luxury of the 3-point shot (that wasn't instituted by the NCAA until 1987). But Fredette became known for taking more difficult shots, including his fondness for shooting 3-pointers from NBA distances and beyond. In his final weeks as a Cougar, Fredette eclipsed Ainge as the school's career scoring leader (with 2,599 points to Ainge's 2,467).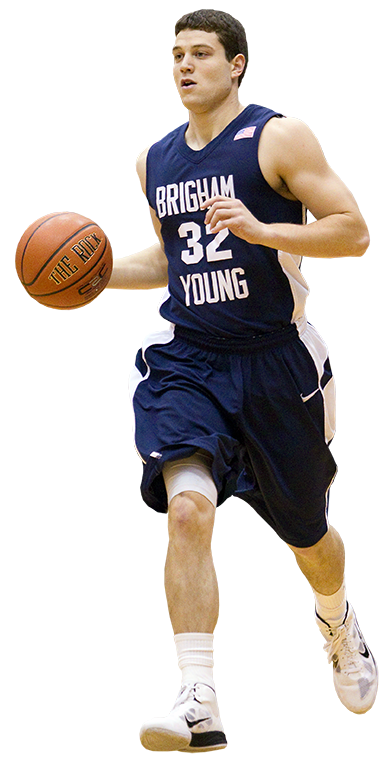 Devin Durrant (BA '84), who was BYU's no. 3 all-time scorer until Fredette came along, marvels at Fredette's legacy. "He is one of the best that we'll ever see represent BYU," says Durrant, who played for two seasons with Ainge. "He's the kind of player that makes me wish I could turn back the clock so that I could run up and down the court with him."
Ainge was a consensus All-American who set an NCAA record with 112 consecutive games in double figures, finished in the top 20 among NCAA career points leaders, was the WAC's all-time leading scorer, and set various BYU records. Ainge later claimed NBA championships and played on all-star teams. In 2003 his BYU number, 22, was retired and now hangs from the rafters of the Marriott Center.
Fredette similarly topped All-American lists, and his 2011 season ranks no. 11 on the NCAA's all-time list for the most points in one season. He is the MWC's all-time leading scorer, and he also set many BYU records (see below).
"Jimmer has had an incredible career," said Ainge during the season. "Nothing says that more that the 22,000 that fill the Marriott Center each game. His remarkable shot-making ability has every basketball fan in America familiar with his game and the BYU program."
—Jeff Call (BA '94)

Jimmer in BYU's Record Books (up to 2011)
All-Time Scoring Leaders
1. Jimmer Fredette, 2008–11
2. Danny Ainge, 1978–81
3. Michael Smith, 1984, 87–89
4. Devin Durrant, 1979–80, 83–84
Best Individual Scoring Performances
1. Jimmer Fredette, 52 points, March 11, 2011, vs. New Mexico
2. Jimmer Fredette, 49 points, Dec. 28, 2009, at Arizona
T-3. Bob Skousen, 47 points, Dec. 2, 1961, vs. UCLA
T-3. Jimmer Fredette, 47 points, Jan. 11, 2011, at Utah
5. Jimmer Fredette, 45 points, March 11, 2010, vs. TCU
30+ Point Games
1. Jimmer Fredette (2008–11): 24
T-2. Devin Durrant (1979–80, 83–84): 17
T-2. Michael Smith (1984, 87–89): 17
4. Danny Ainge (1978–81): 12
Points in One Season
1. Jimmer Fredette, 2011, 1,068 points, 28.9 PPG
2. Devin Durrant, 1984, 866 points, 27.9 PPG
3. Danny Ainge, 1981, 782 points, 24.4 PPG
4. Michael Smith, 1989, 765 points, 26.4 PPG
5. Jimmer Fredette, 2010, 751 points, 22.1 PPG
Three-Point Field Goals
1. Jimmer Fredette (2008–11): 296
2. Jonathan Tavernari (2007–10): 265
3. Jackson Emery (2006, 09–11): 230
Assists
1. Matt Montague (1997, 2000–02): 570
2. Danny Ainge (1978–81): 539
3. Nathan Call (1986–87, 90–91): 528
4. Jimmer Fredette (2008–11): 515
5. Marty Haws (1987–90): 502
Steals
1. Jackson Emery (2006, 09–11): 249
2. Danny Ainge (1978–81): 195
3. Marty Haws (1987–90): 182
4. Jimmer Fredette (2008–11): 167
5. Jonathan Tavernari (2007–10): 165
This special two-sided poster commemorates BYU's 2011 season and was included in the spring 2011 issue of BYU Magazine. Photography by BYU Photo.