---
Christy Larson Denney (BS '03) recalls gathering with her sisters in the kitchen, a fresh cherry cheese pie on the counter—each of them armed with a fork. They would dig right in, she writes on her food blog, The Girl Who Ate Everything, "giggling and convincing ourselves that the men didn't appreciate it like we did so we didn't have to share." After a move to Florida and losing a sister to a blood clot in 2008, she struggled to cope but found peace in an unexpected place. "I was in the kitchen one day making this cherry cheese pie . . . when I realized something. Being in the kitchen making family recipes made me feel like my family was in my kitchen with me. I had found my comfort. That's how it started."
Today, from their kitchen in Highland, Utah, Denney and her family of seven share classic recipes and new culinary creations. Here are three sweet recipes from their popular food blog.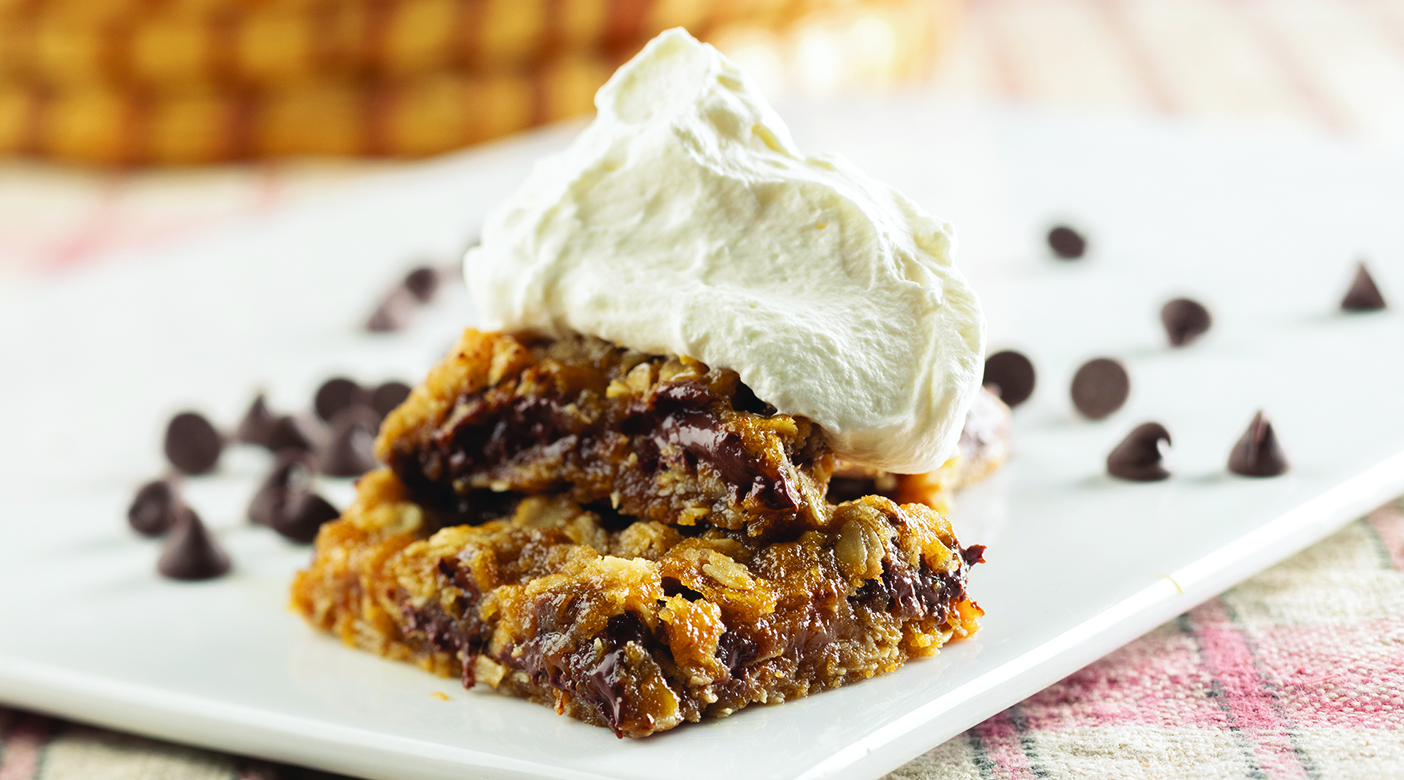 CARMELITAS
Caramel, chocolate, and nuts? You really can't go wrong. 
1 c. flour 
1 c. quick oats or old-fashioned oats 
¾ c. brown sugar, packed 
¾ c. butter, melted 
½ tsp. baking soda 
½ tsp. salt 
1 c. semisweet chocolate chips 
½ c. chopped pecans (optional) 
½ c. thick caramel ice cream topping 
Preheat oven to 350 degrees and grease an 8- or 9-inch square baking dish. An 8-inch dish will yield slightly thicker bars. (Note: this recipe can be doubled and baked in a 9 x 13-inch dish.) In a large bowl, combine flour, oats, sugar, butter, baking soda, and salt. Mix to form crumbs. Put aside a rounded 1/2 cup of the mixture. Press remaining crumbs in the bottom of the prepared baking dish. Bake for 10 minutes.
Sprinkle chocolate chips and nuts (if using) over baked mixture. Drizzle caramel over chocolate chips and nuts.
Sprinkle remaining crumb mixture on top, covering most of the caramel. Bake for 15–20 minutes or until golden brown. Cool completely before cutting. You can speed this up by placing the bars in the fridge. Serve and store bars at room temperature.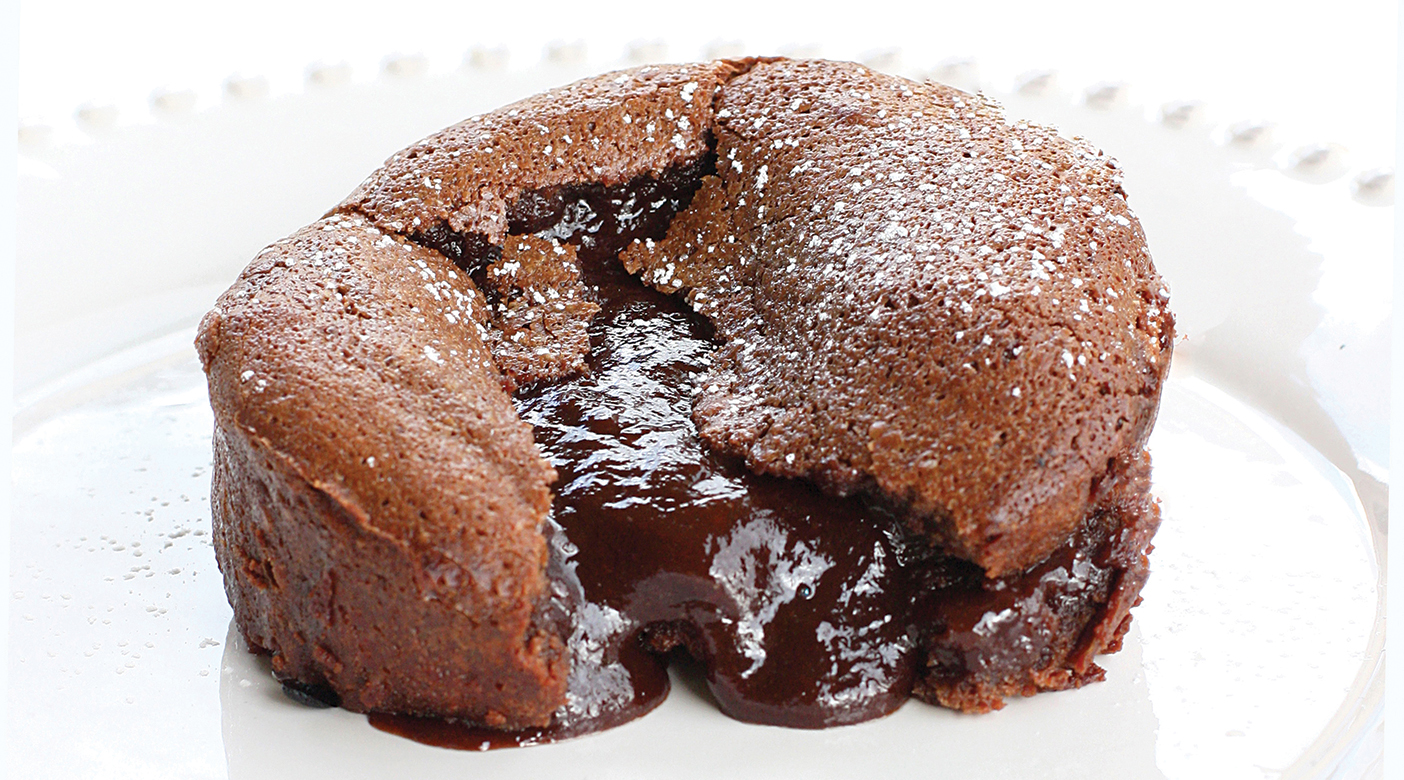 ROY'S CHOCOLATE SOUFFLÉ
This molten-lava cake will get you through those post-holiday blues.
8 oz. quality semisweet dark chocolate (e.g., Guittard, Valrhona, or Callebaut)
3/4c. butter
1 c. granulated sugar
3 Tbsp. cornstarch
4 whole eggs plus 4 egg yolks
Preheat oven to 400 degrees. Grease each soufflé ring or ramekin with butter and then dust with cocoa. You will need 4 to 6 ramekins depending on their size (best is 3 inches in diameter x 2 inches tall). (Note: you can also use a greased muffin tin, which would reduce cooking time.)
To make soufflé batter, melt chocolate and butter in microwave in 30 second intervals, stirring in between until smooth. Set aside.
Combine sugar and cornstarch in a mixing bowl. Add chocolate and butter mixture and mix until combined. In a small bowl, whisk eggs. Add eggs to chocolate mixture and mix at low speed until mixture is smooth and sugar is dissolved. Chill in fridge until ready to be used (up to 10 days).
Fill each soufflé ring or ramekin ¾ full with batter. Bake on top oven rack for 15–25 minutes; the time will depend on your oven and size of ramekins. Make sure soufflé tops are set but middles are still gooey. (You may want to test one soufflé first.) Remove baking sheet from oven. Run a knife around edge of each ramekin, then carefully invert and place on a serving dish. Sprinkle with powdered sugar if desired. Serve immediately, by itself or with ice cream or whipped cream.
POLAR EXPRESS HOT CHOCOLATE
Decadent and creamy, this hot chocolate will warm up those wintry days.
6 c. milk
1 can (14 oz.) sweetened condensed milk
1 ½ c. quality bittersweet chocolate chips (e.g., Ghirardelli)
1 ½ c. heavy cream
1 tsp. vanilla extract
1/8 tsp. salt
In a large pot combine all ingredients over low heat. Whisking occasionally, heat for 30–40 minutes, until chocolate is fully melted and incorporated with other ingredients. Add milk to adjust to your chocolate preference. Before serving, give it one last whisking—or use an immersion blender—to get it nice and frothy.
Serve immediately or pour into a slow-cooker and keep warm until ready to serve.
Top with whipped cream, crushed candy canes, or sprinkles.