---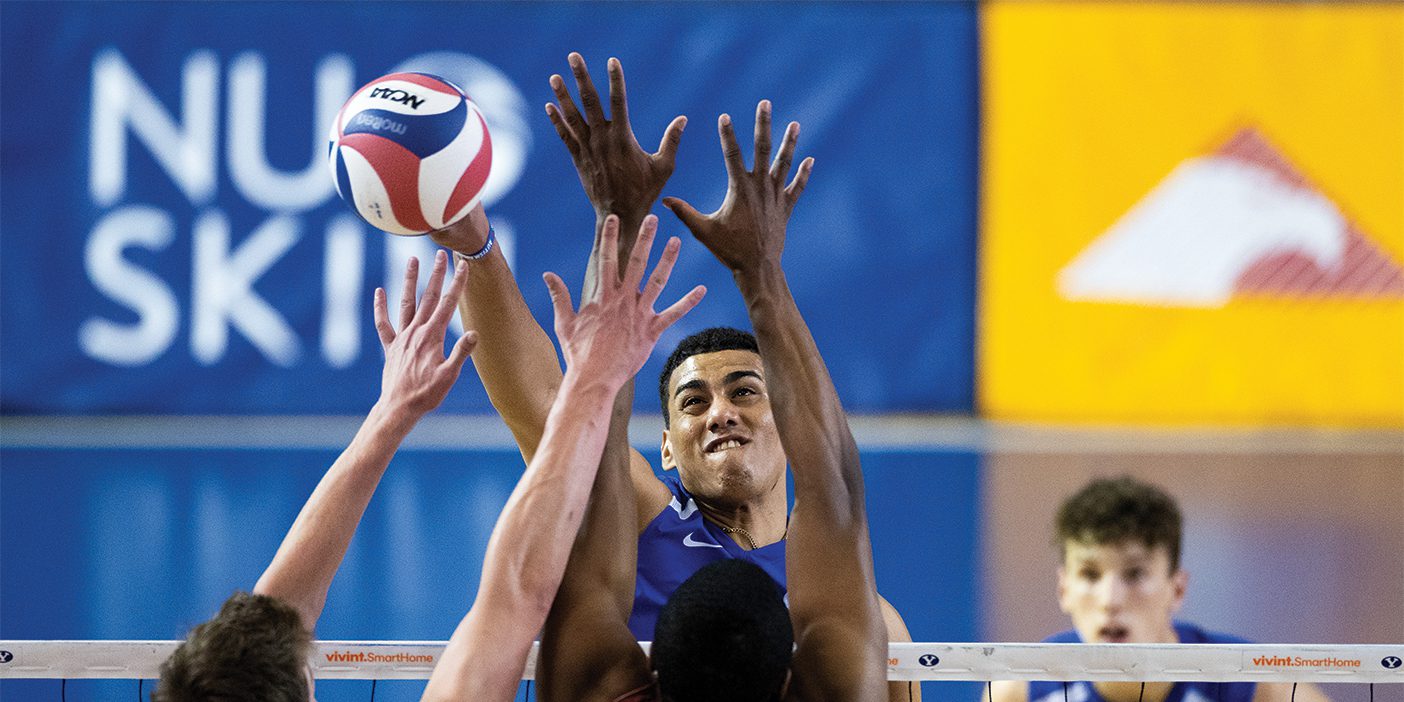 Technically the NCAA Men's Volleyball Championship never happened—the tourney another casualty of the worldwide coronavirus outbreak. But maybe the game, in reality, already took place.
On March 5 No. 2 BYU faced No. 1 Hawaii in a showdown of the last two undefeated teams in the field. BYU entered 16-0, having already taken down eight top-15 teams.
The Cougars, who had clinched five MPSF titles in the previous seven years but had come up short in the subsequent NCAA tournaments, were grossly underrated in all of this year's preseason polls—no one had predicted this kind of ascent. So when they arrived in Honolulu, they were on a roll with something to prove.
"Our guys went out there and made a statement," BYU head coach Shawn L. Olmstead (BA '05) told BYU Sports Nation. "They showed everybody who they were on an opponent's court, away match. The two undefeated teams, 1 and 2—the collective volleyball world watching—and our guys, just, BOOM."
In three sets BYU put Hawaii away in a clean sweep, effectively clinching the No. 1 spot.
Facing Hawaii again the next night, All-American BYU opposite hitter Gabi Garcia Fernandez ('21) set a new BYU single-season aces record. BYU dropped its first match of the season that night—in a five-game thriller—but still leapt past the Rainbow Warriors in the national rankings, with more points overall and the best win-loss record in D1 ball. And Fernandez was hailed the AVCA National Player of the Week.
And then, in a moment, it was over: news broke that all NCAA play was canceled due to COVID-19.
"There wasn't a dry eye," says Olmstead of talking to his team. He pointed them back to Hawaii. "I just told the guys, that is the national championship. That's coachspeak, but it was. . . . They went out there and did it. Nobody can take that away from them."
Even cut short, it was a spectacular season, full of sell-out home crowds and superlative stats.
Fernandez—the AVCA National Player of the Year—led the NCAA in both aces and points per set with his 80-miles-per-hour serves. And BYU, as a team, led the NCAA in blocks per set. Fernandez, outside hitter Davide Gardini ('22), and setter Wil M. Stanley ('20) garnered first-team All-America honors, and outside hitter Zachary J. Eschenberg ('20) received an All-America honorable mention.
The NCAA granted seniors another year of eligibility, which means BYU's five seniors may get to re-create 2020's magic. "That's one of the best things about this season—that we end the champs," says Fernandez. "But, I mean, there's some unfinished business. . . . We can do it all over again. Hey, we can do this twice."