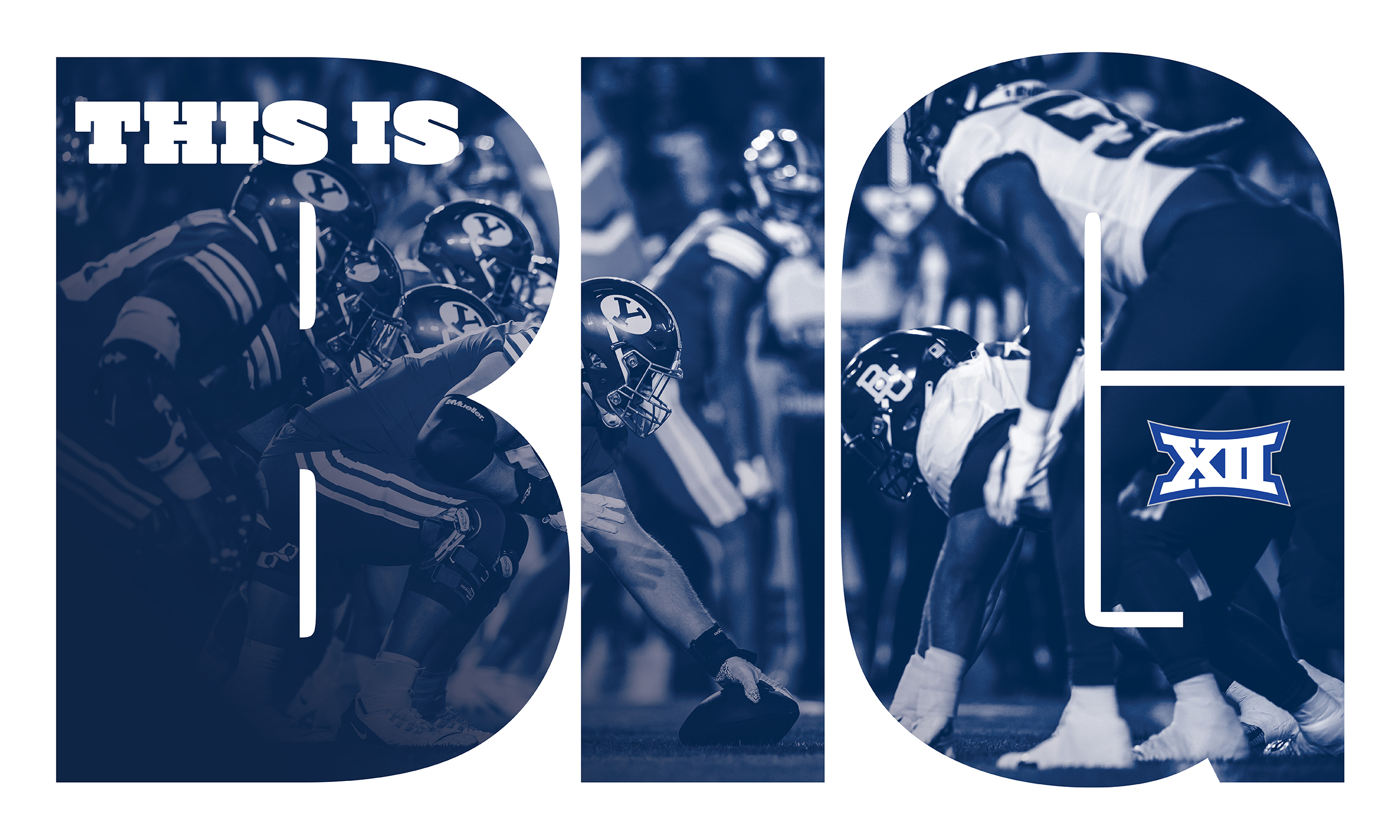 In more than 100 years of competition, the Cougars have had their moments on the national stage—with Hail Mary touchdowns and coast-to-coast buzzer beaters; with all-Americans, a Heisman winner, and national players of year; and with national cham­pions, including the football team that shocked the nation by winning it all in 1984. Yet despite compet­itive success, the program has always remained on the outside of the collegiate elite. While fighting for relevance, resources, and access first in less-regarded conferences and then for a dozen years as a football independent, national prominence felt elusive for the Cougars, perpetually just out of reach.
Until now.
On July 1 it became official. Joining the power-packed Big 12 athletic conference, BYU has arrived, ready to prove itself on a much bigger stage.
It's a step up, acknowledges BYU athletic director Tom A. Holmoe (BS '83, MS '95), but he says BYU is ready. "In the last 40 years, BYU is eighth in the NCAA in total football wins," he notes, and BYU's teams consistently rank in the top 10 for fall sports in the Learfield Directors' Cup, which recognizes the overall best athletic programs. He says it's that sort of success that won over the Big 12 when it decided to expand.
"BYU has a great brand that's been improving for 45 years steadily," Holmoe says. "In the last number of years, people [have looked] at BYU differently in regard to whether [we] would be a good conference partner."
BYU will participate in all Big 12–sponsored athletic events except for equestrian, rowing, and wrestling. Men's volleyball, a sport not sponsored by the Big 12, will remain in the Mountain Pacific Sports Federation.
While this is BYU's first season in the Big 12, it is the last for Oklahoma and Texas, which join the Southeastern Conference in 2024. BYU football hopes to give them a proper sendoff, playing Texas on the road and hosting Oklahoma at home this year.
The Big 12 offers a broader stage than the West Coast Conference, where BYU competed for 12 years. BYU will now look east, traveling to and hosting teams from Florida, Iowa, Kansas, Ohio, Oklahoma, Texas, and West Virginia.
Joining a power conference also brings big benefits in revenue and recruiting. As for revenue, in addition to ticket sales, the Big 12's $2.3 billion media-rights deal with ESPN and Fox provides financial stability to the conference through 2031. Add in other broadcasting rights and bowl and tournament payouts, and Big 12 members could each approach $50 million in annual revenues.
But Holmoe emphasizes that BYU is in it for much more than financial gain. "We're trying to focus on the student-athletes and how they . . . can achieve their individual and collective goals," he says.
And it's about exposure for those student-athletes, the university, and the Church. "People come to BYU to be successful, not to hide under a bushel," Holmoe says. The Big 12 is "a stage where the lights will be shining brighter, and it'll give us an opportunity to shine."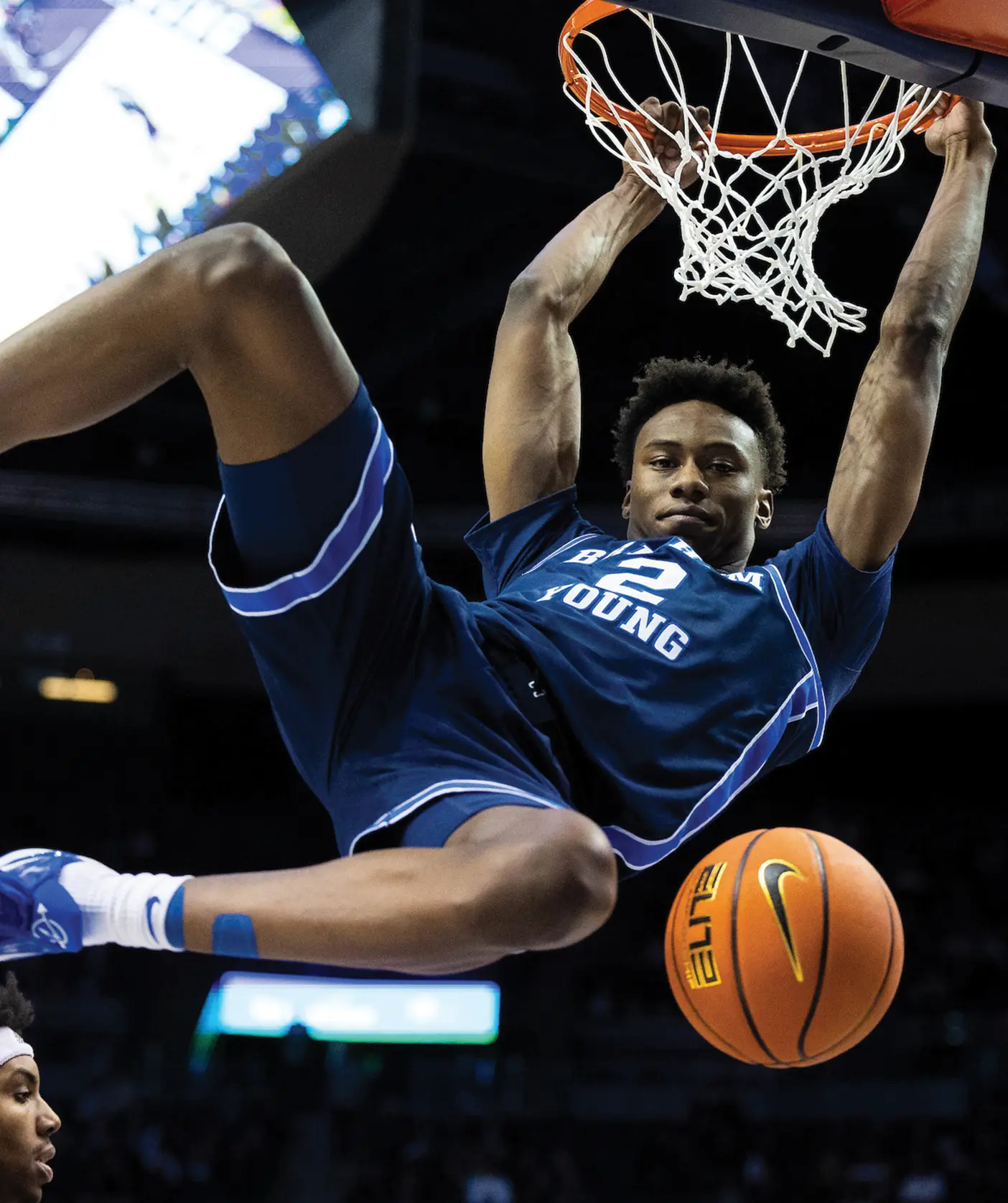 Winning with consistency in the new conference won't come easy for BYU and the other three newcomers: the Universities of Central Florida, Cincinnati, and Houston. Football will be tough. Men's basketball? A monumental challenge (see sidebar).
Other BYU teams—like men's and women's cross country—should be competitive right away. "We feel we will be able to compete extremely well and hopefully be in a position to win the conference meet in cross country from the first year," says head track coach Ed D. Eyestone (BS '85, MS '90), noting tough competition in Oklahoma State, Texas, and Texas Tech. "The chance of being the first BYU teams to win conference championships is a great motivator for our cross country and track teams."
Women's volleyball will face last year's national champions in Texas. Head coach Heather Olmstead calls the increased competition "a great challenge with lots of excitement." Overall she believes "the Big 12 will be a great opportunity for our student-athletes to play in new areas of the country and showcase their talents in new places and possibly in new homes with the ESPN contracts."
Get ready for a lot of firsts. Women's soccer will kick off BYU's competition in the Big 12 on Sept. 14, and football travels to Kansas on Sept. 23.
Now in his 19th year as BYU's athletic director, Tom Holmoe is excited to open the Big 12 chapter of Cougar sports history. "It's a big jump. . . . It's going to be exciting to be in the thick of things, to get knocked off our feet and get up again," he says. "There'll be some tough times. And there's a lot of good times ahead."
University of Oklahoma Sooners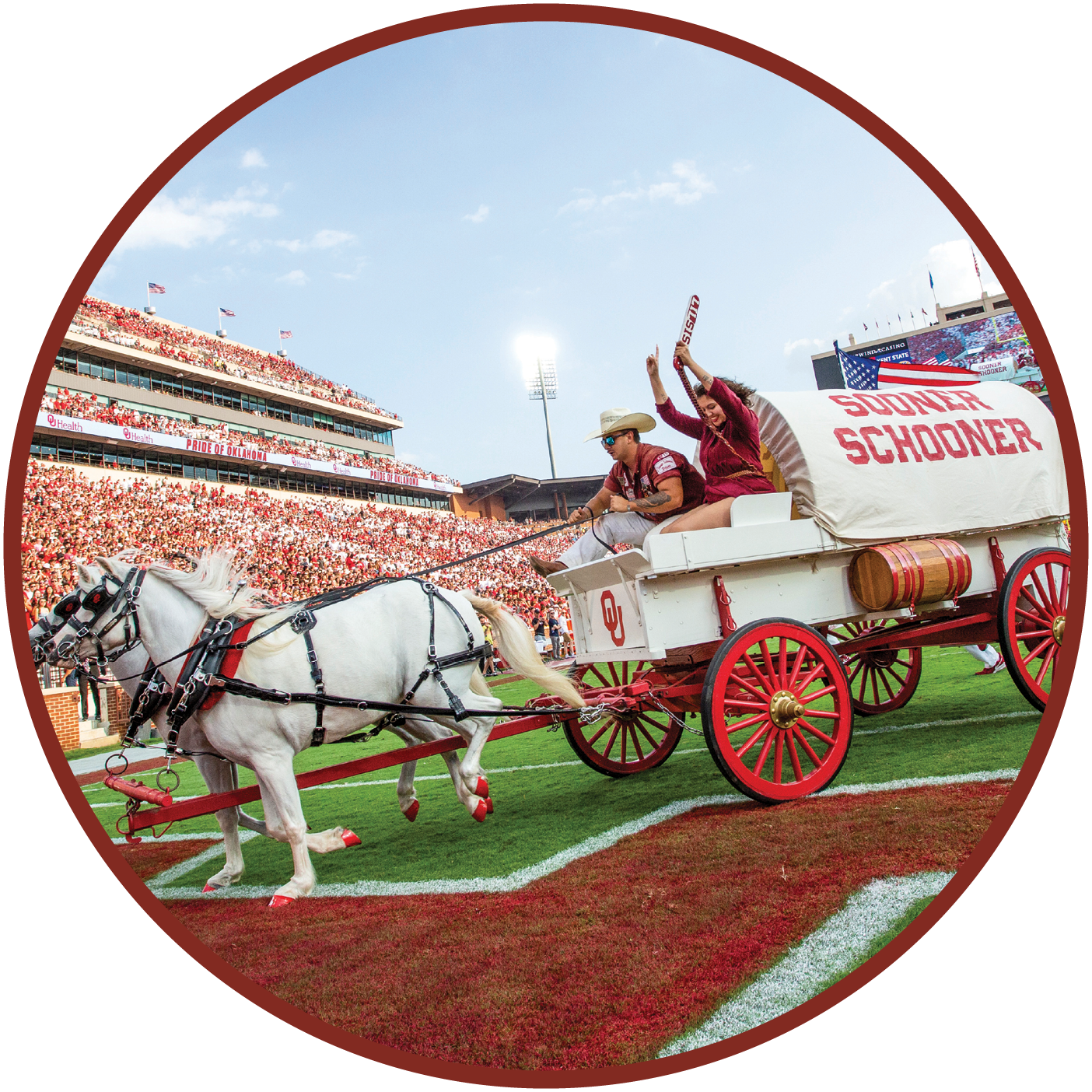 Norman, Oklahoma
Enrollment: 28,840
Colors: Crimson and cream
Mascots: Boomer and Sooner (two live ponies who are also represented by costumed mascots)
Trivia: The National Weather Center calls the university's south campus home.
Famous alumni: Olivia Munn (actor), Ed Harris (actor), James Garner (actor), Blake Griffin (basketball)
Tradition: During football pregames, the Oklahoma crowd on one side of the stadium yells, "Boomer!" and the other side yells, "Sooner!"
Texas Tech University Red Raiders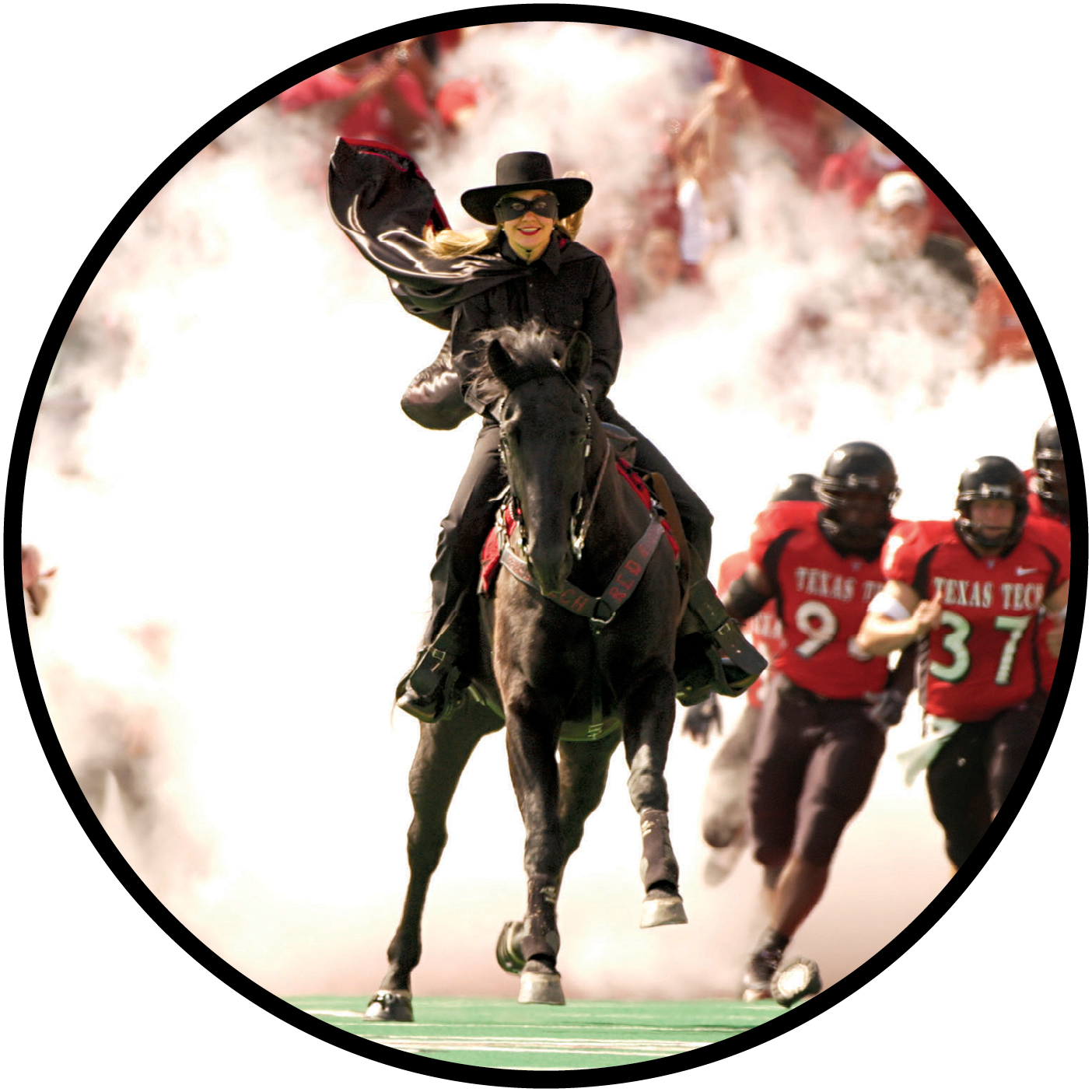 Lubbock, Texas
Enrollment: 40,528
Colors: Red and black
Mascots: The Masked Rider and Raider Red
Trivia: The Will Rogers and Soapsuds statue is said to be oriented so that the horse's back end is directed toward longtime rival Texas A&M.
Famous alumni: Patrick Mahomes (football), John Denver (singer)
Tradition: Since the 1990s Red Raiders fans have flung flour tortillas onto the field at the opening kickoff of football games.
Baylor University Bears
Waco, Texas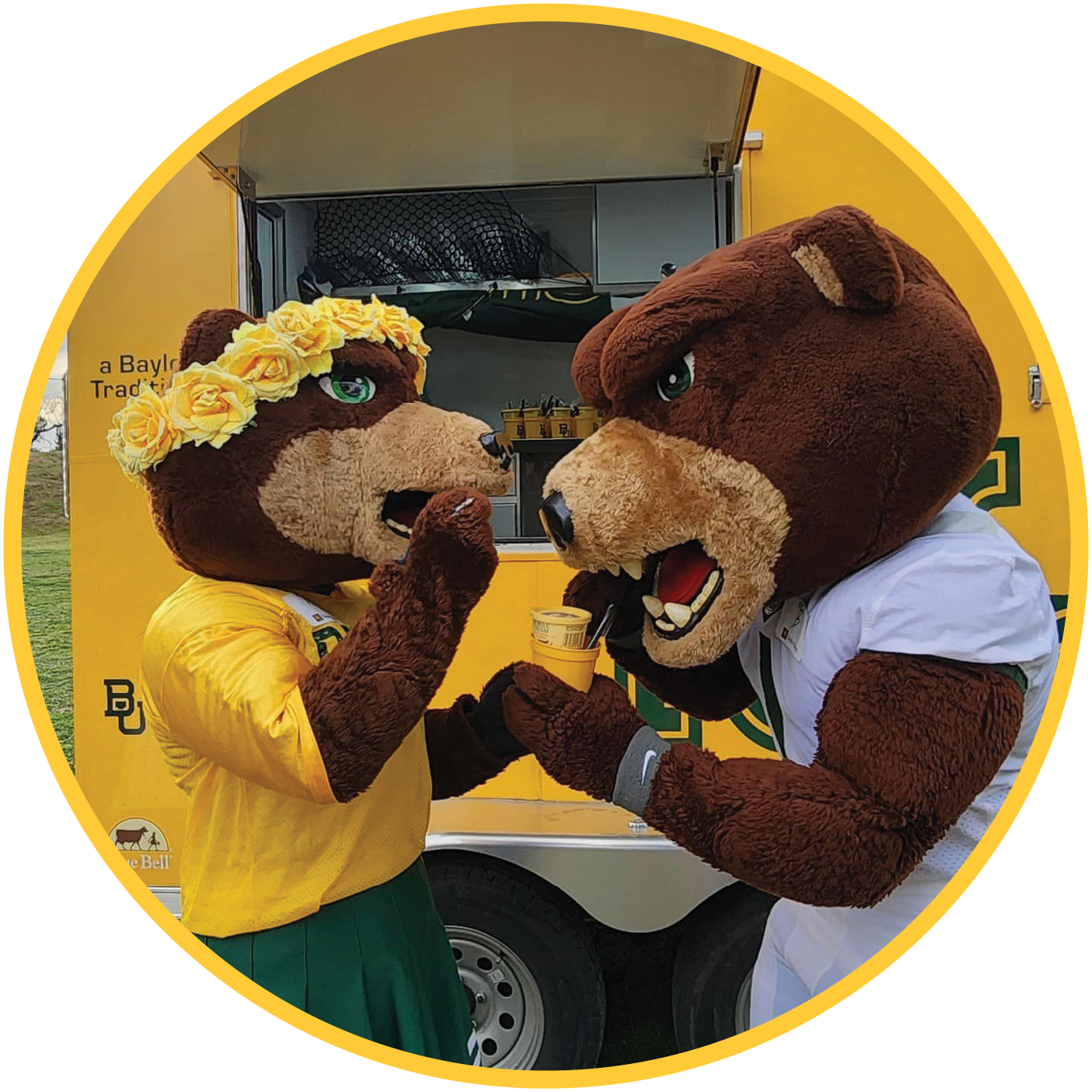 Enrollment: 20,709
Mascots: Bruiser and Marigold
Colors: Green and gold
Trivia: Baylor is the oldest continuously operating university in Texas and the world's largest Baptist university.
Famous alumni: Chip and Joanna Gaines (TV personalities), Michael Johnson (track), Robert Griffin III (football)
Tradition: For 70 years on Tuesday afternoons, students and faculty have gathered for "Dr Pepper Hour," chatting over floats made with Waco-born Dr Pepper.
Kansas State University Wildcats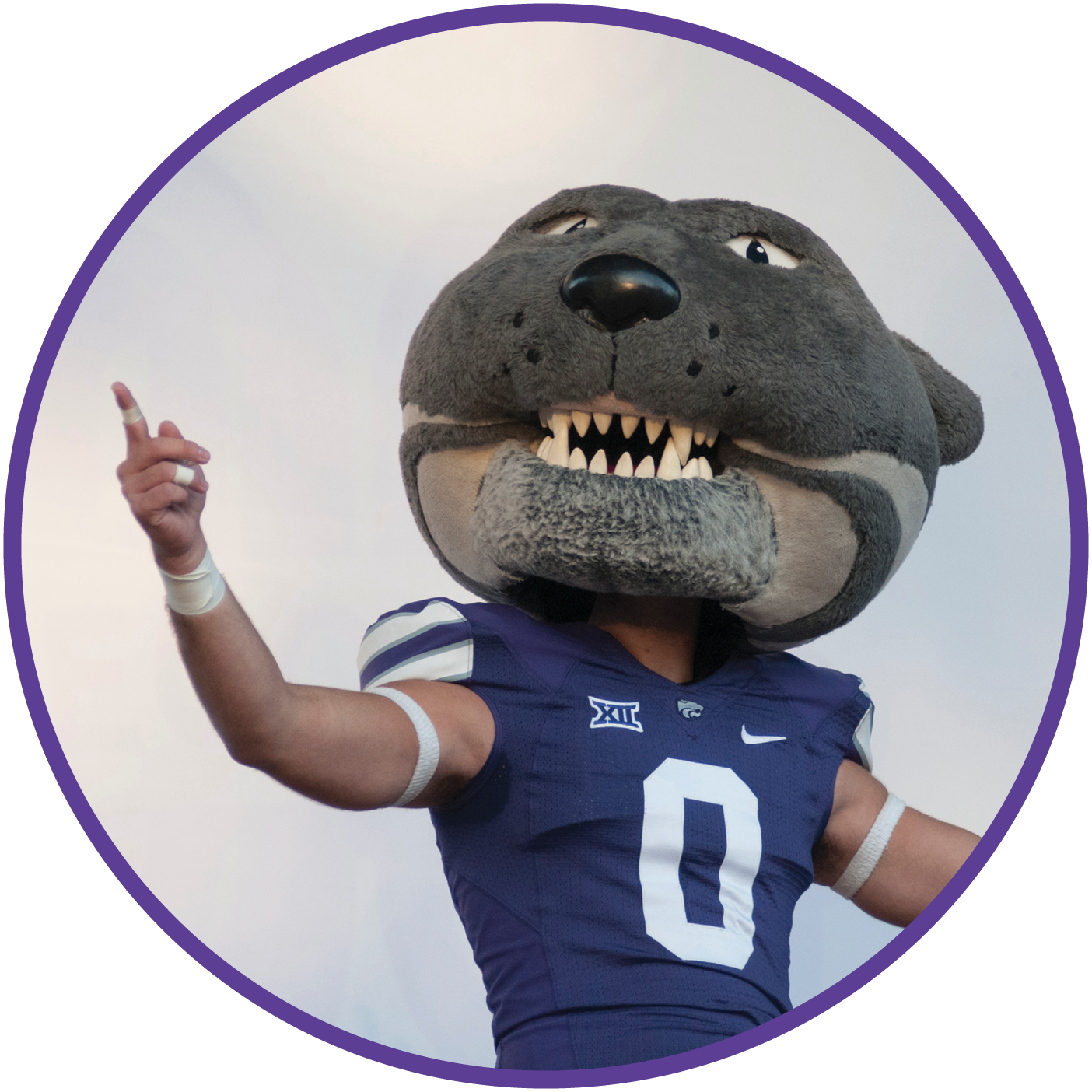 Manhattan, Kansas
Enrollment: 19,722
Color: Royal purple
Mascot: Willie the Wildcat
Trivia: K-State is the first operational land-grant university.
Famous alumni: Eric Stonestreet (actor), Jordy Nelson (NFL), Gen. Richard Myers (former chairman of the Joint Chiefs of Staff)
Tradition: During athletic events, K-Staters clap, bob, and twist to "The Wabash Cannonball," the only piece of band music to survive a 1968 campus fire.
Texas Christian University Horned Frogs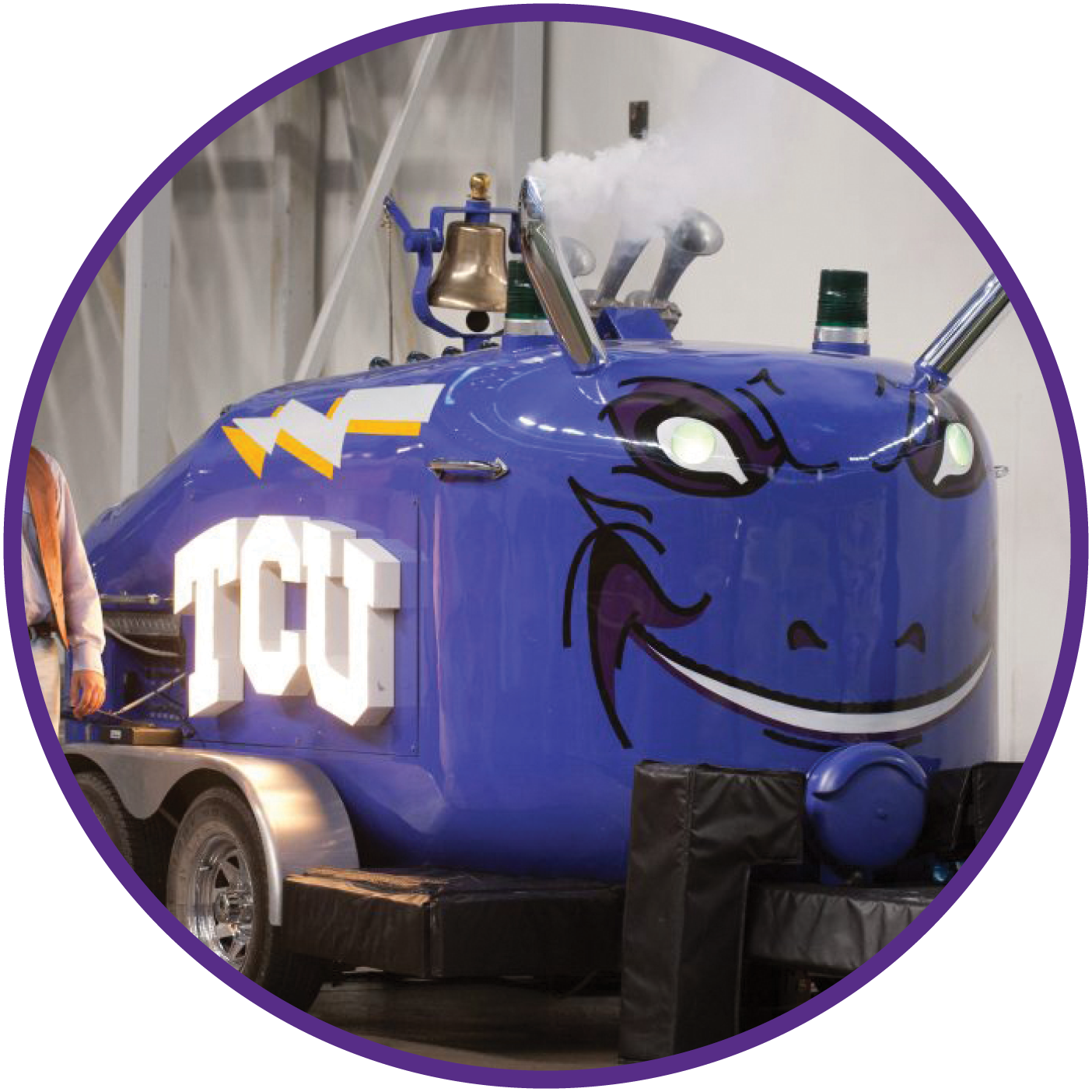 Fort Worth, Texas
Enrollment: 12,273
Colors: Purple and white
Mascot: SuperFrog
Trivia: When its camouflage defense fails, a Texas horned lizard (or frog) can frighten predators by shooting blood from its eyes.
Famous alumni: LaDainian Tomlinson (football), Bob Schieffer (journalist), Betty Buckley (Broadway actress)
Tradition: Blowing white smoke from horned exhausts, the 3,000-pound "Frog Horn" sounds off after each TCU score.
University of Texas at Austin Longhorns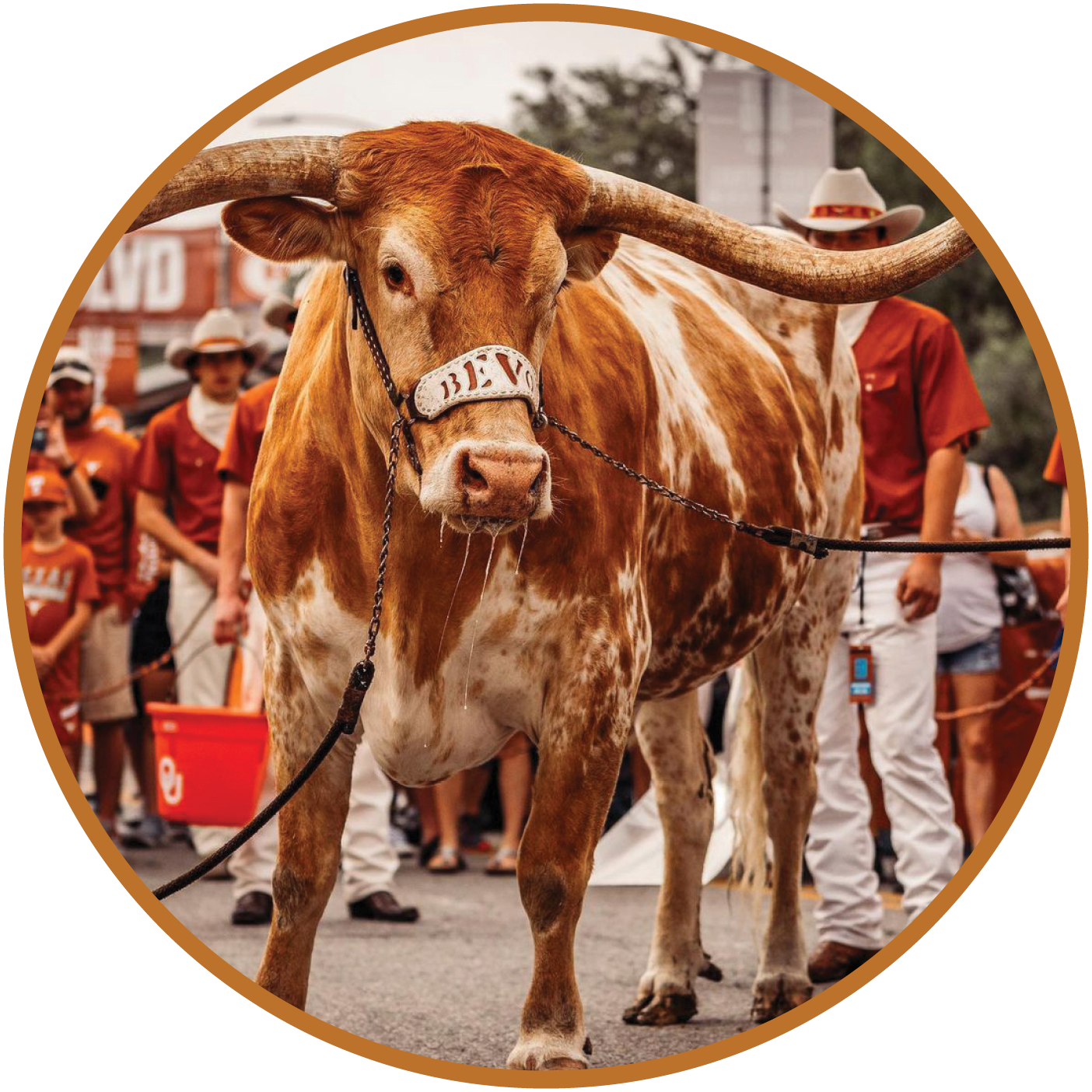 Austin, Texas
Enrollment: 52,384
Colors: Burnt orange and white
Mascot: Bevo XV (a live longhorn steer)
Trivia: Too ornery to attend football games, Bevo I was barbecued and served at the January 1920 football banquet. Subsequent Bevos have retired more peacefully.
Famous alumni: Matthew McConaughey (actor), Renée Zellweger (actor), Janis Joplin (singer), Roger Clemens (baseball), Kevin Durant (basketball)
Tradition: Any student who spots a white fox squirrel on the way to a test purportedly will get an A.
Iowa State University Cyclones
Ames, Iowa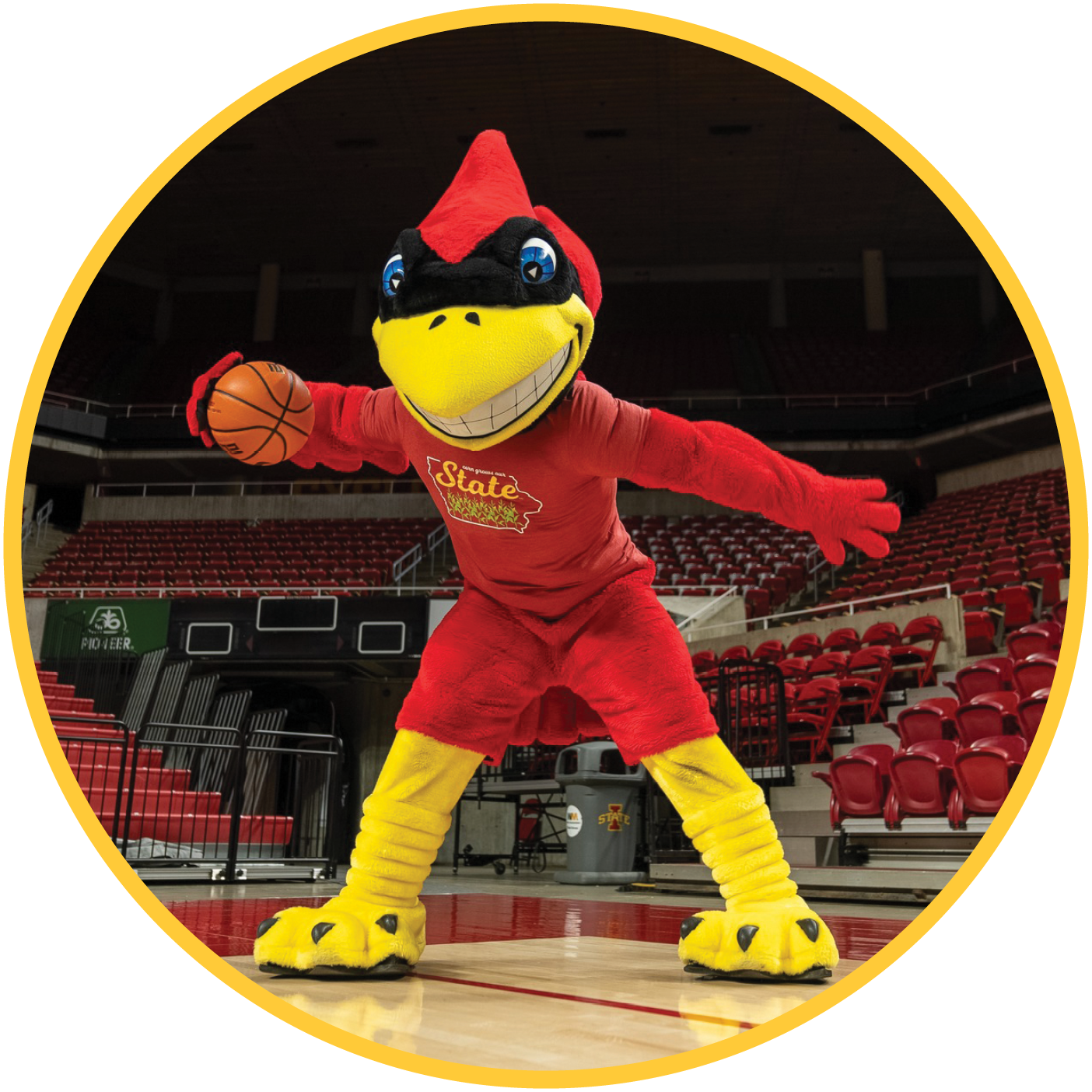 Enrollment: 29,969
Mascot: Cy the Cardinal
Colors: Cardinal and gold
Trivia: Iowa State is the birthplace of the first electronic digital computer, invented by math and physics professor John Atanasoff and engineering grad student Clifford Berry.
Famous alumni: Elizabeth Hoyt (created the Consumer Price Index), George Washington Carver (agricultural scientist), Jeff Hornacek (basketball)
Tradition: Every weekday at 11:50 a.m., the university carillonneur climbs 79 winding steps to perform a concert on the Stanton Memorial Carillon, first played in 1899.
University of Cincinnati Bearcats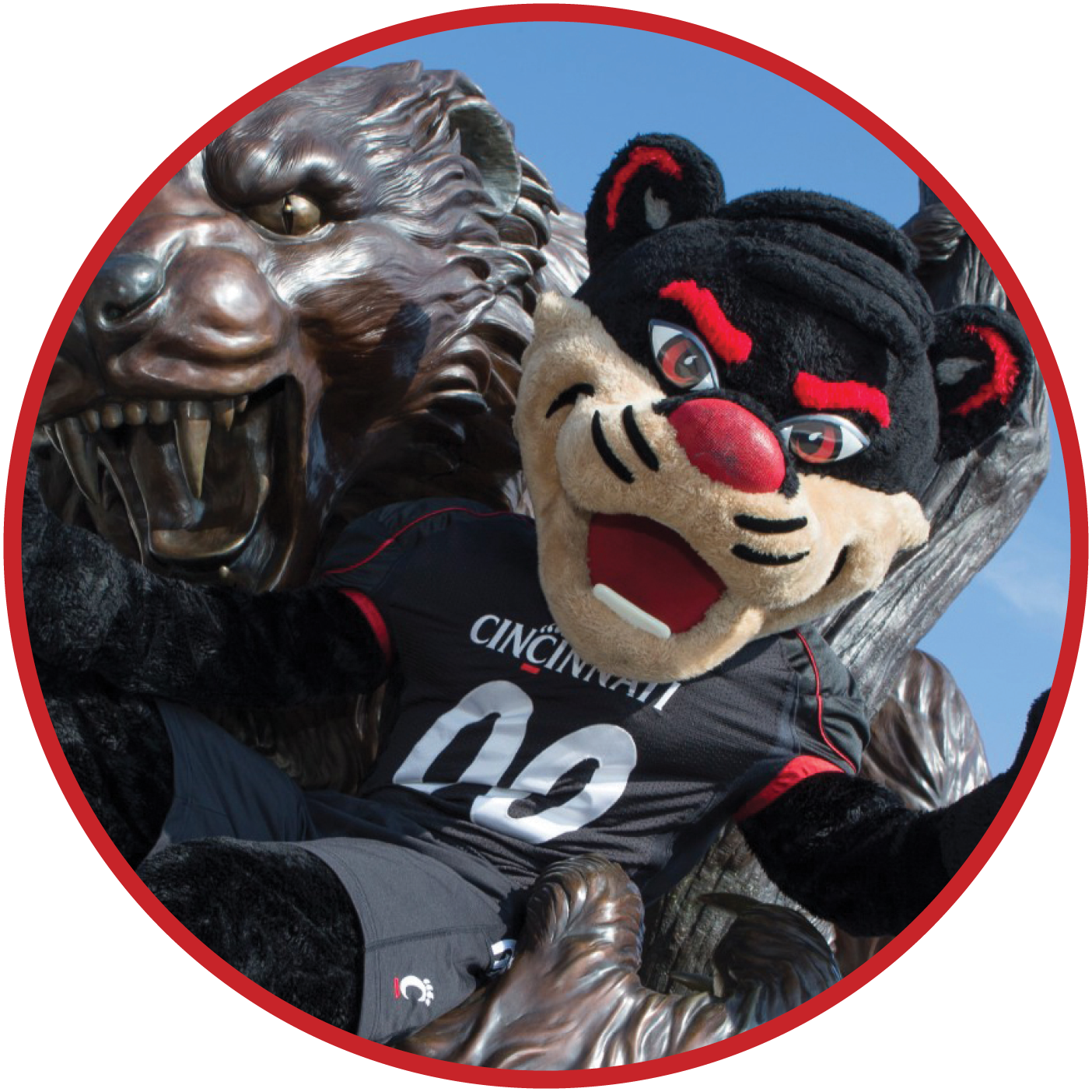 Cincinnati, Ohio
Enrollment: 47,914
Mascot: Bearcat
Colors: Red and black
Trivia: The bearcat, also called a binturong, is a mammal from Southeast Asia related to the red panda.
Famous alumni: George Clooney (actor), William Howard Taft (27th president), Oscar Robertson (basketball)
Tradition: During graduation, outstanding undergraduate women, adorned in white robes, carry an ivy chain to lead each commencement processional.
University of Central Florida Knights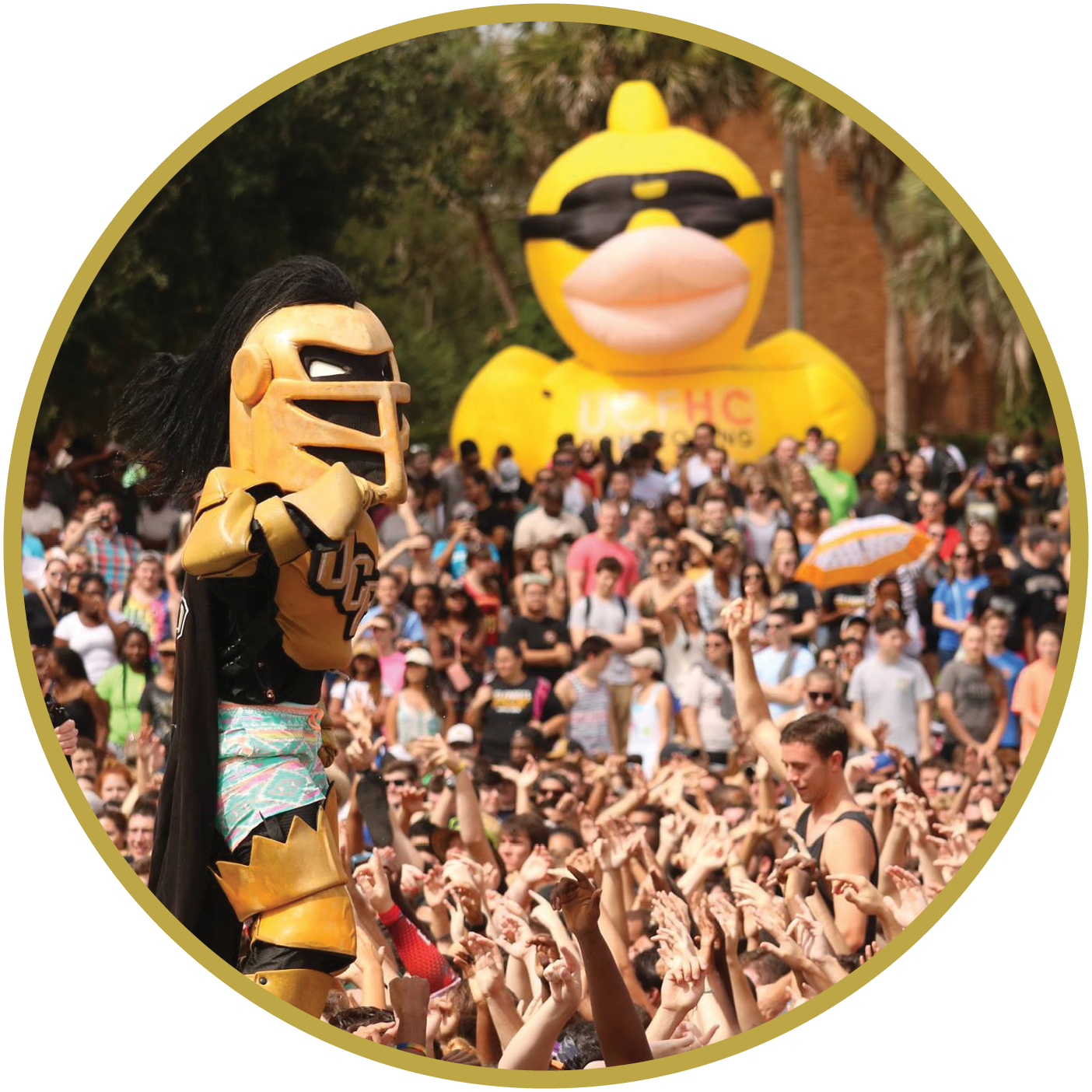 Orlando, Florida
Enrollment: 68,442
Mascot: Knightro
Colors: Black and gold
Trivia: A "space university," UCF's campus streets are named for constellations, galaxies, and spacecrafts.
Famous alumni: Cheryl Hines (actress), Latavius Murray (football)
Tradition: In the Spirit Splash, Knights charge into the reflecting pond and catch collectible rubber ducks and T-shirts as part of Homecoming Week.
University of Houston Cougars
Houston, Texas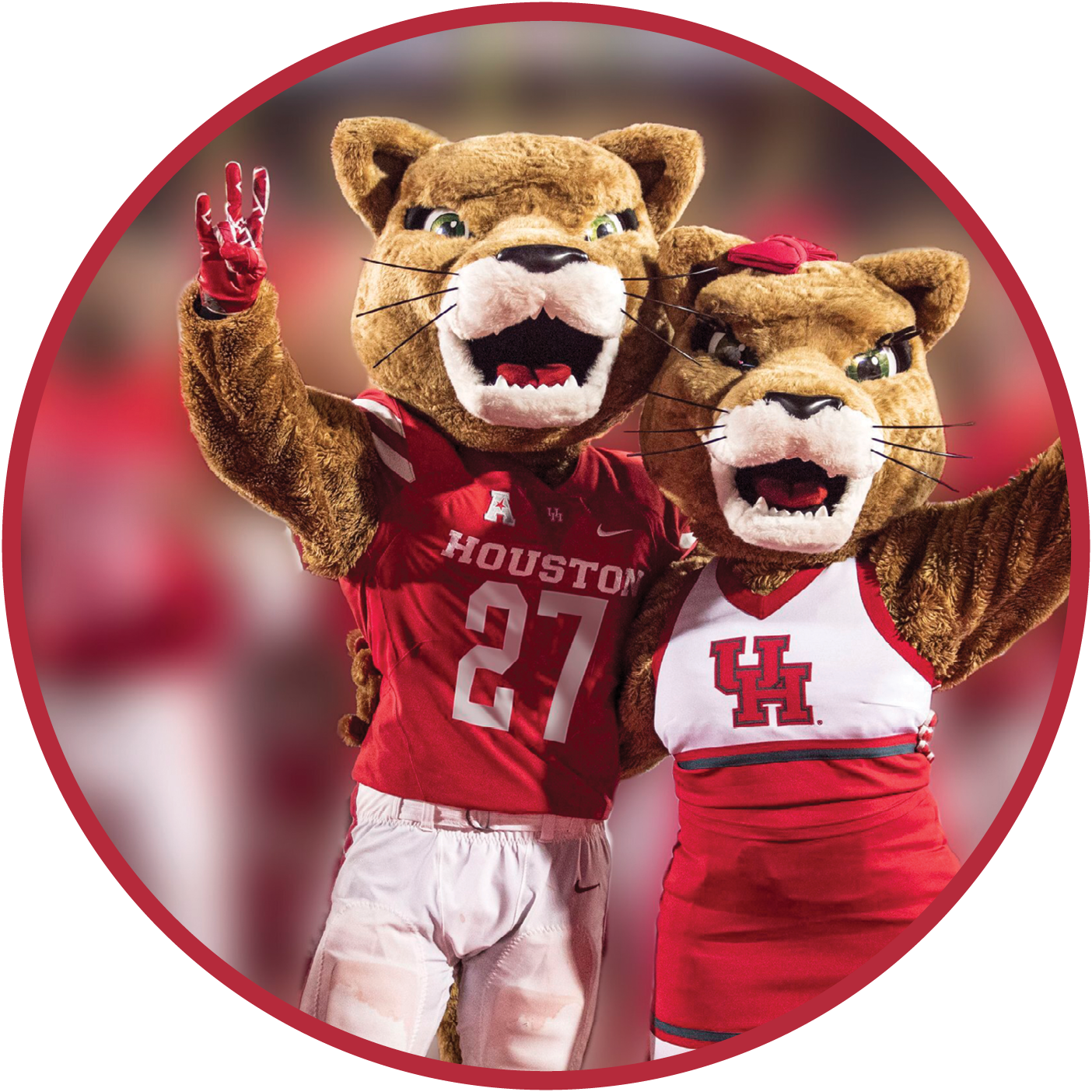 Enrollment: 46,700
Mascots: Shasta and Sasha
Colors: Scarlet and white
Trivia: Dating back to 1940, UH's Frontier Fiesta includes concerts, student variety shows, carnival booths, multicultural performances, and a world-class BBQ cook-off.
Famous alumni: Jim Parsons (actor), Hakeem Olajuwon (basketball), Elizabeth Warren (politician), Kenny Rogers (musician)
Tradition: Before every big game Houston Cougar fans rub the paws of the cougar statues in Cullen Family Plaza.
West Virginia University Mountaineers
Morgantown, West Virginia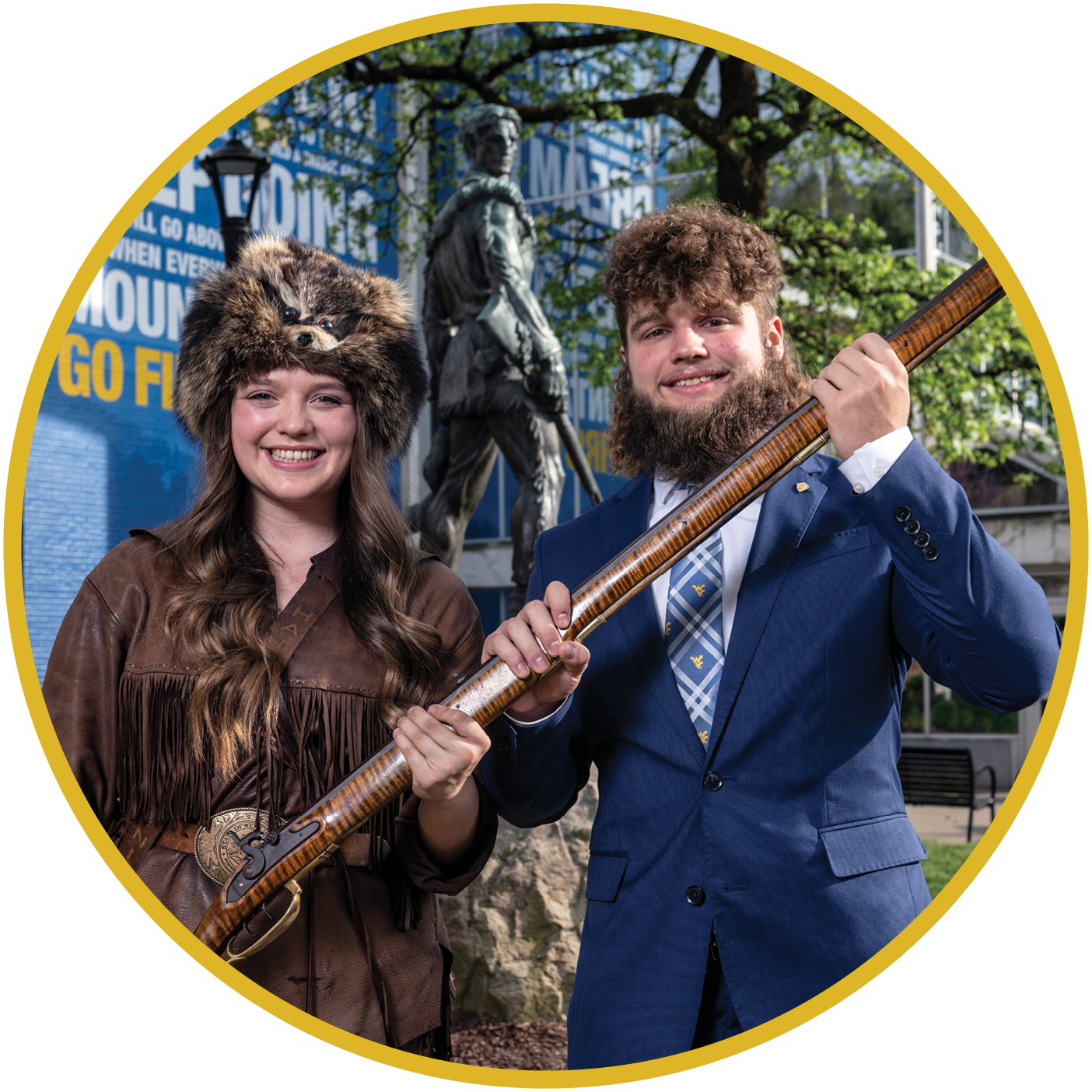 Enrollment: 27,367
Colors: Gold and blue
Mascot: Mountaineer
Trivia: The crowd has sung John Denver's "Country Roads" after every home football win since 1972.
Famous alumni: Katherine Johnson (NASA mathematician), Jerry West (basketball), Don Knotts (actor)
Tradition: Football players, led by the Mountaineer mascot, cheerleaders, and the marching band, walk through a line of cheering fans to Milan Puskar Stadium on home game days. The procession, called the Mountaineer Mantrip, is named after the shuttles that take coal miners underground.
University of Kansas Jayhawks
Lawrence, Kansas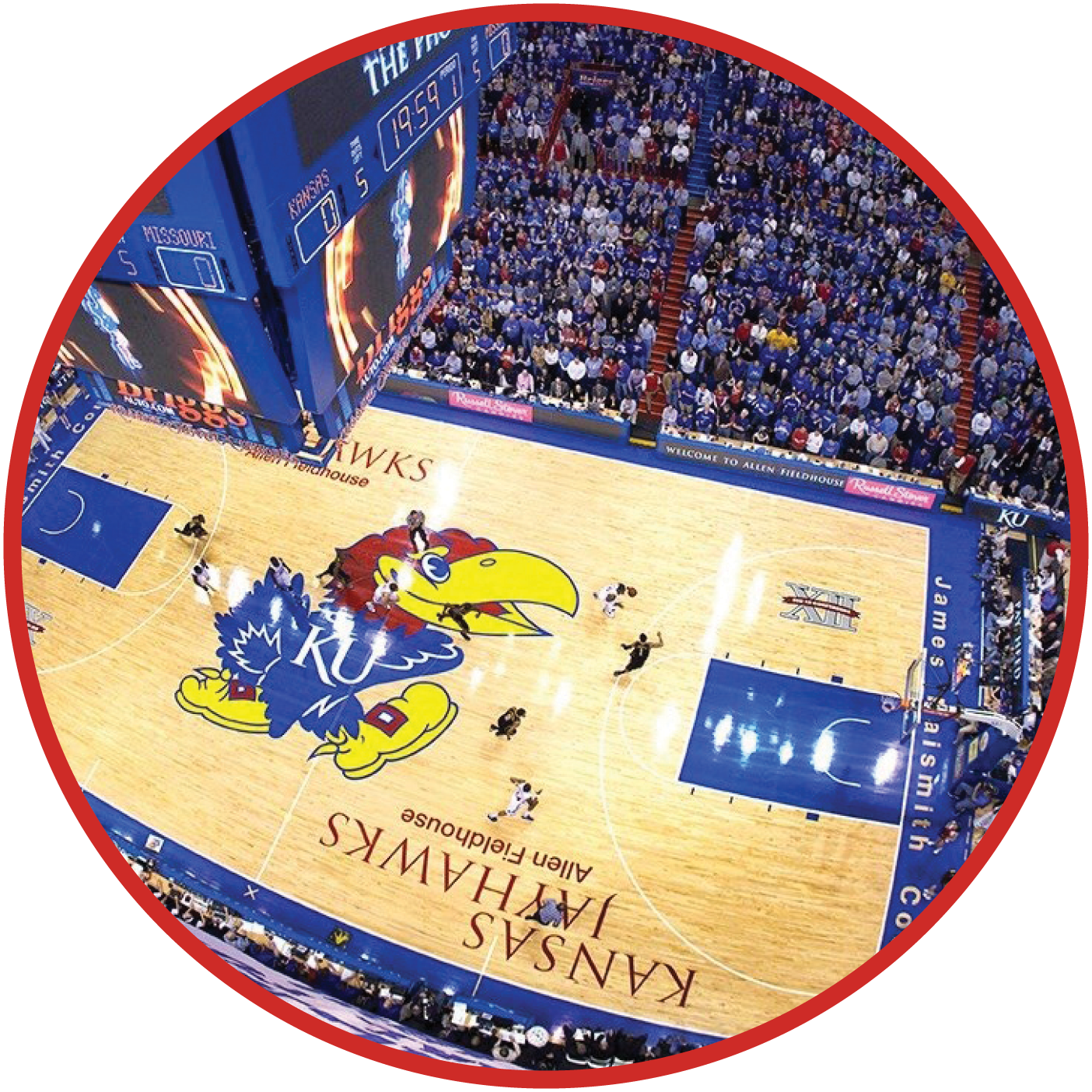 Enrollment: 27,638
Colors: Blue and crimson
Mascots: Big Jay and Baby Jay
Trivia: A sample of helium was analyzed in the basement of Bailey Hall in 1905, making it the first time the elemental gas was detected on earth.
Famous alumni: Wilt Chamberlain (basketball), Mandy Patinkin (actor), Paul Rudd (actor), Bob Dole (politician)
Tradition: The "rah, rah" in a school cheer transformed into "Rock Chalk," a transposition of chalk rock, a limestone outcropping on campus. Listen for the "Rock Chalk, Jayhawk, KU" chant repeated three times at games.
Oklahoma State Cowboys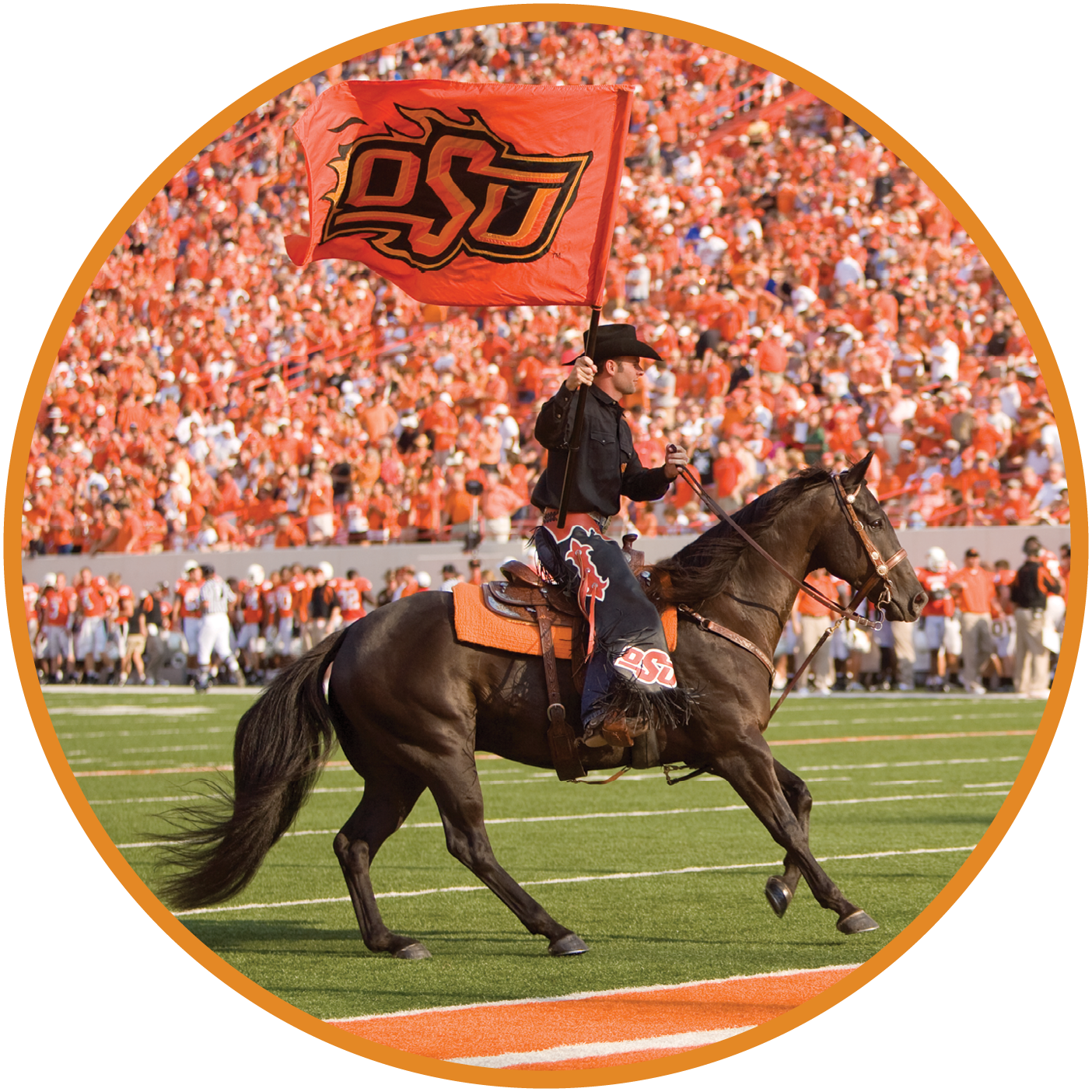 Stillwater, Oklahoma
Enrollment: 24,692
Colors: Black and orange
Mascot: Pistol Pete
Trivia: OSU's pet-therapy program, Pete's Pet Posse, allows students on campus to interact with therapy dogs every day.
Famous alumni: Garth Brooks (singer), T. Boone Pickens (business), Barry Sanders (football), Anita Hill (attorney)
Tradition: To celebrate each touchdown at Boone Pickens Stadium, the Spirit Rider races onto the field astride a horse named Bullet.
The Casual Fan's Guide to the Big 12
By Sara Smith Atwood (BA '10, MA '15)
Love the Cougs but find that your knowledge of the intricacies of college sports is, uh, lacking? This Big 12 beginner's guide is for you. Here BYUtv's BYU Sports Nation hosts and Cougar superfans Jarom T. Jordan (BA '09) and Spencer K. Linton (BA '07) break down the hype around BYU's entrance into the Big 12 for the casual-but-enthusiastic fan.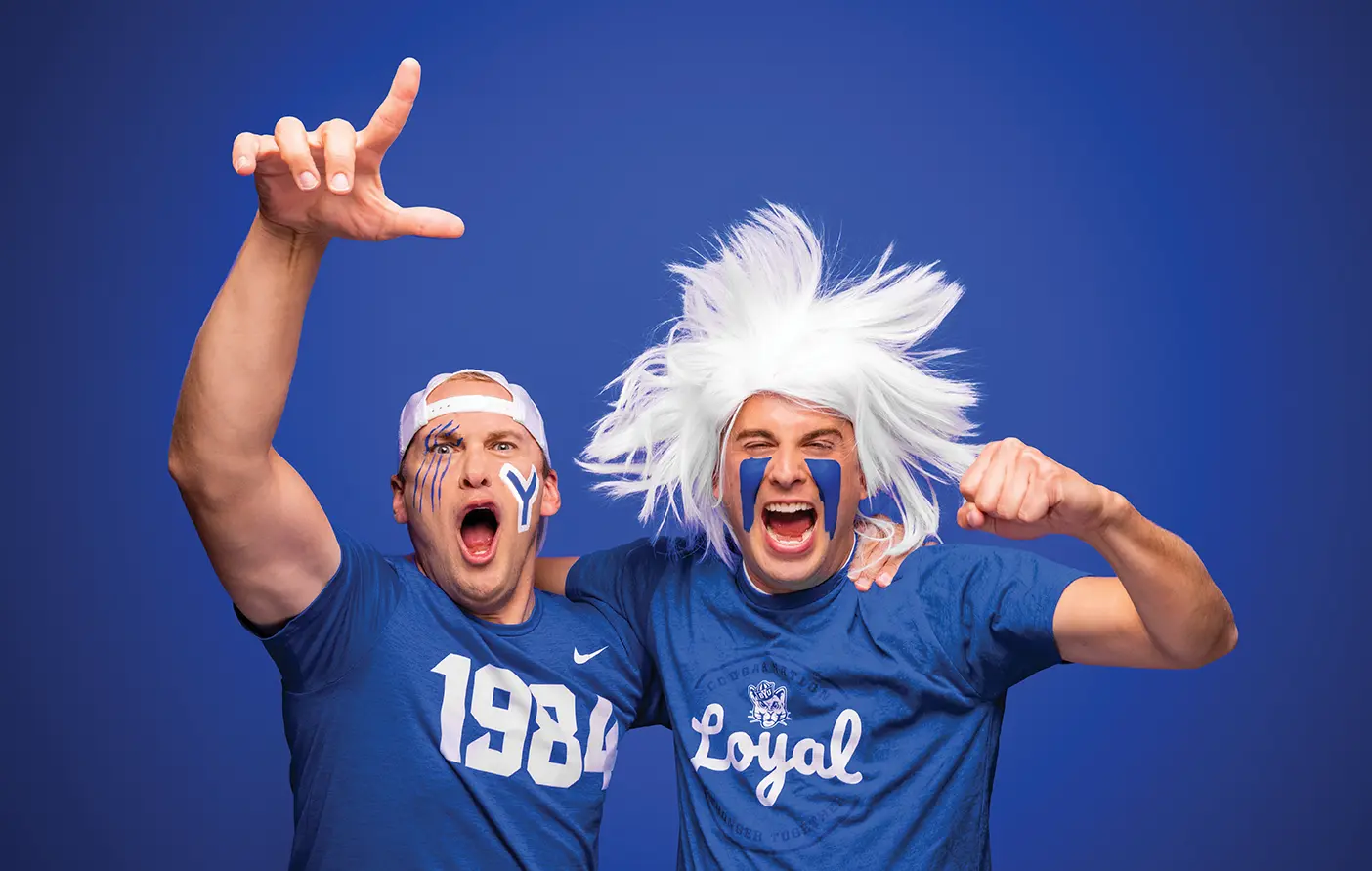 What is the Big 12?
Spencer Linton: The Big 12 is a prestigious collegiate athletic conference. Right now it extends over three separate time zones, with the core in Texas, in a compilation of 14 athletic programs.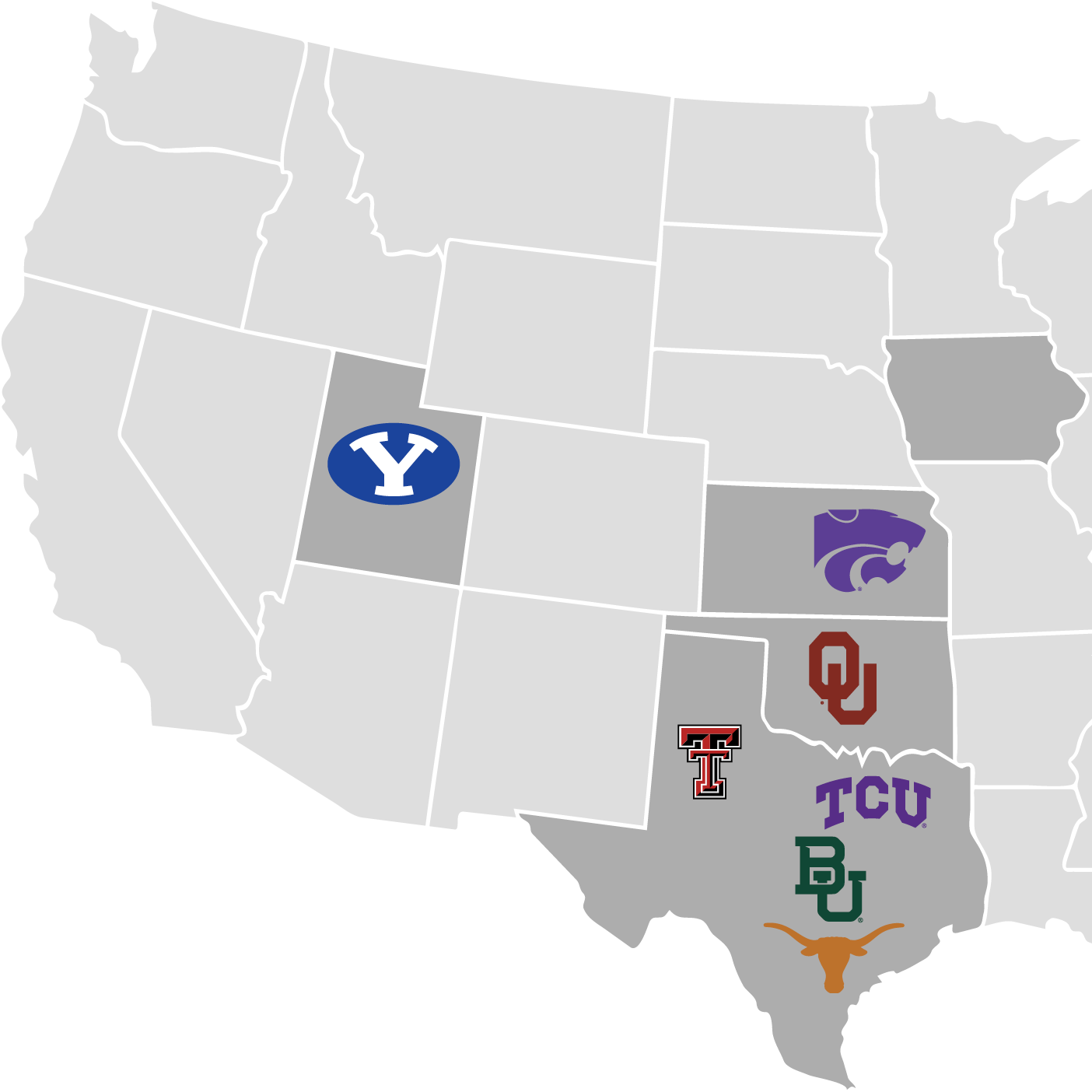 But it's called the Big 12—not the Big 14?
Jarom Jordan: Most leagues haven't really cared about the number of teams matching their name—the Big 10, another conference, has 14 teams. These leagues are big brands, and they don't want to change the logo or the name. The Big 12 originally had 12, but it's been 10 for about a decade. With BYU and three others joining, it will go to 14 for just one year. Then two—Oklahoma and Texas—will leave, and on July 1, 2024, it will truly be 12. But there's been talk of potentially adding more teams in the future.
Is joining the Big 12 really such a big deal?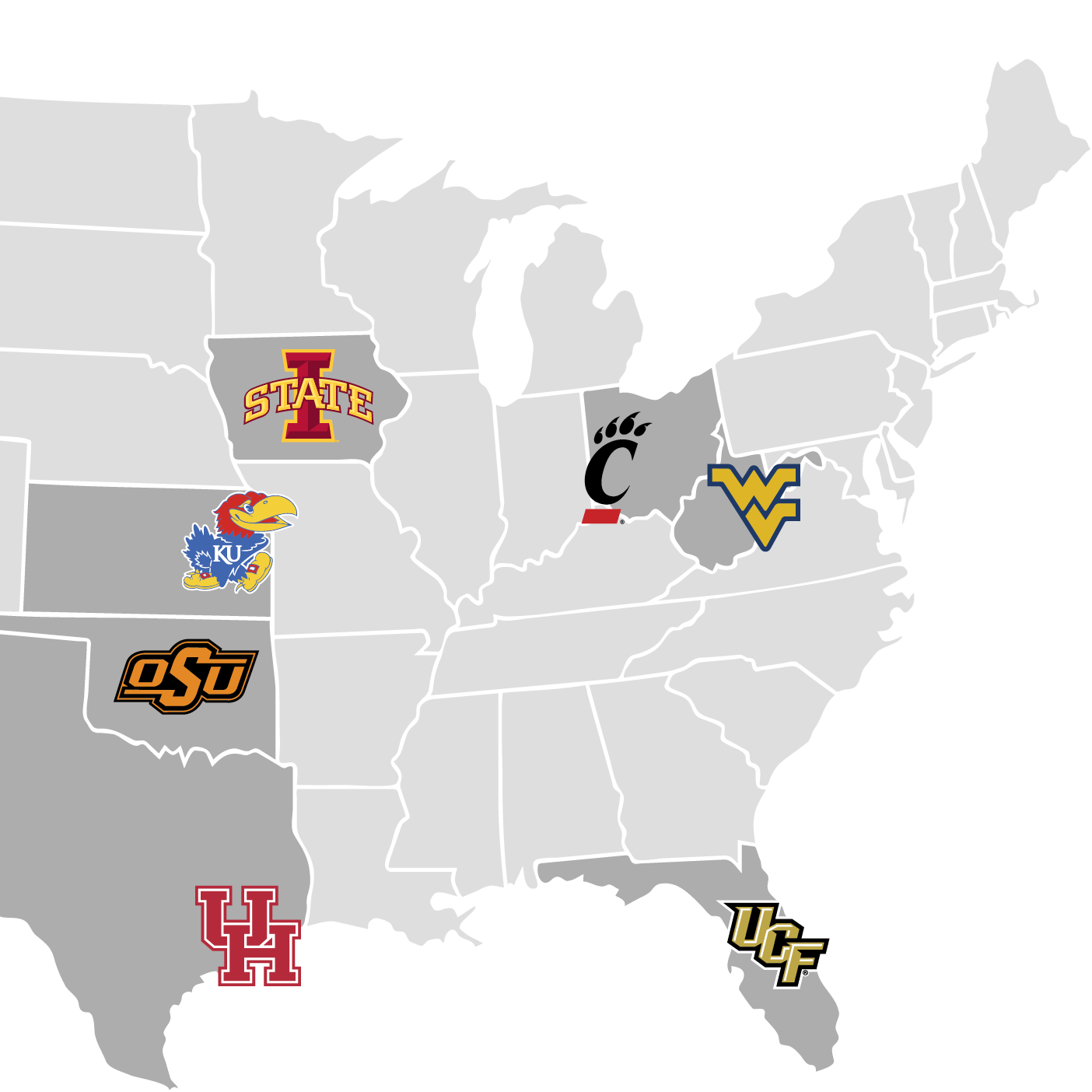 JJ: This is the biggest deal in the history of BYU sports. BYU finally has a chance to show we are one of the big dogs.
SL: In college football five conferences are called the Power 5 (P5). P5 conferences are elite, top-tier college football. BYU has long been considered a P5-caliber program. So being invited to join the Big 12, a P5 conference, is validating for BYU and its fans. Joining a conference also brings the opportunity for conference-championship play and bowl-game positioning.
JJ: And it comes with huge money from television partners, who pay for the right to show our games. We are going to triple or quadruple what we make in TV contracts.
Can I expect my Cougs to dominate right away?
SL: Okay, okay. Everyone reading this article would do themselves a huge favor by managing expectations. The uptick in competition is going to make things challenging.
So which sports will thrive and which will require "managing expectations"?
SL: Some programs are ready to compete for conference championships, especially in women's sports—soccer, cross country, volleyball. They say, "Big 12? Bring it on. Let's do this." Even for football, having traversed through challenging independent schedules, the move to the Big 12 shouldn't be a huge shock to the system.
Men's basketball, on the other hand, is going to be a bear. The Big 12 is the best college men's basketball league in America. We have a climb in front of us.
So . . . basketball games are going to be depressing?
SL: No! There will be Marriott Center magic. It's going to be so fun. Every game will be like playing Gonzaga, a huge top-10 team that sells out games, has people camping outside the Marriott Center, and has 17,000 fans going absolutely bonkers. Playing every team in the Big 12 will be like that—big-time opponents game in and game out, always with the hope for BYU to pull out a massive upset.
JJ: We are going to be facing schools with big names and big brands that invest in athletics the same way BYU does. I'm excited for BYU to have the opportunity to show, yes, we belong, and we have for a long time. It's going to be great.