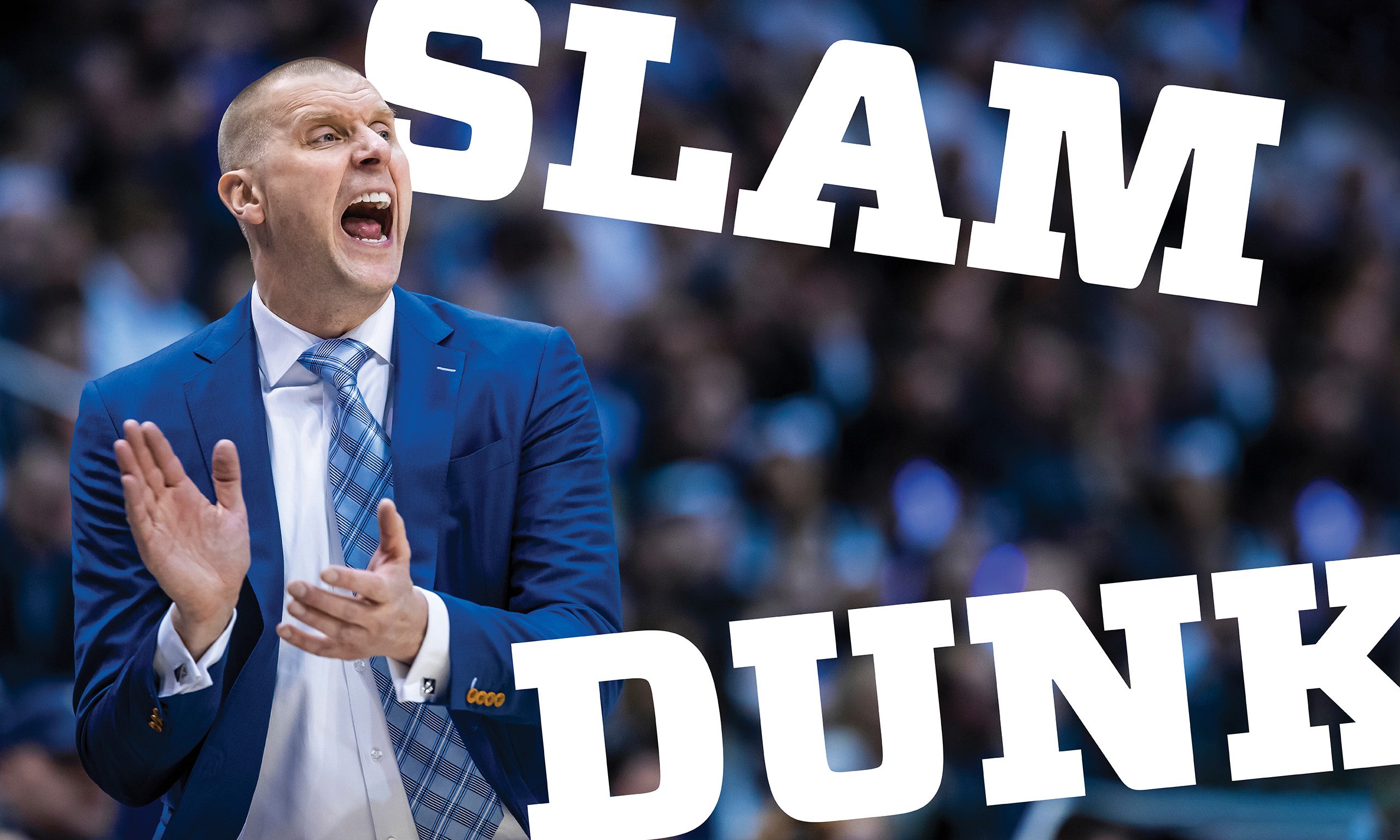 With boundless enthusiasm, Coach Pope is quickly—and not quietly—making his presence known. Get to know the man and his mission.
---
By A. Jeff Call (BA '94) in the Winter 2021 issue
Moments before game one of an NBA playoff series against the New York Knicks in 1998, the Indiana Pacers huddled in the tunnel as they prepared to take the court at a frenzied, sold-out crowd at Market Square Arena in Indianapolis.
Suddenly, the players' eyes locked on Mark Pope, who jumped out of the huddle and returned moments later decked out in chef's hat and apron, carrying a spatula and a giant bucket of baked beans.
"Let's go cook these guys!" Pope exclaimed as his laughing teammates roared their approval.
It was a team that featured superstars like Reggie Miller and Mark Jackson and a living legend in coach Larry Bird. But the Pacers possessed a secret weapon—unsung forward Pope. Though he played sparingly, he took on the role of rallying the team with his pre-game pep talks, which usually involved an element of surprise. Guard Fred Hoiberg, now head coach at Nebraska, remembers Pope as "a great motivator."
Those motivational skills were on full display in April 2019, when Pope was announced as BYU's 19th head basketball coach. With a personality almost too big for his 6-foot-10-inch frame, the new coach charmed the audience with humor, charisma, and unbounded enthusiasm for BYU's potential. It was jolt of energy into a program that had stagnated over the previous few seasons.
And it was more than big talk: in Pope's inaugural season, his team produced a 24-8 record and finished with a No. 18 ranking. Had the NCAA Tournament not been canceled due to the pandemic, the Cougars would have been a single-digit seed.
Pope, 48, knows something about NCAA success. He started his college journey as the PAC 10 freshman of the year and finished as co-captain of a national-title-winning team. He later carved out an improbable seven-year NBA career.
Miller, an NBA Hall of Famer, fondly remembers Pope's contributions to the Pacers.
"Mark was an outstanding teammate because of his commitment to the game, always coming early to get his work in before practices," Miller says. "But he was an even better friend because he cared about things bigger than basketball and the relationships that would follow him throughout life."
Relationships are key for Pope, who preaches about establishing the "best locker room in America"—a team that prides itself on relentless competition, unity, and unselfishness. It's a philosophy that has made BYU a top destination for transfer players and Pope one of the hottest names in college hoops.
Get to know the second-year coach through 10 windows into his journey to Provo.
Restoring Kentucky Glory
BYU was one of many schools that recruited Pope when he was in high school. But the Bellevue, Washington, native chose nearby University of Washington instead. When the coach was fired after Pope's second season, Pope transferred to Kentucky under its ultra-intense new coach, Rick Pitino, who was working to revive the program following NCAA probation.
Pitino, now head coach at Iona, says Pope was one of the hardest-working players he has ever coached.
Playing for the Wildcats "was the hardest thing I had ever done up to that point in my life," Pope recalls. "But it was magical. Kentucky is such a mecca of college basketball."
His senior year—on one of the most dominant squads in NCAA history—Pope helped restore glory to Kentucky basketball, culminating with the 1996 national title. But the team captain did it from the bench.
He opened that season as a starter and was even MVP of the Hall of Fame Classic. Two games later, Pitino turned Pope into a reserve player.
As he tends to do, Pope sees the bright side. "I had the long NBA career I did because of that," he says, "because I learned how to come off the bench." Teaching players to buy into their specific roles to create a cohesive team is part of Pope's coaching philosophy today.
"He has a quality that very few coaches have today. He has great humility," Pitino said in a recent interview on BYUtv. "All great leaders focus on humility. He believes in discipline, but he has a humbleness about him that is going to allow the players to be the shining moments in the program, not himself."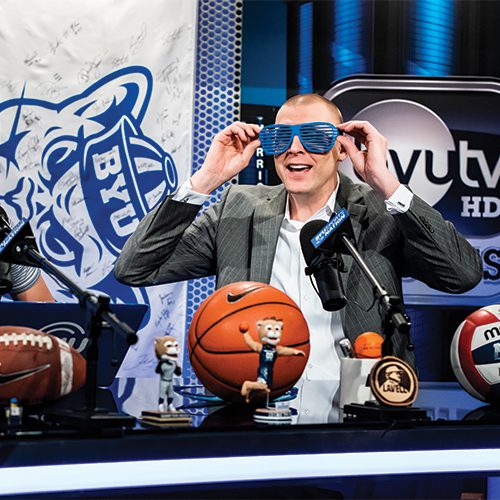 Faith Journey
Although Pope grew up with faithful Latter-day Saint parents and had three older brothers who served missions, he says he was "pretty apathetic" about his faith as a youth. "I certainly didn't put in the time or the effort," he remembers.
At Kentucky Pope attended numerous religious affiliations, and he devoured the New Testament. "My senior year of college," he says, "I was still kind of searching."
His feelings changed on a road trip. To provide him with a car to drive at school, Mark and his dad, Don, drove an old Nissan across the country. Along the way they stopped at Adam-ondi-Ahman in Missouri. In a quiet, peaceful moment, Pope was struck by the Spirit. "The words of Heavenly Father were imprinted on my mind in an undeniable way."
His faith deepened at school, where he lived for a time in an attic room with low ceilings in what was essentially a frat house. He had just finished the Book of Mormon and was listening to a tape by BYU professor Robert L. Millet (BS '71, MS '73) that a friend had sent him. Receiving a divine response to profound questions, Pope underwent a reaction that was as physical as it was spiritual.
"I literally threw my arms in the air, in victory, over my head," he recalls. "They went right through the ceiling tiles. . . . It was a beautiful moment for me."
Earning Tears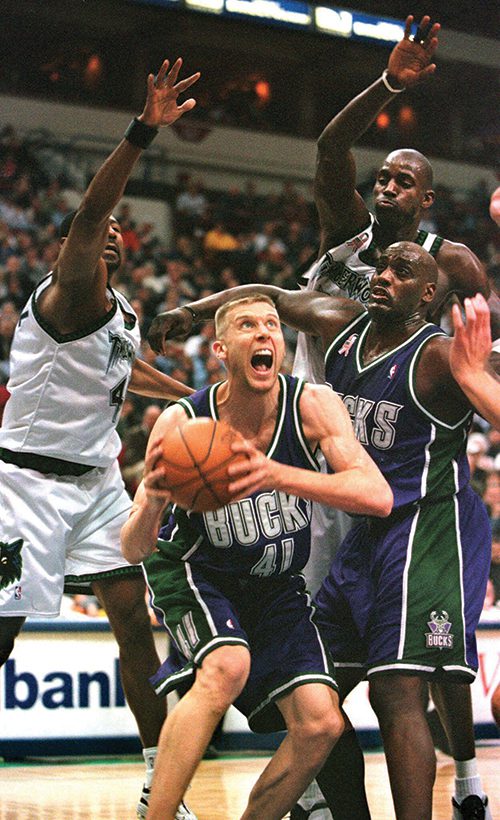 In a room inside the palatial Conseco Fieldhouse in 1999, Pope nervously stood in front of his boyhood idol and coach, Larry Bird. After two years with the Pacers, Pope finally had a guaranteed contract. Things were looking up.
Then, just days before the season tipped off, Bird informed Pope that the Pacers were letting him go. "This is the best thing for you," Bird insisted. "Your game needs this."
Devastated, Pope shook Bird's hand, thanked him, then left quickly. "I was like, 'I can't cry in front of Larry Bird,'" Pope remembers. So, with tears streaming down his face, he ducked into the locker room.
Pope realizes now that Bird was right. After playing outside of the NBA for two seasons (one in Turkey), Pope was picked up by the Milwaukee Bucks, where he became a starter and even helped defeat the Pacers. He went on to play five more seasons in the NBA.
Today, a wall of Pope's BYU office features the words "Earn Your Tears."
Though they parted ways, Bird says Pope made an impression. "Mark . . . brought so much to our team. He was a coach's dream as he always did what was asked of him and more," Bird says. "Mark will be successful at whatever he chooses to do in life. I am always rooting for him."
Love and the Game
"I just met the male version of you," Damon Archibald told his sister, Lee Anne (BA '96), in 1998.
As Mark fought to find a place in the NBA, Lee Anne was working in New York as David Letterman's personal assistant. Mark and Lee Anne shared a love of basketball, lofty ambitions, and high-energy personalities.
"I knew right away he was unlike anyone I had ever known or dated," Lee Anne recalls. "We had so much fun together. . . . I loved how driven he was—and not just about basketball."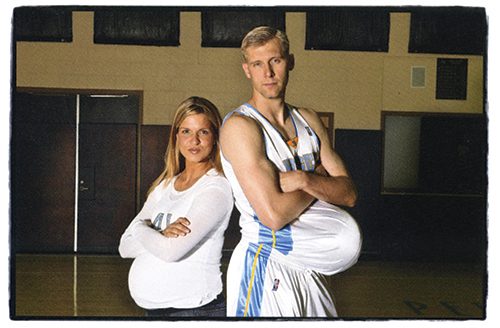 After they had dated for about a year, Mark was in New York to play against the Knicks in the conference finals. One night after going to dinner, they took a walk along the East River, Mark with a near-empty duffel bag slung over his shoulder. Without warning, Mark reached into the duffel bag and pulled out a diamond ring.
"When he turned around, he was on one knee," Lee Anne recalls. "He grabbed my wrist and said, 'Lee, I want to marry you.' Then he was like, 'Wait. Will you?' It was awesome."
Mark says Lee Anne is "the smartest person I know, she's the most beautiful person I know, and she's the funniest person I know."
During Mark's NBA years, Lee Anne would rebound for her husband, sometimes while pregnant. And when Mark became a coach, Lee Anne knew what she was getting into. Her dad, the late Lynn Archibald, was a longtime college basketball coach who even had a stint as an assistant at BYU in the mid-1990s.
Former Cougar star Travis M. Hansen ('03), a close friend of the Popes, calls Lee Anne "a 9.9 on the scale of a perfect coach's wife."
Hanging On by the Fingernails
To hear him tell it, Pope was "the worst player in the history of the NBA." It's an exaggeration, but he just might have been the most frugal.
"We lived our lives in total chaos," he says. "Every day for those seven years, we were sure I was going to be fired." Pope was so parsimonious that he'd use his per diem for rent money. He subsisted on Subway sandwiches. When the windshield wiper broke on his aging car, he tied it back together with a shoelace.
The NBA noticed Pope's care with finances and had him lead meetings to advise rookies about money management. In an NBA Players Association meeting, Pacers guard Jalen Rose nominated Pope as a representative. His reasoning: "He won't steal our money, and he's cheap!"
The Popes were constantly working on his post-NBA parachute. They considered opening a Subway franchise. Mark studied for the LSAT, GRE, and MCAT. Ultimately, they zeroed in on medicine.
Mark read chemistry books on road trips. When he played for the Denver Nuggets, he'd play a game and then pull an all-nighter shadowing doctors at a local ER.
After posting an impressive score on the MCAT, Pope was accepted to Columbia's Vagelos College of Physicians and Surgeons. When his teammates found out, they cheered as if they had won the NBA title.
Trading Stethoscope for Whistle
Pope thrived at Columbia, and the kids in the pediatric ER loved the giant doctor dressed in scrubs and wearing a 200-watt smile. The Popes planned on spending the rest of their lives in New York.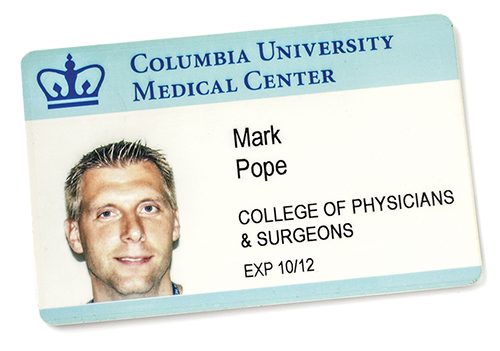 But for Pope, something was missing. One March, deep into his medical training, a longing for basketball hit him hard. As much as he enjoyed helping people, he wasn't making the kind of interpersonal connections he craved.
Pope consulted with the coaches he knew, who all pleaded with him not to leave med school. Even so, when Mark Fox, one of Pope's mentors, took the head coaching job at Georgia in 2009, Pope reached out. Fox offered him an unglamorous job as assistant basketball operations director.
After springing the news on the dean of the med school—"she thought I was on drugs," Pope says—he jumped into the car and drove straight through the night to Georgia. Just like that, would-be Dr. Pope became Coach Pope. As soon as he stepped on the court in Athens, Georgia, he says he knew he'd made the right decision. "I'm the most blessed person in the world to get to do this."
"He would have been a great doctor," Lee Anne says. But "he loves coaching. Seeing him with the players, it draws on all of his gifts."
Girl Dad
Pope was a proud girl dad long before it became a hashtag. "Greatest blessing in my life, bar none," he says.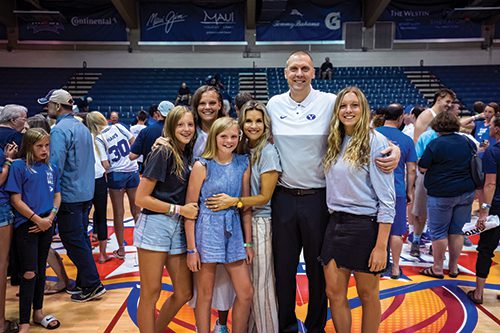 Whatever his four daughters—Ella, Avery, Layla, and Shay—are involved in, he is too. That includes rapping with them to Hamilton, waking up early and staying up late to work out with Ella (a basketball player at the University of Ohio, who is serving a mission in Florida), and shagging tennis balls for Avery.
When Layla, who's a dancer, underwent spinal surgery last summer, Pope stayed by her side in the hospital. While undergoing tests in the middle of the night, Layla was in a lot of pain. "My dad would hold my hand the entire time," she says. Layla remembers him sprinting to the cafeteria to bring her a plate of French fries, a bag of Gummy Bears, and a Sprite. Then they watched her favorite show, High School Musical.
He's taught his daughters to pursue their dreams, tell the truth, and work hard.
"My dad has a lot of energy and passion. A lot of people ask me if he's like that at home," Avery says. "Honestly, I think it's doubled when he comes home. He's a dad first. The dad side and the basketball side work together."
Back to BYU
On the floor of an empty Marriott Center on a spring day in 2019, BYU athletic director Tom A. Holmoe (BS '83, MS '95) and associate AD Brian S. Santiago (MBA '01) stood in front of Pope, expressing their love of the basketball program and framing its potential, passion etched on their faces, tears in their eyes.
Pope's coaching career had taken him from Georgia to Wake Forest then to BYU as an assistant to Dave Rose for four years. In 2015 he was hired as the head coach at Utah Valley University, where he improved the school's record for four straight years, culminating with a 25-10 mark in 2019. He was already a hot commodity when Dave Rose announced his retirement and BYU reached out.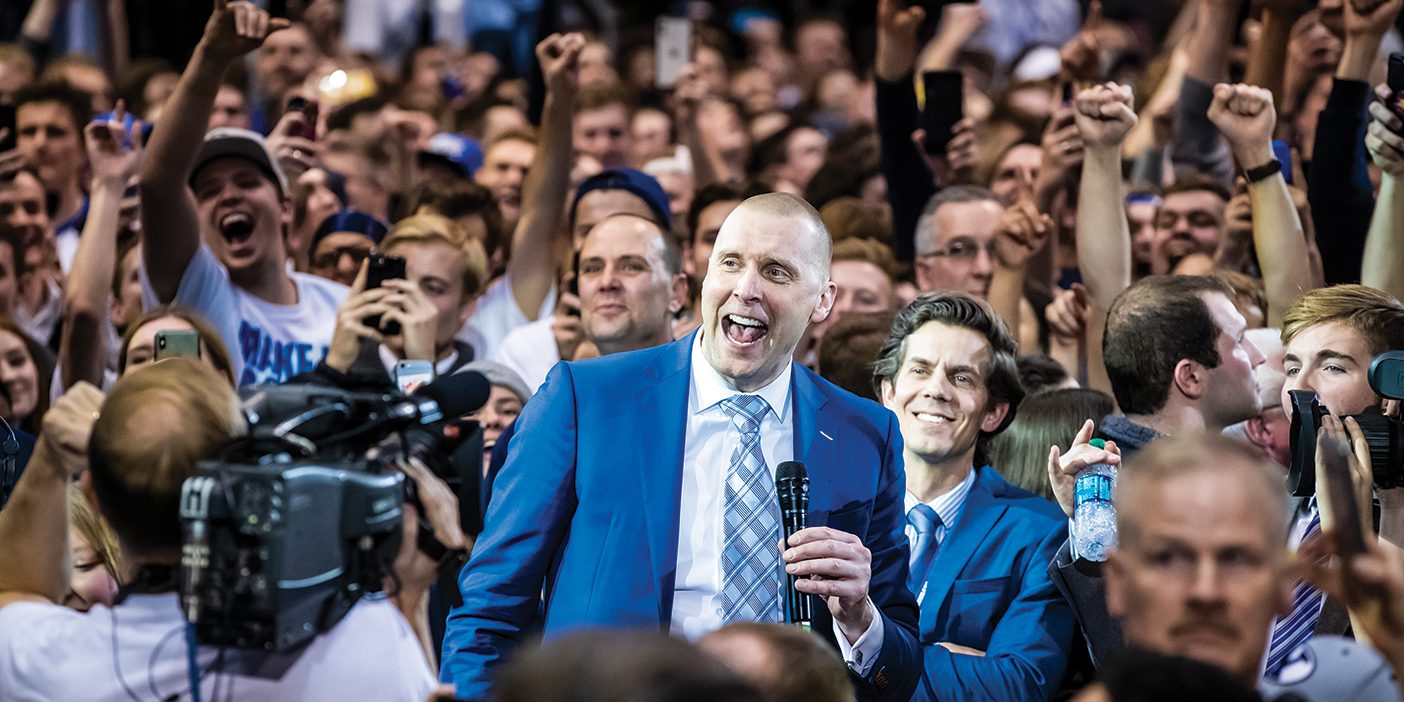 When Holmoe called, Pope was already flying to interview with another school. That interview went well.
But that was before his meeting with Holmoe and Santiago on the Marriott Center hardwood, a conversation that lasted hours. Their words sank deep inside Pope. "The thing that stuck with me was how badly they wanted to win," Pope recalls. "That was the moment where I thought, 'Maybe this is the place.'"
It was an opportunity Pope hadn't anticipated. "I was never coming back to BYU," he admits. "Not because I didn't like BYU. I just thought Coach Rose would be here for another 30 years."
"I feel blessed and privileged to have a chance to take a swing at this at BYU right now," he says.
Marriott Center Magic
On senior night in February, No. 23 BYU welcomed No. 2 Gonzaga to the Marriott Center.
In the week leading up to the game, BYU students slept in tents in the freezing cold. Pope walked out of his office at the annex one night and saw the trail of tents wrapped around the Marriott Center, stretching to the tunnel.
Pope hung out with the students for a while, and on Friday he invited them inside the Marriott Center for a respite from the elements and an impromptu pep rally.
"The kids were going crazy," Pope remembers. "Then I lost my mind and said, 'If we win this game, we're all going to dinner.'"
Guided by BYU's resilient seniors, the Cougars sprang an unforgettable 91–78 upset of the Zags on national television and before a sellout crowd of 19,000. When the final buzzer sounded, fans stormed the court to celebrate.
"It was the most epic senior night ever," Pope says.
Naturally, the students remembered Pope's promise. So the Popes ventured to Cubby's on Cougar Boulevard, where Pope racked up a $1,800 bill to feed the hungry, ecstatic students.
"Worth every penny," he says.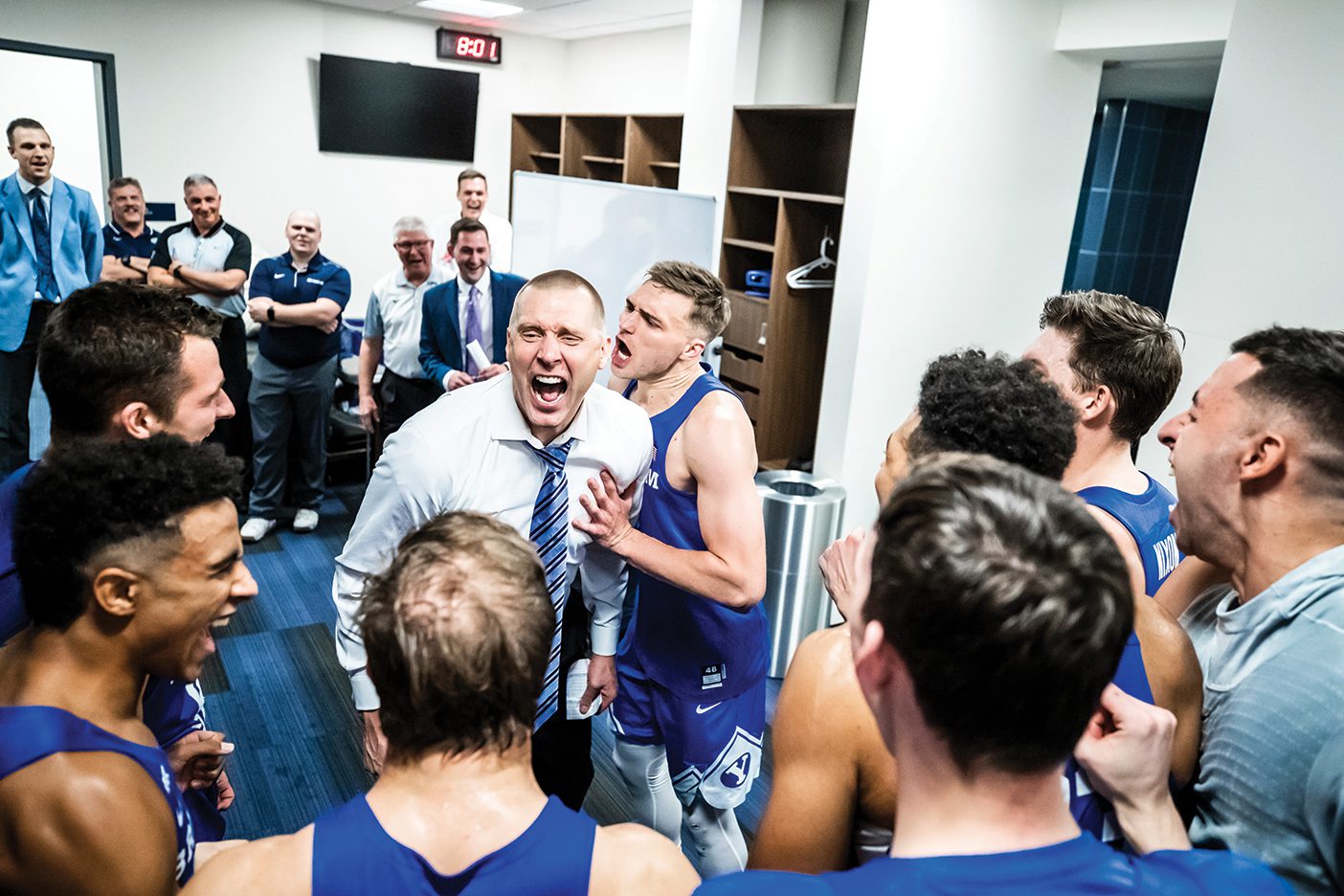 Impossible Dreams
"We always told our children, if you want to do something bad enough and you do the work, you can do it," says Linda Pope, Mark's mother. It's a lesson the coach has taken to heart—and tried to instill in his players.
He can point to the victory over Gonzaga as evidence that any dream can be realized.
His passion is a beacon for athletes wanting to be part of a winning program. In short order, Pope has established a reputation for being one of the top recruiters in college basketball. Last spring, against long odds, he beat out his alma mater, Kentucky, for the services of 7-foot-3 Purdue grad transfer Matt Haarms ('23).
Pope won a NCAA title as a player. Why not as a coach? And why not at BYU?
"I'm just dumb enough to think that we can accomplish everything that you dream about accomplishing in basketball and that we can do it right here," he says. "We have the resources, and we have some unique strengths here at BYU."
Don't tell Mark Pope he can't do something. He's liable to surprise you.
---
Jeff Call is a writer for the Deseret News.
Feedback: Send comments on this article to magazine@byu.edu.