---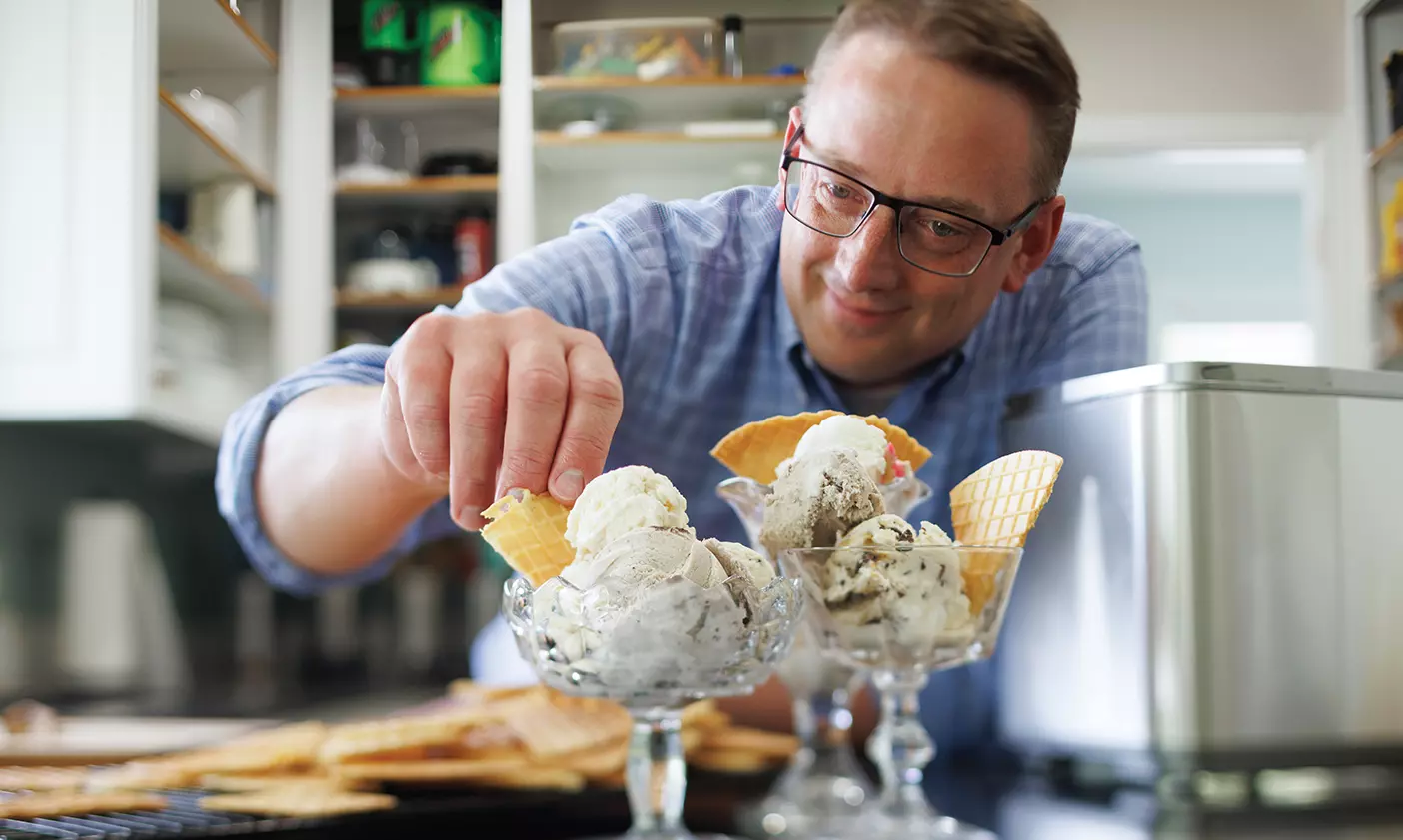 Students love Jacob D. Rawlins (BA '99, MPA '08), their editing and publishing professor who guides them in a senior capstone class that publishes the travel magazine Stowaway. It's because of "the valuable skills and knowledge he imparts to us and his mentorship," says Jensen N. Katschke ('22). "And then also the ice cream."
After the articles are designed and proofed, Rawlins shuttles large plastic tubs of his homemade ice cream to campus in an ice-packed cooler for his students to savor. The creamy dessert is "unique, innovative . . . something that you can't just get at a store," says Katschke.
Rawlins has invented over 20 original flavors, from Cone Follow Me (vanilla with ribbons of hot fudge and caramel amid chocolate-covered waffle cone chunks) to More Brownie Mint Give Me (chocolate with
bites of brownie and Andes mint chunks) and even Cougar Tail (vanilla custard with swirls of maple caramel and glazed doughnut chunks).
Rawlins's cool hobby began while he was pursuing a PhD in Iowa. Staying sane in grad school, he says, required a pastime: "A lot of students . . . took to drinking. I started making ice cream. I guess you can debate which one is the healthier habit," he laughs.
His wife, Laura Sumsion Rawlins (BA '95, MA '99), figured the ice cream "was a cute little hobby," but now with two ice-cream makers, a basement ice-cream bar, and a deep freezer devoted to ice-cream storage, she has embraced the lifestyle.
On campus Rawlins involves his classes in more than just the tasting. After creating a new sweet-cream flavor with chunks of lemon cookies and ribbons of tart lemon curd, Rawlins brainstormed names for it with his editing students. Sydney P. Dietrich (BA '22) produced the winner: Now Lemon Rejoice.
Managing melting ice cream isn't easy. "I do have a secret freezer" in a locked Jesse Knight Building copy room, Rawlins admits. "One semester I taught over in the Benson Building. It was a little bit harder because I'd have to haul a cooler across campus."
At the start of each new semester, Rawlins mentions his ice-cream making to a new batch of students—but before long, they learn it's more than a casual pastime. "He enjoys making and planning and eating it," says Laura, "but I think his favorite is sharing it."