---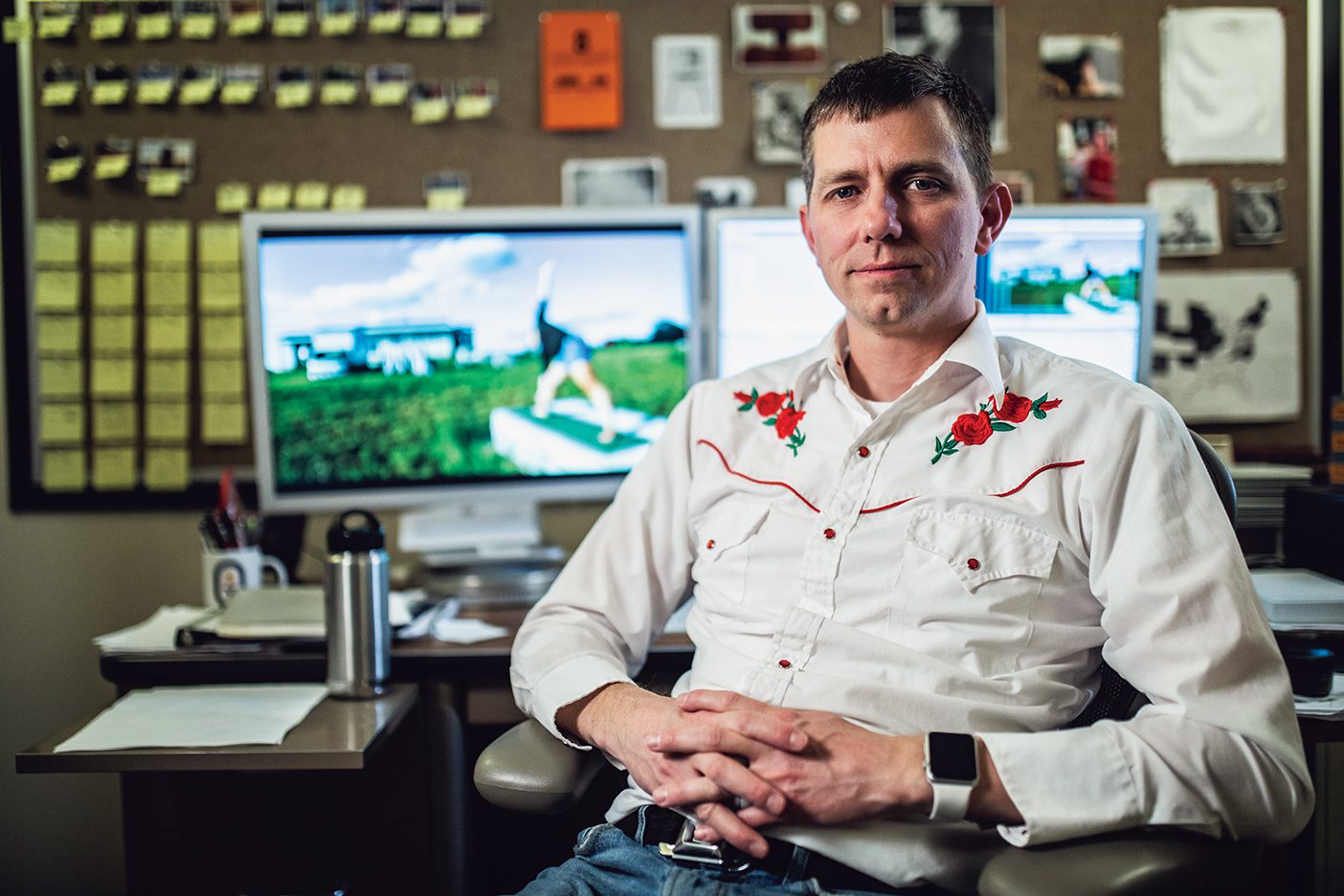 With flying ribbons and bare feet, dozens of people dance to lilting Norwegian fiddle tunes. Scandinavian flags hang in rows. The scent of Danish pancakes wafts down the block. It's the Nordic Fest in none other than Decorah, Iowa, and regardless of ethnic background, those present feel a sense of belonging. Accompanying the dancers, a resident fiddler says she has found her community role. "I'm never going to live any place else," she says. "I turned into an Iowan a long time ago."
What makes a place home? At what point are you "from" somewhere? These questions propelled media arts professor Brad A. K. Barber (BA '01) to scour the country for answers. In his documentary series States of America, he highlights one person from each state in a lyrical, five-minute episode and posts a new episode every month.
In his 10 years working on the project, Barber has found that a sense of belonging means something different to each person. "It's hard for anyone to really grasp just how vastly diverse a nation of 300 million people is," says Barber.
His snapshots of American life reflect that diversity. The Utah episode features Daniel Shellabarger, who renounced the use of money 10 years ago and lives in a cave in the red-rock landscape of Arches National Park. In living according to his own rules, Shellabarger has found that "everywhere I am, I am home."
For one couple in Missouri, home has come one nail and two-by-four at a time. They live in a half-completed home in the middle of green Midwest farmland. "It makes you belong somewhere to build a house," says Sarah Smith.
For others, developing a sense of home has been fraught with struggle. Floyd Ashley, a Navajo educator who grew up on a reservation leased from the government, has never quite felt like he belonged. "We're borrowing [the land]," Ashley says, who remembers not being allowed to speak Navajo in school. "Every morning when we had class, we would say, 'Justice for all.' It wasn't justice for all."
Scenes like these help viewers step into others' shoes, says Greg S. Williams (BA '13, MS '16), a former student who helped shoot the New Hampshire episode. He hopes the series pushes people beyond stereotypes to see commonalities: "the need to be accepted, . . . our times of loneliness, of feeling misplaced or displaced, those concepts of neighborhood and community."
Barber believes these common threads can help unite our divided country. "I hope that when people watch these episodes, they'll feel an increased sense of empathy and curiosity for people that are different from them. . . . [The people in the documentary] talk about the way they feel about the place where they live, and I think that's something most people can relate to."