BYU students remember breaking bread and making memories together.
Bean Juice with Grandma
By John R. Hulme (BA '82), Meridian, ID
One semester when Grandma Hulme visited Provo, my BYU student cousins and I met her for lunch at the Cougareat.
Usually my lunch at the Cougareat was a cheeseburger or Navajo taco. But Grandma—who raised six children during the Great Depression—insisted we not waste money on nonnutritious choices and steered us to the cafeteria section. She said we could order any main course but mandated that each tray also include two vegetable side dishes.
As we were going through the line, the student worker dished up the last of the green beans and began to remove the large metal serving pan. Grandma asked, "Young man, what are you going to do with that bean juice?"
"We usually pour it down the sink," he responded.
"Would you pour it in a pitcher so my grandchildren can drink it? That's where all the vitamins are," Grandma stated.
The worker disappeared for several minutes, then reemerged with a huge pitcher and several large paper cups. Grandma had a grandson carry the juice to the table, then poured each of us a generous cup. The slightly green, briny liquid didn't look very appetizing, but no one was brave enough to say no to Grandma.
Hamburger Heritage
By LaResa Sanders Darrington (BS '87), Fallon, NV
My last year at BYU, four of my roommates and I decided to share meal duties. We all had our favorites, and mine was any Hamburger Helper that was on sale. If I made it for myself, I could make it last for several meals, often as a pizza topping, the last bits slapped on biscuit dough with cheese. My unimpressed roommates would graciously eat it but not without a lot of teasing.
The summer after I graduated, I got engaged and several roommates came to my bridal shower at the old Heritage Halls conference room. It shouldn't have surprised me when they gifted me a box of Hamburger Helper, a pizza cutter, and a pizza pan. We all laughed at the card that said something about wanting me to be able to share my favorite meal with my husband-to-be. And sure enough, over the years my family has experienced Hamburger Helper in many different ways.
Hardy Shoulder Chili
By Jeff E. Hofmann (BA '04), North Ogden, UT
As the chair of my YSA ward activities committee, I organized a tailgate party for our ward prior to the first home game of the BYU football season. I rented a giant stockpot, other committee members secured ingredients, and we met during the week to soak beans, chop onions, and otherwise prepare our batch of chili.
As we started cooking Saturday afternoon, everything was going well—except for one thing: not one of our spoons was long enough to stir the pot. We sent a committee member to buy some wooden dowels, but we needed a short-term solution to prevent the chili at the bottom of the pot from scorching.
My roommate, Bernhard D. "Hardy" Kuebitz (BS '06), came to the rescue. He scrubbed his right arm like a doctor prepping for surgery, grabbed the sturdiest spoon we had, and plunged into the pot.
Up to his shoulder in chili, Hardy scooped and stirred until the heat became too much. Fortunately, the dowels showed up, and by the time ward members arrived, the chili had been heated evenly and Hardy had cleaned himself up. The football team won the game that night, and no one mentioned finding arm hair in their chili.
Finals Rice and Fruit
By Stephanie Carn Yrungaray (BA '00), Draper, UT
Living in Heritage Halls our freshman year came with the new and scary responsibility of feeding ourselves. After a few months, our apartment created a rotating dinner assignment with some girls next door. It was wonderful to worry about cooking dinner only once a week.
Our plan worked flawlessly until finals week.
One night I came back from campus after a full day of studying and writing papers, exhausted and hungry. None of my other roommates were home, but sitting on the stove was a pot with a lid on it. Ahh, dinner! I washed my hands and got out a plate, grateful to eat and relax for a few minutes. Then I took off the lid.
What greeted me was our most memorable meal of the year: a pot of rice with a can of fruit salad mixed in, soundly burned.
My poor roommate had realized she was in charge of dinner and had only a few ingredients in her pantry. As she hurried to cook and also get to a class, she had become distracted and let the rice burn. When hungry roommates arrived, we all had a good laugh at our dinner-gone-wrong. I can't help but think of that dinner every time I make rice.
Never Too Much Pepper
By Amy White Lloyd (BA '00), Murray, UT
My roommates and I didn't know what to eat for our Sunday dinner. Discovering a chicken breast and a few potatoes in the kitchen, I volunteered to make chicken gravy and mashed potatoes. As I sautéed the chunks of chicken, I balanced my cookbook on the edge of the cluttered counter and started on the gravy.
Into the pan went the butter, the flour, then the milk. A delicious aroma began to fill our apartment as the gravy simmered on the stove.
As I poured in the third of six tablespoons of black pepper that the doubled recipe required, Renee Magnusson Meanea (BA '01) looked over my shoulder and asked, "Don't you think that's a lot of pepper?"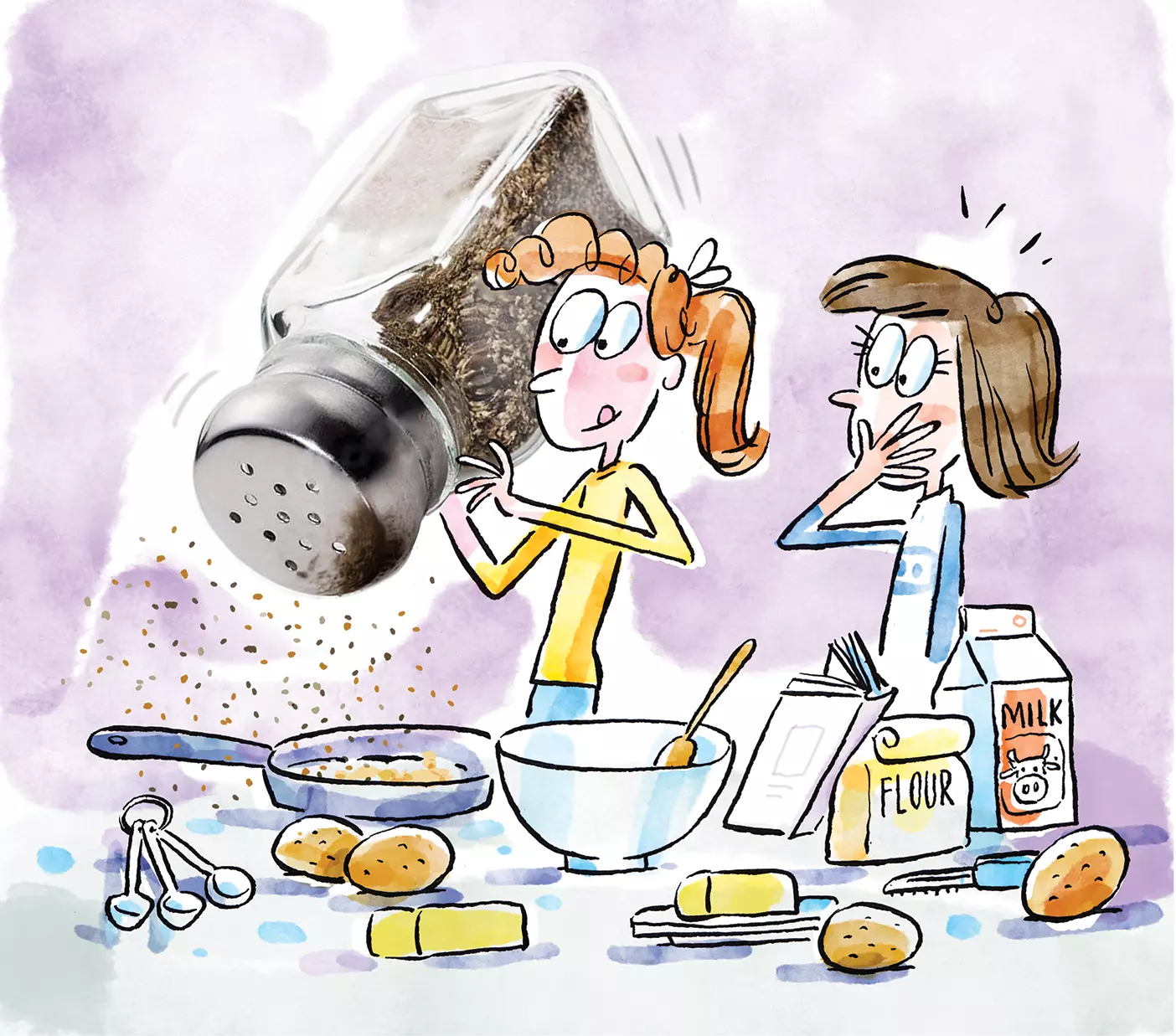 "Oh, Renee," I responded, "you can never have too much pepper!" Still, her question did give me pause, and I stopped there.
We eagerly dished out the steaming chicken gravy onto our mashed potatoes. With the first bite, our throats swelled up, our eyes began to water, and our lips tingled from pepper overload. With no other option, we ended up picking the chicken pieces out of the pan, scraping off what gravy we could, and eating them with massive bites of potatoes. Even then the food was barely edible.
Upon later review of the recipe, I realized that it called for six tablespoons of flour, not pepper. I had used 36 times more pepper than needed. Since then, my roommates have never failed to remind me that sometimes you actually can have "too much pepper."
---
GET SOME EXERCISE?
Pop your head into an RB gym and you'll spot pickup game veteran Gary V. Griffin ('84) playing full-court hoops with players a quarter of his age. You read that right: Griffin is 83 years old and still sinking threes. Were you also a BYU gym rat? Did you try a court sport, swim or run laps, walk or bike outside, or work out with roommates or friends? If you have a fitness or exercise story, give us an assist. Deadline: Oct. 11, 2022.
Y Magazine pays $50 for stories published in First Person. Send anecdotes of up to 300 words to firstperson@byu.edu. Submissions may be edited for length, grammar, appropriateness, and clarity.