Grads share their unforgettable BYU musical moments.
Sweet-Potato Surprise
By Laura Workman McMurtrey (BM '06), Dickinson, ND
One day BYU Singers director Ronald J. Staheli (BA '72) asked if I would be up for playing a joke on the choir. I couldn't tell a soul, he said, not even my own brother, Timothy J. Workman (BM '03, MM '07), who was also in the choir. I was nervous, but reluctantly agreed. He then shared a recording of a song we were rehearsing called "Little Potato," which our choir had simply been ending with a long jazz chord. But the recording had a soprano soloist scat her way up to a high C at the end of the song. "Can you do that?" Dr. Staheli asked. "Absolutely," I said. "Let's do it!"
The night of the concert came, and Dr. Staheli gave me the nod. I tried to act natural, but the butterflies in my stomach felt more like a flock of birds. When we got to the end, I stepped forward and began belting my jazz solo: "You're my sweet potato, I dug you right out of the mud, my little spud!"
Eyes popped and jaws dropped. Many choir members thought I had lost my ever-loving mind and that my short musical career was over. Dr. Staheli looked over at me with shock and horror, pretending he knew nothing. I ended my solo on a high C, and the jig was up. Dr. Staheli smiled at me and said, "You go, girl!" Then he glanced at the choir and said, "We got you!"
Surprise Serenades
By Patrick S. Hoggan (BA '92), Cameron Park, CA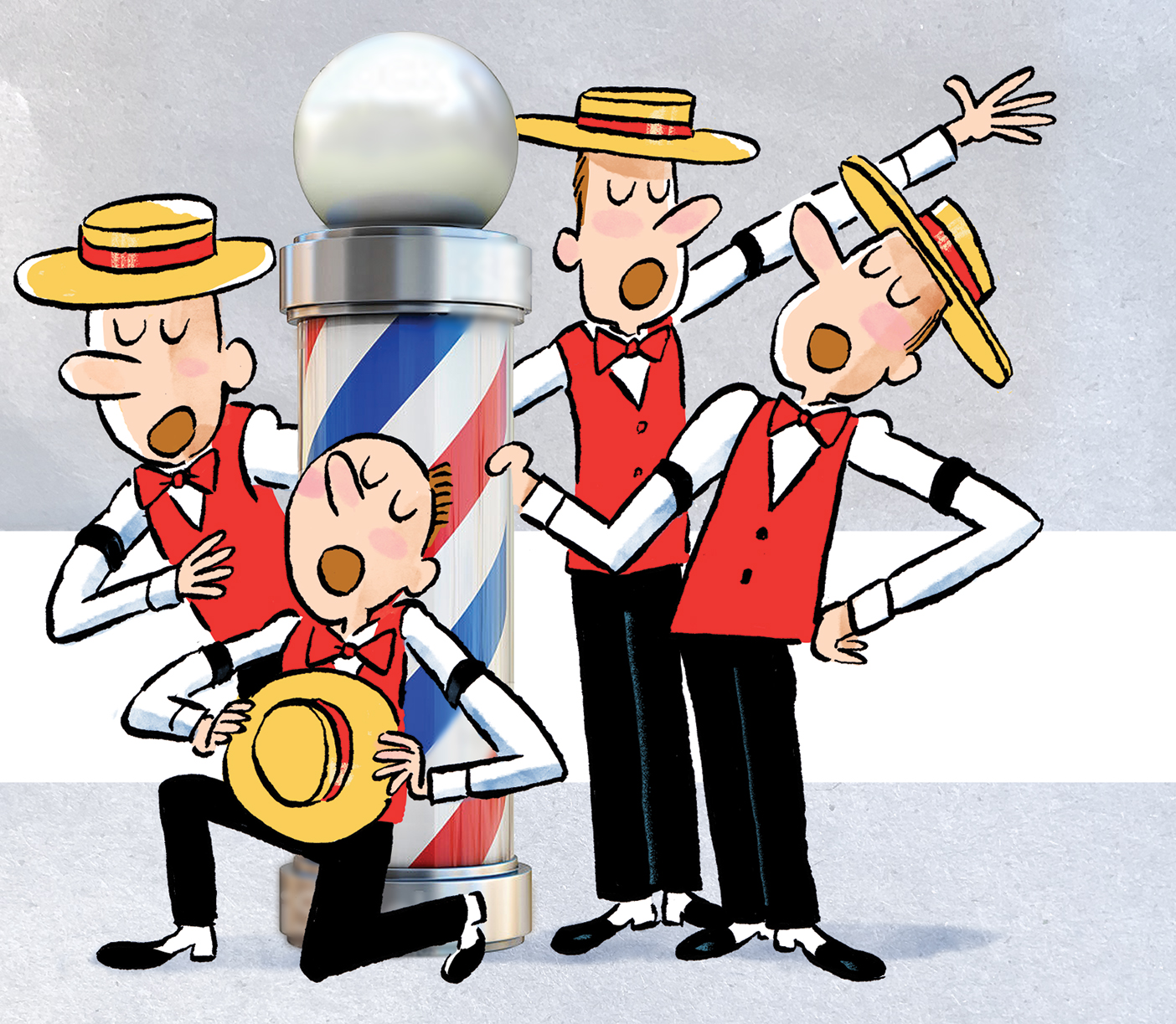 I joined University Chorale because I was promised a plate of brownies and assured that there were a lot of cute girls in the choir. With encouragement from chorale director Merrilee Webb (BM '83, MM '88), I later auditioned for and joined Men's Chorus. My second year in the chorus, I became part of a Men's Chorus barbershop quartet.
Our barbershop coach, Rollie R. Bestor (EdD '69), said we needed to gain confidence and told us to find people to sing to. One quartet member hoped to woo a girl he'd met. The object of his affection— and the young man cozied up to her on the couch—seemed less than thrilled by our surprise serenade. As we teased our disappointed buddy, inspiration struck: "Let's go to Deseret Towers!"
We stood outside one of the women's high-rise towers and started singing for an unseen audience. Windows opened on the first two floors, and scattered cheers encouraged us. As we harmonized, more windows opened higher up. We were serenading an entire dorm tower of girls! We exulted in the enthusiastic applause, and our confidence was definitely boosted.
That year the barbershop quartet sang for sports events, in concerts at the Harris Fine Arts Center, and even in the Tabernacle on Temple Square—but no performance was more exciting than that dream-come-true night outside Deseret Towers.
Air Viola
By Christie Burgon Sowby (BM '09, MM '12), Lehi, UT
It was my last performance as a violist in the BYU Philharmonic Orchestra under the direction of Kory L. Katseanes. We were on tour in Rexburg, Idaho, playing Shostakovich's Symphony no. 5. The symphony is notorious for having difficult and exposed viola parts, but I had practiced many hours for this concert.
It was just a few minutes into the first movement of the 45-minute work, when the bridge of my viola made a loud pop, broke in half, and flew off into the middle of the stage. Some orchestra members noticed what had happened, but we all knew that there was nothing that could be done. I was stuck without a playable instrument during a live concert.
Instead of sitting still for the duration of the performance—which would have felt awkward—I decided to pretend to play for the remaining 40 minutes. I quickly noticed that if my bow accidently hit the loose strings, it would make a terrible sound. To avoid the screeching, I had to lift my arm even higher to avoid the strings. Instead of a rewarding symphony experience, I left with a very sore arm and a pricey viola repair. What an end to my epic BYU Philharmonic era!
That BYU Wake-Up Song
By Linda Call Reese (BS '75), Roswell, NM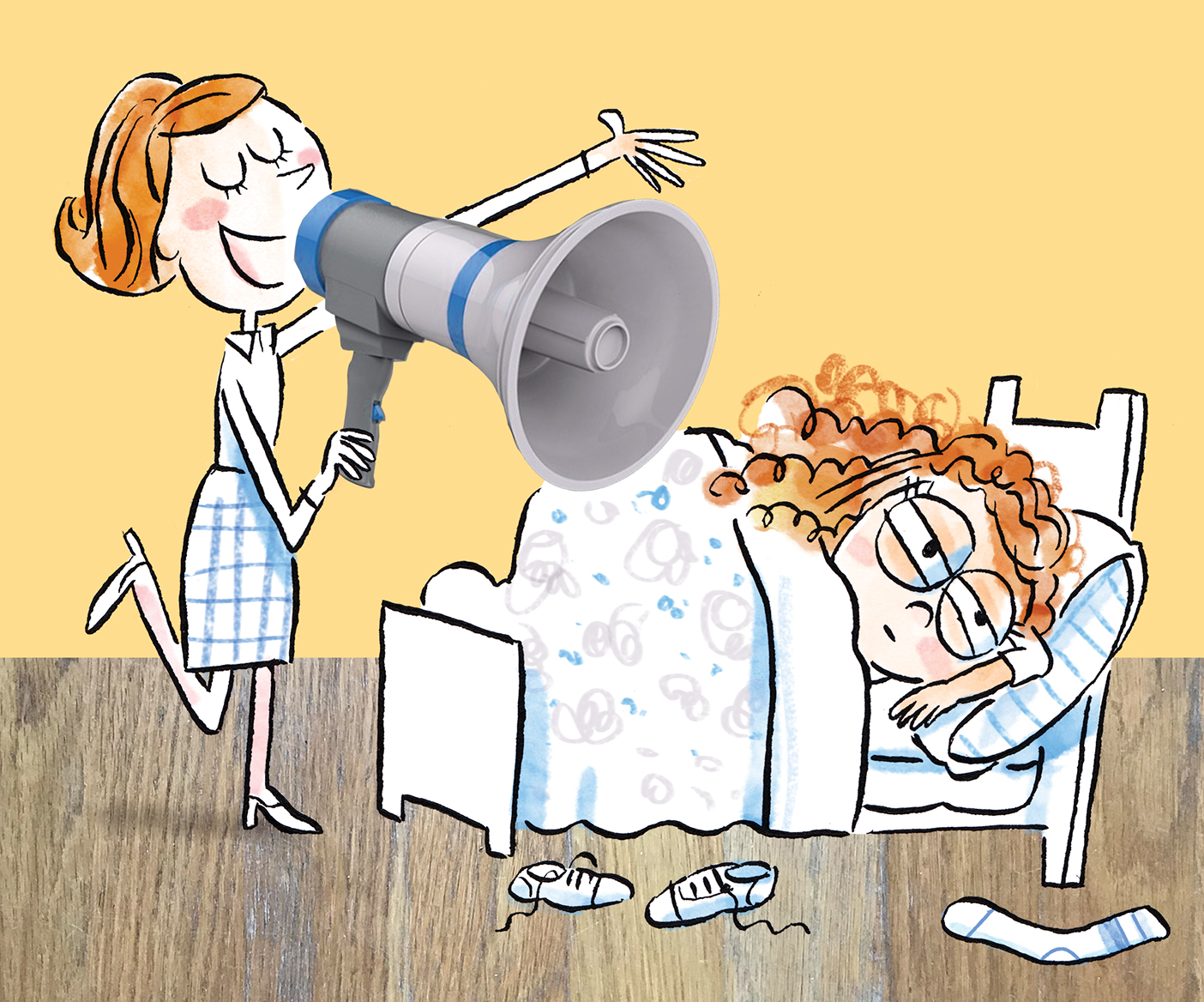 My mother, Carol Clark Call ('48), attended BYU as a freshman in 1948. Later she and my father, Mac Rey Call (BS '52), raised six children in El Paso, Texas. For as long as I can remember, my mother would wake us up every morning by turning on the bedroom light and singing, "Rise and shout, the Cougars are out!" I didn't know where that peppy little phrase came from, but it meant I had to get up and out of my warm bed to start another day, so it was not my favorite song.
Fast forward to 1973, when I attended my first BYU football game. Touchdown! The crowd went wild, singing, "Rise and shout, the Cougars are out!" In great surprise, I turned to my roommates and said, "Wait. Is that the BYU fight song?" BYU won the game, but I had a smile on my face all the way home for a different reason.
Spanish Tunnel Singing
By Anastasia A. Hirschi (BA '20), Prescott, AZ
During freshman year my roommate, recently returned from a Spanish-speaking mission, invited me to join her for tunnel singing in Spanish outside the Marriott Center. At first I wasn't too keen on the idea of standing in the cold and singing hymns for an hour. Plus the only Spanish-speaking experience I had was a few years of middle- and high-school Spanish. After several weeks, I finally decided to give it a try. Despite the chilly weather, I was hooked from the very beginning.
As I continued to attend, I began to recognize familiar words and learn new ones. I got to the point where I could sing a couple hymns from memory and found myself singing them in my head during the week. Eventually I became the roommate who invited others to tag along because of how much I enjoyed going.
Even though I didn't always understand what I was singing, the Spirit was always present and Spanish tunnel singing left a smile on my face, no matter how hard it was snowing outside.
---
Call for Stories: Memorable Meals
A student has to eat—at least once a day. Whether it's downing waffles or cheeseburgers at the Cannon Center, meeting friends for lunch at the Cougareat, joining a dinner group to escape the endless bowls of ramen, or venturing out to local eateries, you likely have a culinary adventure story from your BYU days. Share your best meal or epic fail. Deadline: March 10.
Y Magazine pays $50 for stories published in First Person. Send anecdotes of up to 300 words to firstperson@byu.edu. Submissions may be edited for length, grammar, appropriateness, and clarity.