Readers recall hiking highlights and memorable mountain missteps.
Mountain: 1 , Bruce: 0
By Bruce B. Hansen (BS '96, MS '98), Lindon, UT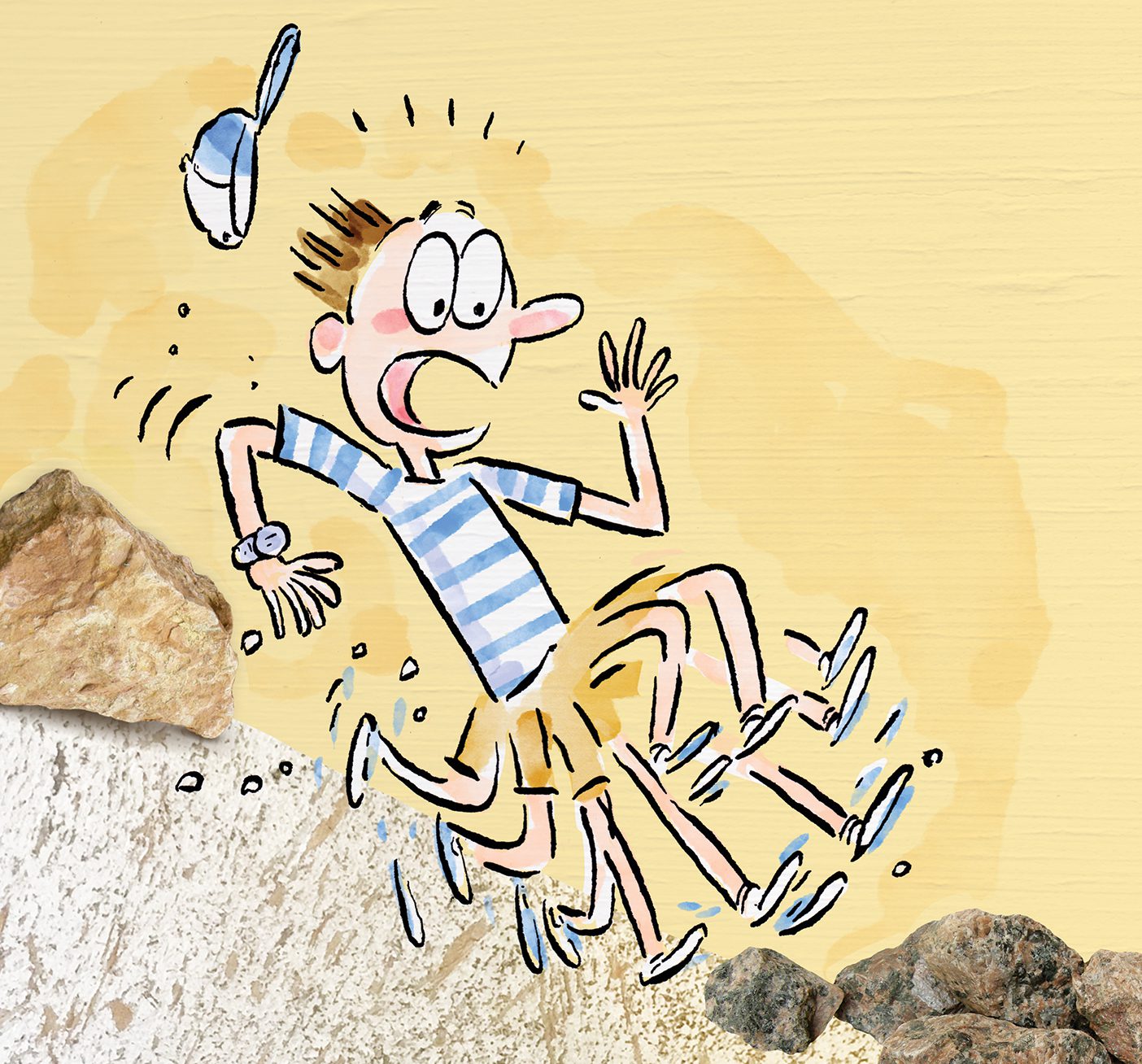 My brother Neil G. Hansen (BS '94, MBA '96) and I hiked the Y for the first time the day after arriving in Provo from our home in flat Texas. When we reached the trailhead, we decided it would be faster to skip the trail and just hike straight up the mountain to the Y. After all, it was right there. We'd be up and back in 30 minutes.
An hour later we were still thrashing through scrub oak, wondering how in the world something as enormous as the Y could be so hard to find. I flopped down in frustration, ready to give up, when Neil finally called to me from above. Turned out the Y was much higher than we'd imagined.
Being slow learners, we went down the way we came. Impatient, I started to lope down. That lope became a jog, the jog became a sprint, and I soon realized—to my terror—that I couldn't stop. Finally, to avoid catastrophe, I just sat and slid down on the gravel, tearing up my legs. That afternoon as I slipped my aching body into the bathtub, I thought to myself, "Mountain: 1, Bruce: 0."
Y Not?
By Suzanne Sears Mann (BS '82), Highland, UT
I started at BYU in the fall of 1976. Campus was full of advertisements for getting-to-know-you festivities, including an activity to whitewash the Y. I had no idea what this meant, but a group recruiting for the activity said, "We need you!" so I decided to go.
Walking out of Heritage Halls, I could not believe the mass of humanity heading east! Hundreds and hundreds of eager students were joining the ranks. When we reached the base of the Y, I turned around and looked toward campus. What a view! I was in love.
This peaceful moment was interrupted when the leader of the operation handed me a bucket of watered-down white paint. "What? No paintbrush?" I asked the handsome young man.
"Nope. Just launch it with everything you've got," he responded.
Carefully I stepped onto the giant rock letter and found a sturdy spot. Then with a big grin, I tossed the white liquid into the air. The thrill of helping paint the Y is one of my most treasured college memories.
Conquering the Beast
By Pamela Hatch Kitchen (BA '84), Charlotte, NC
In 1981 I attended a summer term in Israel. During the last week we boarded buses for a bumpy all-day trip to the foot of Mt. Sinai in Egypt. We planned to camp at the base and then start our three-mile hike before dawn to reach the top in time to watch the sun rise and hold a testimony meeting. However, after sleeping only a couple of hours on the ground and eating a breakfast of warm milk and crackers at a Bedouin tent, I was exhausted and nauseous when we started to hike.
Each time I stopped to rest along the trail, more and more of the group passed me. David B. Galbraith (BA '64, MA '65), the director of the program, had been assigned to bring up the rear and encourage any straggling students. Embarrassed, I seriously considered stopping and waiting for the group to return. But Dr. Galbraith had other ideas. He helped me up and said, "Come on, let's climb this beast together."
As we walked along, he asked about my background, studies, and future plans. Before I knew it, I was feeling stronger and making progress. When we reached the top, my cheering friends, the sunrise, and the testimonies that followed were worth the effort.
I'll never forget Dr. Galbraith's patient encouragement that allowed me to have such a wonderful memory with my group.
Going on a Bear Hunt
By Heidi Morris Macdonald (BA '98), Eureka, CA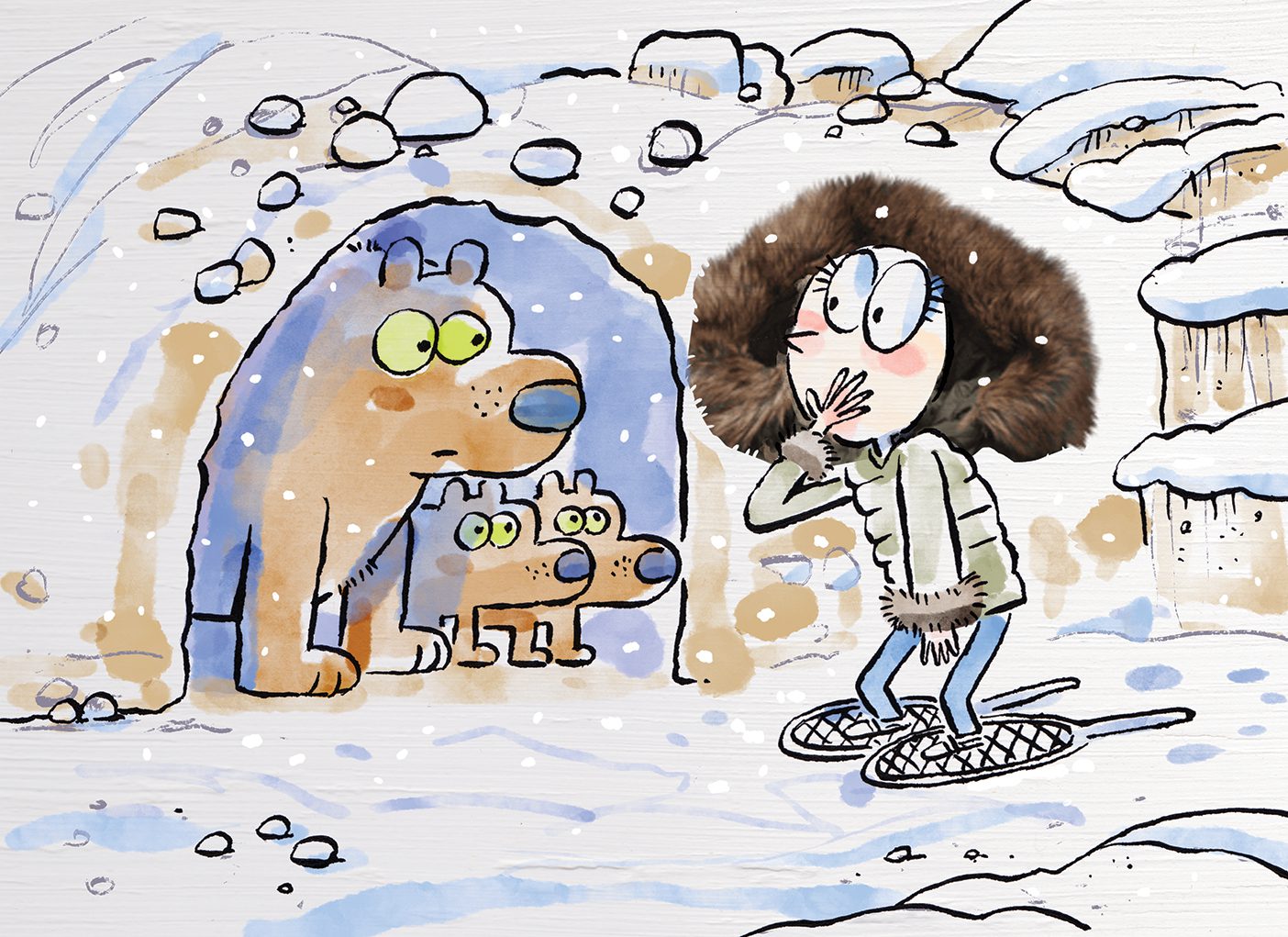 The winter of my junior year, I spent a night in a cold cabin in Utah's Roan Cliffs with my brother, Arthur E.L. Morris, and sister, Amy Morris McGlashan (BA '00), and several BYU biology grad students. At 5 a.m. we strapped on snowshoes and started off under a star-filled sky to find "Elizabeth," a female black bear the grad students had been monitoring.
All day we hiked and snowshoed up and down steep mountain sides. Eventually the grad student leading the group said, "We're close! Everyone, look for her den." Ten minutes later, Arthur said, "Heidi, go over to that big rock and look there." I scrambled up and saw a dark cave opening.
Putting a hand on each edge, I peered into the cave and started as two green eyes shone back at me. I yelled, "She's in here!"
After the grad students put Elizabeth and her two cubs to sleep so they could take measurements, my sister and I got to crawl into the warm, small cave. Feeling brave, my sister put her hand close to one cub's slightly open mouth. Suddenly the cub stretched its mouth wide and grumbled a low, gravelly noise that made us both jump and bonk our heads.
Full of awe for the magnificent bears and the beautiful, snowy mountains, we started the trek back. The return hike was just as hard as the way in, but the difficulty and excitement of the experience made for a happy memory with my siblings.
Proposal Central
By Amber Fullmer Webb (BS '02, MAcc '02), Vacaville, CA
The proposal my husband, David E. Webb (BS '01), concocted was a fun and elaborate trip down memory lane complete with a custom board game, rigged dice, and clues. These clues led me to various places around Utah Valley that were significant to us—like the ice cream shop we visited on our first date and the spot where we first said, "I love you."
The last clue led me to the base of Dry Canyon in Lindon. There was David, standing with his guitar and a bouquet of flowers. We hiked to the top of Dry Canyon and stopped at a spot overlooking a beautiful vista. There he serenaded me, then got down on one knee, pulled a ring from his pocket, and asked me to marry him. I enthusiastically exclaimed, "Yes!"
We didn't get to revel in our newly engaged bliss for long: a woman soon came over and said, "Can I ask you two to move? My son is coming to propose to his girlfriend." I flashed my new ring and said, "This is the perfect place!"
---
Call for Stories: Marriott Center Moments
For half a century the Marriott Center has been providing all the feels. Students flock to the building to be inspired by devotionals, thrilled at sporting events, and dazzled with song and dance. Did you see Neil Diamond or another performer in concert at the Marriott Center? Or perhaps you listened to life-changing words from a Church leader while sitting in the arena seats? Tell us your favorite Marriott Center memories. Deadline: Dec. 7.
Y Magazine pays $50 for stories published in First Person. Send anecdotes of up to 300 words to firstperson@byu.edu. Submissions may be edited for length, grammar, appropriateness, and clarity.