BYU students found creative ways and places to propose.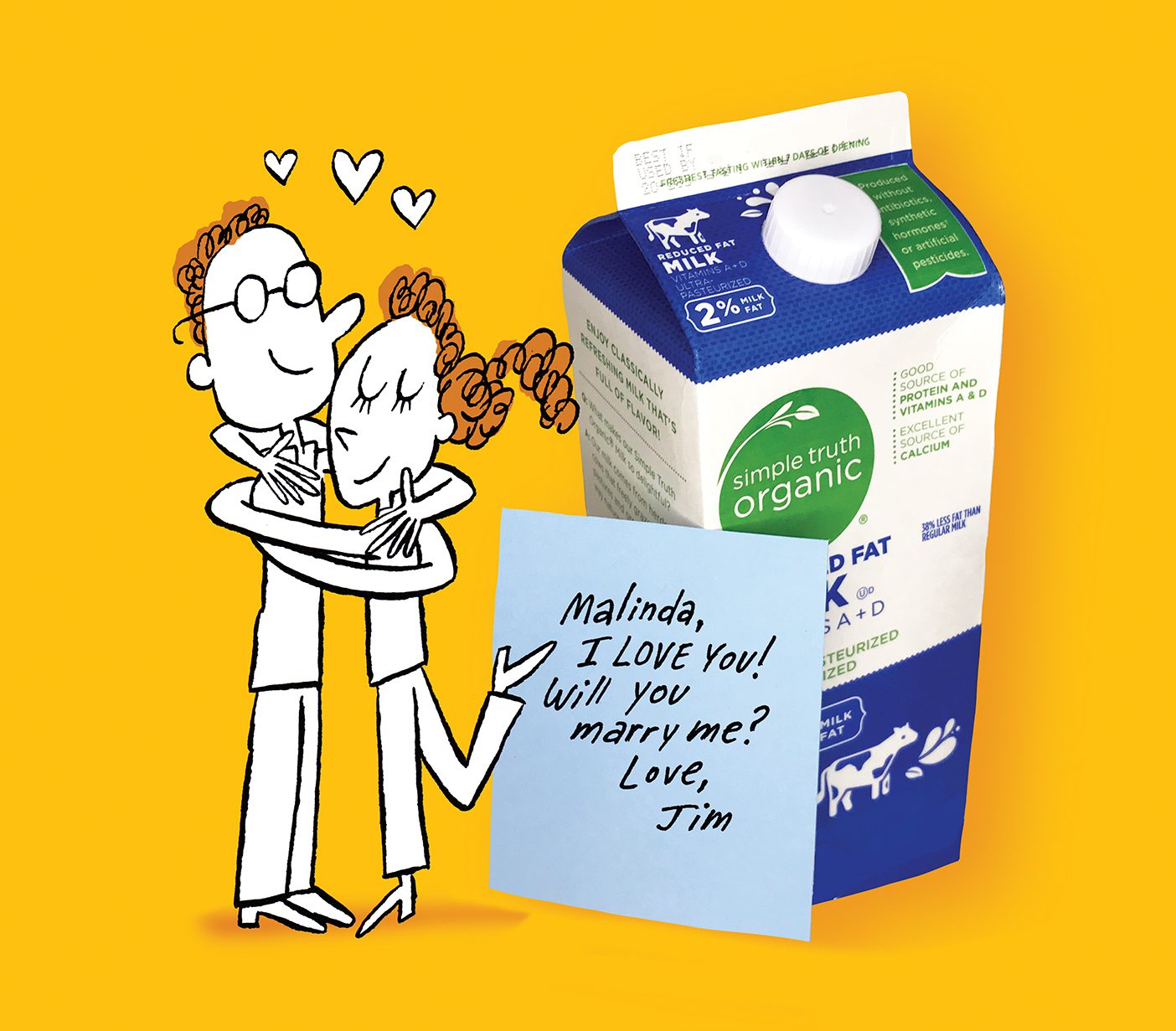 Only Two Percent Surprised
By Malinda McKenzie Wells (BS '89), Paris, IL
We had dated for nearly a year. That seemed like a long time compared to many BYU couples who seemed to meet, marry, and be expecting their first child in that same amount of time. I was a semester away from graduating. I had major life decisions to make, and the only thing I knew for sure was that I wanted to spend eternity with James R. Wells (BS '91).
One night just before Christmas in 1988, Jim came to my apartment to pick me up for a BYU basketball game. He asked me to get something out of the refrigerator. When I opened the fridge, I was very surprised to see a note propped up by a container of milk that read, "Malinda, I Love You! Will you marry me? Love, Jim." This was definitely not an elaborate or romantic marriage proposal, but I didn't care. I was so happy I said, "Yes!"
Over our 32 years of marriage, I have occasionally teased Jim about his marriage proposal, and I have never succeeded in impressing our own children or a class of Young Women with the story of how we became engaged. However, I have never regretted saying yes, and I still look forward to spending eternity with Jim.
Songs of Love
By Matthew D. Scott (BM '06), Marietta, OH
I proposed to my sweetheart, Heather Brown Scott (BS '06), at my BYU Singers concert. Days before the concert, I approached our conductor, Ronald J. Staheli (BA '72), who is known for his serious yet unpredictably jolly nature. He agreed to the proposed proposal.
At the concert the Singers performed a medley of tunes from West Side Story. When the applause settled, I stepped out of formation, the ring box burning a hole in my pocket and my knees trembling. In improvised lyrics to the tune of "Tonight," I invited my sweetheart to the stage. The audience applauded after I asked her to marry me, and she said, "You better believe it!"
Our four children love hearing that story every time we tell it, and we enjoy meeting people who were there that night.
Cutting-Edge Computer Proposal
By Janet Giles Andrus (BS '77), Sterling, VA
My husband of almost 43 years and I met in Econ 110 fall semester of 1976. He was "inspired" to ask me on a date after observing that I had scored higher on the midterm exam than he had.
We had a long (by BYU standards) courtship of almost a year, during which time we got to know each other well. He was patient with me as I worked toward finishing my degree and grappled with making my choice of an eternal companion.
This was a time when computer use was not widespread. My boyfriend was working on a cutting-edge "desk computer" that was actually the size of a desk. He also had to pay for computer time in a computer lab. He has always been a tech guy, so he decided to propose via computer. He wrote a program that I would interact with.
He took me on a "romantic date" to the computer lab in the basement of the JKB. The program went through a series of questions and then got to the big one: "Will you marry me?" My response was an inside joke between my husband and myself: "Can I have some time to think about it?" The computer's response: "I'm not programmed to accept that answer." It was persistent and asked again, and I responded, "YES."
The computer then "celebrated," (kind of like now when you get 10,000 steps on your step-counting device). How many people can say that they have a printout of their marriage proposal on tractor feed computer paper? I can!
Up a Creek
By Stephanie Smith Eliason (BA '91, MA '95), Springville, UT
In September 1989, while attending BYU, my boyfriend Eric A. Eliason (BA '92) and I drove up Hobble Creek Canyon in Springville, Utah. Somewhere past Cherry Campground, we crossed the creek on a fallen log and climbed onto a large boulder jutting out into the water.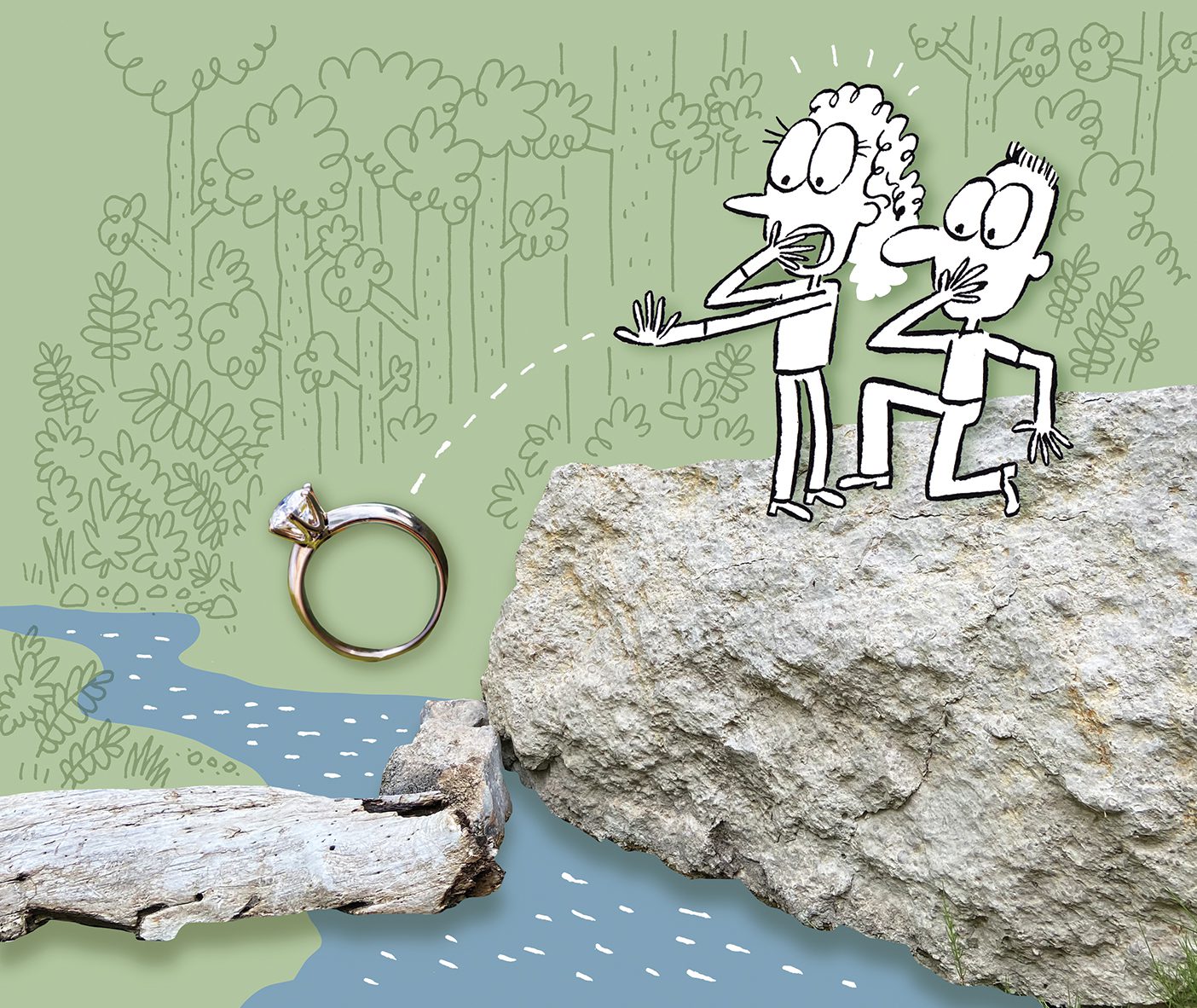 I was overjoyed when Eric got down on one knee and asked me to marry him. I said, "Yes!" and he took my hand to slide the ring onto my finger. I couldn't help but notice that the ring, which was designed with a distinct top and bottom, was upside down on my finger. Impulsively, I slid the ring off to turn it right side up. To my horror, it slipped out of my shaky fingers and into the water —PLOP! I immediately jumped in after the ring as my heart—which had been happily thumping with joy at the prospect of marrying my sweetheart—was now pounding in sheer terror.
I was sure that the ring had been swept down the creek with the current, but, miraculously, it had landed in a spot where the water was still and shallow next to the boulder I had just jumped from.
Thirty-one years later, I am still delighted to be married to Eric and to wear the same ring that was rescued from Hobble Creek.
Stars in Our Eyes
By Kareen Hursman Thornock (BA '92), Cleveland, TX
On Feb. 17, 1989, my boyfriend Kim E. Thornock (BA '91) and I went to the campus planetarium to see a program called Romance Under the Night Sky. Students read classic love poems like sonnets by Shakespeare over a microphone at a lectern with a small lamp. These were not literature majors. Their reading was labored. I wanted to relieve them and us of their suffering by volunteering to read, but I restrained myself.
The room was mostly dark. We in the audience were somewhat reclined to look up at the ceiling. I felt myself drifting off, which was welcome after a long week of classwork, homework, and other everyday work. I thought I heard my name as the title of one last poem, so I willed myself to wake. Kim was holding my hand. I felt him put something in my hand. I looked down, and he let go. It was a ring! The final line of the poem was, "What do ya say?"
I said, "Yes!" The lights came on, and we hugged with a happy audience (including two of my coworkers) surrounding us before we climbed up to the observatory on the roof. We were sealed in the Salt Lake Temple two and a half months later.
---
Call for Stories: The Quads Are Alive
Music is everywhere on the BYU campus. Students practice scales as they walk between classes. There are talent shows, rehearsals, musicals, impromptu outdoor jams, and congregations harmonizing hymns on Sundays. Have you been inspired by (or been a part of) a casual or official performance at BYU? Please share a music memory from your student years. Deadline: Sept. 10.
Y Magazine pays $50 for stories published in First Person. Send anecdotes of up to 300 words to firstperson@byu.edu. Submissions may be edited for length, grammar, appropriateness, and clarity.