As BYU Singers the Workman siblings work in concert to make beautiful music wherever they go.
As you unpack your last box, the doorbell rings. You open the door to find your new neighbors, who bear grins but not the usual plate of cookies. In perfect pitch and harmony, nine voices burst out, "We're singin' hi neighbor, hi neighbor. Whaddya know and whaddya say?"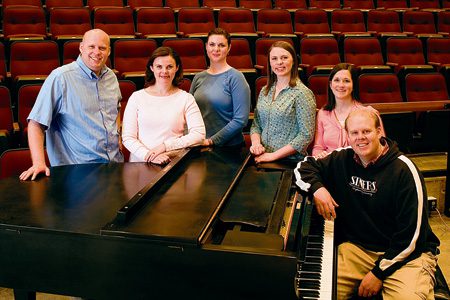 You may not know what to say, but to the Workmans the door approach is second, maybe even first, nature.
It all started in 1973. Performing in BYU's musical group Sounds of Freedom, Gayle Bush (BS '80) and Jim D. Workman (BS '80) began harmonizing together. They married, had seven children, and never stopped singing.
Now the Workman family of St. George, Utah, is carving a BYU legacy. Five Workman children have participated in BYU Singers, the university's elite choral performance group. Amy Workman Schmutz (BA '01) started the trend in 1996. Laura Workman ('06), fifth in the family, says hearing her sister perform was an "inspiration to a middle school student living in a world full of locker rooms and popularity contests."
This past year Laura and her siblings Tim (BA '03) and Emily ('08) participated in Singers together. Their brother Dan, who currently attends BYU evening classes, also sang with the group. The family combo set a record with four siblings in Singers at one time.
Not to be left out of the fun, Tim's wife, Saralyn Benson Workman ('07), joined the family in Singers as well.
The Workman children's love of music wasn't accidental. Tim, third oldest, remembers music as their creative mother's antidote for long summer road trips. "My mom would teach us music, and we would sit in the back seat with our ears plugged, trying to do our parts," Tim says. More sophisticated than chants of "Are we there yet?" barbershop strains synchronized in harmony over the roaring wheels on the desert road.
Laura remembers another car game: posting wars. Most kids hold their breath through tunnels, but the Workman children held a "post," or single note, barbershop style. Posting wars turned into hard and noisy competition.
The Workman kids graduated from road-trip chorale to school choir, voice lessons, and competitions—and not without acclaim. Tim sings with Reprise, an international collegiate champion barbershop quartet. Dan's jazz talent won the Jubilee of Trees Star Search in Southern Utah. In 2002 Laura won the National Foundation for Advancement in the Arts' youth award in jazz. Emily, youngest of the Workman BYU Singers, played the lead in her high school's 2003 production of The Music Man.
Even with so much talent under one roof, sibling rivalry is rarely an issue. "We're good cheerleaders for each other," Tim says. "We have all been spurred on by each other's success." And now that several Workman children are in Provo, they enjoy singing together again. Tim is arranging an uplifting, upbeat repertoire for a CD of combined sibling talent.
In the Workman family, music will be a career for some and a hobby for others. But this lyrical love will always unite the family. Laura says, "Music touches people in a way that nothing else can. It brings people together, just as it has my family."