---
By Charles D. Cranney, Associate Executive Editor
IT was summer 1978, and I was on the tour of my dreams–in Israel with the BYU A Cappella Choir. Early one morning our group traveled to the Dead Sea to float in the famed water. Afterwards in the shower and locker room, the men of the choir burst into singing a harmoniously rich arrangement of "Jerusalem, My Happy Home."
I'll always remember the look on the other visitors' faces (our audience) in that salt-air room–an awe-struck, motley bunch of men from across the world listening to surround sound live for the first time. (Though it is fun to solo in the shower, it is more fun shower singing with 32 of the university's finest men's voices!) We sang in many wonderful and prestigious places on that tour, even in the Duomo in Florence, Italy. But I remember the shower concert best.
Acoustics make such a difference. In the LDS culture, we've become used to muted buildings with noise-muffling tiles and acoustical sprays that dampen the sounds of crying children, shuffling feet, rustling paper–and, unfortunately, singing. So when you sing in church, you often feel like you're soloing, unless you happen to be sitting next to JoAnn Ottley.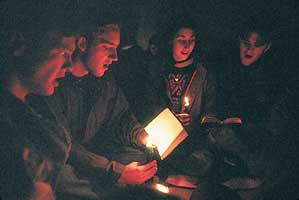 In the early 1970s, however, there was a grand edifice raised on campus that seemed destined for music. A serendipitous fluke of superb sound architecture, this common man's concert hall, made of cement and white paint at the end of two serpentine walkways, stood largely unused (musically speaking) for two decades. Most viewed it simply as a utilitarian tunnel just south of the Marriott Center.
True, when I passed through the tunnel as a student in the 70s, I noticed that it turned my casual talk into vibrant oratory. And some Kenny G or Pavorotti wanna-be may have dropped by on some deserted evening to experience the acoustical magic.
But it wasn't until 1990 that students discovered the true destiny of the tunnel when they started gathering there informally to sing hymns on Sunday nights.
In 1992 Mark D. Killingbeck, then a resident assistant in Deseret Towers Q Hall, helped organize what is now officially known as "tunnel singing."
The pattern established then has continued unabated. Each Sunday evening at 10 p.m., hundreds of students, mostly freshmen, go to the tunnel armed with hymnbooks, flashlights, and blankets (to sit on). After they all cram in as close to the middle as comfortably possible, an appointed maestro selects the hymns. Then for an hour the students lift up their voices in song and prayer. Surprisingly, the voices generally blend with just the right balance of parts, though the basses do sound especially sonorous in the tunnel.
As an occasional interloper, I've noticed that some are particularly moved when they first participate, never having sung so fervently with such a large group of believing peers. Since the tunnel is at the epicenter of on-campus freshman housing, at about half past the hour, the singing is suspended and everyone shouts, "It's that time again!" Those with newly received mission calls announce where they will be serving. In February and March, dozens step forward each week. Then the singing resumes.
This singing penetrates your soul. As these young students sing with reverberating faith, it rolls through you like canyon thunder. Two words, alleluia and hosannah, rise up in my soul.
Perhaps the most poignant singing time in the tunnel is Christmas. Before the students leave for home, they gather once more, often with candles instead of flashlights, and sing of the baby Jesus. I have wondered if this is like the angels singing to the shepherds 2,000 years ago. In the crisp winter air, the singers are all bundled up, feeling the warmth of being together as their frosted breath ascends to praise the God of our fathers.
The late Clyn D. Barrus, a BYU music professor, once shared with me the words of poet José Hernández, which seems to capture the feeling I had as we left our tunnel temple late one Sunday evening:
Singing I will have to die.
Singing they will have to bury me.
And singing I will have to arrive
At the feet of the eternal Father.
From the womb of my mother
I came into this world to sing.
Joseph Conrad once called music the "art of arts." And for many BYU students, there seems to be no better place to share and perform this art of arts than in the BYU tunnel–or perhaps on rare occasions in the men's shower at the Dead Sea.