---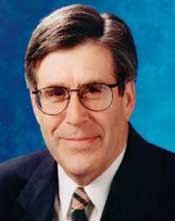 By Ryan Christensen
Though he spent 10 years leading some of the United States' largest toy companies, BYU alumnus Gary S. Baughman, 54, says toys aren't the focus of his career.
"I really don't see myself as a toy person," says the man who headed Little Tykes, then Tyco Toys, and finally Fisher-Price, Inc., before his retirement in April 1999. "I see myself more as a general manager with a great deal of experience in turning businesses around."
Baughman loves the challenge of helping a struggling business. "That has become my passion: taking a business that's struggling, studying the marketplace, the organization, the products, the systems, and then creating a business plan that leads the company back to profitable growth. To me that's the most exciting challenge in business. Turning a company around is not only good for the company, of course, but it's tremendously satisfying personally because you save people's jobs and thereby change lives for the better."
When he graduated from BYU in 1970 with an economics degree, however, Baughman had no idea what he wanted to do. After earning an MBA from the University of Michigan, he spent a year helping his father run a small business in Salt Lake City, then spent seven years in New York City before moving to Chicago, where he became president of the Stiffel Lamp Company. It was at Stiffel that he had his first opportunity to manage a struggling business. Turning companies around has been his first love in business ever since.
Baughman's first experience in the toy industry was as president of Little Tikes, where he led the company to a dramatic increase in sales and earnings. He then became CEO of Tyco Toys, where he made several successful changes that included the introduction of the popular Tickle Me Elmo product line.
When Tyco was acquired by Mattel, Baughman became CEO of Fisher-Price. Before retiring, Baughman guided the company's U.S. operating business back to profitability.
In addition to turnarounds, Baughman loves new product development. "I started my career in product development, and I have never lost my love of seeing new products come to market," he says. Even in toys, product development is a very scientific process, but for him there is something almost magical about it. "In the toy business, the products that ultimately win are those that somehow capture the imagination of children or their parents," he says.
Throughout his career, Baughman made sure not to neglect his family. He and his wife, Marilyn, '70, have four sons, two of whom are now students at BYU. "I made a decision a long time ago that I was going to enjoy my family and not shortchange them," he says.
It hasn't been easy. Three of his terms as company president have coincided with demanding Church leadership callings—he has twice been an LDS bishop and is still a stake president. That combination of responsibilities gave him, he says, "lots of learning experiences."
About his success in the business world, Baughman admits, "Some of it seemed like pure luck at the time. However, I believe that we are guided by the Lord to the right opportunities." In his speech at the Marriott School of Management's April 2000 convocation, Baughman outlined five attributes he considers essential in business: working successfully with other people, communicating well, becoming excellent at your job, taking well-thought-out risks, and—most of all—being passionate about what you do.
"If you can find a career you're passionate about, you're going to work harder, put in the hours, and do the things you need to do to be successful," he says.
"And if you love what you do," he adds, "it's infectious and people will want to follow you."