---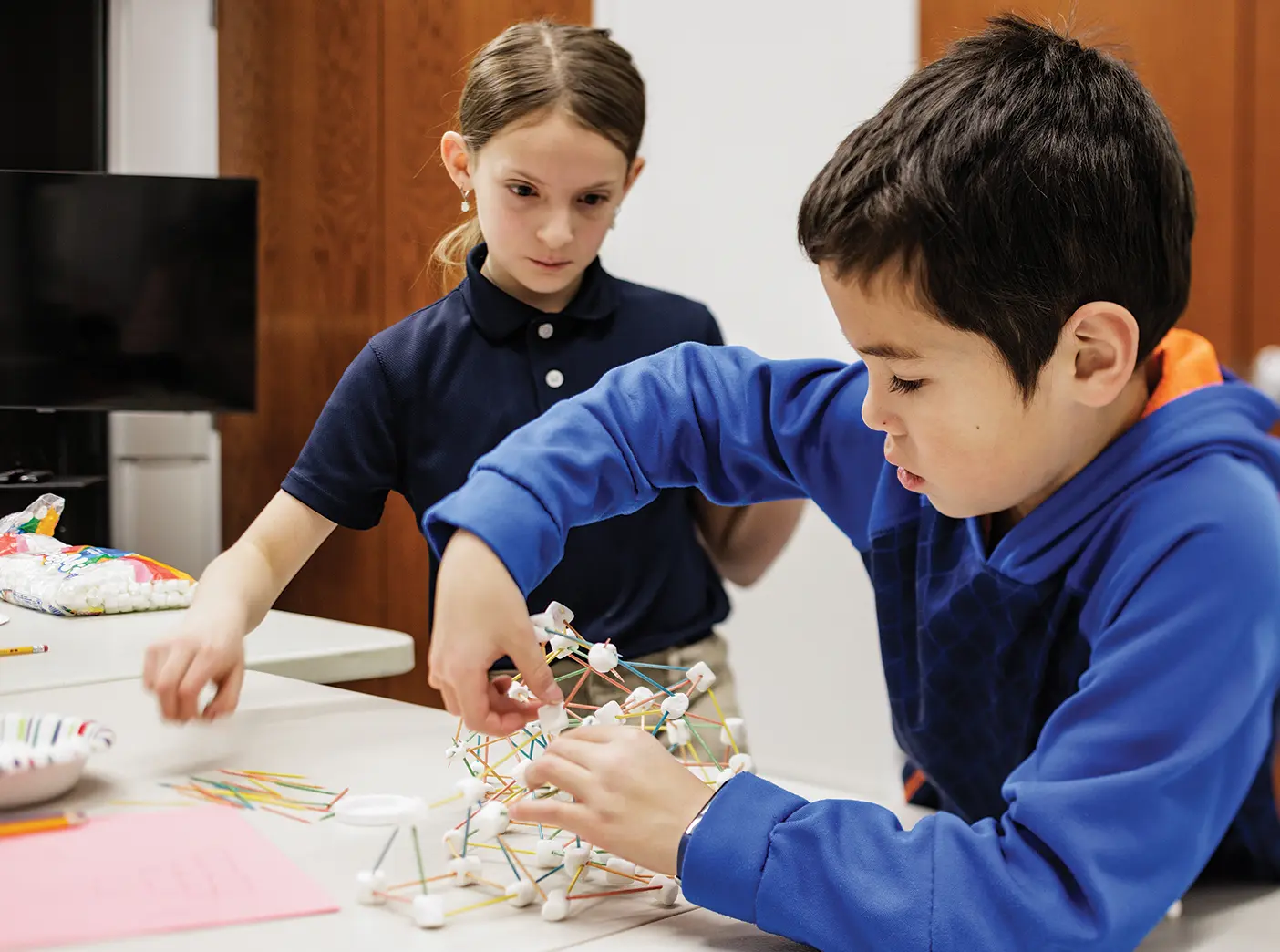 Hand stretched high and fingers wiggling, 10-year-old Victor makes himself heard above the chorus of voices. "When like, the snow on the mountain melts, it turns to water—and that water goes to the river," he explains, brimming with excitement as he goes on to clouds and evaporation and snowfall.
"That's awesome!" encourages Elizabeth Roberts Tagg ('23), a BYU education student sitting in front of a semicircle of children aged 4 to 10. Tonight at STEM Club they are learning about the water cycle.
"Where do you encounter water in your everyday life? asks Tagg, continuing the discussion. Little 4-year-old Victoria pipes up: "In the toilet!"
Victoria, Victor, and anywhere from five to fifteen other children from southwest Provo gather every week on Friday evenings to talk science, tech, engineering, and math at the South Franklin Community Center, operated by the United Way of Utah County to benefit underserved families in the neighborhood. With its floor-to-ceiling windows, the building is lit up like a fish tank on an otherwise dark street.
The club, started by the Gail S. Halvorsen Foundation and handed off to BYU's McKay School of Education in 2021, is student-led in more ways than one.
Elementary-education majors like Tagg learn how to teach—Tagg says it helps her with "science knowledge and feeling more confident"—and the children lead their own learning by choosing the topics.
Through lessons, games, and hands-on experiments, they've learned about rocks, dinosaurs, drones, space, and more—topics they wouldn't likely encounter at school until they are older. Said one young girl of her vote, "I picked human anatomy because I want to be a doctor."
The kids' vote on another occasion for agriculture was "surprising" says Ryan S. Nixon (MA '12), a BYU education professor who heads the project. But "a lot of the kids in the class have connections and family . . . from other places in the world," he adds. "So [they enjoyed] connecting that to where their food comes from and to their lives here."
Many of the children who attend come from low-income or English-learning families, factors shown to negatively impact achievement in STEM subjects. But as these young students get a taste of science every week, they set their eyes on the future.
"[My children] love this class," says mother Mayling Manzanilla. "My oldest, he said, 'Mommy, I love science. When I'm old, I want to be a scientist.'"