---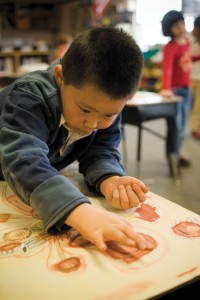 The demographics of the typical U.S. classroom are changing. Nearly 13 percent of U.S. students grades 3–12 are learning English as a second language, according to the 2009 Quality Counts survey conducted byEducation Week.
While 33 states have standards for English language learner (ELL) instruction, only three—Arizona, Florida, and New York—require prospective teachers to prove competence in teaching ELL students.
"A person with no training approaches the problem of teaching in quite the wrong way," says C. Ray Graham (BA '67), associate professor of teacher education. "They feel they're trained to teach history and not a foreign language, but the reality is that the kids need academic content while improving their English skills."
To combat these attitudes, the David O. McKay School of Education offers the Teaching English Language Learners (TELL) program and a new bilingual minor for education majors.
TELL is composed of six classes and a practicum, and each course is infused with video instruction showing current, real-world application of research principles in public schools. The videos teach strategies for helping ELL students progress in their grade learning level while still learning English and help teachers understand cultural differences.
The new bilingual minor, initiated in fall 2008, prepares teachers for dual-language immersion programs, in which native English speakers and native Spanish speakers are taught in both languages at different periods throughout the day or week. Nearly 40 schools in Utah will open such immersion programs this year in Spanish, Chinese, French, and Navajo. While Spanish is currently the only emphasis for bilingual education minors at BYU, the McKay School hopes to add other languages in the future.
Researchers hope the immersion program will decrease the dropout rate for immigrant students, which is currently two times higher than the dropout rate of native English-speaking students. Preliminary studies show native English-speaking students who participate in immersion programs do just as well academically, while also learning a second language.