---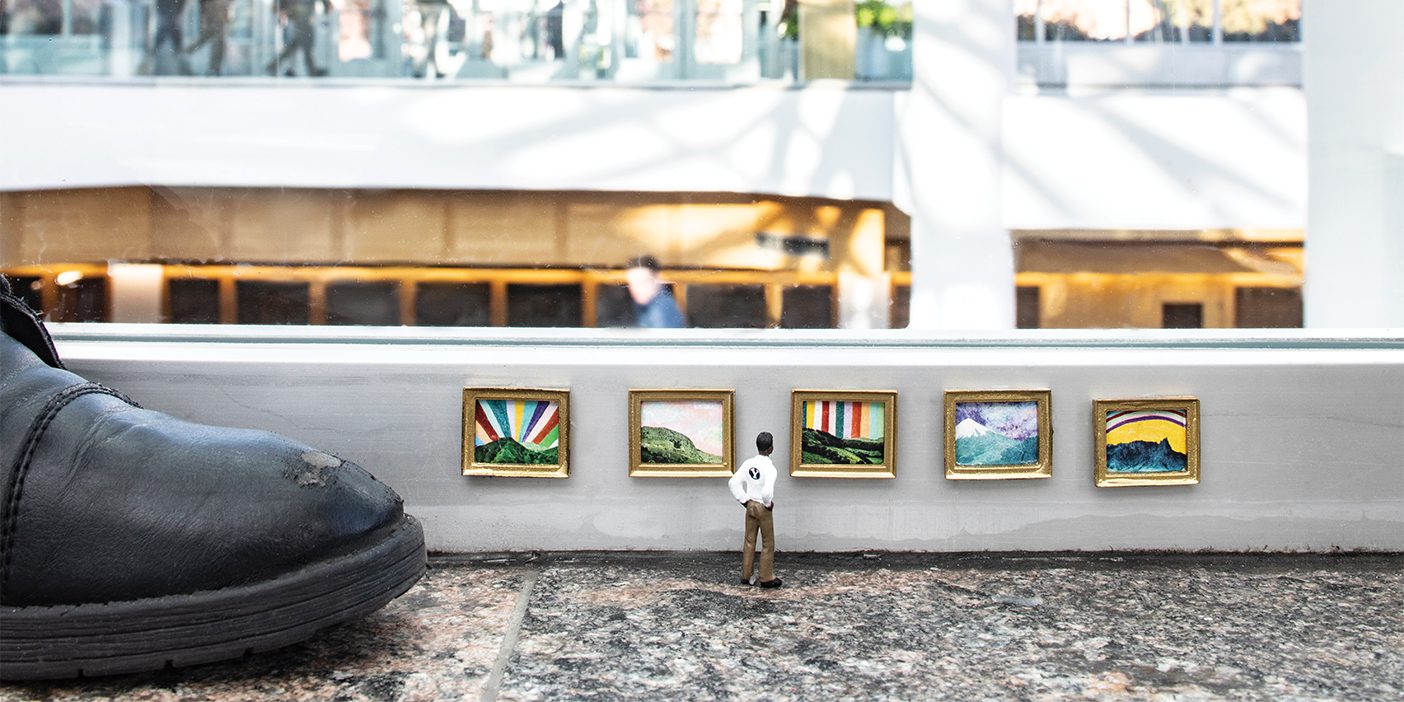 The Harold B. Lee Library had some unusual visitors in October. Just inside the east doorways, miniature patrons admired postage stamp–sized art in one of alumna McKay Lenker Bayer's (BA '18) latest Tiny Art Shows.
She held her first back in 2016 for a BYU art class, hanging self-made bitty art a few inches off the ground on Provo's Center Street. Bayer added the final touches—a tiny spotlight and magnifying glass—and staked out a spot to watch.
"I was amazed by the reaction—people squealed with joy, even lay down on the dirty sidewalk to get a good look," says Bayer.
She got an A—and the Tiny Art Show lives on. Since graduating, Bayer has installed 19 shows in museums, libraries, parks, and even buses. The high school art teacher leaves pop-up shows in cities from Las Vegas to Orlando, highlighting each installation on her 17,000-follower Instagram account, @tinyartshow. Each opening features tiny refreshments, from hot dogs to ice cream cones to s'mores; one even had face painting—mini rainbows on cheeks.
Sometimes she recreates famous works, like Seven Magic Mountains—the colorful stacked rock towers outside of Vegas. And almost every show is a collaboration; she recruits local artists to work on tiny palettes, like J. Kirk Richards (BA '99) for a December show.
Her vision: to make viewing art more accessible. "I found the art world completely intimidating," she says. "There is so much to look at, so much jargon and knowledge you need to have to 'get' the artwork." For her tiny art, "you don't have to get invited to a fancy gallery opening or buy tickets. . . . It's meant to be stumbled upon."