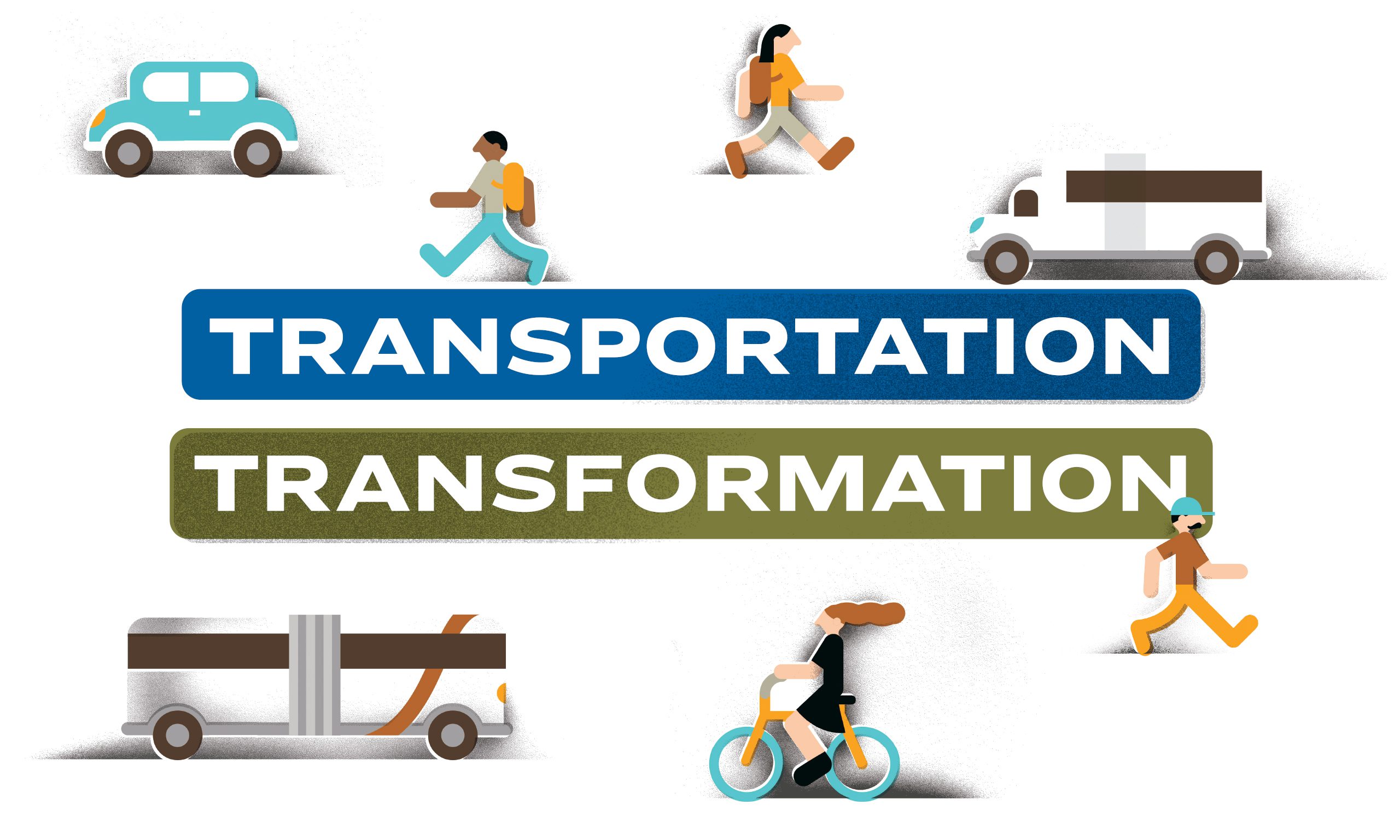 Step-by-step, a quiet commuting revolution is taking place on campus and in Provo.
---
By Peter B. Gardner (BA '98, MA '04) in the Winter 2020 Issue
Photography by Bradley H. Slade (BFA '94); Illustrations by Andrew Collin Beck (BFA '13)
BYU's hometown is used to receiving accolades as a great place to live, raise a family, launch a startup. But in one study released in November by MagnifyMoney, the Provo metro area garnered a less-enviable designation as a high per-household CO₂ contributor back in 2017. It came down to many cars driven many miles and very few public-transit users (2 percent of residents).
Though she questioned aspects of the study's methodology, in a Salt Lake Tribune op-ed Provo mayor Michelle Garrick Kaufusi (BS '16) acknowledged the need to clear the air along the Wasatch Front. "Utah is too beautiful," she declared, "to be cloaked in smog." It's an apt description. The murkier the skies get during each midwinter inversion, the clearer Happy Valley's pollution problem becomes.
But even before 2017, Provo and BYU had been working to turn that all around. It's a quiet transformation that's happened in many stages and steps—all with the goal of making it safer, cheaper, and more efficient to leave the car at home (or on the dealership lot) and ride-share, bike, or just hoof it around campus and town. You see the shift in newly designated bike-share lanes on Campus Drive, in electric scooters zipping down University Ave., and most clearly in the new Utah Valley Express (UVX) bus line, an innovative system that wraps around campus and connects to intermodal hubs, taking more than 5,000 cars off of Provo-Orem roadways every workday.
These changes, along with other strategies BYU and Provo continue to evaluate, combine to counter a trio of troubles—pollution, congestion, and parking scarcity. And they give the campus community new alternatives to driving. As BYU president Kevin J Worthen (BA '79, JD '82) noted last January, UVX and other options can now take students just about anywhere on the Wasatch Front: "We can tell parents you don't need a car at BYU."
Send comments on this article to magazine@byu.edu.
New Options All over the Map
With a campus community of nearly 40,000 students, faculty, and staff (never mind visitors) on campus on the average school day, you'd have to stack the cars more than two deep in the available parking spaces if everyone drove. Fortunately, today BYU and the community offer an array of new options to get to and from campus, around town, and—with public-transportation connections to Salt Lake City and its airport—pretty much anywhere else.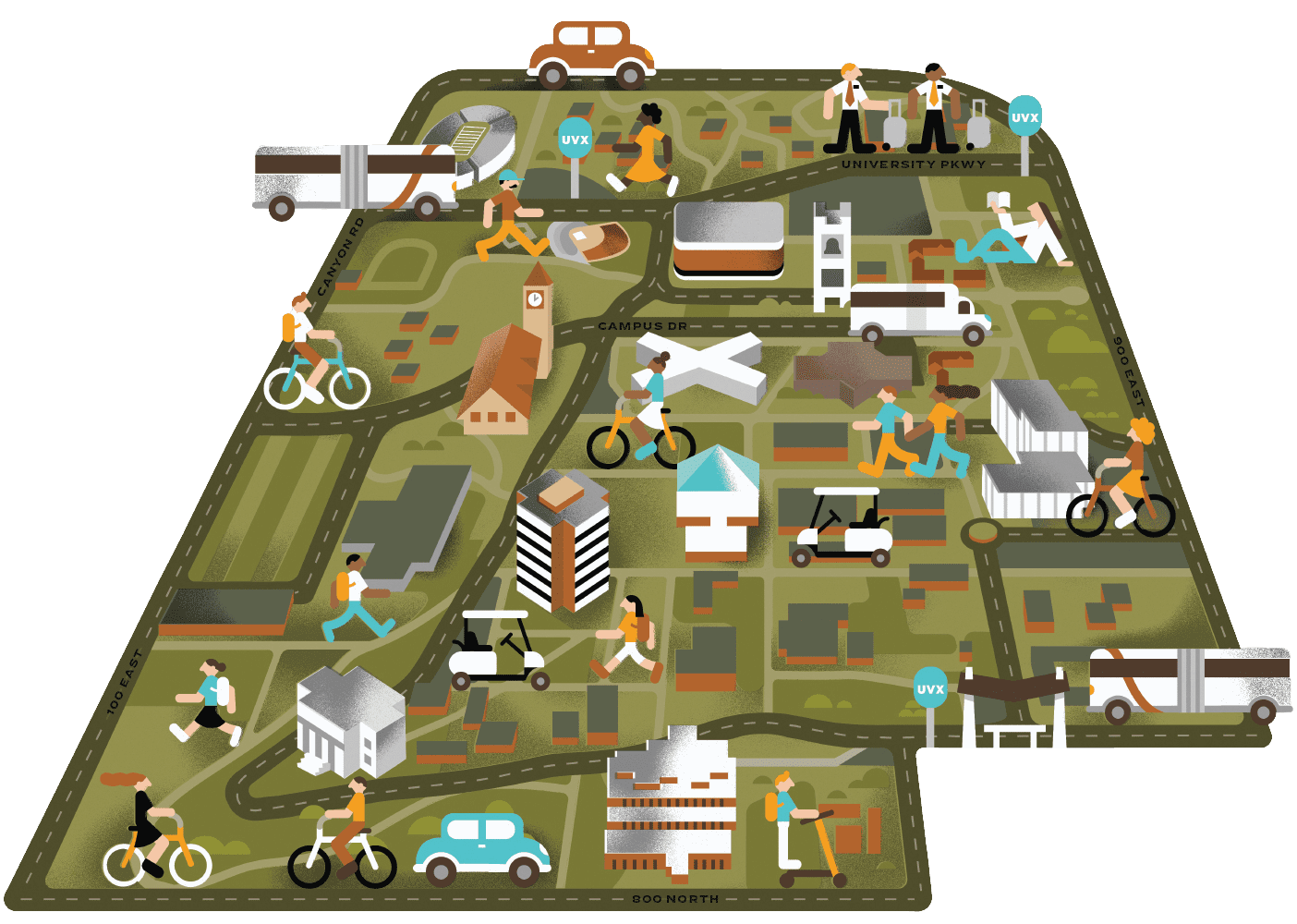 On BYU's 144th birthday in October, Provo mayor Michelle Kaufusi announced a new name for 1230 North, the road running into campus's west entrance. Long known as Bulldog Blvd. after the Provo High mascot, the moniker made less sense after the high school relocated in 2018 following BYU's purchase of its campus.
So as workers wrapped up safety improvements to the once-dangerous route—including concrete medians and protected bike lanes—a species change seemed fitting, and the street was renamed Cougar Blvd. BYU later extended the name all the way up onto campus.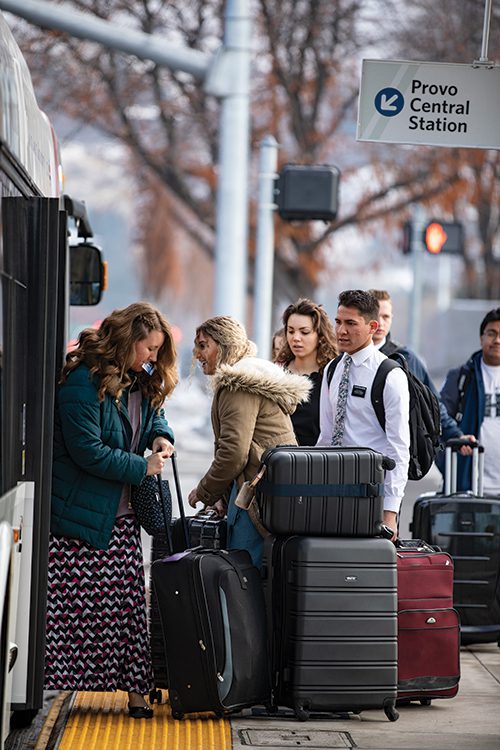 First-Transfer Transportation
As they leave the MTC to their fields of labor, full-time missionaries now take a combination of public-transportation lines—bus, rail, and light rail, all the way to the Salt Lake City Airport.
Power to the Peds
In 2015 BYU replaced a portion of North Campus Drive, formerly a dangerous route cutting through campus, with safer sidewalks and a pedestrian plaza connecting student housing with central campus.
Ticket to Ryde
In 2011 BYU seniors Jacob C. Luekenga (BS '13) and Kevin K. Smith (BS '12) worked with BYU to launch a service shuttling students between major apartment complexes and the heart of campus. BYU eventually made the service, called the Ryde, free to anyone with a BYU ID. Today the Ryde features six lines spoking out from campus. On Saturdays, the Ryde even offers grocery runs to Macey's.
Scooting to Campus
In a one-year trial, Provo featured 200 Spin e-scooters on city streets beginning in August. Not allowed on BYU roads or sidewalks, the shared electric wheels have proven to be a popular method of zipping students around town.
Yield to the Two-Wheelers
With input from BYU's Bike Committee, campus now sports bike-sharing lanes, approximately 5,000 bike-parking spaces, and a handful of bike-repair stations with tools and air. (See locations at bike.byu.edu.) And interior campus roads have been reduced from 25 to 15 mph, increasing safety.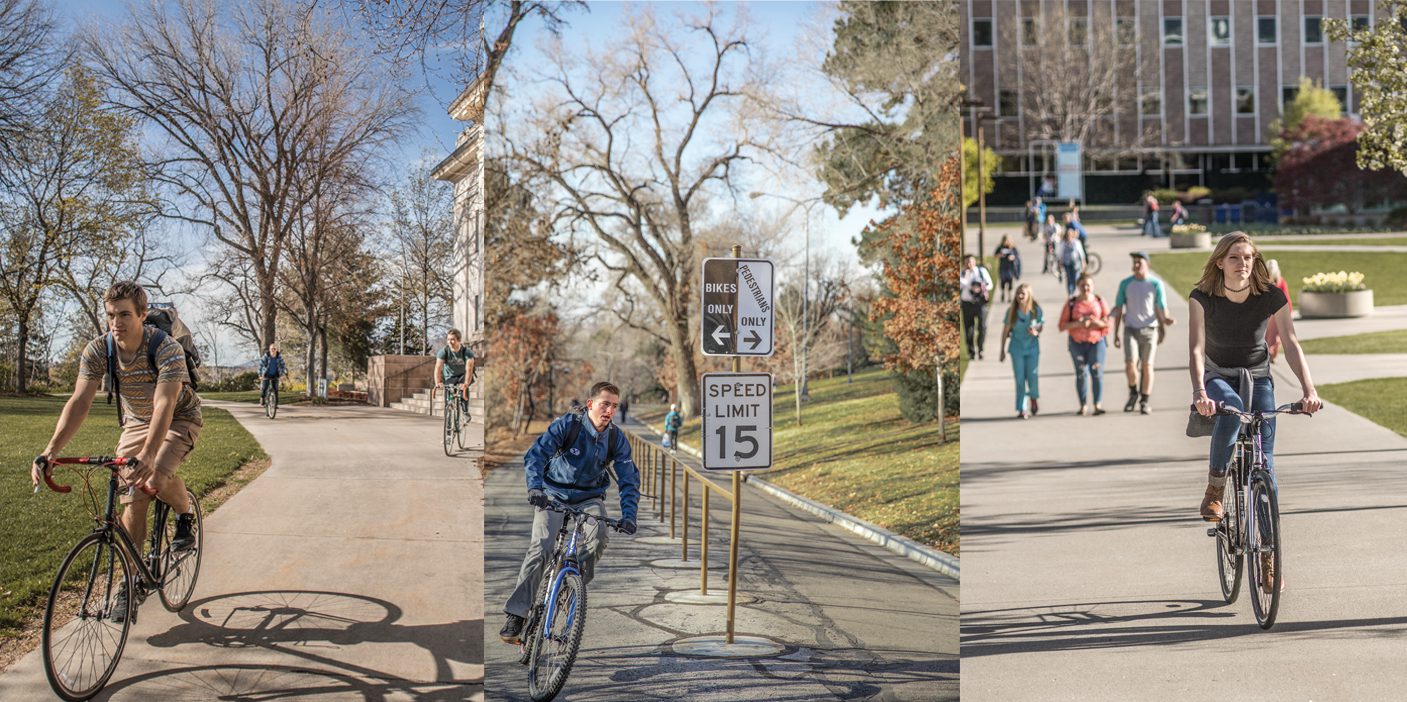 In the Express Lane
Riding the bus: it's one of those things that just about everybody in Provo knew they probably should be doing but found just too inconvenient or time-consuming to actually do with any regularity. That is, until August 2018, when Utah Transit Authority (UTA) launched the innovative Utah Valley Express (UVX) bus route, which snakes through Provo and Orem, connecting two FrontRunner train stations, BYU, Utah Valley University, downtown Provo, and two major malls. "It's changed the whole conversation about transit in Utah County," says Mary De La Mare-Schaefer (BS '78, MOB '81), UTA's regional general manager for Utah County.
Arriving every six minutes during peak times, the extra-long articulated (or hinged) diesel-electric hybrid buses have been a hit. Just one year after launching, UVX is accommodating more than 12,000 weekday boardings (10,000 more than the route it replaced), making it UTA's busiest bus route.
Approximately 40 percent of those riders are coming from BYU, which in 2018 announced a 10-year contract that gave every student, employee, and even their immediate family members free access to all of UTA's services, including FrontRunner trains, TRAX light rail, and buses. In the first year BYU-related ridership amounted to just over 1.5 million boardings on all modes.
"The students just took to it so quickly. It's . . . astounding to us," says De La Mare-Schaefer. "We really are enjoying our relationship with BYU. Clearly, BYU's commitment is to reduce vehicle traffic in the area, and that's positive for everybody in the community."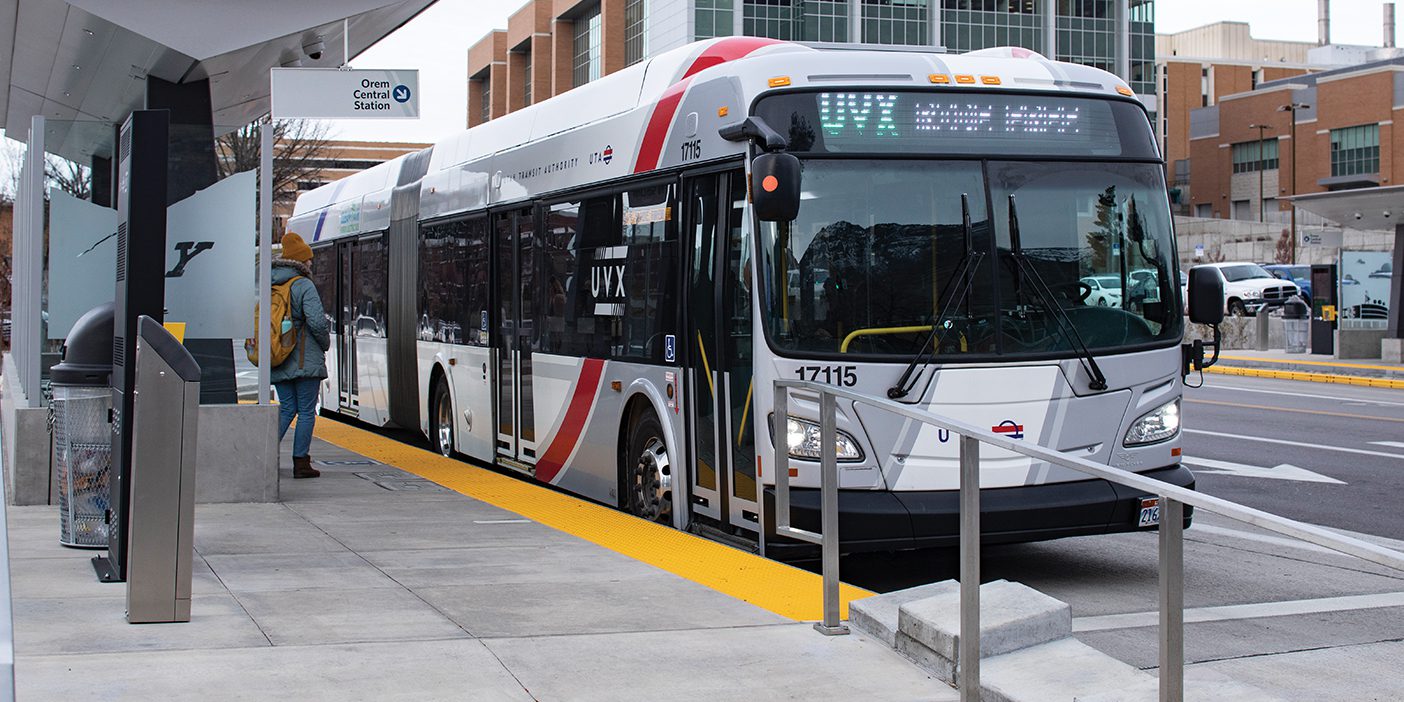 Other Changes
• In 2019 Provo received a $750,000 grant to install electric charging stations throughout the city.
• BYU has incentivized shared transportation by making shuttle and UTA services free while increasing the fees for student parking permits.
• Before UVX, a UTA shuttle service delivered an average of 300 fans to LaVell Edwards Stadium for football games. UVX now transports more than 5,000 per game.
• New sidewalk and bike lanes were added north of the Hinckley Center in 2015 as part of redesign of Campus Drive.
• A fleet of 10 electric golf carts provides campus tours for some 19,000 visitors each year.
• In 2013 the old Wilk Ride Board went digital as BYU introduced a partnership with Enterprise's Zimride service to help students ride share.
• Amid construction projects BYU widened sidewalks along 9th East to accommodate bike and pedestrian traffic.
BYU Biker Dude
On the average school day, thousands of BYU employees and students opt for a two-wheel commute to campus. But BYU Broadcasting managing director Michael A. Dunn stands out. From his front door in Holladay, Utah, to his office, it's a 48-mile ride. He departs at 5 a.m. for the three-hour commute, which he undertakes a few times each week except during the gnarliest months of winter. Coming home, he uses his BYU UTA pass to hop on the FrontRunner train, which takes him as far as Murray.
"I have always loved biking ever since my first Schwinn Stingray, which I rode as a little kid," he says. "Riding in the morning when the roads are quiet and a new day is dawning is always exhilarating."
He says he also values the time it gives him to multitask, combining exercise, commuting, and quiet time to plan his day: "I also listen to scriptures, podcasts, books, and, of course, BYUradio ."