---
At Homecoming 2012 BYU recognized eight alumni and friends for distinguished service.
Bob and Cindy Wakefield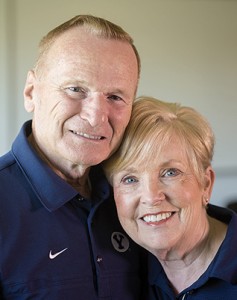 Honorary Alumni Award
As full-time volunteer service representatives for BYU, Iowa natives Robert H. and Cynthia Montandon Wakefield have spent nearly a decade providing BYU student athletes with opportunities to serve, arranging more than 250 occasions each year. Among other service the Wakefields have coordinated, athletes give pregame firesides during football season, with the players providing talks, prayers, and musical numbers. In the Buff Don't Puff program, athletes teach elementary school children not to smoke, as well as to eat properly, exercise well, and get sufficient rest.
The Wakefields were given the opportunity to work in BYU athletics after Bob visited K. Fred Skousen (BS '65), then BYU's advancement vice president and former dean of the Marriott School. Bob wanted to join the business faculty as a volunteer adjunct professor. Skousen agreed with the idea but also suggested another option—in athletics.
"He said I should speak with my wife before making a decision, but I've always been a big sports fan of BYU, and I suppose I exercised a little unrighteous dominion," Bob says. "I said yes immediately. Cindy quickly became a fan, too."
The Wakefields accepted the position soon after Bob retired from a business career of 35 years and military service of more than 34 years. He had been president and CEO of Midland Cooperatives and chair of the board for Energy Cooperatives—both Fortune 500 companies.
"Our service has been and continues to be a labor of love," Bob says. His wife concurs, adding, "It is keeping us young. . . . It has given me a reason to jump out of bed early each morning. I love the students. It's like a magnet of affection, respect, and eternal friendship. We like to say that besides our 13 biological grandchildren, we have an additional 600-plus grandchildren we call our own."
—Charlene Renberg Winters (BA '73, MA '96)
L. Gordon Carter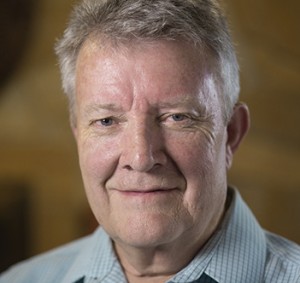 Distinguished Service Award
After L. Gordon Carter (BS '65) and his wife, Susan Blake Carter ('67), retrieved their son from his mission in Ecuador more than 20 years ago, they couldn't forget the intense poverty they observed there.
Determined to make a difference, they offered assistance to a foundation in Salt Lake City and completed three service expeditions before deciding to create their own charity. From their home in Twin Falls, Idaho, they developed Charity Anywhere—an apt name for an organization that serves across the world.
"We began by going to Mexico and building small homes," Gordon explains. "Then we expanded into Ecuador and arranged for medical and dental work." They have also helped in Guatemala, Peru, the Dominican Republic, and Senegal.
Gordon is especially pleased about a project in Guatemala. Many mothers there work without adequate childcare. After learning that two children died in a house fire after being left home while their mother worked, a Charity Anywhere volunteer in high school marshaled volunteers in her hometown of Centerville, Utah, and returned to Guatemala to build a daycare center. "At any one time, we have 20 to 24 mothers bring their children to the center so they can return to their jobs," Gordon adds.
The Carters have pulled weeds, given dental fluoride treatments, created kitchen gardens, provided food, installed drywall, painted, offered meal supplements for malnourished mothers and children, and much more.
Additionally, the Carters look for ways to serve stateside. They have provided toiletries to two Utah shelters for abused women and children and have helped senior citizens make quilts for developing countries.
"We all like to feel validated," Gordon says, "and our seniors feel enhanced self-worth because they are doing something that really matters."
—Charlene Renberg Winters (BA '73, MA '96)

Bruce L. Olsen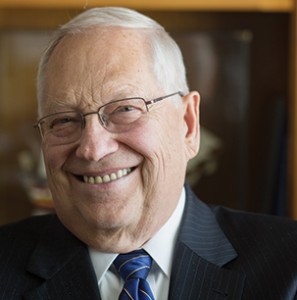 Distinguished Service Award
BYU has been a vital part of Bruce L. Olsen's (BS '63, MA '65) life since the 1960s.
"BYU has been the essence of how I have lived and experienced the world," says the former director of Church Public Affairs. Olsen met his wife, Christine Payne (BS '67), at BYU, and as a student he became editor of the Daily Universe one year and student body president the next.
Later, as a BYU administrator, he worked on major public relations projects and introduced the scholarship named for the President of The Church of Jesus Christ of Latter-day Saints. Olsen later became an assistant dean and an assistant to Presidents Dallin H. Oaks (BS '54) and Jeffrey R. Holland (BS '65, MA '66).
"I had some grand experiences with those great men, who helped shape my understanding of administration and, of course, the deeper meanings of living the gospel," he says.
In the early 1980s Olsen served as a mission president in Boston. Upon returning to BYU, he joined the communications faculty and later became the director of Church Public Affairs. He kept his finger on the pulse of BYU as a member of the alumni board for eight years, serving as president of the board for six months before being called as president of the San Diego Temple.
During the 2002 Winter Olympics, Olsen says, "I took many people to see President Hinckley—that included presidents of many countries. People were impressed and believed they had met one of the brightest men in the world. They had."
Olsen says, "I should be a lot better man than I am because of my association with the General Authorities. I [have] had many choice and sweet experiences. There were times when I heard the Brethren pray that I did not dare open my eyes because I thought the Savior might be standing there."
—Charlene Renberg Winters (BA '73, MA '96)

Benjamin J. Rodriguez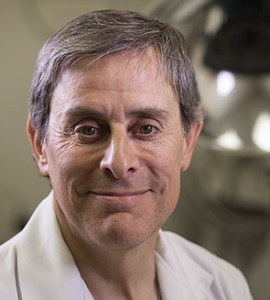 Distinguished Service Award
For more than 20 years reconstructive plastic surgeon Benjamin J. Rodriguez ('75) has traveled dozens of times to developing countries on charity medical missions. Many patients linger in his memory, but few have been as memorable as Lucy, a 40-year-old mother who had been severely burned in her native Bolivia.
"Her hands were fused straight, and she could not flex or extend her fingers," Rodriguez says. "Her mouth and eyes were burned open, but she didn't mention those. She just wanted her hands fixed so she could care for her family."
As the only Spanish-speaking member of the team, Rodriguez had to tell Lucy that it would take hundreds of hours and multiple operations to get them functional.
"We simply could not help her," he says, tearing up as he recalls the conversation. "As a consolation, I said we could help her close her eyes. When she said she would like to be able to drink liquids again, I realized that with her mouth fused open, she had not been able to drink liquids normally since her injuries. I grafted skin onto her lips and eyes. She could swallow again, and she could shut her eyelids and not lose her sight."
Rodriguez, who is vice president of the Nevada State Board of Medical Examiners, says he chose plastic surgery for his career because it is the specialty where doctors are trained to operate on the human body from head to toe. He also likes using cosmetic surgery to help patients who come to his Las Vegas clinic achieve results they could not get on their own. But his work repairing cleft lips and palates, third-degree burns, scars, and other deformities gives his career an added dimension. "These operations literally change lives," he says.
—Charlene Renberg Winters (BA '73, MA '96)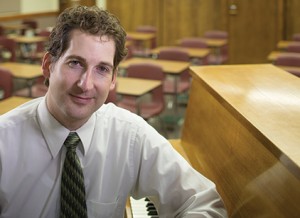 Dallyn V. Bayles
Young Alumni Distinguished Service Award
When Dallyn V. Bayles (BFA '04) first began doing musical theater in a small high school in Green River, Utah, his goal was to simply be part of the production. But when his drama teacher, Jessica J. Jenkins (BA '73), took him to a Capitol Theatre production of Les Miserables in Salt Lake City, he was so "blown away" that he began to envision a career in the fine arts.
"I wanted to know how they could sing and dance like that," he says. "It moved me so emotionally that I decided I would channel my talents and do everything I could to develop myself in that area. It led to my attending BYU, performing with Young Ambassadors, and majoring in music dance theatre."
Bayles eventually landed roles in national tours with The Phantom of the Opera and Les Miserables and a role in the China premiere of Les Miserables. He performed in Children of Eden at the Beckett Theatre in New York and has done regional theater in several states.
He especially appreciates his opportunity to work with the Church in stage and film productions. "I have always considered my talents to be gifts from God, and I have desired to use them in ways that would please Him," he explains. "Being part of productions like the Joseph Smith: The Prophet of the Restoration film [as Hyrum Smith] and the Nauvoo Pageant [as Joseph Smith] were ways in which I was able to directly use my talents for the building up of the kingdom of God. These have become some of the most treasured performing experiences of my career, both professionally and spiritually. In my own way I've tried to continue with this effort by recording albums and performing in concerts that contain spiritually uplifting songs that allow me to share my personal testimony."
—Charlene Renberg Winters (BA '73, MA '96)

J. Glade and Carol R. Soelberg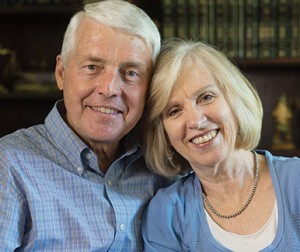 Service to Family Award
When J. Glade Soelberg (BA '69, MA '71) attended Ricks College, he heard an attractive young woman bear her testimony nearly every fast Sunday that she wanted a dozen children.
"That scared me to death, so I never dared ask her on a date," he says. Instead, he married Carol Ray (BS '69), whom he met at BYU, and they eventually had 13 children.
"I always thought it would be nice to have six children, because dinnerware typically comes in sets of eight," Carol laughs. After she visited her dying grandmother, however, Carol decided it might be nice to remove the limit on her family size. "I had my three little ones with me, and we thanked her for the sweet influence she had been in our lives. She looked at me and said, 'You just keep having children, and from heaven I'll keep picking out the very best.'
"I think she must have done that, and our greatest joy is watching our children excel and live righteously," Carol says.
Eleven of the Soelberg's children have attended BYU, and their youngest is still at home. The couple, who received the Arizona Parents of the Year honor in 2005 and the National Parents of the Year award in 2006, had a tutoring system in their home where an older child helped with the care and needs of a younger child.
"Our responsibility," Glade says, "has been to create an atmosphere in the home where our children could realize their worth as children of God."
Carol, who received the Arizona Mother of the Year award in 2010, is president of United Families International, which works through the United Nations to advocate for treaties and documents that support the family around the world.
—Charlene Renberg Winters (BA '73, MA '96)