Serving through music, an alum shares patriotism and solace.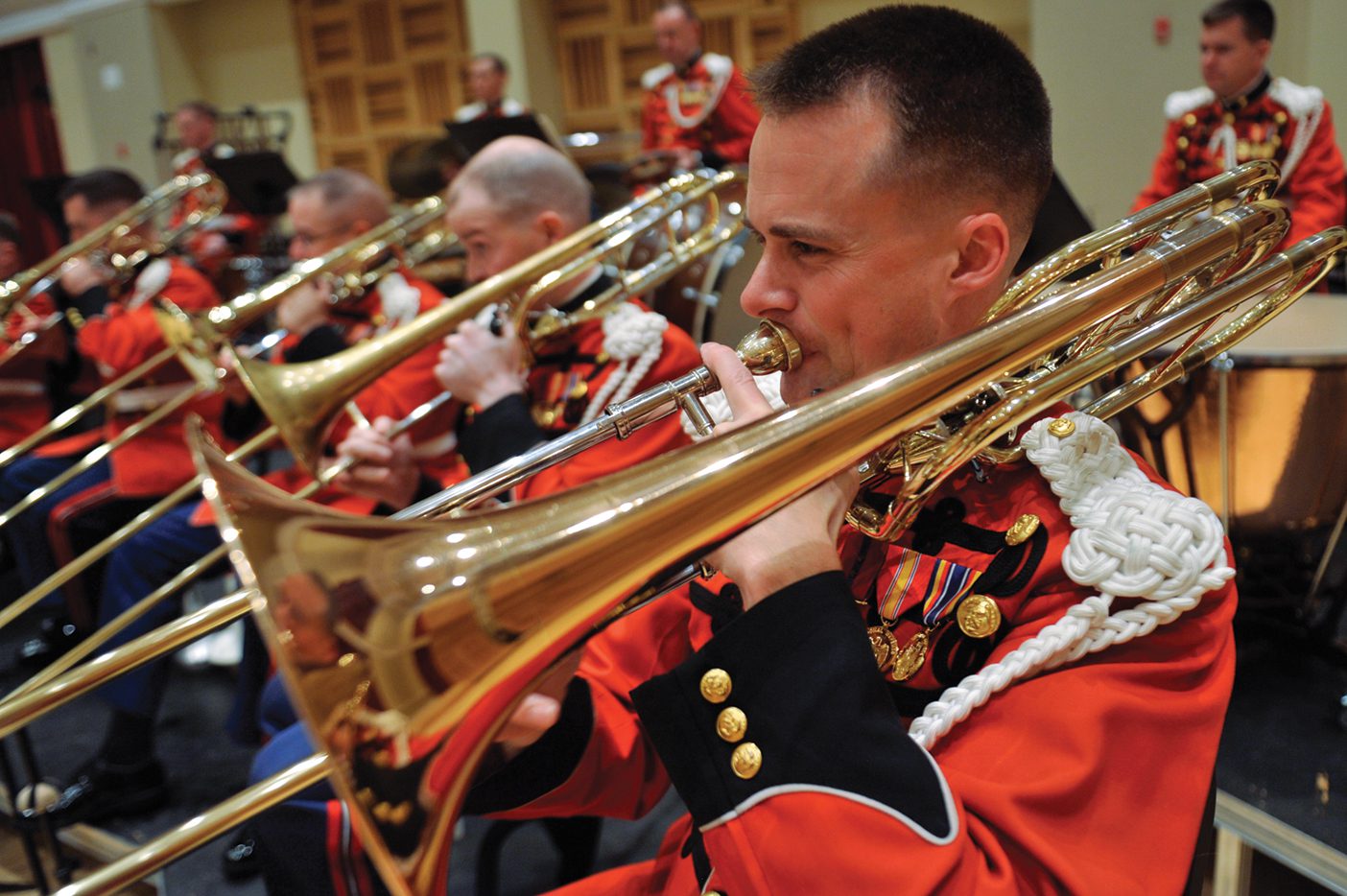 It was a quiet winter day in Washington, except for patriotic music from the steps of the Capitol Building. Quiet, at least, for the day of a presidential inauguration. Fewer than 1,000 people gathered on the west front of the US Capitol—a number many times smaller than the attendance of previous inaugurations.
The meager crowd huddled in the cold was a sign of deeper troubles. A pandemic had taken the lives of several hundred thousand Americans, and, just two weeks before, a raid on the US Capitol had threatened a peaceful transition of power.
As trombonist Karl P. Johnson (BMu '98) and his fellow members of the United States Marine Band took to the stage on Jan. 20, 2021, their medley of patriotic songs replaced the somber silence with a bit of hope.
It was the sixth inaugural performance for Johnson, who has performed with "The President's Own" United States Marine Band for 21 years, warming audiences large and small with patriotic songs.
Johnson's musical career took flight during his undergraduate years at BYU, where he performed with Synthesis, the Chamber Orchestra, and the Concert Orchestra. With Synthesis, he traveled across Europe on monthlong trips, performing for enthusiastic audiences in a variety of countries and bearing his testimony in ward firesides. "Those trips cemented my desire to perform for a living," Johnson says.
Johnson's experience learning from musical masters like Daniel F. Bachelder (PhD '76) and C. Raymond Smith (BMu '75) in Provo prepared him to continue his education at Juilliard. "I left Provo knowing who I was as a person and what I wanted to accomplish in my professional life," says Johnson. His time at Juilliard fine-tuned his abilities and helped him be competitive at a national audition—which led to his joining "The President's Own" United States Marine Band.
In two decades with the band, Johnson has regularly played at the White House for presidents and dignitaries from around the globe. Yet Johnson says his most profound experiences with the band have been when playing for the families of fallen soldiers at the Arlington National Cemetery. "While playing for the families of these heroes—the devastated spouses, their children, parents, and other family members—the cost of the freedoms that US citizens enjoy becomes very real," says Johnson.
"I love our country and feel very fortunate to play the music of our country while wearing the emblems of the US Marine Corps," says Johnson.
---
SERVICE STORIES
In Going Forth Y Magazine shares stories of alumni making the world a better place by serving in their communities, congregations, and homes. Let us know when you see an alum going about doing good. Send your nominations (and any photos) to alumninews@byu.edu.