---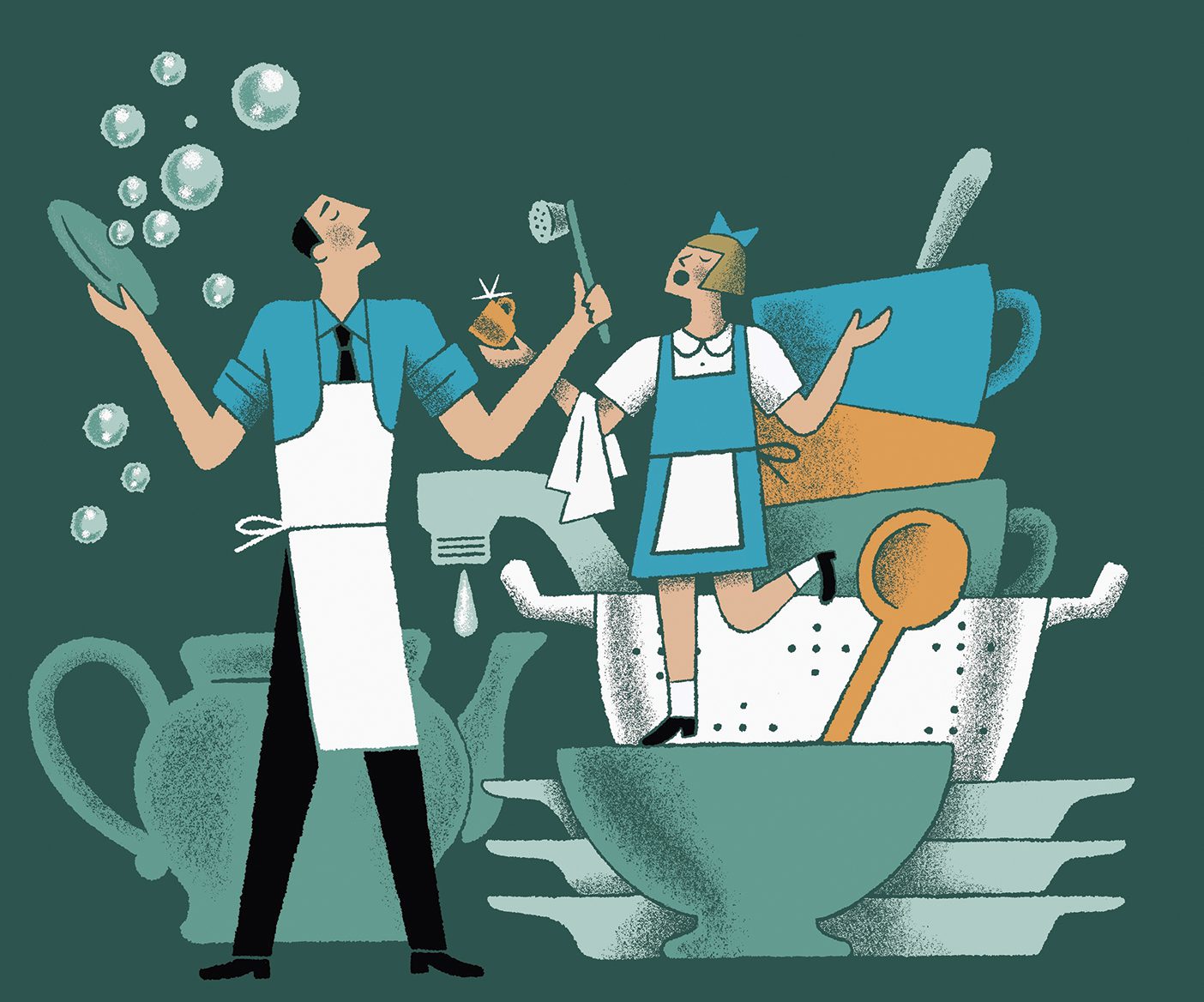 To my sister and me, Dad was our real-life Lem Siddons, legendary Scoutmaster of Disney's Follow Me, Boys! fame. With dozens of "older brothers," we soon learned that Dad's most powerful and unlikely disciplinary tool for Scout leading was his arsenal of songs. Belting one outlandish tune tamed the rowdiest of teens.
Dad's multifaceted wheelhouse extended to our 1960s homelife too. Though socialite Josephine Cochrane unveiled her automatic dishwasher at the 1893 Chicago World's Fair, it did not become mainstream in these parts until this human dishwasher was well into my teens. When Dad was not on Scout duty, he rallied his little troop at home for the chore of after-dinner cleanup.
Most evenings I eagerly claimed the spot next to Dad on the right side of our kitchen sink. White dry dishtowel ready, I received hot dripping bowls, bread knives, and baking dishes bucket-brigade style from Dad's large soapy hand.
It turned out Scouts were not the only ones Dad could lead in song. When we weren't listening to the CBS Radio Mystery Theater, Dad transported us from the mundane to the magical as we crooned campfire favorites. "Comet, it makes your teeth turn green!" and "The other day I met a bear" come readily to mind.
When Dad took requests, I opted out of the Scout repertoire and chose my personal favorite, "White Coral Bells," a beautiful duet Dad learned as a child from his mother. The song carried me away to images of a beautiful garden lined with lilies of the valley where small fairies dressed in green taffeta played the white "bells upon a slender stalk." I watched them in my mind's eye as our voices cascaded up and down the notes. We worked seamlessly through stacks of dirty plates, pots, and pans as we sang our duet again and again.
How could we have known that investment would reward us nearly 50 years later? On a somber day last September, we received the dreadful diagnosis: Dad's body was riddled with cancer. His decline was unexpected and rapid. Our strong Scoutmaster was suddenly weak, disoriented, and suffering.
Dad returned home to await hospice care, and I volunteered to stay the night so Mom could try for a few hours of sleep. At 12:30 a.m. I sat near the edge of the bed, where Dad did not complain but writhed in pain. A flood of memories filled my heavy heart as a light from the hallway dimly lit the room. Tears flowed freely, and the lump in my throat made it difficult to finally squeak out the words, "What shall we do, Dad?"
Wrestling with his blanket for an elusive moment of comfort, he said, "Play it, Shaun!"
Confused at first, I quickly realized Dad must be thinking of the countless hours he patiently listened to my piano practicing for years on end. I bought our family piano years ago, but an unexpected thought came, and I said, "We don't have the piano here, Dad, but we could sing." "Yes, sing!" he exclaimed through soft moans. I prayed for composure and the wherewithal to sing.
Miraculously, I felt as if we stood once again at our kitchen sink. My mind recalled the words of "White Coral Bells." Between quiet sobs, I sang. Much to my surprise and utter joy, Dad, through labored breath, sang every word with me: "Oh, how I wish, that I might hear them ring! That will happen only when the fairies sing." The song was sweet and comforting. For a fleeting instant, taffeta-attired fairies danced through my mind as they sang near dainty white flowers. "Sing it again, Shaun!" Dad mumbled. I took hold of his right hand, the one that had tied every Scout knot and sunk into hot sudsy water time and again in a tiny kitchen five decades ago. His investment then elevated and armed us to bask in a few final tender moments during one of the hardest tasks of all.
The next day Dad was incoherent, and four days later he left us. Oh, how I wish that I could hear him sing again. Thankfully, that happens now every time I stand at my kitchen sink.
---
SHARE A FAMILY STORY
In Letters from Home Y Magazine publishes essays by alumni about family-life experiences—as parents, spouses, grandparents, children. Essays should be 700 words and written in first-person voice. Y Magazine will pay $350 for essays published in Letters from Home. Send submissions to lettersfromhome@byu.edu.