---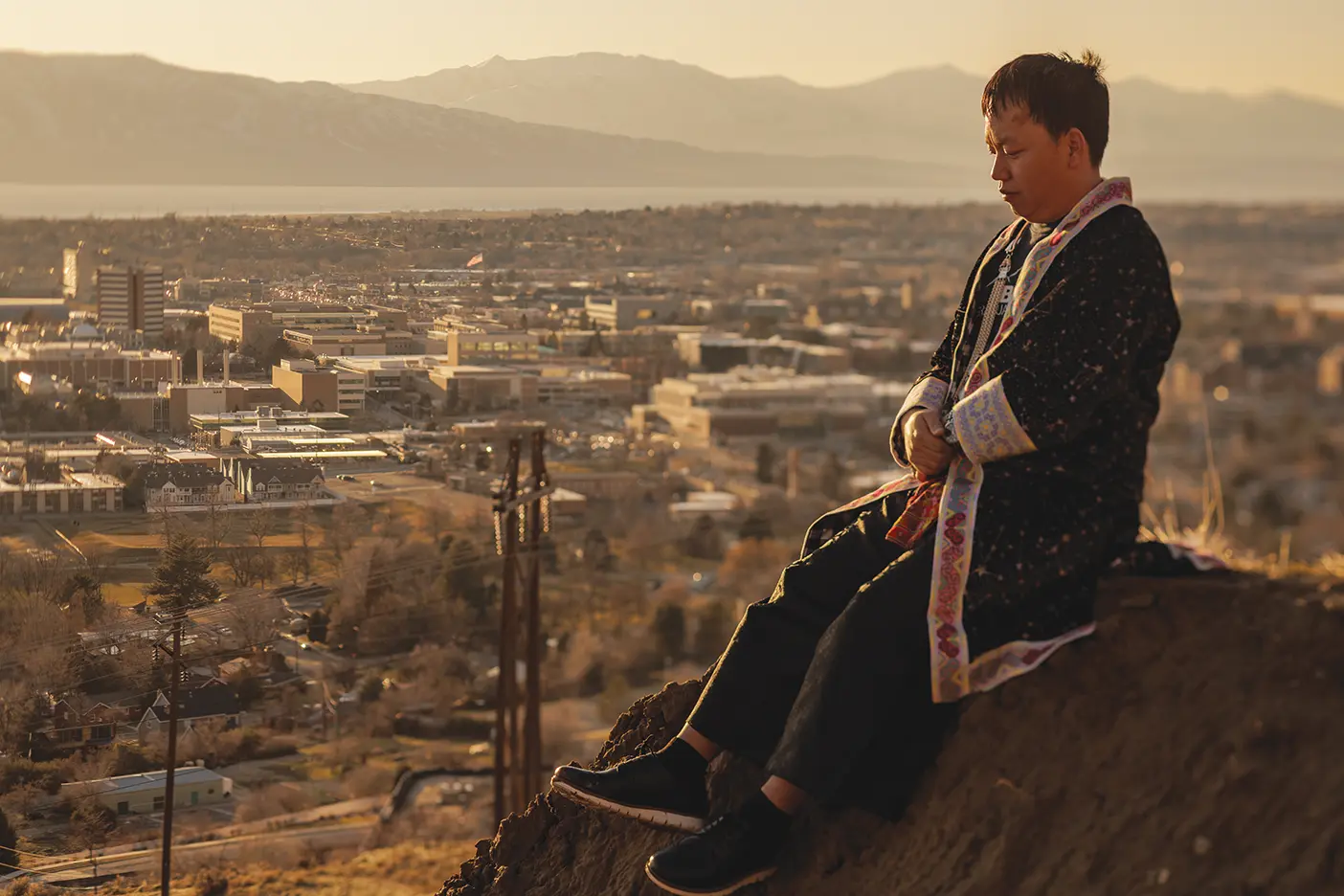 "When people ask me, 'Where are you from?' it's very tough to answer," says anthropology graduate student Yang T. Vang ('23).
Like many Hmong (a Southeast Asian ethnic minority), Vang's grandparents were displaced from Laos during conflict in the region. As a boy Vang moved from a Thailand refugee camp to Wisconsin. Now a married father of six—and the only Hmong shaman on campus—he's found a home at BYU.
"I didn't really have a normal kid's life," Vang says. As a child Vang was called to be a shaman: a spiritual healer and a practitioner of intricate rites. Since then he's traveled across the United States and back to Southeast Asia to administer Hmong weddings, burial ceremonies, and other rituals.
"Even though [Hmong] don't have a physical country, our language and culture can be a home," says Vang. Building this cultural homeland is his focus at BYU, where he decided to study because of anthropology professor Jacob R. Hickman's (BS '05) extensive research on Hmong culture and history. Plus Vang connected with the history and teachings of The Church of Jesus Christ of Latter-day Saints, including the emphasis on family and ancestors.
For his master's thesis Vang is creating a documentary about Hmong culture. Additionally, he's transcribing his knowledge, expecting to fill 20 to 30 volumes with ceremonial instructions. The volumes could stretch to 1,000 pages, he estimates, depending on the ritual. "We don't have a writing system," Vang says. "But our oral tradition is rich and beautiful." He also teaches three undergraduate courses in Hmong language and culture.
Sierra J. Harrison ('23), one of Vang's students, came to know Hmong people during a study abroad in Thailand. Harrison's host family welcomed her with a "soul-calling" ceremony, giving her a Hmong name and claiming her as an honorary daughter. "They adopted me into their family," Harrison says. "It touched my heart, how open everyone is."
Vang views the Church with that characteristic openness. Though he and his wife, Pa Yong Lo, are not members, they often attend church meetings, and their children decided to be baptized. Recently, before a difficult medical procedure, Vang asked for a priesthood blessing from his ward brothers.
Hmong people embrace truth everywhere while holding to tradition. "Vang and his wife are good examples of that way of thinking," Hickman says.
Vang views the future with faith. "I believe that God will help us preserve our language and our culture."