BYU's Living Legends gets a new director—and creates a new show.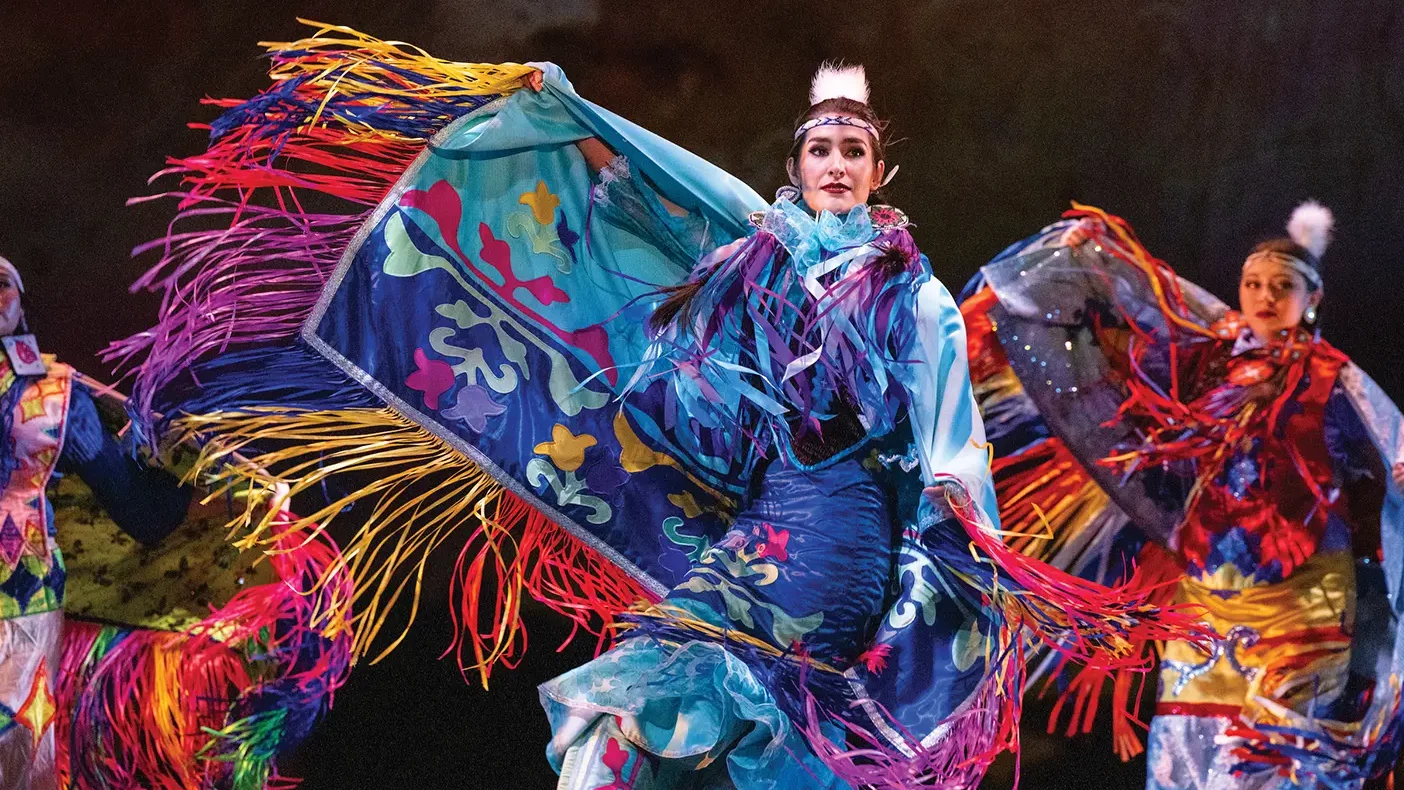 Students crowned with feathered headdresses and brightly colored tasseled skirts twirl and leap across stage in a mesmerizing blur as they perform a traditional Native American dance. To them, the dances performed by Living Legends are more than mere performance—they're an homage to their ancestors.
When Jamie Kalama Wood (BFA '02) came on board as director of BYU's Living Legends in 2019, she wanted to "build upon the foundation laid by the previous directors and groups." For her this meant holding on to what was most beloved in Seasons—Living Legends' main production for the past 20 years—while creating a new show for contemporary audiences.
Of Hawaiian and Mexican descent herself, Kalama Wood understands the groups' Native American, Polynesian, and Latin American roots. "[We're] a storytelling group," she says. So, in addition to preserving tales, Kalama Wood is also working to perpetuate this storytelling heritage in her students.
"What would your dad say if he's trying to get your attention?" "What would your mom say when she's trying to comfort you?" Sitting around Kalama Wood's table for three days, she and her students asked themselves questions like these, weaving their answers together. The result? Storytellers, Living Legends' new show as of January 2022—and what Kalama Wood sees as a camera roll of "personal snapshots."
"It was definitely a group effort," says Latin section leader Efrain C. Villalobos ('24). "It's cool to know that some of the things I put in will be used and shared with audiences around the world."
The narrative follows a modern-day boy's growth to adulthood as he draws upon the strength and stories of his ancestors. As in Seasons, the show ends with the beloved song "Go My Son," which sparked the formation of the group in 1971.
"Go My Son" encourages listeners to gain an education and to use that knowledge to help others. Living Legends student president Teancum K. K. Kaitoku ('23) finds this message profound. As only the second family member after his dad to gain a full college education on that side of the family, Kaitoku calls his upcoming graduation "a very humbling [prospect]."
"'Go My Son' holds a really special place in my heart," says Kaitoku. "It reminds me of my dad and of my family, my ancestors, and all the work that they've put in to make sure that I can be in a place to succeed."
Watch a video documenting the creation of Storytellers: