---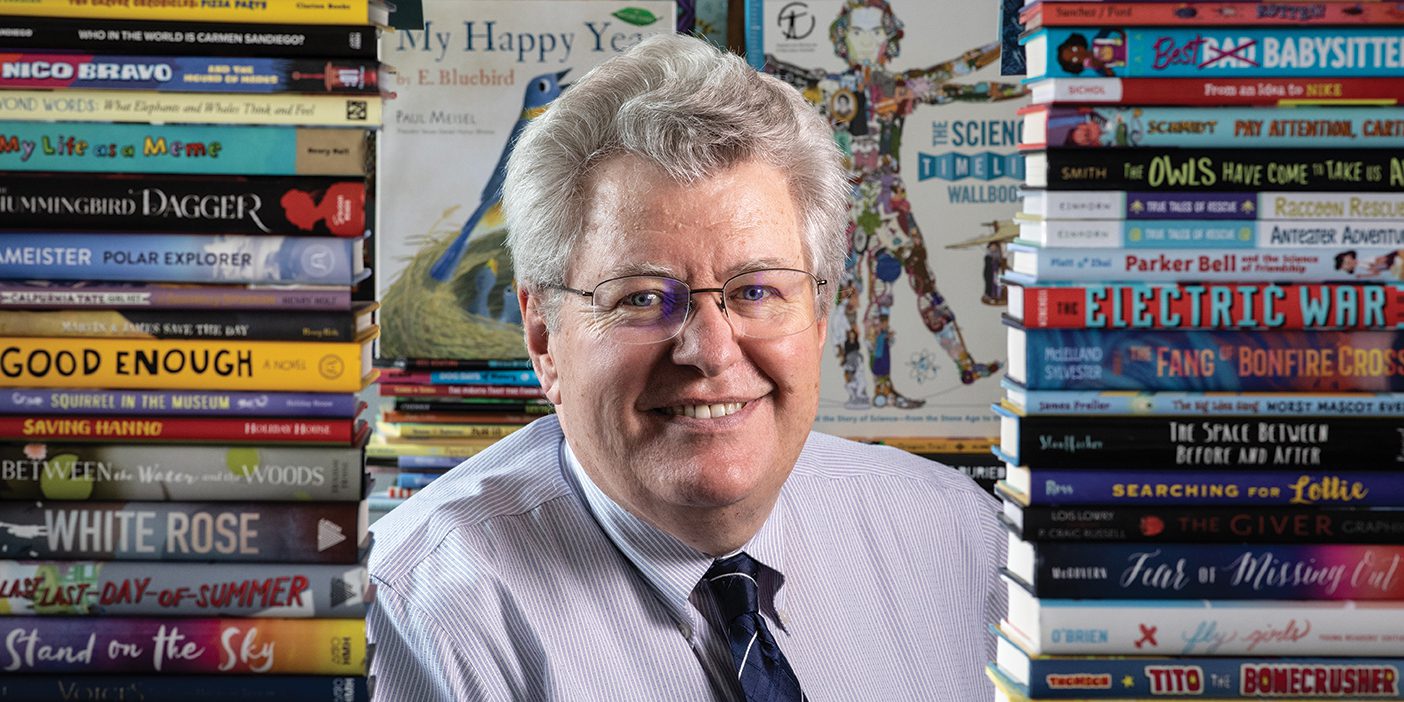 Terrell A. Young's (EdD '88) office is brimming with children's books: packed tightly on shelves, piled in organized heaps, and spilling out of cardboard boxes.
He's the president of the United States Board on Books for Young People (USBBY) and a member of the 2019 Newbery Medal selection committee, so Young churns through around 1,000 books a year. He'll keep them four or five years, then donate them to local schools or global humanitarian efforts. Boxes in his offices now are destined for fire-scorched Paradise, California.
Young looks especially for message, literary quality, and accuracy—not only fact-checking, but also making sure that books are representative and that readers can see their story in the protagonist's story. Young sees the ability to empathize as one of the most powerful reasons to read.
"Children's books can do much for kids who are going through struggles and for kids who aren't," says Young. "Books can be reflections of a child's life, but they can also be windows into other lives."
Here are some of his favorites:
The not-Newbery winner of 2019 (but one that Young loved): Sweep: The Story of a Girl and Her Monster, by Jonathan Auxier
An orphaned girl befriends a creature made from soot and ash.
He always goes back to: Belle Prater's Boy, by Ruth White
When a boy's mother disappears, he's sent to live with his relatives who have secrets of their own.
You've never heard of: The Girl Who Drew Butterflies, by Joyce Sidman
The true story of Maria Merian, who lived 500 years ago and studied insects.
Nonfiction that reads like a novel: Bomb: The Race to Build—and Steal—the World's Most Dangerous Weapon, by Steve Sheinkin
Sheinkin's works have the "magnificent ability" to bring history to life.
An author to watch: Sy Montgomery
With her hands-on research and beautiful writing, she's a mixture of Indiana Jones and Emily Dickinson.
Encouraging global citizenship:The Fox Girl and the White Gazelle, by Victoria Williamson
A Syrian refugee and a lonely Scottish girl discover what they have in common while caring for abandoned fox pups.
Picturing peace: Peace and Me, by Ali Winter
This picture book takes a look at 12 Nobel Peace Prize winners from Martin Luther King Jr. to Malala Yousafzai.
—Kristen L. Evans (BA '19)