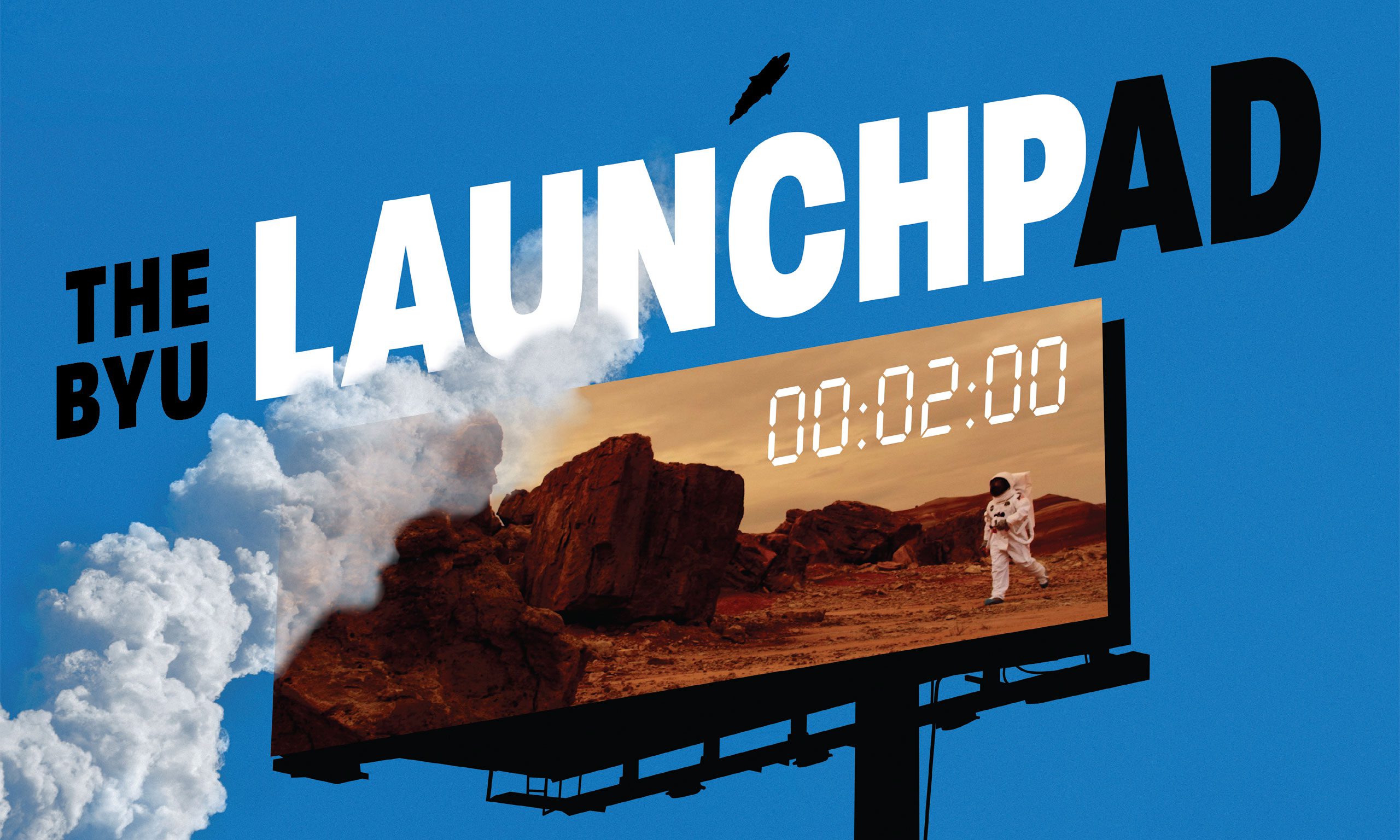 With a boost from BYU's top-ranked advertising program, students are blasting off—creating iconic campaigns and landing at the world's most-respected agencies.
---
By Michael R. Walker (BA '90) in the Summer 2019 Issue
T-minus two minutes. As a new day dawns, a young girl in a spacesuit rushes to the family barn, her parents close behind. Inside, fans whir and lights gleam amid an elaborate array of electronics and space memorabilia. The smiling girl straps herself into a padded chair and slides on her helmet. After her dad runs a check, "All systems go," she leans back, hugs her vintage NASA lunchbox, and the countdown begins. The burn of a rocket engine flickers from a TV screen, igniting dreams of space flight and adventures ahead.
Staged on a Utah farm with volunteer talent and a BYU student crew, the General Electric spec spot conceived and produced in 2017 by BYU's AdLab has won every major award for collegiate advertising work—Emmy, Clio, Andy, Telly, ADDY, you name it. It also serves as a fitting metaphor for the meteoric rise of the BYU advertising program, its students, and alumni in the ad industry.
More than 200 strong, these boisterous Brimhall Building residents create impactful messages and effective strategies for real-world clients, squeaking colorful solutions onto whiteboards in their ground-floor workroom. Then they spend every spare dollar on props at thrift stores to make their visions come true.
The program's approach dates back to 2003, when ad mentors Jeffrey A. Sheets (BA '98) and Douglas R. McKinlay (BA '68, MA '69) sat down to brainstorm ways to produce the best ad grads in the nation. What they came up with was the AdLab, a student-run, professionally mentored campus agency. Sheets and the other advertising faculty worked to weave a network of alumni and other agency leaders who would provide creative briefs, real projects for the students to work on.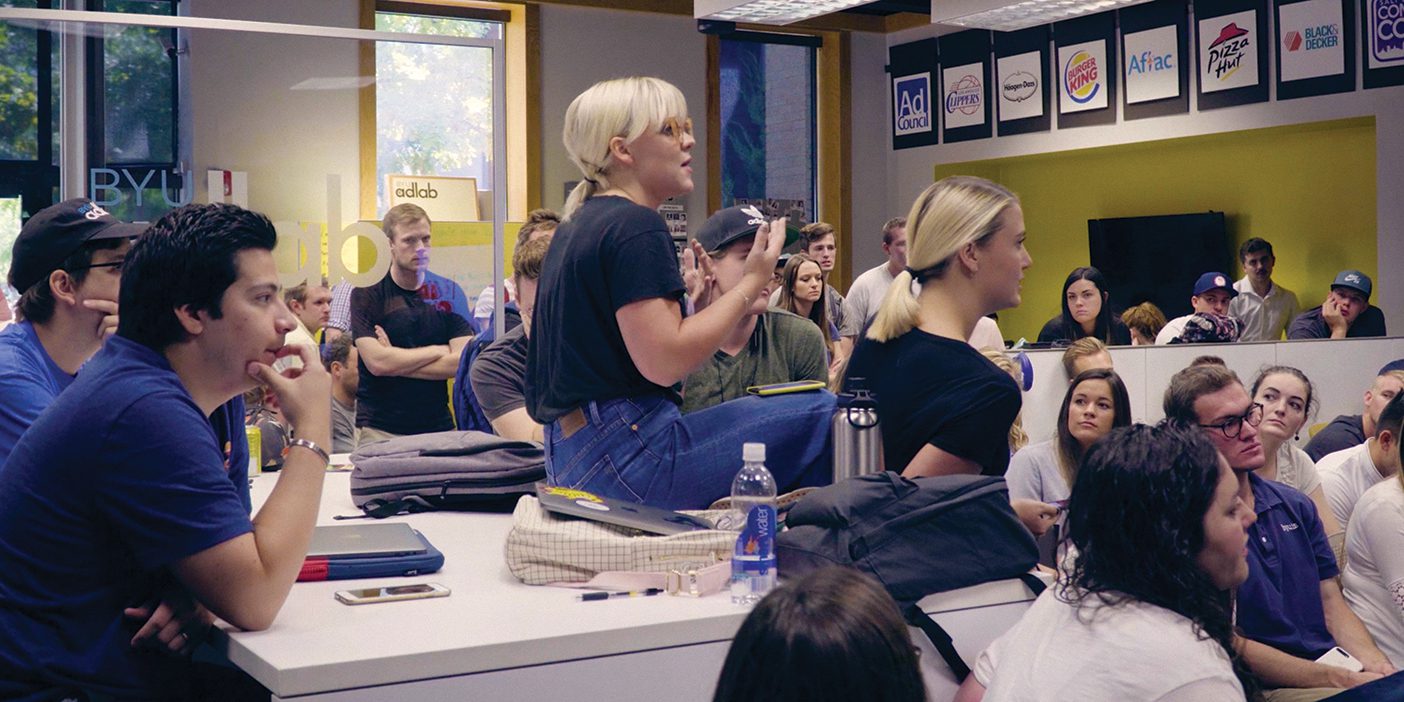 Sixteen years later, logos from the biggest brands—Amazon, Nike, Holiday Inn, Gatorade, Spotify, Doritos, to name just a few of the AdLab's clients—line the lab's walls. And a hallway display case brims over with awards; no dust settles on the hardware, which is rotated out with each year's haul from national and international competitions. What's more, BYU's advertising alumni have been creative leads for some of the world's most iconic campaigns. Allstate's Mayhem character, Apple's "Welcome Home," Old Spice's "The Man Your Man Can Smell Like," and Gatorade's "Be Like Mike" remix—all came out of the minds of BYU advertising alumni.
These are heady times for the BYU advertising program, which College Magazine recently ranked No. 1 in the nation. At this year's International One Club for Creativity, BYU took first in the portfolio competition and second overall, mixing it up with ad schools in New York, California, Germany, Sweden, and Spain.
"They are competing against the top portfolio and professional schools in the world," says School of Communications director Edward L. Carter (BA '96, JD '03), "and yet they are doing it with undergraduates in a general comms BA degree program at a religious, liberal arts university."
AdLab spec work has given students exposure to professionals at the top agencies, and they haven't disappointed. When Rob Reilly, global creative chairman at McCann Worldgroup, gave a presentation at Advertising Week in 2017, one of his tips was to "look for talent in unexpected places." Exhibit A? Provo, Utah.
After Jeff Sheets approached him seven years earlier, Reilly decided to bring in some of BYU's ad students to intern at his agency. "They turned out to be super interns, the best we've ever had," he said. "They came in so focused, so polite, so willing to do anything.
"It was as if advertising was their vice," he surmised. "Which kind of made sense. You don't need to drink, to smoke, to do all these things to do great work. They ended up being our greatest interns, and we hired a lot of them." The work of the BYU interns was "some of the best . . . the agency has ever done."
Carter says BYU grads offer a compelling set of attributes. "Balancing so many things at once—not just the professional and academic preparation but also spiritual, moral, character building, and service—is what makes our students so attractive to the advertising industry," he says.
The BYU grad sweepstakes plays out each year at the AdLab's innovative career fair, where recruiting is turned on its head.
At most career fairs, apprehensive students shuffle into a conference room and awkwardly approach recruiters. At BYU's fair, held at the Sundance Mountain Resort, it's the recruiters who line up to meet senior advertising students, see their projects, and assess their expertise. The top agencies compete to see who can land a BYU student.
"This last year we had 42 recruiters from 28 agencies that came here to recruit, and all 38 senior creatives who showed their work at Sundance got scooped up," says AdLab director Patrick C. Doyle (BA '98), noting that this is the first time the program has attained 100-percent placement.
Brent J. Anderson (BA '99), global creative director for Media Arts Lab—Apple's exclusive agency—says BYU's ad program has a "stellar reputation in the industry and specifically within the agencies that are making the most impactful and culture-rippling work. I credit that reputation to the integrity, behavior, and conduct of the graduates."
For Sheets and Doyle, in the end, creating award-winning campaigns is secondary to building students' character and fostering a supportive "family" environment. At the last AdLab meeting of winter 2019—standing-room-only, with heartfelt laughter, occasional "amens," and raucous applause—Doyle told the students, "It's actually you that we care about and not the advertising. So get that Cannes Lion, but make sure you are teaching the Sunbeams."
Sheets believes that BYU's ad grads, changed by the AdLab program, have the potential to change the world. "They found who they were, they found people who believed in them, and then they were given an opportunity to express their talents in powerful ways."
Bright Spots
For three years straight, student creative teams from the AdLab have won national Student Best of Show at the American Advertising Awards (Addys), one of the largest award shows in the world—with nearly 35,000 entries. Here are the winners:
Title "Miguel"
Year 2019
Client Reebok
Creative Brief Share a positive brand message while tackling the traditional roles of and cultural expectations for male athletes.
AdLab Solution "Hey Miguel. It's Dad. I know the last time we spoke didn't end well. And I've been meaning to call for a while now, but I didn't know what to say." In this 2-minute spot, a voicemail plays as an athlete goes through his strenuous dawn-to-dusk routine: running stairs, lifting weights, taking ice baths. This densely visual and dramatic spot—told in Spanish with English subtitles—shows a father's struggle when his son leaves soccer behind to take up dance.
---
Title "One More Giant Leap"
Year 2018
Client General Electric
Creative Brief Bring to life an imaginative tale that ties in with GE's goal to increase the role of women in STEM roles by 2020.
AdLab Solution "What time's liftoff?" With support from her parents and space in the family barn, a young girl with aerospace aspirations builds her own mission control center and makes a leap—of imagination—to the stars. The commercial ends with the protagonist as an adult woman, exploring the surface of Mars.
---
Title "Ride to Fly"
Year 2017
Client Vespa
Creative Brief Capture the international appeal and feeling of freedom of a retro two-wheeled ride in a charming, accessible way.
AdLab Solution "Che disastro." The church had burned down, the wedding was called off, and the guests had scattered. But young Giuseppe Russo goes for a ride on his Vespa, eventually transporting everyone—including the tailor, baker, priest, and mayor—to the center of town, reuniting them with the bride and groom and saving the wedding.
Making Mayhem
Matthew S. Miller (BA '08), BBDO, San Francisco
In his debut, Mayhem, sporting a black suit and a bandaged brow, drives a hot pink SUV through a mall parking lot. When he says, "I'm a teenage girl," viewers smile because his matchy pink sunglasses and bedazzled flip phone have them playing along with the premise.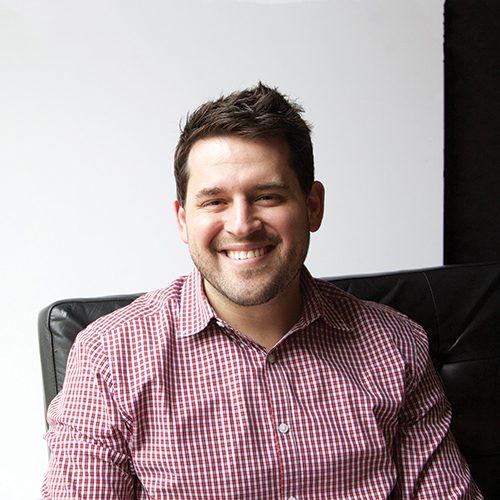 "My BFF Becky texts and says she's kissed Johnny," he says. "Well, that's a problem 'cause I like Johnny." Then, "whoopsie," the emotionally compromised teen veers and plows into the front end of a parked car.
Not long after recent ad grad Matt Miller started working as a copywriter at Leo Burnett Chicago, he was tasked with making Allstate insurance more visible and appealing to a younger audience.
Working with his creative director, Miller brainstormed ways to create mayhem—a screaming backseat baby, a driver's dropped phone, a raccoon in the attic, wads of dryer lint. And then they tied each to their character, Mayhem, in his iconic black suit and tie.
"It just exploded," Miller says. "For two years in a row, Mayhem was the No. 1 adult male Halloween costume. It just became a cultural phenomenon." The campaign was inducted into the Madison Avenue Advertising Walk of Fame in 2011.
In 2014 Miller moved to BBDO San Francisco, where he took on social campaigns, like Secret's anti-bullying message, "Mean Stinks," and Wells Fargo's "Working Together." His "Imagine the Possibilities" campaign for Barbie made the cover of Time. "It was a big deal to take what was a symbol of unrealistic beauty expectations and, finally, after decades, introduce many definitions of beauty through different body types and different skin colors and hair types," says Miller. And after nine quarters of declining sales, Barbie's numbers turned positive.
Miller's hope for BYU's ad program: "When I was there they only admitted 12 creatives, an elite small group. They've opened it up quite a bit, but it can go even further. The more people that get through that amazing program, the more influence they can have in this industry."
A Stepping Stone
Adrienne Martin (BA '06), Red Fuse
When Adrienne Martin returned to BYU after her mission to Argentina, she took an advertising class from Jeff Sheets, who recommended she join the AdLab and focus on strategy.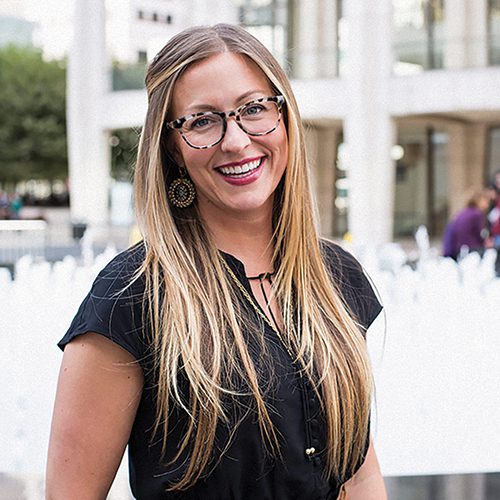 Back then the AdLab was in an HFAC "closet," she says. "It felt like a startup, and so a lot of people had a lot of passion to make it work."
Another professor, Kevin Kelly, got her an internship at Young & Rubicam (Y&R) on Madison Avenue in New York, which she parlayed into a full-time gig as a strategist and planner, working on projects for MetLife, Dannon yogurt, Fisher-Price, and Campbell Soup, among others. Today she's a strategist for Red Fuse, using her Spanish as she finds the best ways to promote Colgate-Palmolive in Latin America.
Martin credits her BYU connections: "I had professors with a foot in the door; they were really able to create this liaison between the university and the real world and helped me feel really confident in jumping in."
Once she found her place in the industry, Martin reached out and has helped "maybe 200" students secure internships. "I think that the culture of BYU drives a lot of natural spunkiness," she says. "At Y&R . . . I was constantly told that they wanted a BYU intern because of the amount of energy, clarity, and focus that they bring—they know what they want and they're not afraid to share their point of view and run with it.
"Being a stepping stone for these students to enter the real world" is the most rewarding thing, says Martin. "All it takes is one person to say, 'I'll give you a shot,' and then you can fly."
One Good Apple
Brent J. Anderson (BA '99), tbwa\Media Arts Lab
When Brent Anderson graduated in advertising from BYU—back in the pre-AdLab days—he left with what he calls one marginally good print ad to show potential employers. "There could not possibly be a more 'night and day' comparison between 1999 Brent and a 2019 AdLab graduate, who has real-world briefs and experiences on some of the world's best brands and at the best agencies," he says.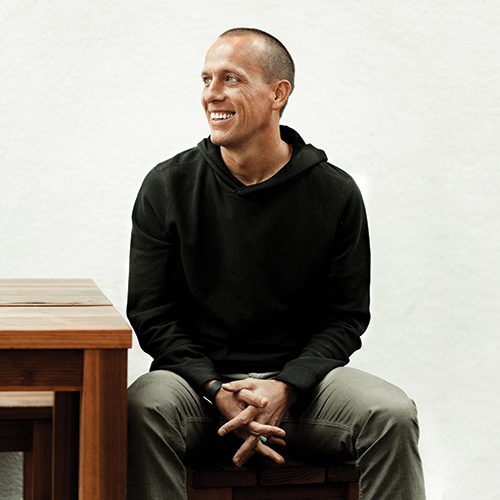 For the first half of his career, Anderson brought ideas to life as an art director for brands like Brooks, Gerber, Nissan, Visa, and PlayStation, picking up awards along the way. He and a partner won two Grands Prix and six Gold Lions at Cannes for "Gatorade Replay," a campaign that brought athletes back to the football field 15 years later to replay a 1993 high school rivalry game that had ended in a tie. Other Anderson ads have featured Peyton Manning, Serena Williams, and Derek Jeter.
During the last several years, as global chief creative officer for Media Arts Lab in Los Angeles—Apple's bespoke agency partner—Anderson has been trying to "inspire and pull the very best out of others." Over the past 3 years, his TBWA\Media Arts Lab teams have developed campaigns that have launched Apple products and services across the entire portfolio.
Anderson returns to BYU to echo the best advice he ever received from one of his own campus mentors, advice, he says, that has made all the difference in his career: "Really, really, really listen to people and to what the problem is," he counsels aspiring students. "And once you go to work solving it, be resilient. If your idea gets knocked down, have the tenacity and the drive to believe you can bring a better idea. Again and again. Success is all about how many times and how well you get back up."
Anderson has also found ways to connect BYU students with big learning opportunities in the industry. Over the years, he has set up collaborations with Gatorade, Airbnb, and other brands that have provided mentoring for dozens of students.
Managing Everything
Erin M. Gazdik ('19), tbwa\Media Arts Lab
Erin Gazdik calls herself 100 percent type A.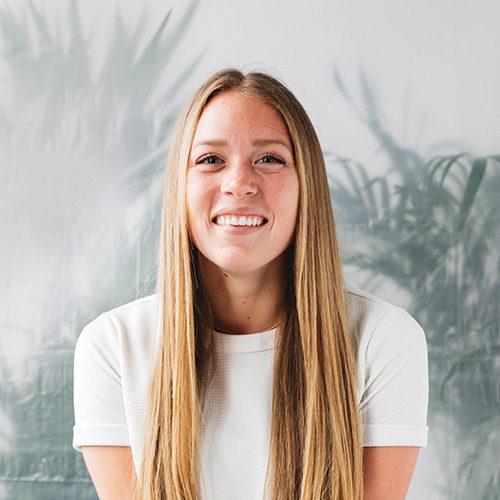 After a year of general-ed classes, then a break to serve a mission, Gazdik returned to BYU. With a list of majors and black Sharpie in hand, she crossed out everything that didn't match her skills and personality. Intrigued by the "cool work" of the ad program, she took the intro class where, as part of a discussion of the roles in an agency, they described the account manager: "This is the most organized person in the agency, who makes sure things are done on time, within client approval, and supervises the whole campaign from start to finish." Gazdik remembers thinking, "Oh my gosh, I can actually get paid for doing things I love that my friends think are weird, like planning every second of the day and organizing everyone's schedules."
By her junior year, she was the AdLab's head account manager, one of six leaders of the student-run ad agency. Her job was to keep the lab organized and efficient. In addition to running weekly meetings, she coordinated teams that developed campaigns for Ocean Spray, Nike, JBL, Facebook, Hasbro, and Jeep. "The ad program offers such huge opportunities for students to become leaders and self-starters," she says. "There was no hand-holding; it was completely up to me and my group to come up with something worth talking about."
Gazdik, who is a quarter Japanese, was one of four BYU seniors, and one of 50 ad seniors nationwide, accepted into the Most Promising Multicultural Students Program class of 2019 by the American Advertising Federation. No one was surprised when agency reps from New York, Dallas, and LA saw her work at BYU's Sundance Recruiting Fair last January and asked her to join their teams.
Gazdik says her BYU mentors helped prepare her for the next step. "They've treated me as a partner," she says. "I've been able to work alongside them and learn from them. They have really given their lives and careers to foster growth, creativity, and success in [their] students."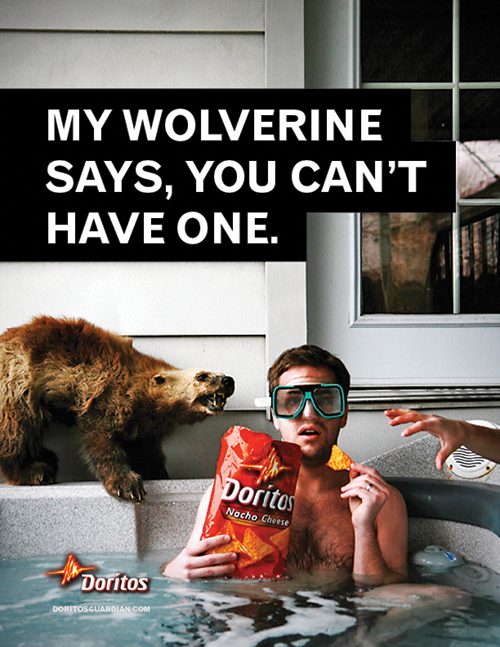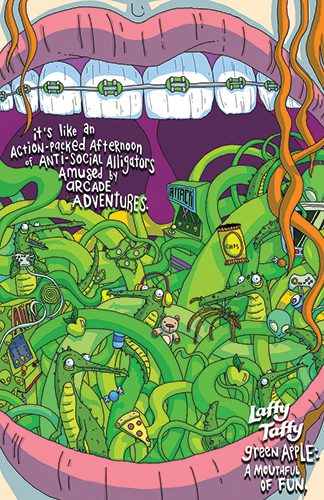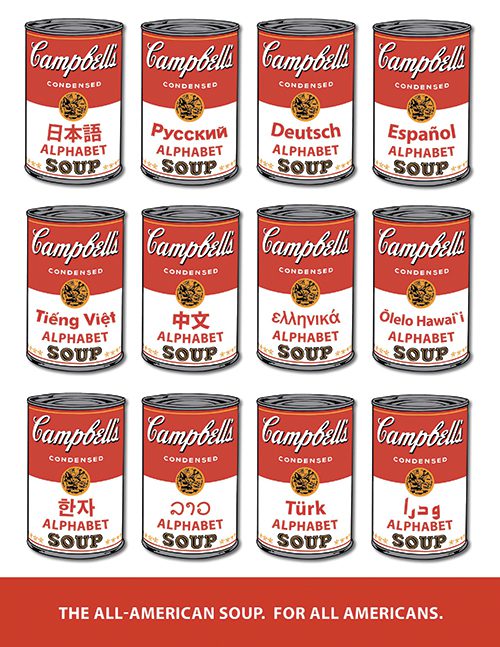 Beyond the Beard
Pierce J. Thiot ('11), tbwa\Media Arts Lab
As a creative director at Media Arts Lab in LA, Pierce Thiot chases and executes ideas for Apple, having worked previously at other agencies on campaigns for Airbnb, Gatorade, Netflix, Coca-Cola, Nissan, and a ton of others. Two years straight, Business Insider named him one of the top 30 creatives under 30.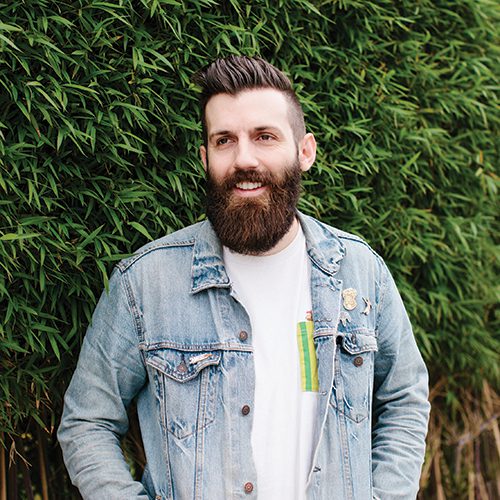 When Thiot was at BYU, he worked with a team on a world-record-setting water balloon fight as part of a music video for Holiday Inn. "Looking back, none of us could say . . . who came up with the idea because it was such a collaborative process."
Thiot has taken the AdLab team concept with him to LA. "I try to get all of the [BYU grads] to live in my ward," Thiot says. "The joke that we have, because there are so many advertising people in our West LA stake, . . . [is that] it's BYU AdLab West. When I moved out here, it was just me and one other person, but now there's 25 to 30 AdLab people."
Thiot's ad work includes restoring Gatorade's 23-year-old "Be Like Mike" TV commercial; executing an Airbnb campaign during Oscars weekend to help people "live in the movies" (that is, rent homes in movie locations); and diving deep into photo archives for a MacBook ad showing people, famous and not, using Apple laptops to create meaningful work.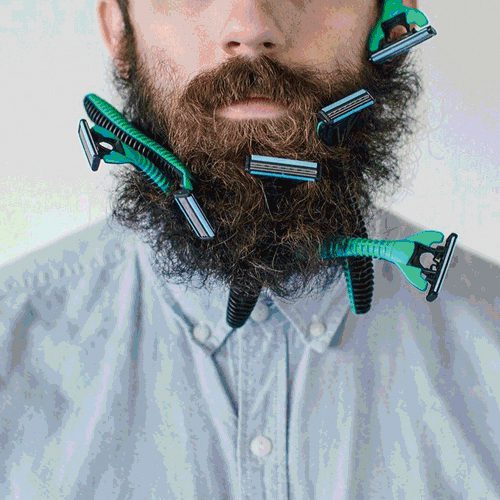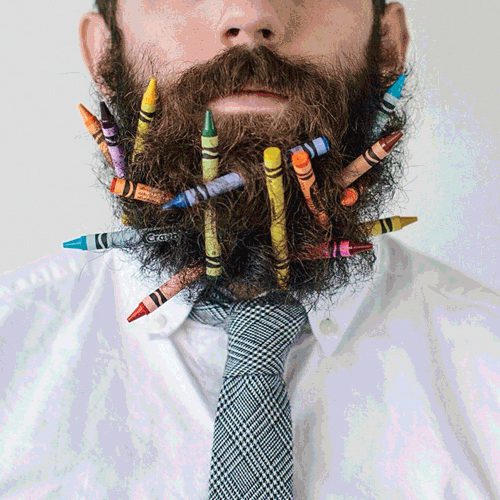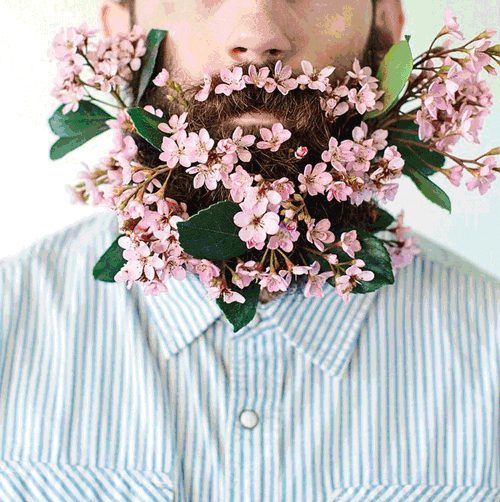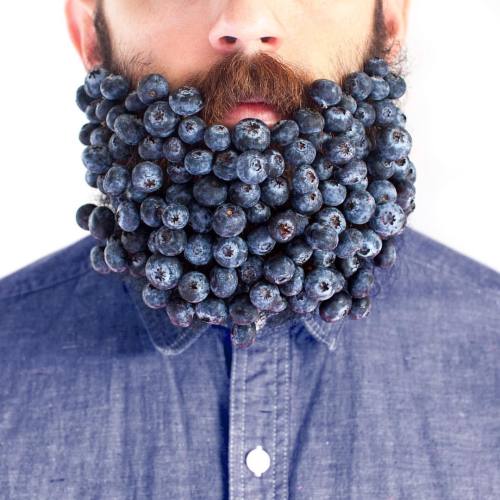 Outside of his professional work, Thiot will forever be known for Will It Beard, an internet series that began at a family talent show when he stuck more than 20 pencils into his facial hair. His mother was very proud.
With help from his photographer wife, Stacy Brinkerhoff Thiot (BA '11), he's documented all that his beard will hold—from flags to flaming sparklers, pasta to Peeps—getting coverage from Time and other publications.
On his many BYU visits, he advises ad students that, to avoid creative frustration, they should have a personally fulfilling project on the side, something "where you're the boss and can control the creative output." And if it's dumb enough, he attests, you just might become an internet sensation.
---
Watch more ads created by BYU students and alumni in the playlist below.
Opening photo components by A-Digit/Getty (billboard) and BYU AdLab (astronaut) and courtesy of Spacex (smoke) and NASA (space shuttle)
Feedback: Send comments on this article to magazine@byu.edu.